The problem? The
Dallas Mavericks
are once again dealing with the ramifications of being undersized at SG, as they end the season. The Mavs guards are suffering from the grind of playing undersized for a full season, and now heading into games against the league's best. For years it's been a formula for playoff disaster.
Corey Brewer
is a wing player who has been used in the NBA at both SF (3) and SG (2). He's 6-9 and his skill set has always been more of a 3 than a 2, with a game predicated more on athleticism than shooting or ball-handling ability, and his prior NBA history suggested he plays better as a 3 than a 2. With
Caron Butler
injured, Brewer was obviously signed by the Mavs two months ago to help at the SF (3) position.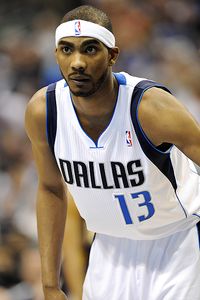 Prior to this week, he had been played virtually 100 [ercent as a 3 in Dallas. There had really been no minutes available as a 2, with Roddy B and Jet already sharing that position and squeezing every minute, and Stevenson and Barea sopping up any leftovers. When he'd played before this week, most of his minutes had been alongside two undersized guards playing at the same time (two of Roddy B, Jet, Barea), and the results had been fairly mediocre.

Wednesday against Denver was a different opportunity -- a game that the Mavs played with Jason Kidd in street clothes. The team was playing even more than usual with two munchkins on the floor at the same time, but they were also a bit short-handed at the guard position, and their one bigger guard available (veteran Stevenson) was ineffective in an early stint. So in the middle of the second quarter and early in the third, Carlisle turned to Brewer for some minutes as a 2, playing as the bigger guard (a role typically filled by Kidd) alongside Barea and Roddy who were filling the PG position. Almost half of Brewer's 20 minutes were played as a 2 that night, and he provided a spark and filled the role fairly well.

The ripple effect began the next day. In an ESPN radio interview Thursday, longtime college coach and Mavs TV analyst Bob Ortegel said that the Mavs SG (2) rotation needs to be changed because Roddy B isn't ready, and that Brewer needs to be inserted as a starter and used there extensively, consequences be damned. (Worth noting as an aside, Bob O also said that Jet needs to be idled in the playoffs if he can't play any better than we've seen lately, but that's mostly a different issue for another day.)

On Friday Brewer started as a 2, not a 3. Coincidentally? I'm not sure. Perhaps the Mavs and Coach O noticed the same thing at the same time. Nevertheless, for whatever reason something new happened.



It also should be noted that Friday night's game might have been an anomaly, because Kidd was again in street clothes (as he will likely be Monday in Houston) and Jet pulled some off-court antics during the game that caused him to be benched for the final three quarters, making the guard corps even more short-handed and offering more minutes for Brewer to fill.

But regardless of the reason, Brewer took advantage, with a glittering stat line (20 points, six rebounds including five on the offensive end, four assists, and four steals) and impactful play that brought an energy the sagging Mavs have been sorely lacking lately.

So what now? Was this an aberration coming from playing a lousy opponent and having a significant vacancy in the guard rotation? Did Brewer stand out mostly because he was more energetic than the other Mavs in an end-of-season game with little consequence and important Mavs taking a vacation? Or is Brewer forcing the Mavs to rethink their lineup and rotation choices?

The implications and potential are significant.

The playoffs are looming, and with it the Mavs are facing a familiar problem. For the last few seasons, the Mavs have waded into the postseason saddled with an undersized SG that tends to get swallowed up by the higher quality of play and athleticism required to survive in the postseason. Jason Terry has been the Mavs' primary SG, always giving away several inches to his opponent at 6-2. The most effective alternative the last two postseasons has been an even smaller JJ Barea. The hoped-for savior has been Roddy B, who has added athletic talents - but at best can only be another undersized SG.

The Mavs have tried to compensate by the presence of Kidd, who is bigger than most other PGs and has the size to match up with SGs, but ultimately the result has been to blunt Kidd's natural size advantage at PG and continue to perpetuate a troublesome size disadvantage at SG. By the PER numbers (which are pegged to a league average), the Mavs' play at guard this season has been below league average. Will it improve in the playoffs against the league's best? Very unlikely.

Compounding the concern is the team's history in this area: That size disadvantage keeps being preserved rather than fixed. A team should try to continue a situation that's an advantage, but despite the fact that this one is far from advantageous the team keeps catering to it and building on it. Already undersized at SG and taking steps to try to cope? Next thing we see, the backup PG role is vested in a 5-10 player, presenting size issues all his own. Need another guard to help the situation? The hope on the horizon becomes a need-to-be-developed 6-1 kid with an incredibly slight frame, splitting the minutes at SG and hoping to one day be a PG. Maybe Roddy B can become a player, but even in the best case scenario he'll always be small.
Every Mav step has perpetuated the size problem at guard.

So now the Mavs are nearing another postseason with the same issue staring them in the face. Kidd is tired and resting from the grind of being the only full-sized guard during the season, Jet's play is falling off after a nice regular season, and here we go again.
Didn't we think, "Never again" with this size handicap at guard in the playoffs after we were here last season? And the season before that? Yet here we are. Is it any wonder that - as Mark Cuban has observed - media aren't even bothering to perform heavy analysis and are simply in a "Here we go again" mode assuming doom and gloom? We've all read this book before, and we know how it ends.

But maybe we don't. Brewer provides an answer. Or does he? The problem is, having spent the whole season putting all the eggs in the Jet basket again, it's now the last minute. The sample size on Brewer playing well at SG is less than two games, so we don't even know if he can be consistently helpful as a full-sized SG, and there are only three games remaining this season to find out.
Too little too late, or an answer arriving just in the nick of time?