With the help of DB.com staffer BJ Stahl and the Mavs Quoteboard sponsor McKinneyDentist.com …

DONUT 1: First, on the game in brief, which featured the Dallas Mavericks storming to a lead as large as 28 ....
"It was really a great start to the game the way. We were scrambling defensively, rebounding, getting good shots on offense and moving the ball. That's when we're at our best. The crowd got into it early, we were really shooting the ball well early and that obviously helped to settle everybody down and get everybody's confidence up.'' -Dirk Nowitzki.

"Tonight you saw how good we can play when we play as a team. Running up and down and playing in the flow is a key for us, and we really had a great rhythm to our game tonight and it made for a blowout." -Jason Terry.

"We took care of business from the jump. Just a matter of getting the game over with." -Shawn Marion.

"They made shots and we didn't make shots. When you do that, you're going to get behind. We were on our heels right from the start. That's what the game was." -Coach Alvin Gentry.
Dirk and Marion have the evaluation nailed – just as they had Phoenix nailed in the first quarter, when each guy scored eight points as Dallas ran off to a 17-4 lead. And yes, 'Trix is right: The last three quarters amounted to garbage time.

DONUT 2: The ongoing focus on improvement, even with just a few days left . . .
"The next couple of games will be a better indicator -- we'll have a four-game sample as opposed to the last four games. The key is you just keep defending and rebounding and taking care of the ball; those are the three main things. We're moving it well; we move better when we get stops. Foul trouble is a concern with our big guys. But we've got two games to just keep talking to them about using their length and not taking any unnecessary fouls." -Coach Rick Carlisle.
Carlisle is probably being picky about his centers, but otherwise, he's dead-on in the sense that the Mavs are still evaluating. Not the most comforting thought, if you ask me. But hey, the 55 wins matches last year's total, when the Mavs were a No. 2 seed. They have a shot at a 57-win season.
You feel like kind of a jerk complaining about a 57-win season, don't you?



DONUT 3: About Jason Kidd -- back from a two-game break, played 29 minutes, seven points, two rebounds, seven assists, three steals – much of that crowded into the first few minutes of the game …

"He just played his normal game: ran the team, distributed the ball, hit open shots, was in the middle of a lot of positive scramble plays. It makes a difference when he's out there for sure." -Coach Rick Carlisle.

"As the new player (back in the lineup), that was my job, to get off to a good start. For me, it was to be able to push the ball, get guys shots and go from there." -Jason Kidd.
Part of the point with the 38-year-old Kidd is to simply avoid what happened in Round 1 last year, when he was ill and played like it in the loss to the Spurs. Kidd looks pretty healthy right about now.

DONUT 4: Is there a danger in overhyping this win, maybe? Phoenix has been officially eliminated from the postseason, after all …

"Phoenix wasn't playing for much, but it's not about them, it's about us and how we approach every game. And getting off to a start like that really gets you momentum." -Jason Terry.

"Yeah, it was not a very good performance by us from start to finish. We lacked energy, and passion, and got what we deserved . . . You're not playing for anything, it's difficult, but at the same time there's no excuse. You've got to come out every night and play hard." -Steve Nash.
Poor Nashie. Hey, instead of us wondering what it would've been like had he not left, let's try getting into his head: Dallas has won seven straight over the Suns at the AAC, and swept this year's four-game season series for the first time since 1988, and the Suns are The Greatest Team That Never Was …
If you think YOU have regrets about Nash leaving … I wonder how HE feels …

DONUT 5: Not only the Phoenix game … and tonight's Houston game … but also every practice and every playoff moment and every piece of important info and analysis, with one-on-one Video Visits with the Mavs players … if you want it all, you want Mavs Premium!
What do you get for about a dime-a-day? Here, take a sneak peek or three ...
What do our All-Access Practice Sessions look like? They look like this.
What do our All-Access game reports look like? They look like this.
Our typical X-and-O analysis pieces? Here you go, our Roddy B video study.
I've got a 7-day free trial for you ... Go Mavs and Go Premium!


DONUT 6: On Jason Terry -- shooting woes over . . .
"I decided to get Terry in quick, because I thought it was important that he jump back into this thing . . . [He] had a great game -- well-balanced in (that) he penetrated, he found people, he made shots that we needed him to make. But his overall game is really what impressed me." -Coach Rick Carlisle.

"The shooting stroke hadn't went anywhere. You can't take one or three or four or five shots in a game and think you're going to get a rhythm. And as you know I'm a rhythm shooter, and tonight the ball was moving around and everybody was touching it. Everybody that caught the ball tonight either took their shot or moved it to the next guy, and that helps our flow game.'' -Jason Terry

DONUT 7: And on Jason Terry – not doing anything emotionally damaging to his club, back on an even keel …

"For me, I've been the emotional leader of this team since I became a Maverick. That's not going to change. We've just got to channel it in the right direction ... We go through things on and off the court. As much as I put into this game emotionally, I was just a little drained. When you get drained like that, something like that may happen, a flare-up. It's tough, but I'm not going to stop being emotional." -Jason Terry

"That's just Jet being a veteran and a true professional. Whatever happened he moved on. He had a good game tonight and it was good to see that and for us to go anywhere we need him playing like he did tonight.'' -Jason Kidd

Jet reached the 1,000 mark in made 3s as a Dallas Maverick. There was something symbolic about the milestone aligning with the hope that the tempestuous silliness is behind him.


"It felt great. I really didn't realize it until they announced it over the PA . . . I've played with a lot of generous and courteous teammates that have shared the ball, and I'm very fortunate to be a Mav as long as I have. It's huge, it's a great accomplishment and I'm blessed." -Jason Terry.

DONUT 8: About getting and maintaining momentum and a positive attitude after going through a rough patch …
"I don't know that our team is the kind to lose confidence, but winning is always going to put a more positive vibe in your locker room. We're still plugging away." -Coach Rick Carlisle.
The four straight losses? Distant memory, I suppose. Especially if Dallas closes the regular season with four straight wins.

DONUT 9: The work-in-progress that is Rodrigue Beaubois . . .
"[Point guard] is a complex possession, there's a lot involved. There's responsibility of having the ball, making play-calling and those kinds of things, there's reading situations which are totally different than when you're playing off the ball and playing with Jason Kidd. But through it all the last two games he's hung in there and done his share of good things even after some real difficult beginnings . . . He struggled, I think you can say. But we knew this wasn't going to be easy. This is important for him to go through to understand the challenge that's ahead of him in his young career eventually as a potential heir apparent to Jason Kidd." -Coach Rick Carlisle

"It's a sophomore slump. That's why they gave it a name, right?" -Mark Cuban.
I suppose I should appreciate the calm acceptance of Roddy B's struggles. But I am neither "calm'' nor "accepting'' about it … because I still believe Beaubois offers Dallas an opportunity to be a better team than the team that has labored to escape the first round of recent playoffs.
And now he's getting the chance to do that … and failing.

DONUT 10: Regarding minutes management -- nobody played more than 30 …
"Yeah, things don't always go to script, but it helps us for (tonight in Houston). It doesn't guarantee anything, as always. There are two more games left, and we want to keep some momentum going in a positive way." -Coach Rick Carlisle

So more rest for the heavy-lifters? Or a standings-related decision to go all-out to win?

"We'll talk about it. The plan was maybe to sit tomorrow, but I don't think I got enough work in." -Jason Kidd

DONUT 11: Dare we hope -- if the Dallas Mavericks win both the games left and the Los Angeles Lakers lose one more …
"Look, we're trying to win games. We're trying to hang in there for second on the off chance that could happen, and philosophically we're trying to win." -Coach Rick Carlisle

"We want to get everybody rejuvenated, get their energy back, get our legs under us, and get ready for this run . . . We just gotta do what we gotta do." -Shawn Marion
"For us, we want to take care of business and make sure that we're ready." -Jason Kidd
In other words, everyone seems to have an opinion on this – especially Kidd, who voiced the belief that Dallas shouldn't even bother scoreboard-watching as it relates to the Lakers, who lost their fifth straight on Sunday at home to OKC.
J-Kidd is wrong.
There is only one right way to "manipulate'' the bracket – and that is to manipulate up.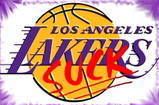 DONUT 12: Here's what we're dealing with:
SA is No. 1. That's all that's for certain.
The Lakers and Mavericks are now tied for the two seed at 55-25, but the Lakers hold the tiebreaker, so Dallas would need to finish with a better record to vault over LA. Oklahoma City, after beating the Lakers, is just one game back at 54-26. The Lakers own the tiebreaker over the Thunder, too. Oh, and the Thunder own the tiebreaker over the Mavs.
So Nos. 2, 3 and 4 are still open.
The Lakers' final two: Spurs and at Sacto, which could be a wild goodbye-Sacto scene.
Dallas' final two: at Houston and home Hornets.
The Thunder's final two: Kings and Bucks.
Don't overthink this, Mavs, by trying to avoid the Lakers in the second round (or for that matter, by trying to avoid somebody like Memphis in the first round).
Win all the games you can. That's my philosophy. We're about to see if The Triangle of Trust truly agrees with that.

DONUT 13: "If we play Mavericks basketball every second on the floor, we're looking at a long run. We've got big things in our sights." -Jason Terry


We've got big plans, too, both here at DallasBasketball.com and at FS Southwest. I'll work alongside Ro Blackman and Mark Followill and the gang tonight on the "Mavs Live'' pregame and postgame shows starting at 7. Meanwhile, as we all prep for the playoffs, we're putting together a monster party for Round 1 of the postseason, Mavs at somebody, exact date to be determined, but likely for either Game 3 or 4 a little bit later this month at ThreeSheets. Big prizes, a huge Mavs-lovin' crowd and you … check it out on our ThreeSheets Mavs Party Facebook Page and I'll see you on TV tonight!