DONUT 1: The Dallas Mavericks are throwing their Fan Appreciation Night at the AAC and on the plaza tonight ... and DallasBasketball.com is a part of it!



Tipoff with the Hornets is at 7 p.m. Get to the gym early because starting at 6, FS Southwest is taking our pregame show to the Plaza. You can watch the first half-hour of the show online at
the FOX Sports Southwest website
featuring Ro Blackman, Emily Jones and yours truly. Then we take it inside for Mavs-Hornets, and ...
DONUT 2:
To make things very clear (especially after what occured last night in the NBA, which I'll get to in a moment): The Mavs should go all-out to beat the Hornets.
SA is the No. 1 seed. Leave them out of this.
The Lakers control their own destiny. They looked shaky enough again last night, almost losing a sixth straight game to a Spurs team that wasn't even trying. But LA did win, so the Lakers and the Mavs both have 56 wins.
LA owns the tiebreaker with Dallas. So LA will be the No. 2 seed if the Lakers win in a late-night visit to Sacramento, where the LA hate and the fact that it might be Sacto's final game ever could pour some fuel on the fire.
Simple enough so far? If the Lakers beat the Kings, LA is No. 2.
DONUT 3:
Now, what if If Los Angeles loses?
If LA loses and Dallas beats New Orleans, Dallas is No. 2. Now, it can be argued that No. 2 is a tougher path because it means a meeting with the (in this scenario) No. 3 Lakers in the second round. But don't get ahead of yourself.
Part of this scenario also means: New Orleans, with the tiebreaker over Memphis, has an edge for the No. 7 seed. If the Hornets beat the Mavericks, then New Orleans is the seven seed.
Predictions? Careful, there Miss Clio.
If the Hornets lose ... but then the Grizzlies beat the Clippers ... then that seventh-place tie is broken. Memphis jumps to No. 7. And the Mavs will have trick-'em/dick'-em'ed their way into a first-round battle with the Grizzlies.
But wait! There's more!
DONUT 4: What if Dallas loses to New Orleans (let's call that "unlikely'') and Oklahoma City beats Milwaukee (let's call that "likely'')? Then the Thunder and Mavs will be tied, but OKC has the tiebreaker and gets to be No. 3. Dallas falls to the four spot.
Happy to be No. 4 because you get to avoid a Round 2 match with LA? Slow your roll. You'd better worry about your Round 1 match, because No. 4 will play No. 5 Denver.
Ah, so let's find a way to be No. 3!! Well, No. 3 is going to play No. 6 Portland.
No easy draw there. Hell, there's no easy draw anywhere. Really, with Andrew Bynum hurting his knee for LA last night, there's no sure bet anywhere.
We know the Lakers will be the two or three seed. We know Dallas can be 2, 3 or 4. We know OKC can be 3 or the 4. Starting at 6 p.m. with our "Mavs Live'' pregame show on the Plaza, and then extending deep into the night, the answers are about to reveal themselves.
Here's the right attitude, from the team website and from Dirk Nowitzki: "We've only got one more game and we're trying to win out. Obviously, we're going for the two seed since it's still there. But if the Lakers win then it's not gonna happen. We're gonna go for it and we're gonna play hard Wednesday and just go from there. And then Wednesday night we'll see who we play when the schedule comes out.''
DONUT 5:
And when it does? As is, tonight on the floor and in the postgame locker room and then Thursday at practice? Every practice and every playoff moment and every piece of important info and analysis, with one-on-one Video Visits with the Mavs players … if you want it all, you want Mavs Premium!
What do you get for about a dime-a-day? Here, take a sneak peek or three ...
What do our All-Access Practice Sessions look like? They look like this.
What do our All-Access game reports? They look like this.
Our typical X-and-O analysis pieces? Here you go, our Roddy B video study.
Take my 7-day free trial ...
Go Mavs and Go Premium!
DONUT 6:
The Mavs t-shirt you are about to see bust out at the AAC -- even in the official Fan Shops -- is available TODAY in the
The DB.com Store,
too! Yeah ... You're among the Reunion Rowdies!
And yeah, when we see you on the Plaza and at the game, we'll all see some of those DB.com Store t-shirts boppin' around!
DONUT 7:
Speaking of watchin' the Mavs in style ... we're putting together a monster party for Round 1 of the postseason, Mavs at somebody, exact date to be determined, but likely for either Game 3 or 4 a little bit later this month at ThreeSheets. Big prizes, a huge Mavs-lovin' crowd and you … check it out on our
ThreeSheets Mavs Party Facebook Page
!
DONUT 8:
Off the NBA path for a moment: Mind if I teach y'all (and maybe even Josh Hamilton!) a lesson in how third-base coaching works?
THAT play is not the third-base coach's responsibility. Not his fault. So when Josh says his tag-up from third to home on a pop-up to the catcher was "stupid,'' I hope he's accusing himself of being stupid about a play that resulted in an awkward slide and a broken arm.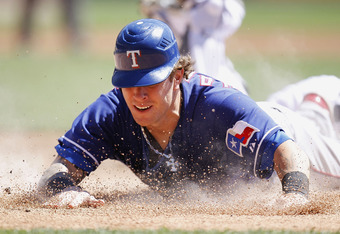 That is ALL on the baserunner.
Due to my extreme limitations as an athlete, I've been the guy who has served as the third-base coach in baseball and softball games for four decades (!). During the '80's, no kidding, I bet I was a third-base coach in 1,000 baseball or softball games. And I cannot tell you how many dopey players I was forced to explain my role to. "Tell me when to tag up!'' they'd say.
No, Junior. If you can see the ball, YOU decide that. Before the play, I'm going to remind you of situations and scenarios (how many outs there are, how unimportant your run might be, whether the leftfielder has a strong arm, where the batter is likely to hit the ball). And if you are running from first or from second toward me, and the ball is not within your vision, I am in charge of bringing you to third or home.
But when you are standing on third ... facing home. ... and there is a popup right in the direction you are facing? My job is to remind you of scenarios. (Which the Rangers coach did.) Your job is to make the decision.
Which Josh did.
Was it stupid? That's up to Josh Hamilton ... just like the decision to go is up to Josh Hamilton.
DONUT 9:
One more LA lesson, if you don't mind being lectured to: In Sacto tonight, the Lakers, losers of five straight before struggling last night to beat SA's reserves at home ... play the second night of a B2B ... Will do so without Matt Barnes (knee) ... and without Steve Blake (illness) ... and I assume without Bynum. The gym will be rocking. Kings history will be made.
And you know what will happen, right?

No. You do not. Kobe goes for 40 or Kobe shoots 3-of-40. You do not know. So handle up on your business, Mavericks ... and then I'll meet you at Ol' No. 7 and we'll watch together to see if LA is as great as the Mavs (maybe mistakenly?) assume they are ... we'll see if the Lakers handle up on their business.

DONUT 10: Hey, if you want to stay in touch with the Mavs at every moment ...

Follow me on Twitter at FishSports! Oh, and get hooked up with other DB.com staffers like Michael Dugat and Kevin Brolan, too! !

And come give the DB.com Dallas Mavericks Facebook page a like, will ya?


One more thing: There is a whole 'nother world, a whole 'nother level, of Mavs fandom on
DB.com Boards
. . If you haven't been ... you owe yourself a visit and a membership there.
DONUT 11:
We've got ourselves a video playoff theme ...
DONUT 12: Prof. Carter says he tried to buy a tank of gas today but was told by the attendant that he wasn't dressed well enough to look like he could afford it.