What say we start your day with a pre-Donut! Our semi-PG-13 podcast from high about DB.com Tower in downtown Dallas, in which we combine serious analysis with childish making fun of the opponent:



DB PODCAST 4-20 by dbmavs



DONUT 1: "As Jet goes, so go the Dallas Mavericks.'' Right?

"Boy, wait until Jet really gets his shot going!'' Right?
This is conventional wisdom, and as the Mavs approach tonight's Game 3 in Portland (9:30 tip, TXA21), it's natural to think maybe it's Jason Terry's turn to serve as the second banana, Kidd and Peja already having done theor respective things in the G1 and G2 wins.

But we've got a theory, a theory that goes all the way back to our hopes that this year, Roddy B could supplant the skilled-but-erratic Jet as a go-to 2-guard.
The theory: Less Jet Is More.
We know Jet doesn't traditionally think this way. "Mr. 4th Quarter,'' and all that ...
But right now, this needs to be re-considered. DB.com's Luke Kammrath helps me put this into statistical perspective. ...
DONUT 2:
Since 06-07, when the Mavs WIN in the playoffs:
The average score is 103.08 - 92.25 ... Jet gets 31.8 minutes, is at 4.75-11.75 FG/FGA, shoots 40.4 percent and scores 13.42 points.
When the Mavs LOSE in the playoffs:
The average score is 93.35 - 105.47 ... Jet gets 34.4 minutes, is at 5.29-13.12 FG/FGA, shoots 40.35 percent and scores 15.23 points.
Do you see where we're going here?

DONUT 3: Let's look more recent postseasons. Since 08-09:

When the Mavs WIN in the playoffs:

The average score is 101.1 - 89.9 ... Jet plays 29 minutes, is at 3.66-9.88 FG/FGA, shoots 37.07 percent and scores 11.11 points.

When the Mavs LOSE in the playoffs:

The average score is 94.77 - 105.11 ... Jet plays 33.11 minutes, is at 5.44-13.66 FG/FGA, shoots 39.84 percent and scores 15.44 points.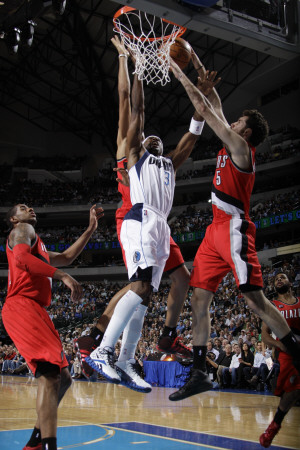 DONUT 4: So what's the trend?

*The more Jet scores, the worse it is for the Mavs. That certainly defies conventional wisdom, but at least conventional wisdom might be able to scan our numbers and agree that ...

*The more Jet shoots, the worse it is for the Mavs.

*Additionally, what percentage Jet shoots is virtually irrelevant over this period of time. (This certainly debunks the theory that as Jet goes, so the Mavs go.)

*So ... the more Jet plays the worse it is for the Mavs?

I think I'll have a difficult time convincing Rick of that. And if I bring it up to Jet himself, he's likely to fist me in my Finleys. Let's keep collecting data here while considering the possibility that Jason Terry's 10 points in each of the first two games is a sign that he isn't forcing things, is a sign that he isn't letting his impatience get in the way of BBIQ, is a sign that Dirk's "Robin'' doesn't HAVE to be Jet.

Coach Rick Carlisle's Wednesday afternoon quote before the Mavs boarded the plane: "Terry is playing the best all-around basketball that he's played all year. We need him to continue to do that."

Maybe Rick DOES see what we are seeing. (But finds an even more polite way to say it.) "Less Jet Is More.'' It's a theory. And Dallas being 2-0 adds to the evidence supporting its validity.

DONUT 5: Go Mavs ... and Go Premium!
What do you get for about a dime-a-day? Here, take a sneak peek or three ...
What do our All-Access Practice Sessions look like? They look like this.
What do our All-Access game reports? They look like this.
Our typical X-and-O analysis pieces? Here you go, our Roddy B video study.
And of course, you get your Mavs Morning Donuts every day ... plus inside analysis from guys like Mark Followill ... fun stuff with the players like "Matrix at the Movies'' ... our DB.com Mavs Podcast, which is being brewed up tonight ... The Quoteboard ... and you really need to see Coach Fain's "Coach 'Em Up'' brand-new video breakdown of the Mavs-Blazers series!

Take my 7-day free trial ...
Go Mavs and Go Premium!
Aw, heck. Go ahead and take one more look at just a tiny sample of how we roll when we do "Coach 'Em Up'' for tonight's Game 3:
It's worth your dime. And believe me when I say DB.com will do everything we can to earn that dime and retain your trust.
Go Mavs and Go Premium!

DONUT 6: Is Dallas "old''? From the smart cats at DB.com Boards, the (season-start) rankings of the oldest rosters in the NBA:

1) Miami

2) LA

3) Denver

4) Dallas

5) Boston

6) Orlando

7) San Antonio

8) Chicago


Looks to me like every "old'' team is a playoff team. And that the list of true contenders as we speak now includes at least seven of the NBA's oldest teams ... including Dallas.

DONUT 7: On Saturday, for Game 4, we've set you up in style: Our of our favorite sports bars, ThreeSheets (on Ross near 75) is the place. Here's how we'll roll:
*FREE Dirk UberMan t-shirts to everyone (while they last).
*Half-price pizzas for the first half (handmade, right in front of you ... best in town!)
*The biggest TVs, the best ambience, the loveliest waitstaff, and ...
*Courtesy of
MavCowTickets
I'm giving away a pair of tickets to Monday's Game 5 at the AAC!
I'll have other big prizes, too (including a
Jason Terry
autographed Mavs miniball and a FREE year's Premium Membership to DallasBasketball.com) ... it'll be a huge Mavs-lovin' crowd and you … check it out on our
ThreeSheets Mavs Party Facebook Page
!
See you Saturday!
DONUT 8:
Always amusing: The "expert'' who makes a prediction ... sees his prediction unfolding as comically wrong ... and then writes 1,000-word circles explaining how he/she wasn't wrong, because ....
"Circumstances changed.''
No, you picked a certain horse to win a certain race. Short of that horse breaking his leg upon exiting the starting gate -- an unforseeable and unfortunate and fluky change in circumstance -- you were WRONG.
And even in that scenario, imagine taking your ticket to the Lone Star Park claims window and telling the nice lady that you would like to go again and cash in your losing ticket because "circumstances change.''
You predicted Dallas couldn't hang with Portland, or that LaMarcus was better than Dirk, or that Kidd was a corpse? Why not just say it ... You were WRONG.
There is still time for Portland pickers to be right. (Unless they are Portland-in-4 or in-5 pickers.) But if that doesn't happen, it won't change anything for the Alibi Ikes. They still won't be "wrong''; the misguided experts will be victims of "circumstances changing.''
DONUT 9:
Hey, NBATV: Next time you give Sean Elliott a national broadcast forum, why not also supply him with a silver-and-black pleated skirt and some pompoms?
You know, in my TV work for FS Southwest, I am obviously a Mavs advocate. So is Followill. So is Coop in his ESPN Radio work. (Not that I'm comparing myself to those two geniuses.) But there is a way to wear multiple caps (as Brad Sham used to teach me) ... and then there is Sean on last night's Spurs-Grizz telecast, which went national.
Sean wasn't wearing multiple caps. He was wearing a Spurs cap ... a Spurs pleated skirt ... later to be replaced, no doubt, by Spurs footsie pajamas and a bedtime story read him by Bruce Bowen.
DONUT 10:
Hey, if you want to stay in touch with the Mavs at every moment ...
Follow me on
Twitter at FishSports
! Oh, and get hooked up with other DB.com staffers like
Michael Dugat
and
Kevin Brolan
, too! !
And come give the DB.com Dallas Mavericks Facebook page a like, will ya?
One more thing: There is a whole 'nother world, a whole 'nother level, of Mavs fandom on
DB.com Boards
. . If you haven't been ... you owe yourself a visit and a membership there.
DONUT 11:
Troubling, I assume, for the Blazers coming out of G2: Individually, they have a lot of guys who can claim to have performed well.
Aldridge? Good for three quarters. Andre Miller? Seems like he's running the offense to their slow satisfaction. Batum? Made shots. Wesley Matthews? Made shots. Wallace? Scares Dallas with his speed and quickness.
Portland shooting MORE free throws than Dallas ... the Blazers molasses pace. ... All those guys scoring individually ...
And they lost G2 by double-digits? It helps that Dallas' zero turnovers in the second half marks just the second time in league history that a team has done that in a playoff half. But the Blazers, individually, must be wondering what they gotta do ...
DONUT 12:
Rick Carlisle was asked if Dallas' multiple second-banana options make things "easier.''
Rick doesn't like the word "easier.''
"I never look at it like it gets easy,'' Carlisle said in a comment relayed by Mavs.com. "If you starting thinking that way, that's when you get smashed in the face."