There were five minutes left. Durant hit a 3. The Thunder was up by 15. The Western Conference Finals were going to be tied 2-all.
And Durant -- generally like The UberMan in that he is an oxymoronic "understated superstar'' – opted just for a second to act the fool.
He grinned. He played to the manic crowd. And he pretended to strap to his waist a championship belt.
A pretend, invisible, championship belt.
Did the Mavericks notice the Marcel Marceau crap? Doubtful, inasmuch as they were too busy enduring unconscious OKC shooting streaks, criminal muggings that included elbows to the crotch, and memories of how it feels to lose opportunities, to lose leads.
"There's times and situations that are going to test the courage and the mental inner strength of your team," says Mavs spokesmodel Jason Terry. "This was one of those times.''
"It was almost over,''said Dirk, who took advantage of Dallas' decision to let him attack from the top of the key, freeing him from double-teams, to score 40 points. "If we mess up one more time (in the final five minutes), that would've been it. We couldn't afford any mistakes down the stretch ... We were almost perfect.''
From "almost over'' to "almost perfect.''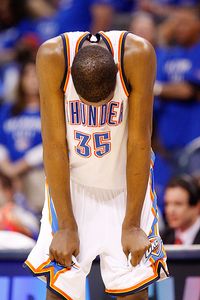 In Oklahoma City, this might go down as a choke. Or maybe just a "learning experience.'' Up 99-84 with 300 seconds left?! But Durant (29 points, but nine turnovers to combine with Westbrook for 15) never scored again after that "championship-belt'' 3. Here's betting he stashed that invisible toy in his highly visible backpack. Do the resilient OKC kids bounce back, with their record of 26-6 after a loss? Maybe, though teams that go up 3-1 win series 96 percent of the time, and only twice in NBA history has a team with home-court advantage lost a 3-1 lead.
Certainly, coach Scott Brooks' postgame media session was devoid of energy, and KD's presser put on stage a kid who was drained, crushed, and left out on the stoop for the Tuesday's trash man to confiscate.
But in Dallas, this is a verification of the value of BBIQ.
At the very end, there was The Iron Houdini, Jason Kidd, slapping the ball away from Durant with 61 seconds remaining in overtime. And then a moment later, there was Kidd pump-faking the intellectually overmatched superstar Russell Westbrook into the rafters and then, toenails apparently freshly-clipped, stayed behind the arc for his 3-pointer to make it 108-105 lead with 40 seconds left. All this along with Kidd's 17 points, five rebounds, four steals and seven assists, and who cares when his birthday was?
"Never underestimate greatness,'' cautioned Carlisle and referencing Kidd.
Another sage vet, Shawn Marion, performed some of the same level of defensive magic late. Included: When he ranged waaay outside to get on top of Durant to block a 27-foot trey try with the score tied 101-all and a few seconds remaining in regulation.
"(Dirk) put us on his back offensively,'' center Tyson Chandler says. "But it was a team effort ... Marion on defense ... we wouldn't have won the game without (backup center Brendan) Haywood ... We have a never-give-up attitude.''
Nowitzki deserves credit for being the hub of this wheel; at this point, the only time he doesn't score is when a teammate mistakenly doesn't feed him. Dallas fell behind in the first because Dirk only got enough opportunity to score five. Dallas came back in the second as he scored 17. A bit of trouble in the third when his total dipped to four. But then 12 in the fourth, Dirk scoring 10 points in about three minutes as Dallas pulled to within three with 1:26 left.
And what do these Mavs do in three-point or two-point or one-point games?
Dirk wins it at one end. And, more than ever, Chandler and "team effort'' handle the other end.
With 20 seconds left and the Mavs down two, Dallas threw a double-team at Durant, forcing him to give up a clutch shot to non-scorer Thabo Sefolosha, who missed. Nowitzki then earned a foul and hit two FTs to tie it with 6.4 seconds left.
Back to Dallas' defensive end, and there was Kidd, hassling Westbrook's inbounds catch, and then Marion rising impossibly high to block Durant's long-distance bomb.
Dallas owned the OT, even as the score stayed tied until the 1:55 mark. OKC didn't score after that; it's almost as if they knew what almost inevitably happens to Mavs foes in close games.
So Oklahoma City is left holding The Invisible Title Belt.
And the Mavs? Feeling ready to celebrate "almost perfect,'' right?
"We're not 'feeling' any sort of way,'' Chandler says. "We're just takin' care of business.''
It's almost over. And that's almost perfect.
More Mavs insight is coming up ... from the players themselves, and from inside the locker room in OKC! Get it all-- the videos, the quotes, the analysis, the stats, the scoops -- for just about a dime-a-day ... Go Mavs and Go Premium!