DONUT 1:
We hung out at the Byron Nelson over the weekend and bumped into a former college basketball star who shall remain nameless. (He's big. He could kill us.) He spoke of being a close friend and former college teammate of a member of the Mavs and how, customarily, when he rolls into town, the fellas all get together to party.
Nothing nasty. Nothing crazy. Dinner out, or barbecue in, a few beers. Stories exaggerated. That sort of thing.
So the old buddy calls his Mavs friend, wanting to know when they can party up. Over Memorial Day Weekend, maybe? Or next weekend, after the
Dallas Mavericks
get back from Games 1 and 2 in Miami.
"Nope,'' he told me. "None of that. They want to throw a party, those guys do. But not before the series and not during the series. (Player X) told me he'd get me two tickets. But that otherwise, he won't be seeing me until after the series is over.''
I really want to get approval from Player X to use his name, and his buddy's. It adds to the story. But this works for now.
DONUT 2:
What that Mavs player, and the rest, are attempted to do: Avoid the Happenstance of Championships.
Choosing a star in the night sky and attempting to chase it under the blanket of daylight with the naked eye ... recapturing a cup of water spilled at the center of the ocean ... or claiming an NBA championship. Depending on who you ask, which of these tasks is most difficult may vary greatly.
Legendary players have blessed fans with Hall of Fame careers, only to find a ring would never slip over their fingers. While those who debate the greatest to grace the court eternally bang heads, there comes a frightening voice standing in the way of far too many would be champions: happenstance.
DONUT 3:
It'd be so much easier if there were a true science to this; "true science'' in the sense of the rules of gravity and the like. "Don't party during the NBA Finals''? Is that the formula? Done! Give Dallas a set formula and the Mavs would already have one title, and wouldn't be down 0-1 going into tonight's Game 2 at Miami.
But that's not how this puzzle fits together. Legendary players have blessed fans with Hall of Fame careers, only to find a ring would never slip over their fingers. While those who debate the greatest to grace the court eternally bang heads, there comes a frightening voice standing in the way of far too many would be champions: happenstance.
DONUT 4:
In preparing to assist another writer on a list they had created of the greatest players never to win a title, the heartbreak of a past that's been so cruel to so many elite athletes found its voice. With a soft whisper that echoed down the darkest crevices of thought, gaining momentum, picking up volume, two horrible words emerged as a scream. They were "what if," and they slam home the callous nature of circumstances beyond our control, of an environmental construct we must all adhere to, or play within.
"What if" may be two of the cruelest syllables to wander the mind. They give life to ghosts who know of nothing but to haunt. They promise a mere change in actions could have altered the past. They harbor the memories gone unborn in a future left dead in yesterday, replaced by today. "What if," in respect to the past, is the hymn of what will never be.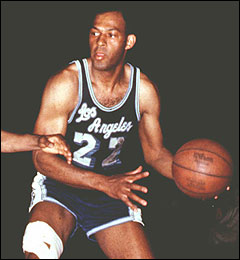 DONUT 5:
"What if'' Dirk's finger is the difference between a make or a miss, a win or a loss? (He says the torn tendon might not even require it's protective pad once the game starts.) "What if'' on Caron, on Roddy B, or, as poigniantly, "what if'' on Jason Kidd, who threatens to be very high on the list of "never-dids'' if this series doesn't roll right?
DONUT 6:
Consider Elgin Baylor, a Hall of Famer, and a man who reached the Finals eight different times. Eight times he found his way to the hallowed shores of a championship, and eight times he was turned away. He found time had played a cruel joke on him in the form of Bill Russell.
As Baylor entered his prime, so did Russell. In 1959, Baylor's Lakers met Russell's Celtics in a battle for the Title, and as he would six more times, Baylor's team came up short to Boston. In 1970, with Russell retired and Wilt Chamberlain at his side, Baylor was granted his lone chance at a Title without the Celtics standing in the way. In a moment of basketball lore that has become immortal, Willis Reed returned from a torn muscle in his right thigh for Game 7, providing the Knicks an emotional lift, and costing Baylor his final shot at a ring.
Yet, happenstance was yet to perform its cruelest trick.
After playing only nine games in the 1971-72 season Baylor was forced to retire with knee problems. Beginning with their 10th game (yes, the first game immediately following Baylor's retirement), the Lakers would win 33 straight games. Eventually, they would take home the championship.
When the final tally was turned to ink on the pages of NBA history, Baylor got eight chances, saw seven of them erased by Russell's Celtics, one buried beneath the mythical return of Reed, and his team finally capture a ring the same season he was forced to retire.
DONUT 7:
Baylor isn't alone. Ask John Stockton and Karl Malone "what if" Michael Jordan's Bulls hadn't been waiting for them in each of their trips to the Finals.
Happenstance bears no empathy for those it envelopes.
To bring the shadow closer to home, in the form of Steve Nash and the Dallas Mavericks, "what if" Dirk Nowitzki hadn't suffered an injury in Game 3 of the 2003 Western Conference Finals that ended his playoff run? "What if" Steve Nash had not left to join the Phoenix Suns, could he have altered the course of the 2006 Finals? Moving to his days in Phoenix, "what if" Amar'e Stoudemire and Boris Diaw had not been suspended for strolling a few feet too far from the bench after seeing Nash hip-checked into the scorer's table by Robert Horry?
DONUT 8:
We communicate these sorts of thoughts at DB.com, as we have for a dozen years, in many formats. Thousands of Mavs fans just like you are on the
DB.com Boards!
...
on the DB.com Mavs Facebook Page ...
In visits with those who've invested about a dime-a-day to
Go Mavs and Go Premium!
We get labeled "homers'' and "apologists'' for the views being expressed here (we are the former but not the latter).
But we're not wrong. Baylor only had so much control. Same with Malone, Barkley and Dirk. Same with an owner, a GM, a coach and a fan. That's not a concession speech; it's just fact.
DONUT 9:
"What if" carries no answers, only endless time to rearrange pieces already cemented in place.
Clearly, beyond injuries, happenstance may be dismissed as circumstance. You may demand that trials have simply taken place, verdicts passed down, and leaving victors standing justifiably over the vanquished. Those who have fallen short did so because they weren't as good as those they fell to. Their teammates, their opponents, and the entirety of their situations were the obstacles placed before them; no more or less than those presented to the team at the other end of the court … though this seems to ignore the relevance of context.
Regardless of all of the trappings of "what if," there is one direct path to eluding its curse: winning.
The Heat is undeniably a scary team. They have two of the top five players in the league, as Carlisle has pointed out, and a player that is likely the best third option in the NBA (though the man labeled third in Los Angeles or Boston pecking order may disagree). LeBron James may be the best player of our generation, taking over for Jordan and then Kobe Bryant.
They are the proclaimed kings in search of a crown. If you find a sliver of fear scratching against your hopes, you are not alone.
Undoubtedly, most who have read to this point have pointed the fear, the anxiety, over happenstance at the Mavericks. ... and much of that anxiety arrived before 0-1.
DONUT 10:
But "what if'' works both ways.
But, who's to say the Mavs are the victims of happenstance, of circumstance (if you prefer), here?
Dallas has their own collection of legends, of stars that have sought and found their fame and personal deification. They've set aside their personal glory, sacrificed it to a common goal that has eluded them all. In lieu of the plight of one, they have adopted the unity of a shared ego, and a shared aim.
We've argued that the X's-and-O's aren't the weapons that lost the Game 1 battle. We've heard from Mavs players who don't sound defeated ... Kidd talking responsibly about "pushing tempo'' and Jet talking willingly about being guarded by LeBron and Tyson expressing the desire to work harder for rebounds and Dirk assuring he can be the same guy with nine fingers that he is with 10.
DONUT 11:
There is a time for somebody to extend the Byron Nelson party to basketball. That time isn't now.
There is also a time to concede to the Happenstance of Championships. That time isn't now, either.
Watch FS Southwest's postgame show (Fish and Nancy Lieberman make for an adorable couple as we guide you into the Mavs locker room in Miami for all the interviews!) Keep up the passionate analysis! Buy the t-shirts. (Please!)
DONUT 12:
When slipping further into the storylines, it's easy to become immersed in a feeling that Dallas may be the team of fate, of destiny -- at least it is if you are a Mavs follower willing to spend the next few days believing it might be so.
Why not? If you find it all so predictable, surely you knew that in Game 1 the Mavs would get to the FT line more than Miami, right? Or you knew that Miami's Big 3 would score a total of 65 points -- one fewer than the group is averaging in these playoffs, right?
The Mavs still have their chance to hand the other guys the ghosts of what may have been. Perhaps tonight is the beginning of Dallas leaving the Heat to wander the haunted grounds of "what if."
But let's give this time. The party cannot be rushed. Nor can the Happenstance of Championships.