FOREWARD:
Jason Terry took to barking. Then, in Games 4 and 5, he took to biting, feasting on the defense of LeBron James by attacking him, or hitting long 3-pointers over his outstretched hand. Dirk Nowitzki was his standard magnificent self, but in Game 5, he didn't toe the line alone as the
Dallas Mavericks
had their best offensive showing of The Finals in a 112-103 victory … and their first series lead over the Heat 3-2.
YOUR NBA HIGHLIGHTS PACKAGE:
You'll like the way this ends up ...
THE TOP STORY:
The 2010-11 NBA season will not see another game played in Dallas. (It was sad, in a way; so many days and nights in the AAC over the year and we're going to miss her ... at least for a few days, until we crank up our Mavs NBA Draft coverage!) Instead, it will find its final moments unfold in Miami, and the Mavericks gave the AAC a sendoff worthy of this playoff run.
In a style befitting how they've arrived to The Finals, Dirk Nowitzki didn't have to carry the team on his own. "Balance and unselfishness,'' remember? "Don't worry about role definition, just role acceptance,'' remember? "Be Ready,'' right?
Leading the chorus of those standing prominently at The UberMan's side: Jason Terry.
When he first took to throwing barbs towards LeBron and the Heat, we questioned if there were crafty motives to his actions. Was it a maneuver to flick at some portion of his own mind, rather than anything to do with those it was directed at? Whatever the case may be, the man it seems to have motivated the most is Terry.
"We all know Jet is a confident young man," Dirk said. "He always has a lot to say to us in the locker room. He's always talking. He's just an energetic guy. He loves to talk and he loves to hear himself talk."
For the second consecutive game, Terry backed up his words and took to flight in the fourth quarter … scoring eight points (just as he had in Game 4) on 2-of-3 attempts, while also acting as a distributor (two huge assists) and rebounder (his two boards tied Chandler for the most among the Mavs in the final period).
"It's my job," Terry said. "All season long, ever since I've been a Maverick, I've been the guy in the fourth quarter they depended on to either make plays or make shots. So, I really relish that role … Thank God I was able to do that again tonight."
There may have been no moment bigger than when Terry erased the remnants of a 9-0 Heat run that had given them a four-point lead with 4:37 to play. Dirk cut the deficit in half with a pair of clutch free throws (would you expect anything less), but, after Chris Bosh split his own freebies, Terry rose up and calmly drained a 3-pointer to tie the game at 100.
In that moment, you could feel the air shift. The Mavs were not going to lose this game, thus avoiding a waste of what was easily their most complete offensive performance of The Finals. The crowd roared in delight. The AAC rocked on its foundation, and the Heat were driven back to their heals. From that moment on, Dallas would outscore Miami 12-3 (a 17-4 run overall for Dallas to seal the win).
And, Jason Terry wasn't done yet.
With 33 seconds to play and the Heat still clinging to a fading ember of hope, Terry looked at the man who had shut down the league's MVP, Derrick Rose, ignored the fact that he was several feet behind the 3-point line, and took what must be described as a horrible shot … only, Jet was in that place all athletes strive to land, if only for a few seconds.
His boasts funneled around him, his immutable confidence steadied his hands, and his focus found its way into the hallowed corridor … He was in the "zone."
Here, no shot is a bad shot. No look is a poor one. There is only the release, the rise of a building momentum within a crowd holding its breath, shaking its head … and then erupting in joy.
Terry showed no mercy for the man who totaled a triple-double but will likely still get skewered by the national media. In the zone, there is no quarter. There are only shots and the sound of a ball snapping through the net. There is only a sacred hall few are blessed with the opportunity to walk.
For perhaps as brief as a few fleeting moments, Terry found himself there, and the Mavs captured a win because of it.
Terry's final stats: 21 points with Dirk-like efficiency (8-of-12 shots), including 3-of-5 behind the arc, six assists and four rebounds.
And is he done barking?
No.
STILL SOME GUY NAMED NOWITZKI:
For all of the clutch brilliance from Terry, he was not alone. The Mavs also have this guy named Dirk Nowitzki who's pretty good, and also familiar with the warm embrace of the "zone."
With the sickness vanquished, Dirk was able to turn his full attention to the Miami Heat … along with the two guys that mocked his illness prior to the game: LeBron James and Dwyane Wade … some may say sports karma quickly caught up with Wade's hip; should we leave that for "some'' to say? How about if YOU take a look and then say it yourself?
This, of course, is yet another chapter in the book of why America dislikes the Miami Heat and its stars. LeBron and Wade are mocking the guy who was sick -- and who WON. They are mocking the man who THEY CANNOT STOP.
That's arrogance.
Dirk played the entire second quarter, and had his best 12 minutes of the game. He made four of his five shots and scored 10 of his game-high 29 points, quickly letting the Heat know if they were to mock him after this game, they'll be mimicking the ball falling through the hoop.
The UberMan was as uber as he needed to be, but it was a pleasure to see him saved from the weight of having to pull the team along on his own.
He did score eight points in the final quarter, and his free throws with 4:22 remaining seemed to have a calming effect on the Dallas offense, ending a 9-0 run by the Heat that had flipped a five-point Mavs lead into a four-point deficit. But, Terry added eight points, JJ Barea six, Jason Kidd five and Stevenson one.
The defense began to struggle, but the Mavs as a group proved too much for Miami to overcome.
"Well, I don't actually think that was a good defensive night for us," Dirk said. "All series long we're trying to figure out our offense. Tonight we're moving and shooting the ball well, but I thought all of a sudden we started giving up too many points. That's not how we won, and that's not how we want to win."
It may not have gone precisely as they would have liked it, with Miami scoring their first 17 points of the fourth quarter either at the rim or at the free-throw line (the Mavs temporarily struggled with Miami's screen-setters slipping the pick and plunging inside) but considering the results, we'll take it.
RICK'S PRESSER: Smart stuff ...
Let Rick summarize: "There's no set formula, other than we need each other. And we need to play a certain way, and we need to play with a certain collective intelligence and will.''
SOMEBODY CALL NIKE:
Dirk has now outscored LeBron 52-11, including 8-2 here, in fourth quarters.
Does anybody care? What are we valuing here, as sports nation, if we don't value this?
We think this is headline-worthy. Bumper-sticker-worthy. Billboard-worthy. 52-11.
MR. UNIVERSE:
In our preview of Game 5, we wondered aloud if the sparks we saw from JJ Barea towards the end of Game 4 may have signaled a fork in the road, the rounding of a corner, the cresting of a hill … well, we only said it one of those ways.
It didn't happen right away, as Barea was 1-of-3 for three points at halftime, but it did come in the third quarter … and remained for the fourth.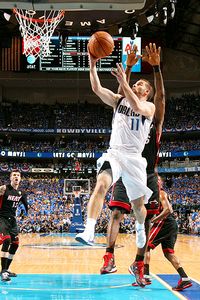 In the third, Barea hit three of his four shots, including two 3-point tries, for eight points. His penetration recalled memories of his performance against the Lakers. Heat defenders were powerless to stay in front of him, and the shooting touch that had eluded him all series returned in a blink.
To walk a momentary tangent: There's nothing like the reaction of the crowd, particularly this crowd, when Dirk or Terry rise for a big shot, a collection of 21,000 people inhaling and bracing to erupt in unison … it's like watching the water retreat over the wet sand of a beach, as a towering wave casts a shadow promising an imminent crash.
When Barea gets going, you find the precise same reaction. Maybe it's because JJB is such a lightning rod; he was once a pet rock, a mascot. He's gone from rags-to-riches ... and now that he's on the "riches'' level, we wish he be there more consistently.
Back on task, Barea finished with 17 points on 6-of-11 field-goal attempts, hit 4-of-5 from deep, handed out five assists against only one turnover, and made us all look stupid for any doubts we may have tossed his way at one time or another.
"I think he was aggressive," Jason Kidd said. "In Game 4, he was aggressive in Game 4 where he missed some shots that we all know he makes. And, he hasn't backed down. He might be – what is he listed at 5-10? We'll go with that … We trust him, JJ when he has the ball he's going to find the right guy or make the right play. He's done that two games in a row."
The trust was exhibited by coach Rick Carlisle and the Mavs offense as in the second half, JJB quarterbacked the club even as Kidd was on the floor. The decision came due to Miami's inability to keep Barea from penetrating, and remember the original gameplan we talked about before the series, the idea of an "inside-out'' offense?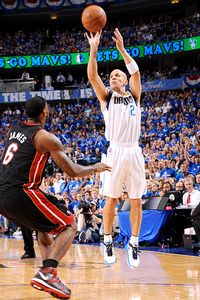 JJB made it work.
A MOMENT TO TOUCH ON THE REST (IN A GOOD WAY):
Jason Kidd bounced back from what may have been his worst game of this postseason in Game 4 with a solid all-around performance. There were the three turnovers, though one was on a clear miscommunication between Marion and Kidd, as Marion ran from his spot just as the pass was released, but he continues to ignore the sentiments that adamantly insist he cannot guard younger, quicker, faster, stronger players … to do just that.
In combination with DeShawn Stevenson and Marion, Kidd has been instrumental in making Wade and James work for everything they get. They're too good not to get their points, but in the crucial moments, Kidd has continually met the challenge.
He finished with 13 points, hitting 4-of-6 shots and 3-of-5 from distance, to go with six assists, three steals, two rebounds and one block.
Marion and Stevenson, along with Tyson Chandler and Kidd, are the skeleton holding up the body of the Mavs defense. Often, regardless of how the boxscore seeks to define their play, their contributions are immense. Yes, the Heat hit 52.9 percent of their shots for the game, but over the last 4:36 of game-time, Miami scored only four points.
Chandler was again great at making himself available for passes by cutting into space, and if not for a couple of bobbled passes he may have added a few more baskets to his totals of: 13 points on 5-of-7 shooting, seven rebounds, two blocks (including a huge late denial on a Wade attempt) and a steal. With 2:27 to play, he also put his body on the line to draw a charge from a speeding-towards-the-rim LeBron.
AND TWO MORE:
Brian Cardinal and Ian Mahinmi filled out the rotation, and both made their contributions.
Cardinal provided a physicality that unnerved Juwan Howard, as the two shared a few extra bumps up and down the court, and continues to knock Chris Bosh from his stride. He throws his body in the path of Heat players with little caution, even if he often doesn't seem to get the calls it appears he's earning.
Listen, "The Custodian'' isn't a better basketball player than Chris Bosh. But for a minute here ... a bump there ... a dive on the floor down there ... managed properly from the Dallas side, they can be even for that minute.
"You know, you can see how Dirk works, how hard J-Kidd works, Tyson, 'Trix, Jet, DeShawn, I mean everybody," Cardinal said. "Everybody works their tail off. And, you don't want to be that guy that doesn't work, that doesn't grind and doesn't get in there and give their part. So, I think everybody in here's motivated by the next person in the locker room, and it's exciting and hopefully we can get one more."
Cardinal was also able to sink his only 3-point attempt. Which means? Our disagreement with the elevation of The Custodian over Peja in the rotation is wrong. And Rick Carlisle is right. Again.
Mahinmi continues to give great energy, and give Carlisle the opportunity to find any rest he can for Chandler. He's not Haywood, but providing eight minutes for Chandler to recharge without condemning the Mavs is worth noting, and The Ianimal gave enough for that to be possible.
As with Cardinal, Ian's participation wasn't about winning his position; it was about surviving it until the horses were again ready to run.
WHO GUARDS WHOM?:
Shawn Marion was "just'' 4-of-11 but did the defensive dirty work and in total was a +21, better than any other player.
And he achieved that while spending most of the time guarding LeBron, who recorded a triple-double but with just 17 points as a part of that was exactly 10 points shy of where his team needed him to be.
Interestingly, Dallas used 'Trix on Wade late, maybe recognizing that Kidd could handle LeBron if all James was going to do is serve as a facilitator.
Or was it even a coaching move at all?
"'Trix and I talked,'' Kidd explained, "and I said, 'Do you want to switch?' He said, why not? That's just communicating between feeling ... we have to try to give them different looks. They're so talented. When you talk about Wade and LeBron, I mean, you give them the same look, they're going to take advantage of that. So that was just a time where we said we wanted to give them a different look down the stretch.
You mean switching assignments on two of the game's five greatest players wasn't a coaching move ... but something Kidd and 'Trix did on their own?
"Ivory Johnson'' is officially dead.
But once again, what LeBron and Wade are most ready for aren't the guys they are guarded by. What dramatists LeBron and Wade are most ready for, Mr. DeMille, are their closeups.
How can Miami's staunchest defenders disagree with the following:
LeBron's been transformed into a mortal and been exposed him as someone easily deked mentally. There is a sensitivity there and a fragility there that all the muscles and tattoos and posing on South Beach cannot mask.
And while LeBron tries to quiet the echoes of Mavs voices in his head – he "checks out'' and "fades out'' and "is wearing down,'' they Mavs have shouted in daily pressers – Wade is trying to ease the pain of a hip injury that limited him to 34 minutes and only two "encores'' as he theatrically returned to the floor after limping off stage.
It would be enjoyable to see the series come to an end in Game 6 ... so the curtain can close on these theatrics.
WHEELCHAIR WADE:
"I don't talk about injuries," Wade said. "It was unfortunate I had to leave the game, but I came back and finished it."
Can we get The 75-Member Staff on this? Dwyane Wade has a history of NOT "talking about injuries''? Didn't he star in a Nike TV campaign about how he bounced off the floor after injuries?
Do these clowns even listen to themselves?
MAVSELLANEOUS:
Every Mavs player but 'Trix shot 50 percent or better ... Dallas' 13 treys were the backbone of an offense that broke the 100-point barrier for the first time in the series. ... If Dallas wins this thing, history will remember that JJB was a starter on a title team. What history should also remember: JJB is making Mike Bibby look like a middle-school kid. ... While The Heatles giggle at Dirk, he keeps pulling daggers from his DaggerBag. Game 5's? Dirk had the go-ahead dunk with 2:46 remaining ... Kudos to Jet, perpetrator of so many brain farts in his otherwise fine Mavs career, who raised his BBIQ to an all-time level here. ... Idea: Guard Mario Chalmers coast-to-coast so he quits making long-distance quarter-ending heaves. Chalmers once again wanted to take the big shot way more than LeBron did ... Mavs locker-room visitor: Dallas-area native Deron Williams of the Nets, trying to get some Kidd to rub off on him ... Cherish it: This is that third championship series win that was so elusive five years ago. ... Don't look now, but the Mavs are now this series' "big brother'' and its "bully.'' And doesn't that feel weird?
MOUTHING ON JET'S MOUTH:
"Sometimes he puts a muzzle on me," Terry said of Dirk and his desire. "He doesn't like me to talk too much. It's something I grew up with. It's just a part of my game."
Said DeShawn of Jet: "He's crazy.''
And that's the pot calling the kettle "crazy.''
TY GETS A CALL:
It is our opinion (and the Mavs, too) that Tyson Chandler gets called for fouls in a way not befitting an All-NBA defender. So it was a relief to see TY get credit for a block when he anticipated a LeBron drive with 2:27 left and Dallas up just a 102-100.
"I'd seen him drive baseline a couple of times in the course of this game and actually in a couple of games now and I've been thinking, 'You know if I could get there and set and make him think I'm going to jump I can get a charge,'' TY said. "Just so happened to be at a key time."
And an all-too-rare call.
NUMBERS-CRUNCHING:
Let's calculate!
*In the second quarter, Dirk and Terry combined to go 7-of-9 for 17 points. As a team in the second quarter, Dallas hit 12-of-17 shots (70.6 percent), including 3-of-4 behind the arc.
*Dallas scored 30 points in the first and second quarter. Miami scored 30 in the first. Prior to Game 5, neither team had put up 30 in a single quarter this series.
*The Finals have been tied at 2-2 26 times after four games. The Game 5 winner has gone on to win the series 19 of those occasions … and Dallas has not surrendered a close out opportunity this postseason.
*Dallas did not grab a single offensive rebound in the first half … of course, it's hard to find many when you are shooting 65.7 percent, as the Mavs were.
*For the game, the Mavs hit 13-of-19 behind the arc, for an incredible 68.4 percent … and Peja Stojakovic didn't even play. Barea led the way, making 4-of-5.
*By halftime, the Miami bench had scored more than they totaled in three of the first four games of this series with 22 points, thanks in large part to the fact that Mario Chalmers seemed incapable of missing (4-of-6, all attempts behind the arc, for 13 points). The Dallas bench had 19.
*Miami's bench gave them 40 points, as the Mavs bench totaled 32 … and the Mavs won.
*Since 1989, only two Finals have gone to seven games. What say we keep it that way?
QUOTEBOARD:
"it's not a best-of-five series; it's a best-of-seven. So, the first team to four wins. So we couldn't celebrate tonight, even though it was a big win for us. The series is not over … we're going in there Sunday swinging, like we did today, from the jump. And hopefully steal one Sunday." - Dirk.
Our response: Don't "steal'' it, Dirk. Approach it as if it BELONGS to you. You cannot "steal'' something that's yours.
"We, as a team, we played good enough to win. Again. We put ourselves in a position to win down the stretch. We made plays ...'' -- Bron-Bron.
Our response: Keep telling yourself that son. That your performance in a nine-point loss that featured yet another fourth-quarter Costanza Crotch from you was "good enough.''
THE FINAL WORD:
One more win.
That's what Shawn Marion was muttering to himself at game's end. That's what J-Kidd said as he headed to the parking garage.
That's all Dallas needs now. One more win. It won't come easy, and it's not guaranteed, but that's all the Mavs must now accomplish to claim a championship that now strides so close … yet still so far.
The Mavs may have been upbeat in the locker room after the game, but, as they have with every postseason win leading to this moment, it came wrapped around an undertone of, "there's still work to do."
TY did say, "This city deserves a champion and we're going to try to bring it home to them."
At this moment? Dallas is done hosting the 2010-11 season, but the team remains one game from their ultimate destination and what anybody might "deserve.'' Hold off on the celebration. Hold off for just a little bit ...