DONUT 1:
"If we score 100,'' predicted
Jason Terry
before Game 5, "we win.''
And then they did. Shall I stop there? We should all understand this as it is Basketball Kindergarten. Time eat your cookie and drink your little square cartoon of cow juice and take a nappy on your mat. …
It goes deeper, of course. But understand the basics: In these playoffs, if you attempt to engage in a high-scoring bout with Dallas, you will achieve your goal … but you will get out-high-scored.
DONUT 2:
There is the issue of clutch scoring, one that has so many of us peabrains all these years to come to the realization that "crunch-time'' isn't the same as "SportsCenter time,'' that the infinite loop of this star or that one making an incredible basket to win a game doesn't really mean he's swished infinite baskets.
Maybe he just made that one. But they keep replaying it, you know? It's in your head …
LeBron James
was on that endless loop. But now he's stuck in a different Reel-to-Reel Hell, the one that establishes him as inferior to the old, white, modest Euro from Dallas – the one who in the five fourth quarters in this series has outscored "The King'' ... 52 to 11.
"The King'' shouldn't be mocking "The UberMan,'' as you see him do here …
"The King'' should be BOWING to "The UberMan,'' … and while he's in that frighteningly subservient position …
DONUT 3:
Let's add a LeBron curtsey directed towards Jet, JJB and Kidd, too.
Why? In the fourth quarter of Game 5, Dirk had eight of his 29 points while LeBron had two of his 17. Two. Meanwhile, Jason Terry (21 points total) had eight points in the quarter, J.J. Barea (17 points total) had six points in the quarter and guard
Jason Kidd
(13 points total) had five points in the quarter.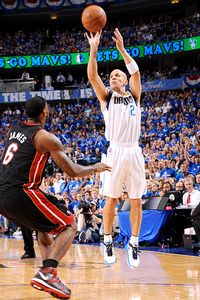 That's right: In the clutch, in crunch time, in winning time, coach Rick Carlisle's "Be Ready'' committee featured four guys who scored more than LeBron James scored.
DONUT 4:
Did the Mavs make "difficult shots''? So it is said … but Dallas cashed in on 13 treys at a rate of 68.4 percent. The rate is high, but are 3-pointers difficult for this team?
"They made their shots," Heat coach Erik Spoelstra said of the Mavs. "This is a shot-making team. We were aware of that before we came into the series.''
Dallas' offense in this series continues to be based on an inside-out formula. All year long – heck, all decade long – we've griped derisively about the Mavs being a "jump-shooting team.'' This year's Mavs team (or rather,
this month's
Mavs team) is NOT just a jump-shooting team. The perimeter attempts come far less from shot-hunting and iso's and far more from …
DONUT 5:
Drive-and-kicks, passing out of double-teams and post-ups. All inside-out stuff:
*Driving and kicking. This is the biggest reason Barea has been nudged higher in the rotation, all the way to starter status. In the fourth quarter last night, he was technically the point guard, with Kidd not in control of every aspect of the offense. Why? The Mavs have proven repeatedly that Miami employs no one who can stay in front of JJB.
An "outlier''? Think of all the bunnies Barea has missed in this series. He's gotten himself open enough that 17 points shouldn't be his series high – it should almost be his average.
*Dirk passing out of double-teams. There is no "New Dirk,'' but there is an "Improved Dirk'' in this department. Miami is bringing double-teams from behind him, and that is sneakily treacherous. But standard double-teams? They are doing it at their own risk, because The UberMan is now adept at kicking back outside and then either re-setting for another entry pass or watching as the ball swings on the perimeter to an inevitably open Mav.
An "outlier''? No, the outlier came in Game 3, when Dallas lost in the late-going, not just because Nowitzki missed a shot at the buzzer but because seconds before, he'd gotten swarmed in a triple-team and didn't properly connect with
Shawn Marion
.
*Post-ups. Kidd did it early in the series, with little positive effect. But the rest of the Mavs are staying at it. Dirk does it. Marion has befuddled James by doing it. (Someday, when LeBron can reciprocate after he himself bothers to learn some post-up moves, James will truly be dangerous!) Some of
Tyson Chandler
's 13 points came on plays designed to feed him inside.
The Mavs offense is now in part a jump-shooting group that works inside-out. Let me offer just one more example in this Donut: how does Kidd get his points? It's all ball movement – no fluke. And what happens when he gets his points, as he did here with 13? In this postseason, Dallas is 7-1 when J-Kidd scores in double-figures. No fluke.
DONUT 6:
The Mavs shot 56.5 percent from the floor. They posted a pair of 30-point quarters to get themselves 60 points at intermission. Which sounds more like the Mavs you know: That, or …
Dallas having averaged 87.8 points on 41.4 percent shooting through four games?
Like every team, the Mavs spend a great deal of time breaking down film and studying film. I believe there is less stubbornness in that room than there is a willingness to learn.
But once the Mavs figured out some of Miami's personnel plans (LeBron guarding Jet, for instance), Dallas went to work to put its players in position to succeed. They saw that on film … the positions were available.
"We are getting the same looks we knew we would get," said Jet, who made 3-of-5 from the arc, highlighted by the game-sealer with 33.3 seconds left. "After Games 1 and 2, you watch it on film, you see it and then you realize where you're going to have the opportunities.
"I said to myself and I said to my teammates, 'We're not going to continue to miss those open shots that we're getting.' And so, again, being confident, preparing, getting extra shots in, in those spots is what allow you to go out in the game. And when you get those opportunities, knock them down."
He did indeed "talk to himself,'' including in the final seconds of this win, after that last 3-pointer, when a lip reader could guess that Jet – who has insisted all series that not even the gifts of LeBron were so massive that they would obscure the gifts of Jet -- was muttering, "I told you!''
DONUT 7:
Hey, if you enjoy this level of Mavs coverage and want to get fully buckled in for this ride …
Want to stay in touch with the Mavericks at all times?
*The Mavs LIKE you. ...
if you are on Facebook, come LIKE 'em back!
*Invest about a dime-a-day and believe me when I say DB.com will do everything we can to earn that dime and retain your trust when you
Go Mavs and Go Premium!
We are inside the locker room, inside the front office and on the court with the Mavs with exclusive Video Visits, analysis from the experts, all the notes and quotes, excitement and enjoyment ...
Check us out. You will be pleased!
Go Mavs and Go Premium!
*Involve yourself with thousands of Mavs fans just like you and get on the
DB.com Boards!
*Get more Mavs and Fish on Twitter!
*And on Sunday night for Game 6, I'll serve as the FoxSports Southwest studio analyst alongside Nancy Lieberman for the postgame show … your home network covering your home team … Join us right after the final buzzer!
*Oh, and as has been the case for years (no disrespect to the Mavvy-Come-Lately's suddenly peddling t-shirts out of their car trunks) ... You can WEAR the Mavs and DB.com by
visiting The DB.com Store!
The 'TAKE THAT WIT CHEW!' shirt gets the thumbs-up from Dirk himself and is so hot they now sell it in the official Mavs Fan Shops!
DONUT 8:
Part of Dallas' confidence in winning shootouts, if it must be done, is its balance and depth.
Dirk said it was "disappointing when "We started trading baskets, even in the first half, when we were going well offensively," said Dirk, going well with those 29.
I don't always trade baskets. But when I do, I trade baskets using the Mavs offense.
The one guy to take the one shot? There can be only one guy who takes the one shot. For Dallas, it is The UberMan, who at this moment in NBA history is being lauded as Bird-like. (I might suggest we add some people of color to the list of superstars who join Dirk in a certain lofty realm. It would be a compliment to him – and to them.)
For Miami, it is Wade. It is Absolutely Wade and Forever Wade and LeBron James may have a future in this league if he plays assertive facilitator to the guy some backasswardly think is his sidekick.
But Wade is limping (at least when the cameras are on him, and between plays. He's not limping due to a bad hip when he's given the ball). So somebody else on the Miami roster must step up and score.
Bosh? An attractive No. 3 option, who, if Wade is auditioning for "General Hospital'' and LeBron is auditioning for "Basketball Wives,'' becomes a not-so-attractive No. 1 option.
And then what?
Mario Chalmers
? He can't do more than he's already doing.
Mike Miller
? He can't get open and on defense is a statue waving his hands as a Kidd pass zips by him.
Udonis Haslem
? He's got his hands full on the other end.
Eddie House
? He was given three laughable minutes last night.
Juwan Howard
? Not in 2001 and not in 2011.
Meanwhile, the Mavs "waves of white jerseys'' – which Rick meant as a word picture of his defense – keep coming at you at north end, too. … so much so that it boggles the mind to think they are doing it without Big Wood, without Roddy B and without Tuff Juice.
Hey, you don't think Beaubois can play point guard? Ask the Heat. I bet they'd trade for him today and start him on Sunday.
This is why some of us picked the Mavs to win this series, on the hopes that five, nine, 12 guys could beat two.
DONUT 9:
I'll need to recruit my coaching buddies to help us break this down, so let me go general here: Go back and look what happened during the eight minutes Dirk didn't play. See if you see what I see: The screens were crisper and harder. The play-calling what shared by the coach and the point guard. The screen-and-rolls were varied, cutters moving from different angles.
Using more intensity, more crispness and superior coaching, Dallas' offense actually WON some of the minutes during which Dirk rested.
DONUT 10:
Was it accidental? Fortuitous? A lucky coin found on the sidewalk that turns out to be the 1933 Gold-Double Eagle … worth $7.5 million?
That's what the coach would modestly have you believe.
"You get hot, you get on a roll, and you can have a night like that," Rick Carlisle said. "They don't happen very often. Last time we had a shooting night like this was Game 4 against the Lakers. That's why you just keep working your game, and that's why you stay persistent, you keep defending, you keep systemically stepping into shots that are there and you're going to have some breakthrough games."
Ah, "stepping into shots.'' I've discussed this before in this space. Part of Carlisle's "Be Ready'' philosophy is that everybody who gets a uniform must prepare himself to do whatever is necessary. Peja's done and The Custodian's in? Both are ready. DeShawn's on the bench and JJB's starting? Whatever it takes.
Brendan Haywood
(hip) can't go last night so
Ian Mahinmi
is asked to offer eight minutes of wrasslin'? Done.
In exchange for what he asks, Carlisle rewards his players with freedom. Freedom to do what Kidd and 'Trix did last night on defense (late in the game, the players themselves decided to switch assignments, Kidd going to LeBron and Shawn going to Wade). And freedom to "step into shots'' on offense. It's part of the reason D-Steve has gotten his offensive groove back, one of the reasons Cardinal felt confident to fire up a 3 as soon as he entered the game ("The Custodian'' outscored LeBron, too, in his way, 4-to-2 after one quarter), part of the reason nobody rolls their eyes when Barea admits, "I'm a streaky shooter.''
That's OK. Except for the moments when the ball must go to and through Dirk, go ahead and shoot.
DONUT 11:
But Carlisle's "aw-shucksing'' aside, most of, the reason Dallas' offense in this 112-103 victory that places this franchise oh-so-close to the once-unthinkable is this:
Dallas was due.
Due to score 100. Due to use its experience and enjoyment of pressure situations as a weapon against another foe … as it did against the Blazers and the Lakers and the Thunder, all of which whom at one time or another marveled as Dallas' shot-making ability.
"This was our highest scoring game of the series," 'Trix said. "We were bound to get one easy (offensive) game sooner or later. It was just a matter of when it was going to happen. We should be due for another."
What, somebody disagrees with that? What, somebody thought 37 percent was going to happen again?
Dallas shot 37.3 percent in Game 1 (and won). Dallas shot 40 percent in Game 3 (and won). Dallas shot 39.7 percent in Game 4 (and lost at the buzzer). With all due respect to Miami's defense, did the outlier-thinking world assume another 37-percenter was in the offing? That after Dirk won one game with a spinning left-handed layup and then won another game with a spinning right-handed layup that when it came time to do it again, he'd be out of available hands?
For the record, with two-and-a-half minutes left Thursday, Dirk broke open the tie game with a two-handed dunk. So yes, maybe he did get tired of alternating game-winning hands and this time allowed both those big, strong softies to share in the glory.
DONUT 12:
The "outlier'' isn't that a festival of scoring happened for Dallas this one time; the "outlier'' is that it hasn't happened twice. "The "outlier'' will be if it doesn't happen again at some point in Miami.
Want even more Mavs? Invest about a dime-a-day and believe me when I say DB.com will do everything we can to earn that dime and retain your trust when you Go Mavs and Go Premium! We are inside the locker room, inside the front office and on the court with the Mavs with exclusive Video Visits, analysis from the experts, all the notes and quotes, excitement and enjoyment ... Check us out. You will be pleased! Go Mavs and Go Premium!