PRE-DONUT
What you are about to read is in no way meant to "rain on the parade'' in Dallas -- on my part, anyway. Right now, we are all emotionally hungover and yet showing off our own little dance moves, right?
Indeed, I'm sure you hear the excitement in our voices as the DB.com gang gathers together for the Mavs DB.com Championship Podcast (maybe nsfw):
Db.com podcast champs by dbmavs
But ...
DONUT 1:
I'm sad to report that in some circles, Wade's Game 5 hip injury will forever be used as an excuse for why the Miami Mercenaries didn't win the first of their "Not 1, Not 2, Not 3 … Not 8'' anticipated consecutive titles.
"I don't talk about injuries''? Heck, at the same press conference after losing to the
Dallas Mavericks
he added, "It was unfortunate I had to leave the game. But I came back and I finished it.''
Wheelchair Wade was Alibi-Ike'ing about the injury in the same sentence in which he lied about not alibi'ing!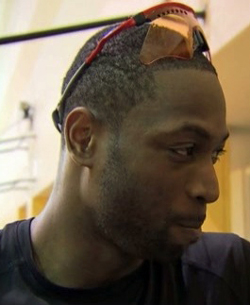 DONUT 2:
So is that it? Maybe a slip-up? The only time Wade has every used injuries as an excuse or even bothered to mention his woes?
I promise, this offseason in this space will be spent celebrating the winners almost infinitely more than it will be denigrating the losers. But allow me some leeway, OK? ...
Earlier this season there was "Wade's Migrane.''
In January, Wade described his migraines as "one of the worst feelings you can get.''
"You're out of it. Your head is pounding," Wade said. "You know, a lot of people have different symptoms with migraines. My eyes get real sensitive to light, so I had sit in my house and wear shades in the dark, so it's a terrible feeling. It's one of the worst feelings you can get, but you try to get it behind you." No, Wade doesn't discuss his injuries. He certainly doesn't get into details like "having to sit in his house and wear shades because his eyes are real sensitive to light.''
DONUT 3:
OK, so the poor lad has "sensitive eyes.'' But otherwise this year … Well, there was "Wade's Knee.''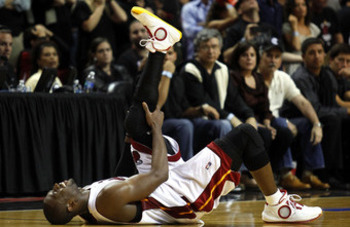 From the Miami Herald:
He'd hoped treatment during the day would loosen the knee up but he was put on the inactive list an hour before the game.
Wade dismissed the notion that he might sit out Thursday's game to make sure he was ready for Saturday's Christmas showdown with the Lakers on ABC.
"It has nothing to do with Saturday," Wade said. "It is all about winning."
Winning. And whining.
DONUT 4:
Fine. Dwyane talks just a smidge about his headaches, his sensitive eyes and the possibility of being deactivated due to knee problem that wasn't problematic enough to have him deactivated.
So what?
DONUT 5:
Well, "Wade's Sore Hamstring.''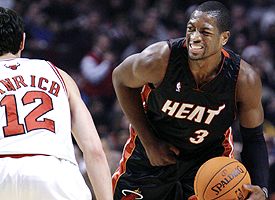 From ESPN:
Wade put his problem in simple terms.
"It's sore," Wade told The Miami Herald on Wednesday. "It'll be the same the next couple days. It'll be sore and I'll continue to get treatment and therapy and we'll see how it feels in a week or so. But [I] can't rush it and they won't let me rush it right now anyway."
Maybe Dwyane
would've
rushed it. Because he's tougher than a Cagney character. But THEY wouldn't let him!
DONUT 6:
"Wade's Elbow.''
From The Sporting News:
Unfortunately, he was pouting to the media and wasn't talking to anyone here...so he talked to a team spokesman about it and sent him out to tell the reporters of the agony he was in...
DONUT 7:
"Wade's Shoulder.'' This year ... and Forever.
From the Miami Herald:
Dwyane Wade
slammed to the floor and the Heat were on edge. Wade, Miami's co-captain, slowly stood up, held his left shoulder and momentarily wondered if the pounding was enough to knock him out of Game 3 on Thursday night. "I felt it immediately," Wade said Friday. "Any time something happens to my shoulder, obviously I get nervous because of the grueling surgery I went through ...''
See, Wade doesn't talk about injuries very often – unless they involve "the grueling surgery he went though.''
You know, most people don't endure "grueling surgery.'' They are medicated against the "grueling'' nature of the procedure. But not D-Wade. He's tough. He chewed on a leather belt strap at first, and then poured some Morton's Salt into the wound, just to establish who the hell was whom in that hospital.
DONUT 8:
"Wade's Wrist.''
From The Miami Herald (which by this time must be guffawing at all the ink they've wasted on writing about all the injuries that their guy "doesn't talk about''):
Wade felt pain in the second half of Thursday's game against the Knicks, but isn't sure how the injury happened, according to a team spokesperson.
Which of course means Dwyane talked to the PR guy about his injury. Which maybe doesn't count as "talking.'' Because obviously, somebody is very confused about the definition of that seemingly simple word.
DONUT 9:
"Wade's Calf.''
From the Orlando Sun-Sentinel:
"It doesn't hurt, it doesn't feel great," he said. "It's kind of in that stage right now where I have to continue to get it stronger because it fatigues a lot, real quick. So I'm just glad I can get out there and run up and down a little bit and try to get my wind back. But I'm still a little ways away."
That's right. Earlier this year Wade addressed the media to "not discuss'' a calf injury that didn't hurt … but that does "fatigue a lot.''
DONUT 10:
The above examples are from just this season alone. From bottom to top:
Wade has detailed/revealed/griped/announced injuries to his
*Calf
*Knee
*Hamstring
*Hip
*Wrist
*Elbow
*Shoulder
*Sensitive eyes
*Headaches.
This year alone, Wade has not discussed injuries ... except for the ones that have plagued every single inch of his body.
By now, you sense, do you not, that Dr. Fish can go on forever?
(Our man TXBamanut leads this charge on DB.com Boards here
We can stop after just one more, the Classic Wade that needs no words from him because we have the moving pictures ….
DONUT 11:
Meet Wheelchair Wade:
DONUT 12:
It would be a shame if Dallas-as-champ is overshadowed in any way by Miami-as-chump.
So this will be my last word on this ... at least until sometime this summer when Dwyane Wade calls a press conference to not discuss his nasty sunburn.