DONUT 1:
If you took a quick perusal across the internet Thursday afternoon to try and gauge the thoughts of most experts on what Dallas was going to do in the 2011 Draft, opinions were decidedly in two different camps. One school of thought held that the veteran-heavy team was going to acquire a polished player capable of sliding in and contributing now. The other felt that because of the Mavs' deep roster – and that's before considering the half dozen free agents who may or may not be plying their trade with the defending champs next season – the organization would try to acquire a foreign player to stash overseas to preserve roster space and have another asset in their back pocket.
Turns out they were both right.
The Mavs achieved what GM Donnie Nelson termed their "A-scenario,"
shipping out the 26th and 57th overall picks in a three-team deal with Portland and Denver to acquire Blazers shooting guard Rudy Fernandez and Finnish point guard Petteri Koponen, who currently plies his trade in Italy for Virtus Bologna.
We'll get to Koponen in a moment. Fernandez?There's a lot of cause to be excited for what the Mavs just picked up in exchange for a late first round pick.
DONUT 2:
So what do we know about Rudy Fernandez?
He was originally drafted 23rd overall in 2007 after a hugely successful career overseas in his native Spain that earned him numerous accolades, most notably the 2006 FIBA Euroleague Young Player of the Year award in 2006 and the Euroleague Rising Star award in 2007, but didn't make it to the NBA until the 08-09 season. In between – and most notably for the Rudy mythology – was the 2008 Olympic gold medal game against the United States, an event that most now remember for unleashing his compatriot/Spanish Jonas Brother Ricky Rubio upon the world as a fresh-faced 17-year-old but really served as Rudy's coming-out party.
Fernandez led Spain in scoring by notching 22 points and burying five of his nine three point attempts, outscored Kobe Bryant (20 points), and had some observers tabbing him as the best player on the floor for either side. Yes, really.
His first season with Portland was termed a success and, to date is still his best one as he averaged 10.2 points and shooting 39.9% from three-point range in 25.6 minutes per game off the bench en route to second-team All Rookie honors and setting a plethora of rookie three-point records, including makes in a season (159), consecutive games with a three-point basket made (33), and longest streak of consecutive games to open a career with a three-point basket made (20).
At that point, it was no exaggeration to say that he was considered to be among the crown jewels in the Blazers' young core that also included Brandon Roy, LaMarcus Aldridge, and Greg Oden, and had substantial trade value should Portland ever have decided to dangle him on the open market.
DONUT 3:
So what happened? For starters, an injury-interrupted sophomore season in which he played only 62 games after going under the knife for microdiscecotemy surgery for a herniated disc and an overall role reduction that saw him average lower numbers across the board in '09-'10 as part of a four-guard rotation.
That led to a disgruntled Fernandez demanding a trade prior to this past season or else, with "else" being a return to the Euroleague. His agent Andy Miller went so far as to tell The Oregonian in August that "all [he could] do now is stand on the rooftop and scream, '[Rudy's] not coming! He's just not coming back."
Well, he did after former Blazers GM Kevin Pritchard and his successor Rich Cho shot down a bevy of trade offers, which ESPN's Chris Sheridan reported at the time included draft picks in the mid-teens of the 2010 Draft, future first round picks in the 2011 Draft, and an offer from the Knicks for Wilson Chandler, who now plays for Denver. So Fernandez eventually came back to camp with his tail between his legs, sucked in his pride, and played after all, with relatively similar production to '09-'10.
If you don't remember seeing much of him in the postseason in the Mavs' first-round tilt with the Blazers, that's because there wasn't much to see. Rudy averaged a measly 13.2 minutes per game, scoring 2.2 points on putrid 22% shooting. When he was out there, he seemed to have lost his confidence, making just three trifectas in the series and going nowhere near the rim during most of his limited action.
DONUT 4:
So why do we care?
The skill set. On offense, he's the whole package. He's legit 6'6'', can shoot the three (as detailed above), has enough flair with the ball that had scouts tossing out Manu Ginobili comparisons not too long ago, and the athleticism to run the break and finish, either by running the wing or going up for the alley-oop. He has uncommon vision for a shooting guard, enough so that the Blazers often deployed him as their backup point guard and enough for him to notch an eight-assist game off the bench in January off the bench against Indiana. And he's got serious springs, too – as in dunk contest springs.
Defensively? Nothing special, and nobody's ever mistaken him for a strong rebounder at the 2. But Bob Ortegel would call Rudy a "can do" guy on O, as in "he can do that," and it's really tough to find areas on the offensive end of the floor where Rudy can't do that. The Mavs just won a championship plucking shooting guards off the scrap heap and, indeed, have spent much of the past decade racking up 50-win seasons doing exactly that. But this is something different.
When was the last time Dallas has had a 26-year old player on the wing (sorry D-Steve) with Rudy's athleticism (sorry Antoine Wright), with a skilled and polished game(sorry Gerald Green), who can create his own shot and spot up shoot as well as he can drive? The Mavs have done a damn fine job turning F's into C+'s; with Fernandez, they have a chance to turn a C+ into a B.
DONUT 5:
So about that defense….
OK, it's not great – and I assure you the Mavs' brain trust is exponentially more concerned with it than my four-word dismissal. But while Dallas' identity is built on defense (rightfully so, as the past season can attest), there is a need to add younger legs around Dirk to help shoulder the offensive burden.
Consider the other perimeter guys that played a role in this title run. Jason Kidd is 38, and incapable of being depended on for scoring aside from the three-pointer. Jet and Shawn Marion turn 34 next season. Corey Brewer is only 25, but as lacking on offense as he is stellar on defense. Among the free agents, JJB turns 27 on Sunday but there's a lot of reason to believe another team will give him an offer in free agency that he'd be foolish to turn down, both in money and increased role. Caron Butler may or may not be back, but he's coming off of major knee surgery and turns 32 this year; how safe is it to assume that he can still reproduce the skill set that made him an All-Star and can the Mavs really rely on him to do that without a safety net? DeShawn Stevenson is a three-point bomber who offers nothing on offense when his J goes cold; Peja Stojakovic is a three-point bomber who offers nothing at all when his J goes cold. Roddy B and DoJo are guys that the Mavs would like to shoulder that burden and believe are capable of doing so at some point, but the former has a very small sample size of demonstrating he can be relied upon while the latter hasn't shown much of anything yet.
I'm not trying to paint a picture of the Apoclypse by any means; after all, this team DID just win the title less than two weeks ago and both Jet and Marion have shown no signs of falling off the cliff productivity-wise. But it's going to happen at some point and age dictates it's going to be sooner than later.
That's why, in the latest seminal edition of the Mavs DB.com podcast (see below), I gave quite the little speech about why the Mavs should look long and hard at J.R. Smith on the open market as a reasonably-priced wing who can score points both at the rim and on the perimeter, and as a pair of young legs who can reasonably be drafted in as an eventual Jet successor at off-guard.
Amid collective groans about J.R.'s subterranean basketball IQ, possible Blood affiliation, and general lunacy, Fish (exasperatedly) proclaimed that there had to be another guy capable of doing that for the right price, and one without J.R.'s baggage.
Turns out Fish was right, too. Rudy can be that guy to help take pressure off Dirk as well as possibly succeed Jet whenever the winged one finally touches down on the runway for good. How much of a run he's given to do that this year remains to be seen. But Rudy will be heard from, which is what Dallas wanted from its first-round pick all along and something no drafted player at that spot could guarantee.
But I get the debate.
If you are a Mavs Premium subscriber, you've got the Fish-vs.-Coop debate on video!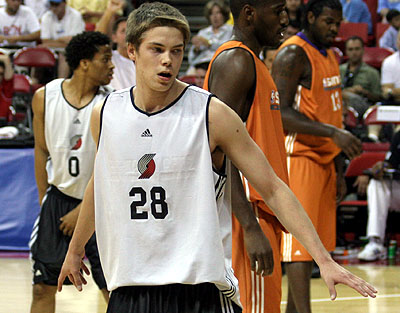 DONUT 6:
So, who's the other guy? The other guy is Koponen, a lanky (6'4.5'') point guard playing overseas in Italy. Like Rudy, Koponen was drafted in the first round (30th overall) of the 2007 Draft and promptly stashed overseas. Unlike Rudy, Koponen has yet to set foot in the US, so we don't know a whole lot about him. ESPN draft guru Chad Ford described Koponen prior to the 2007 Draft as "fundamentally sound," "poised," and a "solid shooter," while DraftExpress' Jonathan Givony raved about his ability to command the floor for such a young point guard, although both expressed concerns over Koponen's defensive abilities.
As far as when he gets here, that's anyone's guess. Koponen not only has to prove he's ready but also beat out another foreign import point guard in Nick Calathes, who has a similar body type and a history of being drafted within the organization. There's a chance Koponen may never even make it over, destined to be another "rights-for" throw-ins we see so often on Draft night who are destined to play their careers out overseas.(Worth noting: Our David Lord is hearing buzz that Koponen is suddenly more likely to come to the NBA now that he's Mavs property.)
But what Dallas did was procure another asset for practically nothing, and possibly another barrel of powder to keep dry should the right trade come along. The Mavs wanted to get a player to stash overseas; turning the fourth-from-last pick in the draft into a former first-rounder is a superb way to get something out of nothing… even if that something may be a ways away from making an impact.
DONUT 7:
So what of our neighbors to the south?
After early week rumblings of the Spurs shipping out Tony Parker for a lottery pick, San Antonio wound up dealing their other point guard, George Hill, to Indiana in exchange for Kawhi Leonard, the San Diego State forward who was expected to go top-10 but slipped to the 15th pick.
Leonard, he of the enormous hands and garish suit choice, will be an impact defender, rebounder, and energy guy for the Spurs now and likely more down the line. But this clearly wasn't a move with "now" in mind for the Spurs, who just sacrificed their best bench player and purported Parker successor plan should the Frenchman flee the coop to make this deal happen. The Spurs are in no man's land, a team surrounding Parker with an odd mix of battle-tested veterans on the down slope of their careers (Tim Duncan, Ginobili, Antonio McDyess) and promising young players too green to be counted upon (Leonard, James Anderson, Tiago Splitter).
They're still the Spurs and are still coached by Gregg Popovich, so they demand and retain the respect of every team in the league, Dallas included. But if you're looking for the team that can possibly knock the Mavs' off their perch atop the NBA roost, San Antonio, as presently constructed, isn't it.
DONUT 8:
The Rockets, meanwhile, had themselves a nice little draft day. They used their first rounder to select Kansas' Marcus Morris (I'd describe to you which one of the twins he is, but they're identical and even took that so far as to get the same tattoos, so you're S.O.L) and then flipped Brad Miller's corpse plus the 23rd overall pick to Minnesota for Lithuanian big man Donatas Motiejunas and Jonny Flynn, who lest we forget was the 6th overall pick two seasons ago and is still only 22.
None of that should be surprising given Houston GM Daryl Morey's degree in asset management. But the question is how much do those assets – and the Rockets' roster is chock full of them – matter when it's deep deck of good but not great players, a veritable 12-pack of legitimate rotation guys or better?
Ultimately, not much. Bottom line, you're not winning much if Kevin Martin is your best guy and Luis Scola your second-best, no matter how many good players sit behind them on the depth chart. Houston needs a star to knock Martin, Scola, and everyone else a notch down in the pecking order (paging Yao Ming…); until that happens, that deep roster will be much peskier for the Mavs than truly problematic.
DONUT 9:
Quote of the night: "I think Blake Griffin is the American Jan Vesely," uttered by none other than Jan Vesely. No, really, he actually said that.
Couple that with his entrance, and I have a new contender for my favorite non-Maverick. And since Vesely is 6'11'', how tall is that girl? Is the Czech Republic the leading European producer of Amazonian women? Suffice it to say, I think we should all eagerly anticipate the arrival of the Wizards' new international man of mystery.
DONUT 10:
Draft Day Winners:
-Milwaukee. My DB.com colleague Michael Dugat and I volleyed back and forth on whether anyone won the ballyhooed mid-day three-way trade between the Bucks, Kings, and Bobcats, with Dugat taking the stance that it a large component of it may have been shuffling the deck chairs. My contention is that the Bucks not only won the deal, they won it handily by shipping out a combined six years of big money on Corey Maggette and John Salmons' deals in exchange for Stephen Jackson, who is a better scorer and defender, on-court leader, and actually cares, which can't be said about their exports. Given that all it took to make that happen was dropping nine spots in the first round of a bad draft, and that they wound up getting a solid player in Tennessee's Tobias Harris, and it's an easy call to tab Bucks John Hammond as the Draft's biggest winner.
-Washington. They got The International Man of Mystery with the 6th pick. They nabbed Chris Singleton, the best defender in the draft and a great complement along all offense, no defense shooting guard Nick Young, at 18. And they snaked Butler's Shelvin Mack, a scoring rotation guard with a big game pedigree, at 34. They are the Wiz; only Milwaukee beats them.
-Dallas. Because they took a late first rounder and turned it into an instant impact, high ceiling young veteran, and because they took a late second rounder and turned it into a former first rounder that's still only 23 years old. Fish' "asset management'' fascination? This is asset management at its finest.
DONUT 11:
Draft Day Losers
-Sacramento. John Salmons' contract is so bad (4 years remaining, $31 million) that the Kings should have been handed a higher draft pick in exchange for taking it on. Instead, they dropped three spots (from No. 7 to No. 10) and drafted The Jimmer, who optimists theorize could be Stephen Curry, Mormon-edition (does he play nice with Tyreke Evans?) while others think of him as an undersized gunner (in which case, whither Marcus Thornton?). Tyler Honeycutt was a steal at No. 35 pick and quite possibly their small forward of the future, but that isn't enough to redeem some bad decision-making where it mattered most.
-Minnesota. You knew David Kahn would find a way to crack this list, and he did not disappoint. After failing all week long to move the second overall pick, Kahn did both the right and wrong thing by selecting Derrick Williams; right, because he was the best player on the board but wrong because it forces them to deal one or both of Michael Beasley and Anthony Randolph at a huge loss to clear off space on the roster. Then there is the Jonny Flynn debacle, in which Kahn took his top-10 pick and supposed franchise cornerstone from just two seasons ago and flipped him for pennies on the dollar. Continued stupid decision making from the league's worst general manager.
DONUT 12:
So nice, I'll plug it twice. The draft is over and free agency is around the corner… whenever the lockout ends. Once that happens, though, the Mavs are in full-on open market mode and we examine all the angles on this week's DallasBasketball.com podcast. Be there or be completely uninformed (and you wouldn't want that, so enjoy this podcasty goodness and heads-up for the NSFW stuff).
db.com podcast look ahead by dbmavs
Hop on Twitter and follow The Fish, Mike Fisher and Mike "Pie'' Piellucci.


Want MORE Mavs? Sign on up! It's about a dime-a-day for the very best in Mavs coverage from DB.com. And yes, we keep it rolling all summer long ... You won't get 'em covered like you get 'em covered here! Go Mavs and Go Premium!









The staff at McKinneyDentist.com celebrates their very own "Mavs Day'' ... the finest dentists in all of Collin County and maybe the world! Check out McKinneyDentist.com!