DONUT 1:
Dirk Nowitzki
. He's not only "the greatest basketball player on the planet,'' as coach Rick Carlisle says. … and he's not only a person of such high quality that Rick also says he's as good a "person'' as the NBA has ever seen … he's also tops in both categories in
Dallas Mavericks
franchise history.
This is such a no-brainer that it actually leads to two sidebar discussions: a) is a jersey retirement really enough, or should there be a statue out on the Plaza? And b) should all the other deserving names below have to wait until after Nowitzki is honored?
DONUT 2:
Jason Kidd
: Other stops in Kidd's NBA career will largely be forgotten now. He will be remembered as a Mav in the same way Dorsett (briefly a Bronco) and Emmitt (briefly a Cardinal) will be remembered as Cowboys.
All the numbers are there. By the time he retires (I still think he'll sign one more contract after this upcoming year is over, and then maybe be persuaded to remain with the organization in some capacity), he'll be cemented in as top-three in numerous categories not only in franchise history but also in NBA history.
Kidd best represents the struggles of the franchise's climb to excellence. In his own way, he's as deserving of legend status as The UberMan.
DONUT 3:
Donald Carter – or maybe Mr. AND Mrs. C. I engaged one-man committeeman Jerry Jones in dozens of conversations on this sort of topic when it came to old-guard members of the Cowboys organization and I'm prepared to do the same with Mavs (presumably) one-man committeeman Mark Cuban, too.
To honor the franchise's founding father/founding family posthumously is a terrible waste of feel-good emotion for a city. Tom Landry and Tex Schramm belonged in the Cowboys' Ring of Honor while they could still be there to appreciate the gesture (and while Jerry could be seen as a bridge-builder). Cuban did some of that building work when he humbly deferred to Mr. C during the Finals trophy presentation.
Here's a chance to do it again for the 78-year-old Carter, who has served as a father and grandfather figure to so many that come below him on this list. How can Derek Harper or Mark Aguirre be more important than the man who provided them a franchise to play for?
DONUT 4:
I admit a bias toward Derek Harper. I have seen first-hand his devotion to representing the Mavs in the community in ways that are unofficial and behind the scenes; I can personally testify that not even Mark Cuban himself is fully aware of Harp's generosity of time and spirit and heart.
One easy argument in favor of Harp: If Brad Davis belongs there, so does Harp. That's not meant to demean Brad's contributors. But Harp was a stud as a player (he holds the franchise records for assists and steals and ranks fourth in points) and like Brad and Ro, he is an even superior human being
DONUT 5:
Who better embodies the spirit of the 2011 NBA champs than
Jason Terry
? He's supposed to be the Sixth Man, not the second-best man on a championship team. But the Mavs needed "seven Robins'' (as Donnie Nelson says) to step up and no one did it better than Jet.
You know what he's going to tell his grandkids? He's going to point up to a banner that has his "31'' on it and maybe says "JET'' on it and he's going to say, "You kids know LeBron, right? In the spring of 2011, I was bigger and better than LeBron.''
Terry's "Move Over'' announcement was done with intent. He craves attention and he craves his share of the credit. He views himself as a heckuva story and he tells that story with a plan in mind: Jet wants to go into post-basketball-career broadcasting. He wants a high profile. He wants a high profile that lasts forever.
What, you think he wore that flashy-and-funny boxing robe just because is happened to be next up in his closet? That sort of thing is part of why Jet is so high on this list: He WANTS to be high on this list. Humility will prevent most men from asking for the honor. Jet? He'll start a campaign, launch a website, sell "JET TO THE SKY!'' bumper stickers. You know he will.
DONUT 6:
A quick plug-away moment for my friends at
ThreeSheets
,
McKinneyDentist.com
,
Esparza's
,
MavCowTickets
,
Game Havens Facebook Page!
and
the DB.com Store
, where your Mavs DB.com swag is being ordered and shipped to Mavs fans all over DFW and all over the world. Without these guys, we can't do what we do … so we ask you to thank 'em, too!
DONUT 7:
I think here's where we hit a cut-off point. Where we reach a lower tier. Where I give you
Michael Finley
.
What is the public perception of Michael Finley? And years from now – surely and obviously after Dirk and Kidd are recognized, meaning we are talking years and years from now – what will the public perception of Fin be?
And how much will the candidacy of Finley be impacted by that perception?
There are some who see Finley as a building block for the Dirk-led teams to come, a two-time All-Star who helped the club to its playoff rebirth. There are others, though, who see him as a slightly-above-average pro who left Dallas (not entirely of his own volition) to become a Spur.
How "special'' was Michael Finley? And how "special'' will we all see him as 10 or more years from now? And one more thing: If you support Finley, do you also support
Steve Nash
?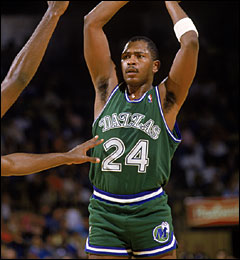 DONUT 8:
Mark Aguirre never got the franchise over the top and –despite him being a sweet-natured presence in the community today – is recalled by so many as a malcontent. He's the third-leading scorer in franchise history, but … is Aguirre an immortal? Does the world know him? Or care?
And how exclusive do we want enshrinement to be? Remember the Redskins' old RFK Stadium? That building was littered with enshrinement signs honoring not only football stars but tennis players and sportswriters; the qualification seemed to be that if you ever passed through the D.C. airport and knew how to wear a jockstrap, you were in.
What would Mark's inclusion add?
DONUT 9:
Donnie Nelson. And no, I am neither ass-kissing nor stumping for a friend.
Again, I ask you to look in your crystal ball … Donnie is voluntarily entrenched. He has no plans of leaving his present position as Mavs President of Utopia. Donnie has myriad business interests in DFW, has raised his family here, digs country music, accomplished the impossible by forging and keeping familial relationships with mortal enemies Nellie and Cuban … and GM'ed a team from the dregs to perennial contention to a title. …and beyond.
That's not even considering Donnie's pioneering work as an international ambassador of the game, which might just qualify him as a future candidate for the Basketball Hall of Fame. And if you are a candidate there, you are a candidate here. Right?
DONUT 10:
As a token of my appreciation of your support of DB.com, Premium Mavs fans have chance at summer swag. First gift available: A $25 giftcard to Golfsmith. If you are a Premium subscriber, just email me at Fish@DallasBasketball.com and let me know you want in the drawing ... and I'll announce a winner on Friday!
And again, thanks!
DONUT 11:
Mark Cuban. When people make these sorts of lists for their favorite franchises, they almost always skip this obvious one. Again, scoot over to Arlington with me: You think someday, when Jerry is semi-retired and Stephen Jones is the team's president, that Stephen won't find a way to honor the man who turned around a franchise, won multiple Super Bowls, settled labor problems (watch and see), helped invent rules of free agency, built Cowboys Stadium, kept pushing the brand to where it's almost as recognizable as any in the world, and maybe won some more Super Bowls, too?
I'm not saying Mark Cuban will vote for himself. (Though that would be an especially Cubanesque move, no?) I'm saying let's jump ahead in time 20 years. … Cuban is in his 70's, he's accomplished 20 more years of worthiness … Won't somebody make certain to get him up there among the icons?
DONUT 12:
Is there room for a coach in here? What will Dallas' Retirement Banners look like up there with championship banners and player banners and an owner banner and who the heck coached all these great players?
To me, there is in fact room to discuss four coaches. I'll mention Rick Carlisle in this section, all the while knowing that this is a transient business and only hoping that twists of fate allow Carlisle to remain here long-term to ply his trade. I'll mention Dick Motta here, too, a teacher in every sense of the world. And this sort of discussion must include Del Harris, who has spent a basketball life on the periphery of the attention but at the center of the innovation. This town is where Del is going to settle, I think; I hope we someday give him more than a "Del Harris Night'' and a set of golf clubs and a rocking chair.
But you know which coach/exec is most positioned to pass through this life without the bust or banner he deserves?
Nellie.
Someday … someday … I envision one of the most emotional basketball nights of all time. … Maybe Cuban sets up a pregame poker table at midcourt and out they come, one-by-one, assorted participants … and then finally, beer in one hand and a full house in the other …out strolls Nellie.
Cuban says the hatchet has been buried but this would make it official. Nellie and Joy and Donnie and Cuban and Dirk on the floor together … and Dirk and Finley and Nash, too. … and maybe Bill Russell and Sidney Moncrief and Tim Hardaway, too. Make it the party Springfield seems intent on never providing to the NBA's all-time winningest coach.
Want more Mavs? Discuss this story on DB.com Boards (become a member for free!) and consider becoming a Premium Mavs Fan for just about a dime a day - starting with my seven-day free trial!