To re-frame: We're not sure while some think this is THE burning question. Who will be Dirk's caddie? If that's the defending champs' biggest problem ...
This is always a funny question to obsess about because in some ways it is the least important question in regard to the Mavs' roster. This position will probably play the least minutes of any rotation player if his sole job is backing up the best player in the NBA (that according to Rick Carlisle and the ESPYs, anyway).
But we've got info so let's spill it: Do the Mavs need to go out and find a backup PF? And if so, what are their options? And which way should they go?
Do the Mavs need to sign a backup PF?
Not necessarily.
Marion played that role at various times last season and performed admirably. He is slipping as a standout rebounder at the 4, but otherwise, he remains a second-tier force there.
The Mavs' Plan A is to have
Caron Butler
come back. If Tuff Juice does so at full strength, he's a strong contender to start -- more likely at the 3 than at the 2.
Therefore, Marion's role at the 3 will be reduced, allowing him to have more focus on backup 4. And believe us: That was Dallas' optimal plan for last season (Marion joining with Jet to create an umatchable 1-2 punch off the bench).
The best plan from last season is, logically, a Plan A going forward, too.
But Caron returning is a giant question mark.
Brian Cardinal
also filled the role of backup PF last season. His current contract is up but it seems that if the Mavs want him back in that role he will come back (we do not see the demand for his services being high and we're sure The Custodian understands the value of his "fit'' here -- value beyond a few more dollars).
Now, are there 4's who could roll into Dallas and cause Cardinal to turn invisible? Yes. Lots of them.
Who's available (unrestricted PF free agents)?
2010-11 Salary Age Ht Wt
Andre Kirilenko $17.8 m 30.4 6'9" 220
Kenyon Martin
$16.5 m 33.5 6'9" 234
David West
$8.3 m 30.9 6'9" 240
Reggie Evans
$5.1 m 31.2 6'8" 245
Yi Jianlian
$4.1 m 23.7 7'0" 238
Brandan Wright
$3.4 m 23.8 6'9" 205
Glen Davis
$3.3 m 25.5 6'9" 289
Kris Humphries
$3.2 m 26.4 6'9" 235
Carl Landry
$3.0 m 27.8 6'9" 248
Chris Wilcox
$3.0 m 28.9 6'10" 221
Chuck Hayes
$2.3 m 28.1 6'6" 240
Brian Cardinal $1.4 m 34.2 6'8" 245
Josh McRoberts
$0.9 m 24.4 6'10" 240
FG% 3P% FT%
Andre Kirilenko 0.467 0.367 0.770
Kenyon Martin 0.511 0.222 0.583
David West 0.508 0.222 0.807
Reggie Evans 0.408 0.000 0.545
Yi Jianlian 0.418 0.231 0.681
Brandan Wright 0.513 0.000 0.677
Glen Davis 0.448 0.133 0.736
Kris Humphries 0.527 0.000 0.665
Carl Landry 0.502 0.000 0.740
Chris Wilcox 0.581 0.000 0.562
Chuck Hayes 0.527 0.000 0.662
Brian Cardinal 0.430 0.483 0.944
Josh McRoberts 0.547 0.383 0.739
Pts/36 Rbds/36 Asts/36 Stls/36 Blks/36
Andre Kirilenko 13.5 5.9 3.5 1.5 1.3
Kenyon Martin 12.1 8.7 3.2 1.3 1.0
David West 19.4 7.8 2.4 1.0 0.9
Reggie Evans 6.0 15.6 1.7 1.3 0.3
Yi Jianlian 11.5 8.0 0.8 0.9 1.0
Brandan Wright 13.4 8.5 1.1 1.0 1.6
Glen Davis 14.3 6.7 1.4 1.2 0.5
Kris Humphries 12.9 13.5 1.5 0.6 1.4
Carl Landry 16.2 6.2 1.1 0.7 0.6
Chris Wilcox 15.3 9.8 1.6 1.0 0.6
Chuck Hayes 10.1 10.4 3.5 1.4 0.8
Brian Cardinal 8.4 3.4 2.3 1.4 0.4
Josh McRoberts 12.0 8.6 3.4 1.1 1.3
PER WS/48 Plus/Minus Adj P/M
Andre Kirilenko 16.6 0.109 2.90 0.49
Kenyon Martin 14.2 0.104 3.98 2.06
David West 20.4 0.152 4.96 0.77
Reggie Evans 12.4 0.078 -4.80 -3.06
Yi Jianlian 10.1 0.016 -4.15 1.55
Brandan Wright 15.9 0.099 -3.20 N/A
Glen Davis 12.8 0.102 -5.68 1.06
Kris Humphries 17.8 0.125 2.30 -0.74
Carl Landry 14.8 0.098 -1.17 -3.05
Chris Wilcox 18.0 0.133 4.91 -2.46
Chuck Hayes 16.2 0.146 7.30 1.29
Brian Cardinal 9.7 0.132 -6.78 N/A
Josh McRoberts 16.0 0.147 5.41 5.92
Which way should the Mavs go?
The Mavs need to make their decision based on the kind of player Carlisle desires -- and the beauty of Carlisle, as we now all know, is that he is anything but "Ivory Johnson,'' his flexibility having been on display all season.
Does Carlisle want a "Dirk-Lite," someone who can fit into the offense in a similar way (i.e. spreading the floor)? He was happy with that when he thought Tim Thomas would be here playing behind Dirk.
Or does Carlisle want a veteran tough guy? He sure did when Dallas pursued Udonis Haslem last summer.
Or does Carlisle want a "change-of-pace," a player who has a very different game that will come in and give opponents a different look at PF? Again, Rick was going to make that work when Dallas' attention turned to Al Harrington last summer.
We have some insight into Mavs management thoughts and we've meshed those here with out own:
Notes of Elimination
*We have eliminated Kris Humphries due to the assumption that he was let go from this franchise due to a poor fit. Good kid, truly improving player, and he can really draw the front-row talent. But coaches were never quite convinced he understood the program here, or wanted to understand the program here.
*David West has All-Star credentials will be out of the Mavs' price range and will desire to fill a bigger role than the Mavs can offer.
*Unlike some observers, we can visualize the idea of Kenyon Martin toying with the notion of taking less money and a lesser role to play with a contender in his hometown. What about his mom and Cuban and all that mess? Don't believe the hype; K-Mart is too smart to let his money get mad.
We don't think it will happen; we do think K-Mart will flirt with the idea.
*It is our evaluation (not necessarily the Mavs') that Glen Davis and Carl Landry do not belong too high on the wish list
for the price they'll command.
Landry is a plugger and might just paid to be more than that.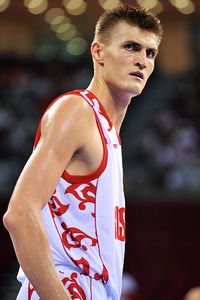 We look at our recommendations based on four different directions the Mavs could go:
1) "Sell High and Buy Low" –
Andre Kirilenko. We have a soft spot for AK47 and how his game would complement what the Mavs do on both ends of the floor. AK47 is an extremely unselfish player who is a great athlete and defender and is also capable of hitting the open three (and he is also just 30 years old).
The question is "how much will he command on the open market?" Or more accurately, "How much less than $17 mil will somebody give him?''
This is, of course, the question for all of these guys. But it's especially pertinent with AK47 because he was so severely overpaid with his last contract that he may scare off some bidders.
Will the new CBA include a "mid-level exception"? At a price in that range, this is the right guy at the right position for the right dollars.
He can play the 4 and the 3 and has also played "point-forward" for Utah and in some cases is capable of defending all five positions on the floor.
Some may think he is a "clone" of what Marion brings to this team, but he offers a three-ball that Marion doesn't and ... who wouldn't want more of what Marion brings to this team, anyway?
AK47 is great at dive-cutting and getting into the lane and is also a brilliant passer who will always make the extra pass (all things the Mavs need -- and like).
2) "Change It Up"
– Reggie Evans/Chuck Hayes/Chris Wilcox: Reggie, Chuck, and Wilcox would be the ultimate change-of-pace guys. What they would bring in replacement of Dirk is endless energy, toughness, and rebounding. Yes, the Mavs would suffer offensively in a significant way with Evans, but if Caron or Roddy B work out then the Mavs will have some added offensive punch this coming year. With Hayes the big question would be size and his ability to play another position (can he play SF or C at 6'6"?).
But what we like about these guys is rebounding. You can never have enough of it and the Mavs definitely need more.
Don't like that we've bunched 'em together? Fine. We'll break out Chuck Hayes.
3) "Go Young/Bring in a Project"
– Josh McRoberts/Brandan Wright/Yi Jianlian: McRoberts had a breakout year of sorts last year getting to play 22 minutes a game. This leads us to believe that he will be hard to get. But if he doesn't demand more than something like a "mid-level exception" and the Mavs like what he brings to the table (with his ability to hit the long ball, his good rebounding rate, and his good steals and blocking ability), then they might be able to make a play for him. Would McRoberts accept the backup role to Dirk? Maybe if he saw it as a time to learn from one of the best, and it's definitely better than potentially backing up
Tyler Hansbrough
(the Pacers will have to eventually choose to pay one of those two and let the other go).
McRoberts has a level of "potential-star quality.'' He likely will get the chance to explore that as a starter somewhere.
After McRoberts, Wright would be worth a look. He has not really had extended gametime or games yet, but when he has played has shown flashes of semi-brilliance -- at least athletically.
Jianlian has the tools so it seems, but has never put it together yet. There were those in the Mavs camp who were big beievers in him in his draft year ... and of course there are the deepening connections Dallas GM Donnie Nelson has in China, which could also be part of the decision-making web.
It would be a risk with any of these guys in terms of over-reliance on them (McRoberts less so than the other two). But this angle would be an opportunity to try to win now and also re-stock with youth and assets.
4) "Time to Clean Up"
– Brian Cardinal. If the Mavs do not like the above options or cannot get any of them at the price they believe is reasonable then it seems that they can always bring back Dirk's new best buddy Brian Cardinal.
Odds are they will explore doing both.
Cardinal did have the best shooting year from three of any on this list and so that definitely speaks to his favor. He also has the experience of being on the championship team in the most important moments and is definitely an asset in regard to chemistry.
Conclusion
In relative terms, the backup PF position is inconsequential. It's way behind Tyson, JJB, Caron and more on Dallas' List of Things To Do. But every roster spot truly matters in the regular season, and, the way Rick worked it, in the "Be Ready'' playoffs, too.
We think there is value in "churning the roster'' a big, in acquiring more guys who have "been at the lip of the cup'' and are hungry to take one more step. New blood (like AK47) with a familiar fit is an optimal plan.
But in the transactional worst-case scenario at the backup 4 (coupled with the re-signing of Caron)? There are 96 minutes to be divvied up at the two forward spots. Why not get Marion happy about geting almost one-third of those minutes? Meanwhile, The Custodian is the backup-backup for Dirk next season.
We see this as a good thing ... at the very least, a good-enough thing.
We think there is logic in believing that for all the hand-wringing on this topic, Dallas' skill in Asset Management will cause the Mavs to spend the most important money at the more important spots.