There's no "
Michael Finley
shot" that will go down in Dallas history or, for that matter, a "Michael Finley game," either. There undoubtedly were great performances – Game 5 to close out Utah in 2001 and Game 2 against Phoenix in 2005 top the list– but never one where he made all the shots down the stretch in a big game, never a contest of significance in which he got to play the hero.
As beloved as "FinDog" was, there's no time capsule of his work consigned to the top shelf of Maverick legend.

Nor did he have that signature trait that will preserve his legacy among his counterparts in this team's turnaround. He certainly was athletic, much more so than any other notable Maverick shooting guard in recent memory, but it wasn't all that special compared to contemporaries
Kobe Bryant
,
Tracy McGrady
, and
Vince Carter
at their gravity-defying peaks. His springs were nice, yes, but they weren't Dirk's overall greatness or Terry's swagger, Kidd's intelligence or Nash's flair.
On face value, the greatest thing Michael Finley can be remembered by is being the best player on one of the worst run of teams in the organization's history, and the first year of its renaissance. And if we're being brutally honest, the two things most Mavs fans associate with him pertain to San Antonio – first, shooting 1-for-17 in an elimination loss to the Spurs in the 2001 conference semifinals that doubled as the passing of the torch to The Dirk Era and, second, joining their ranks as a free agent after the Mavs bought out his contract in 2005.
Looking at the Cliff Notes, then, you can understand why we're a year and counting into Finley's ostensible retirement – he never officially announced it – with no plans on the horizon to retire his No. 4.
It's not rational, though; what his career lacked in style, it more than made up for in substance. Make no mistake, the numbers were there. ... And upon video review ... there was style, too. ...
From 1997 to 2002 – the unquestioned peak of his career – Finley strung together five straight seasons of 20-plus points per game and 40-plus minutes, led the league in the latter category in three of those years, and made two All-Star Teams.
But because the highs of his career are so understated (plus his refusal to engage in self-promotion), a sort of false narrative has been written, one that casts him merely as a very good player instead of one whose professionalism and loyalty helped play a pivotal role in the franchise's history.
The truth is, no Maverick ever shouldered a heavier individual burden than Finley during his first three full seasons in Dallas, bound to a series of horrific teams that combined for just 79 total wins [including the lockout-shortened 1998-1999 season] from the 97-98 season through 99-00. His supporting cast during that time was a potpourri of dour adjectives – underachieving (Khalid Reeves), miscast (
Howard Eisley
), raw (Dirk), injury-plagued (Nash), limited (
Hubert Davis
), one-dimensional (
Shawn Bradley
), declining (Cedric Ceballos), past it (AC Green), disappointing (
Samaki Walker
), out of shape (Dennis Scott), undersized (
Gary Trent
), or downright awful (every draft pick on the roster other than Nowitzki).
Those were his best teammates. It's not enough to say that he was the sole beacon of hope among those scrap heap rosters; much of the time, he was the only one resembling an above-average NBA player.
To wit, nobody will ever accuse the front office of burnishing Dirk with a supporting cast of All-Stars, especially over the past five years, but he's played the vast majority of his career buoyed by the knowledge that, on most nights, 20-plus points and a bit of help from the Dirkettes usually means a Dallas win.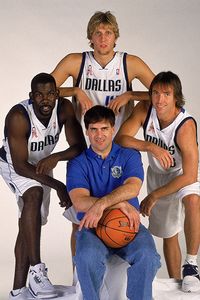 All 20-plus points ensured Finley during those barren years was a chance that the Mavs wouldn't be run out of the building.
Yet unlike Bryant, who staged his own personal rebellion when he wanted out of Los Angeles, or Carter, who admittedly stopped trying in Toronto, Finley never bitched despite far more dire circumstances. He simply put his head down and went to work, game after game, busting his ass every night for what typically was a losing cause. Along the way, he answered every question the media asked of him, maintained a sterling reputation away from the basketball court, and even took it upon himself to be Dirk's professional role model just as
Steve Nash
volunteered to supervise his cultural transition.
And when the Mavs gradually evolved into Dirk's team following that horrific Game 5, Finley accomplished the rarest of feats for a professional athlete: he gracefully stepped aside.
So much of what makes athletes successful is boundless self-belief, but it often fails them as well, with hubris blinding so many from even noticing when it's time to scale back their responsibilities and ego doing in many who refuse. But there was Finley, in the prime of his career at age 28, doing exactly that, letting Dirk get the touches he was used to and taking the shots he used to shoot in the 4th quarter. Finley saw the writing on the wall, and had the good sense to read it; Dirk was becoming the better player, so it was time to hand over the car keys.
But how many transitions go that smoothly? How many players are selfless enough to do what Finley did, giving up the limelight when the organization finally started to win after he spent the best years of his career lugging around terrible teams? After all he put in, he had every right to milk the team's turnaround for all it was worth, but he refused to do it. To borrow a line from The Dark Knight, he was the hero the team deserved, but not the one it needed.
That's why it was a slap in the face and more than a little comical to see people brand him a traitor when he eventually signed with San Antonio after the Mavs told him his services were no longer needed. Ultimately, the team he thought he'd finish his career with told him that they could no longer keep the contract he signed on its books, so he found a different team that wanted him to play there. Simple as that.
If Finley was disloyal, he would have coasted during those wilderness years, never would have mentored Dirk, and certainly would not have ceded his alpha dog status so easily. Sure, he got paid very handsomely to stay in Dallas but if Finley wasn't loyal, he would have skipped town the first chance he got to test the open market, something that would have been a huge perceptual blow to the Cuban era as he sought to show the NBA that times truly were changing in Dallas.
Let's not pretend that loyalty doesn't play a part when it comes to these decisions, either, because it does. It did for Brad Davis, an important role player whose number hangs from the rafters entirely because he was an original Maverick who spent 12 years in Dallas. It will for
Jason Terry
, a player well deserving of the honor and almost certain to get it, but one who I say was never as good as Finley.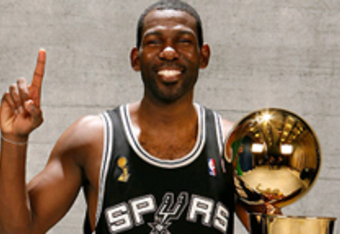 It should now for Finley, too, but only as one of the major threads in the tapestry. He wasn't just a face of the franchise, a model professional, or the rare All-Star who shelved his personal goals for the betterment of those around them. Most of all, he was the bridge between the organization's darkest hours and its brightest days, the man who gave so much of himself when times were bad and didn't reap close to the full benefit when they were good.
The Big Three doesn't happen without him. Nor does 11x50. Perhaps not even Dirk as we know him, if Finley wasn't there to absorb all the scrutiny of opposing defenses and the local media early in his career, buying Dirk time to develop at a slower pace with a smaller target on his back.
It is impossible to characterize 1996-2001 as anything but the Finley Era, just as the late 80's are the Blackman-Aguirre Era and the 2000's the Dirk Era. While the win total doesn't match those surrounding epochs, the significance was just as paramount. His was the era that set the foundation that would not only rejuvenate Mavericks basketball, but usher in unparalleled success. He was the one who set aside personal ambition to make sure it happened.
Michael Finley had the power to alter his career for the better at the expense of the organization, but did the opposite. Now, it's time for them to repay that debt in kind by once and for all sealing his place in Maverick lore.
Then, finally, he will have his defining moment: head tilted back, eyes focused upward, watching his jersey climb into the heavens and take its rightful place among the all-time greats the team has ever seen.
Catch DB.com staffers Mike Fisher on Twitter and Mike Piellucci on Twitter.


Want MORE Mav scoverage like this? Sign on up! It's about a dime-a-day for the very best in Mavs coverage from DB.com. And yes, we keep it rolling all summer long ... You won't get 'em covered like you get 'em covered here! Go Mavs and Go Premium!