One of the benefits of the long view that history affords is it allows us to see things from a perspective that we didn't have at the time events occur. Things that sting at the time can turn out, a few years down the road, to actually be a blessing. We theorize that one such event happened in the summer of 2009. … and that is serves as proof of the validity of the Asset Management cliché, "Some of the best deals are the ones you don't make.''
That summer's best deal:
Orlando Magic
GM Otis Smith fleecing "poor, overmatched Donnie Nelson'' out of the big-man tandem of Dallas power forward
Brandon Bass
and the erstwhile Mavs "Center of the Present and Future,''
Marcin Gortat.
Let's journey back to July 2009. That year, the Mavs had just defeated the Spurs in the first round of the playoffs before falling in five games to
Chauncey Billups
,
Carmelo Anthony
, K-Mart and the Short Bus Thuggets.
The Mavs, once again, we not quite good enough.
The previous winter, Dallas had sent
DeSagana Diop
to
Charlotte
for
Matt Carroll
and
Ryan Hollins
. As always in the post-Nellie era, the Mavs were committed to the idea that having two legit centers on the roster would give them an unmatched edge. But their successful re-pursuit of the likeable Diop (he'd been previously send away to New Jersey in the
Jason Kidd
trade – the only part of that deal, by the way, that then-coach
Avery Johnson
didn't love – and then re-signed to Dallas in a bloated MLE deal) was a bust.
So the Mavs had a need at center.
Erick Dampier
was limited and maybe in decline. Hollins was still a project, really just a throw-in as the Mavs were salary-dumping Diop.
Additionally, the Mavs were in a constant state of what Nelson calls "the business of getting better.'' As much as he "loves Our Boys In Blue'' (another Donnie fave), he and owner Mark Cuban had the season before engineered the go-for-it blockbuster for Jason Kidd. And then in the offseason had facilitated a crafty trade, using The Stack Chip (the contract of the end-of-his-career
Jerry Stackhouse
) to bring
Shawn Marion
to Dallas in a three-way swap that also involved Orlando.
Immediately as the NBA's 2009 free agency window opened, the Mavs staked their claim. Coach Rick Carlisle traveled to Orlando to be on Gortat's doorstep. Meanwhile, in part building on the good vibes between the Magic front office and their counterparts in Dallas, the two teams looked to be prepping for an unofficial quid-pro-quo swap of two players who were short of minutes on their current teams. … but who both had the well-wishes of their respective bosses to seek greener pastures.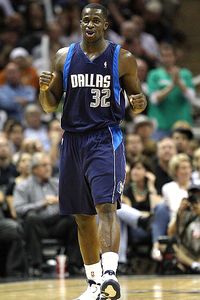 Both Brandon Bass with the Mavs and Marcin Gortat with the Magic were playing behind top-five players at their positions on their current teams.
Bass? Yes, the Mavs grabbed him from the scrap pile and helped him become a real NBA rotation player. But he'd done the work, and if someone saw him as something more than a caddie to
Dirk Nowitzki
, and wanted to pay him thusly, the Mavs were happy for him.
Gortat? He was playing behind the NBA's best center,
Dwight Howard
. Orlando tried to appease Gortat and utilize his talents, even in that year's playoff run, by playing him some at the 4. But it was clear: He was about to be a too-pricy backup for Orlando … and a wealthy man somewhere else.
Meanwhile, again, both Bass and Gortat fit a position of need on each others' squad. Obviously, Gortat would become a Mavs starter, with Dampier behind him – two legit centers, a difference-making situation. And Bass would step in where Hedo once was, where Gortat was inappropriately placed, and compete as a starting forward, with
Rashard Lewis
also no longer having to be asked to play at the 4.
The Magic signed Bass.
The Mavs signed Gortat.
One catch, though it seemed a minor one at the moment: Marcin was a restricted Free Agent at the time, giving Orlando the right to match and retain in the unlikely event it wished.
Dallas provided Gortat a five-year offer sheet using their MLE. The expectation at the time – not just the expectation from us in the media, but also the expectation in the Dallas front office and for that matter, the plan in the Orlando front office, too -- was that by adding Bass, the luxury-taxed Magic would have hit their operating budget for the year and would be letting Gortat go to the Mavs. That was among the reasons the first year of the deal would pay Gortat almost $6 million; it was designed to be too much for Orlando to swallow.
Don't think Nelson didn't do his homework here. DB.com said it at the time and we repeat it now: The Mavs front office had (and has) a friendly working relationship with Orlando. There was no official "quid pro quo''; there was simply a mutual understanding of each organization's track record, budget, needs and plans.
On paper, it all made sense.
There was no reason for either the Mavs or the Magic to overpay an (admittedly talented) player to sit behind one of the league's best at that same position. So the Mavs would get a skilled big man to play alongside Dirk (for five years and $33 mil) and the Magic would get a bruiser with a shooter's touch to pair with Dwight (for four years and $18 mil).
The vision danced in our heads, and in the Mavs' heads, starting on Mavs new starting lineup for the 2009-10 season would look something like this:
PG – Jason Kidd
SG –
Josh Howard
SF – Shawn Marion
PF – Dirk Nowitizki
C - Marcin Gortat
That was the plan as Carlisle babysat Gortat in Orlando on Wednesday, July 1, 2009, the first day of free agency. It was still the plan on Thursday, July 2, when Gortat signed the offer sheet and visited Dallas, expressing excitement over the prospects of having "The Polish Hammer'' blossom in Dallas.
It was still the plan until Orlando GM Otis Smith announced that he hadn't fully made up his mind about Gortat -- an announcement that left Gortat saddened.
And indeed, unexpectedly, at the eleventh hour, Otis matched Dallas' offer for Gortat after also signing Bass and the Mavs were left holding an empty bag.
National media types, and Mavs followers, too, rushed to declare Smith a "genius" who had "fleeced" the unsuspecting Donnie Nelson out of two players under the guise of a good-faith trade. No matter than Bass wasn't "stolen'' but rather was allowed to go, as Dallas had no intention of paying him that sort of money to stay. And no matter than you can't really lose what you never had, which was the case with Gortat – he was always restricted, a fact observers skipped over in their excitement.
The Mavs were left with no upgrade and no real starting center. The Magic had assembled a phalanx of big men to surround Dwight that would dominate the East for years.
Donnie was a fool. Otis was a craftsman. And the Mavs had just gotten Kicked in the Gortats.
Or so it was thought.
Two years later, through championship-tinted glasses, we can now see that "Getting Kicked In The Gortats'' might just have been a gift, featuring a "Do not open until June 2011" tag to the Mavericks from the Swindler Otis Smith.
Because Dallas did not end up with The Polish Hammer, the Mavericks front office scrambled to acquire
Drew Gooden
(with yet another cleverly conceived contract that would make him an attractive midseason swap chip). The first half of that season featured some shoe-horning of Gooden as the center next to Dirk for significant chunks of time. Though Gooden played well, he was out of position and the Mavs still had a need at center.
This need was a primary impetus for the Mavs to pursue the February 2010 blockbuster with Washington that sent out J-Ho and brought in Brendon Haywood (along with
Caron Butler
and
DeShawn Stevenson
) to Dallas.
If the Mavs had acquired Gortat as planned, it's unlikely they make that trade. (Or if they do, it happens with very different pieces involved.)
Consider:
*A part of Gortat's MLE dollars were used to acquire Drew Gooden, a key cog in the Haywood/Butler deal. Remember, in getting Haywood, the Mavs once again thought they were getting their "center of the future," the need Gortat would have filled had the Magic not matched.
*That trade brought two (maybe even three) key contributors to a title-winning roster. Without Haywood and Stevenson, do the Mavs win the title this year? Obviously, one can't say for certain, but the perimeter defense of Stevenson was a crucial part in checking Miami's fearsome perimeter talent of LeBron/Wade. Further, Haywood's impact on the Mavs most recent playoff run loomed much larger than his 3.1 points and 4.1 rebounds per game and his size was a key in upending the Lakers in the second round.
*We'll even roll with the Mavs' stated belief that the injured Caron was "part of the fabric'' of the title team. We've used Barry Switzer and the
Dallas Cowboys
as our best example of our "Links in The Chain'' Theory and we'll do it again here: Who knows what inspirational word or friendly deed Caron contributed that might have been the tiniest link in a title chain? Who, thinking it wasn't all that important, would dare risk undoing that tiny link?
*Gortat's successful acquisition also likely would have impacted the Mavs' use of two other chips, The Buck Shot (
Greg Buckner
) and J-Ho's contract. With Gortat on board, the Mavs would have been free to deploy their other assets to acquire higher-impact players.
That might've worked out positively. But maybe not.
It's beyond reason to speculate on which players they could have landed. But for fun, if you remember, one of the players on DB.com analyst Davis Lord's wish list for The Buck Shot was
Mike Miller
. Made sense at the time, but he's now known as another of the who invisible members of last season's Heat. Perhaps the Mavericks could have packaged J-Ho's contract with The Buck Shot to make a run at a bigger-name player.
Would that acquision have tipped the scales? Not in a better way than they were tipped in reality, of obviously. As it is, The Custodian played meaningful minutes on a Finals team and that J.J. Barea became unguardable and
Corey Brewer
got but a sniff of postseason action but that sniff helped send Phil Jackson into retirement.
*And then there is Gortat and the biggest chip of all …
Similar to the way Gortat's successful signing would certainly have impacted the way the Mavericks used other assets, Gortat's presence could have possibly had a big impact on the use of The DUST Chip. With Gortat employed here, perhaps the Mavericks press The DUST Chip a bit harder, looking for the ever-elusive wing threat – and maybe they find just the right guy … or the guy who is all wrong, chemistry-wise. Perhaps they force themselves to overpay for
Al Jefferson
. Perhaps nothing quite pops – because with, say, Gortat and Haywood on their team, they aren't likely shopping for another center who has a history of foot injuries and makes $12.5 million … And maybe they swallow DUST and take the savings for themselves.
The point is that if a basketball team is the sum of an equation, and each of its players, coaches, and staff is a factor, changing just one of those factors could dramatically change the outcome.
Of course, the Mavs may still have traded for
Tyson Chandler
. They had no problem bringing in Chandler with one starting center of the future on the roster in Haywood, so it can't be ruled out that they wouldn't do the same thing if Gortat would have occupied his spot.
Again, it's a game of dominoes. Hard to know where are the pieces would've fallen had that first piece fallen to Dallas. But we like to think this: As many view Chandler's acquisition as the move that put this team over the top, and as Gortat's presence on the roster would have likely blocked a pursuit of TY, no Gortat HELPED the Mavericks get to return to the Finals to earn their shot at redemption.
Open-mindedly, we can wonder if, with Gortat, the Mavericks might have still won the title. After all, that was Cuban and Donnie's best-laid plans. Obviously it's impossible to say, but we know there are too many things that have to break just right for a team to win an NBA championship, and we know too many subsequent events would have been impacted in unexpected ways had the Mavericks not gotten Kicked in the Gortats.
However, one thing is clear: Chemistry is a paramount virtue for most title-winning teams. With good chemistry, a team can be so much greater than the sum of its parts. Without it, 1 + 1 + 1 can somehow add up to less than 3 (Hello, Miami!).
It is truly impossible to know for certain just how this current Mavericks team would look had Otis Smith not Kicked us in the Gortats. But it is clear that this Mavericks team would have a very different makeup from the won that just won a title. … and who would want to roll those dice?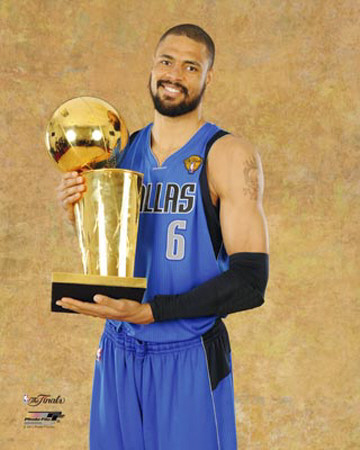 Orlando eventually shipped Gortat to Phoenix in a multi-player, re-arranging-of-deck-chairs move. (Vince Carter, Gortat, Mickael Pietrus and a first for Jason Richardson, Hedo Turkoglu and Earl Clark.) Bass started 51 of 76 regular-season games and all six of the Magic's playoff games, and is still working to fully blossom, having averaged 11 points and 5.6 rebounds per.
Orlando's "genius'' is still waiting to produce a title. Dallas' "genius'' is bolstered by the Larry O'Brien Trophy – and that trophy also serves as a nutcup for anyone who tries once again to Kick Us In The Gortats.