The on-court legend of 15-time All-Star Shaquille O'Neal is over, Shaq having announced his retirement and now working on the TNT set exchanging niceties with Charles Barkley. Houston's
Yao Ming
has also announced his injury-driven retirement, and while I would argue that his eight All-Star appearances and his "accomplishments'' are at least in part the result of the Chinese hero's existence as a symbol of basketball globalization, he leaves a 7-foot-6 void.
Shaq's departure means the end of what was. Yao's departure means the end of what might've been.
And now comes …what?
Orlando's
Dwight Howard
is in a singular class. He entered this season with that status, and in 2010-11 seemed to improve his offensive skill set. His talent, combined with the dearth of similarly-sized guys with anything close to his talent, makes him the most valuable commodity in the NBA. LeBron? Kobe? Dirk? I can, if I'm a coach without those incredible players on my team, attempt to replicate some of what they do. The NBA is in fact full of guys labeled "a poor man's Kobe'' and "the next Dirk.''
Not too often in this era do we hear anyone foolish enough to discuss "a poor man's Dwight'' or "the next D-Howard.''
For those of us who enjoy watching the unique nature of a 7-foot (or so) athlete playing with grace and power and smoothness and intensity – and for the teams who are desperate to unearth such talents – who's got next?
There's no practical reason to assume that we will never again see an era of great centers, or that there will be no multiple heirs to Howard's throne. The globalization of the game means a larger pool from which to draw. The NBA itself continues to blossom financially and in terms of attention, so it's in no danger of falling off as a dream of generations of aspiring athletes. The NFL is No. 1 and maybe Tiger Woods has introduced golf to kids of all colors and NASCAR might be cool. But for kids who are destined to grow to 6-10? Not everybody wants to play football, not everybody can be Tiger and when you are 6-10, the front seat of a race car makes for a tight squeeze.
They are out there. Somewhere.
Help can continue to come from overseas; more than half of the 7-footers in the NBA last year were not American-born. But that's a hope and a projection and that, of course, is because so many of them are raw prospects, having picked up the game in many cases in their mid-teens, only after some local coach noticed a growth spurt and dragged the baby giant off his soccer pitch. The same is true of future NBA drafts; there will be big men prospects, but the more promising they are, the sooner they will ditch the hallowed halls of State U – meaning they'll arrive in the NBA all peach-fuzzy, too.
But behind Howard, there are three groups of six NBA centers who might just be prepared to carry the torch – or if not "carry'' it, at least to dunk it. The three groups:
"The Elite, Such As It Is.''
"Stop-Gaps And Scrappers''
"Youth, Hopefully Not Wasted On The Young''
A total of 18 guys who merit mention as centers who ain't Russell and Wilt, but who will have to do:
"The Elite, Such As It Is''
6
Emeka Okafor
, Hornets (10.1 points, 9.2 rebounds) – Those numbers are about where he's been during his entire, quiet, effective career.
5
Al Jefferson
, Jazz (18.6 points, 9.7 rebounds) – Some might say it's cheating a bit to put him at center. But when Utah does the same thing, he's a unique offensive force.
4 Nene, Denver – (14.5 points, 7.7 rebounds) -- With 'Melo and Billups long gone, he's about to become the Nuggets' foundation.
3
Joakim Noah
, Chicago (10.9 points, 10.3 rebounds) – A hustling and impactful defender you love to hate – unless he's on your team.
2
Tyson Chandler
, Dallas (9.6 points, 9.3 rebounds per) – Am I biased? Or does his work as the vocal defensive captain of a team that's never before employed a center like him and that therefore won a title win you over?
1 Amar'e Stoudemire, Knicks (24.7 points., 8.1 rebounds) – His numbers are the product of his talent and the system – but if he always plays in this system, his numbers will always be huge.
"Stop-Gaps And Scrappers''
6
Chuck Hayes
, Rockets (7.9 points, 8.1 rebounds) – At 6-6, he has no business being on this list, no business playing center and no business fighting his way to solid numbers. He's asked to do too much, and by gosh, he almost does it.
5
Anderson Varejao
, Cavs (9.1 points, 9.7 rebounds) – A poor man's Noah?
4
Brook Lopez
, Nets (20.4 points, six rebounds) -- How is it that Lopez' best overall season was his rookie season? If the Nets ever get over the hump of mediocrity, he can still be a fine third banana.
3
Marcin Gortat
, Suns (13 points, 9.3 rebounds) – Finally out of Howard's shadow in Orlando, the Polish Hammer has a chance to develop in Phoenix.
2
Marc Gasol
, Grizzles (12.2 points, 7.6 rebounds) – Large and thick and physical and he can pass and he's a worker.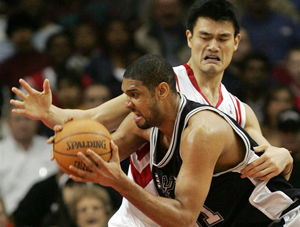 1
Tim Duncan
, Spurs (13.4 points, nine rebounds) – Another player who is or is not a center, depending on whether we're talking about his placement in the lineup vs. his placement on all those All-Star ballots. Not up for debate: His all-time greatness, slipping as it may be.
"Youth, Hopefully Not Wasted On The Young''
6
Serge Ibaka
, Thunder (9.8 points, 7.5 rebounds) – Ibaka only started two-thirds of his team's games, so he doesn't always pop up on media lists. But he pops up on opposing coaches' lists.
5
Roy Hibbert
, Pacers (12.5 points, 7.5 rebounds) – Taken on a whole, his season was one of grand improvement. All the tools are there.
4
Andrea Bargnani
, Raptors (21.4 points, 5.2 rebounds) – One of the many "Next Dirks'' – but this one qualifies as a truly special shooter as a big.
3
Andrew Bogut
, Bucks (12.8 points, 11.1 rebounds) – A consistent double-double weapon who now needs a run of good health to make a leap.
2
Andrew Bynum
, Lakers (11.8 points, 9.4 rebounds) – He delivers cheap shots on the court and parks in handicap spots off it. From the outside, it's impossible to avoid wondering if Bynum's knuckleheaded sense of entitlement will keep him from reaching greatness.
1
Al Horford
, Atlanta (14.8 points, 9.4 rebounds) – Horford is already consistent and gifted enough to have made "The Elite'' list. But he deserves a top ranking somewhere, he's a bit out of position and he's not yet recognized as (or carrying the load as) his team's best player. That is coming.
And when it does, maybe Dwight Howard won't be so lonely "up there.''