DONUT 1:
FIBA is officially giving clearance to any NBA player who wants to play overseas. So all y'all who are pretending to want to play in Europe can now pretend officially. (And yes, Kobe, that goes for you, too, regardless of the news that you might conference-call your way into talkin' Turkey.)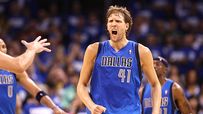 DONUT 2:
Mavs fans are storming the ESPN gates
because somebody dared suggest that Z-Bo is better than Dirk.
I am left to assume that the ESPN affiliated guy here who is Houston-based is either a) trolling for attention or b) living in some remote sector of our fair state that doesn't offer TV reception.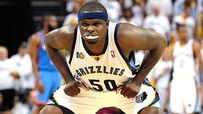 DONUT 3:
In case you missed it: Our Kevin Brolan reveals his awful taste in movies by tying funny film quotes to recent Mavs experiences.
It's humorous and insightful ...
but K-Bro ...
"Houseguest''? Really?
DONUT 4:
Hey, are you gearing up to get involved in the North Texas $100,000 Smile Giveaway? You might want to get on that by going to my family dentist ...
McKinneyDentist.com!
Please check out Dr. B and his staff. They've been friends and supporters all the way back to the Fish For Lunch days. And they truly are the best in the field of family dentistry. ...as I discovered again on Wednesday when I went in for a checkup and got good grades from Dr. B!
DONUT 5:
I'm not judging (lest I be judged) ... but what does it say about most of the folks reading this Donut right now that we know more and maybe care more about the NBA's salary cap and the NFL's labor settlement than we do the U.S.'s problem with the debt ceiling?
I'll pretend to be ashamed of myself, if that will help.
DONUT 6:
Is ex-Mavs forward Jay Vincent a con man?
DONUT 7:
Kicked in the Gortats.
A review. ... And below, a review of the review.
DONUT 8:
Want to stay in touch with the Mavericks at all times?
Involve yourself with thousands of Mavs fans just like you and get on the
DB.com Boards!
DONUT 9:
Just got a note from
the great Kevin McCarthy, radio talk show legend,
former PA voice of your
Dallas Mavericks
and DB.com Premium Subscriber:
"Fish, fascinating articles on getting "Kicked in the Gortats" and other stuff this summer by you, Dugat and Perry. The Gortat story really made me think about the many little permutations of "the deal that didn't happen." Do you journalist guys call a feature like that "enterprise journalism"? Nice to know that while traditional and quality journalism like this is out of vogue, you guys are still bringing it! Proud to be Premium! K-Mac.''
Want to get MORE Mavs, like Kevin McCarthy does? Sign on up! It's about a dime-a-day for the very best in Mavs coverage from DB.com. And yes, we keep it rolling all summer long ... You won't get 'em covered like you get 'em covered here!
Go Mavs and Go Premium!
DONUT 10:
My FOXSports Southwest family has expanded.
Matt Mosley is with us now, on Cowboys and more. Keith Whitmire on college football and stuff. And now the talented Anthony Andro on the Rangers. Oh, and that Fisher character. It's … like a real newspaper staff but without getting ink on your hands!
DONUT 11:
Being a Premium Subscriber comes with certain privileges. Like, once in awhile
Dirk Nowitzki
signs a Panini trading card for me to give to you. Or we give out a $25 giftcard from a sponsor.
So ... today, in our continuation of DB.com's Summer Swag ... 'HercDaddy,' you are a Premium Mavs Fan. So, HercDaddy,' you win the YES. WE. DID. shirt from
the Mavs DB.com Store!
Here's HercDaddy's plea:
"Fish, I wish I was a little bit more clever so I could get this shirt, but I really want to own all the possible championship shirts for the MAVS that I can. Wouldn't it be awesome Fish if you could post on DB.com that the winner of this shirt was a guy with the last name of Hercules? I can see it now: "This week's winner is the man that put the 'glad' in Gladiator, the one and only Hercules!" Go MAVS and I hope I get the shirt!''
Done. Mr. Hercules it is.
DONUT 12:
Next time someone suggests that Jerry Jones hasn't a clue, steer them toward the new design of Madison Square Garden, where the renovation features an area called "the Delta SKY360 Club.'' What's the big deal? In the club, your seat allows you to see the players (basketball, hockey, whatever) go to and from the locker rooms.
About 800 season-ticket holders will pay extra to essentially have Knicks walk through their party on the way to the court.
And where did "The Mecca'' get the idea for such a thing?
Cowboys Stadium, of course.