Back then, I was a high school junior, an awkward mix of testosterone-fueled hubris, shyness and a bad haircut. In place of glistening six-pack abs or a smooth charm that wooed all the ladies, I had Dirk, Nash and the little Mavericks. Unsurprisingly, I was disproportionately dejected when I realized my favorite NBA duo would soon be split up.
Aside from their undeniable synergy on the court, I loved the Dirk/Nash duo for many reasons. One, they both had a sort of every-man likability about them. Yes they were perennial All-Stars, but their humility with the media and playful off-court antics (remember those infamous pictures that circulated around the internet of Dirty and Nashty after a few Fun-Pops?) made them uniquely likeable.
They were also great for everything they
weren't.
They weren't slam-and-jam showmen who were interested in selling shoes and becoming "global icons.'' They seemed like two goofy dudes content to "only'' be good at basketball, and their bromantic bond seemed genuine, ever from afar.
Aside from their likeable personas, they were great on the court. Further, they were great together, as they began making All-Star teams together in 2001-'02. Their games were beautiful in their own ways, Nash the gliding speedster with incredible passing acumen and Dirk, the 7-footer with the purest shooter's touch this side of Larry Bir … actually never mind, those comparisons need to end.
Most importantly to me at the time, besides great players and fun to watch, Dirk and Nash were so likeable because they seemed like me, down-to-earth, hirsute, and unconventional.
Then, thanks to the dollars-and-cents business of the NBA, basketball's coolest bromance came to an end. On this, the seventh anniversary of their break-up, (and since there's nothing going on in the NBA right now anyway) it seems like as good a time as any to look back on the greatness that was the Dirty/Nashty combo and ponder if their parting might just have been the best thing for Steve, Dirk, and the Mavs.
Though most of the ink about Nowitizki and Nash's bond seems to have been written after the summer of 2004 when they parted ways, it's important to remember just how well they played together. Indeed they each brought skills to the table that fit nicely within the other's game. Steve routinely got Dirk the ball in his favorite spots and the giant Nowitizki was the perfect release valve when Nash over-penetrated and needed an outlet. However, their synergy was most evident playing the two-man game off the pick-and-roll/pop or running the court. A quick spin around YouTube should be enough to jog your memory.
Further, they seemed perfect compliments off the court as well. Everyone knows the story of how Bleach-Blonde Nash took Chili-Bowl-and-Earring Dirk under his wing after they were both traded to Dallas on draft night in 1999. Think for a second, though, about what kind of bond that can create. Most of us have known the loneliness that follows transitioning into a completely new environment. It happens when you start college, move to a new city, or start a new job. In those moments, all we want is someone to take us in, show us the ropes, and tell us that everything will be all right. Dirk faced all of that, compounded by moving to a new country where he didn't speak the native language, all while trying to compete at the highest level of his profession. Luckily, Dirk had another goofy-looking comrade with a bad haircut to show him the nuances of life in America and how the NBA worked. (It was not by accident, our man Fish has said, that the Mavs guided Dirk to an apartment in the same building where Nash lived.)
Together, they struggled through their first season, each being booed by the hometown fans. These early struggles likely contributed to their famously gym-rattish ways as they could both frequently be found shooting and running together long after their teammates had gone home. Their efforts paid off. Together, they formed two-thirds of the Dirty/Filthy/Nashty Big 3 that returned the Mavs to the playoffs in 2000 with
Juwan Howard
(and Calvin Booth!) to upset the Jazz in the twilight of the Stockton/Malone years. In the 2001-'02 season, Dirk and Steve made their first All-Star Game, fittingly together, a feat they would repeat a year later before Dirk went solo to the game in 2004, Steve's final season with the Mavs. I usually don't put a lot of stock in All-Star Game appearances as a measure of a player's stature, but when Dirk and Nash went to the ASG, it was always on the votes of their peers and coaches. Though they weren't the most popular NBA stars with fans (their jerseys weren't yet top sellers at that point), their contemporaries clearly had respect for their skills, and the results their talents brought out in each other.
Then, in the summer of 2004, Steve signed Phoenix's offer sheet and Tony Cubes didn't match. Steve was gone; the awesome, awkward bromance was over. Cuban has taken some heat for this over the years, but I think he deserves one of those old network TV specials "Five Reasons You Can't Blame…" because his decision not to match was not without its reasons.
First, Steve was 30 at the time, near the traditional age for a PG to begin to decline. Though the peak of his talents was clearly high, and his decline may have been gradual, Steve's contract could likely end up looking foolish in Year 6 of the contract that Phoenix offered. Furthermore, in those days, Nash had a bit of habit of late-season declines in production. Third, the Mavs had knowledge of the physical ailments that Steve continues to battle to this day. Fourth, though Nash will always be remembered as an offensive maestro, he will never be known as a defensive stopper (to put it kindly) and his shortcomings on that end of the floor undoubtedly contributed to the Mavs' reputation of playing in Allas (no D).
For those reasons, and likely more, the Mavs' Triangle of Trust decided not to retain Nash at the 6-year $63 million level that Phoenix decided he was worth.
Yes, in retrospect, it can be argued that the failure to retain Nash worked out to be in the best overall interest of Dirk and the Mavs' organization as well.
In 2005, though – all of us fresh off Phoenix' clever non-shoppable offer to Nash -- this assertion seemed silly.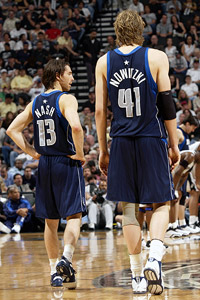 Nash absolutely tore it up in Mike D'Antoni's "Seven Seconds or Less" offense on the way to his first MVP trophy. The situation Steve stepped into in Phoenix, surrounded by athletic finishers in a fast-paced offense, seemed perfectly tailored to his unique talents.
Statistics bear this out.
We can see that, compared to his last year in Dallas, Steve saw significant bumps in his FG%, 3P%, RPG, PPG, and most-importantly a big jump in his APG, all while playing about a minute more per game. The impact of what Dallas had lost was especially driven home when Nash's Suns ousted Dirk's Mavs with Nash hitting a dagger-three over his 'booby prize' replacement, Jet. Nash's stats the following year were nearly identical. Not surprisingly, he won the MVP again.
Cuban once opined on Letterman, "Steve's a great guy and I love him to death, but why couldn't he play like an MVP for us?" In retrospect, it's fairly obvious, Steve became MVP
because
he went to Phoenix. The situation in Dallas at the time was not constructed to showcase Nash's unique talents, and it's doubtful that he would have ever won an MVP playing for the Mavs. However, the situation in Dallas was shaping up to take Nash's former partner to such a summit.
After Nash's departure, it was clear that Dirk would be the focal point of the roster, but he would need to augment his skills. The UberMan is famous for adding a new piece to his game every offseason with Holger, but this process was undoubtedly accelerated by the loss of Nash. At the time of Nash's departure, Dirk had already become proficient in the now-iconic "One-Legged Euro Lean-Back" fade-away that has become calling card. However at the time, he was not a finished product. He still struggled with passing out of double-team, and shaking smaller athletic defenders. Though there were still holes in his game, Dirk's first season without Nash was a statistical success.
In these stat-lines,
it's obvious where Nash's absence impacted Dirk's game, his FG% and 3P% decreased while his TO increased, likely due in some part to losing a PG of Nash's caliber to deliver him the ball and to bail him out of a double-team. However, Dirk's APG numbers rose as well as a significant jump in PPG, the later partially out of necessity. In the years that followed, Dirk would face more adversity as the Mavericks struggled to find the right pieces to construct a roster that supported Dirk while getting the most out of his considerable talent. It is here that we find perhaps a silver lining in the Nash departure.
With the dollars freed up from Nash's departure, Cuban signed Eric Dampier, a center from Golden State, who at the time was averaging a double-double. During the Dirk/Nash years it seemed that the Mavericks were perennially searching for a center that could hold the paint against Shaqs and the Duncans that ruled NBA in those days. Though Damp became limited in his later years in Dallas, his presence was a key cog in the Mavericks first Finals run in 2006.
Furthermore, his contract turned to DUST and we all know how that turned out. Those dominoes probably don't fall into place if Nash is still on this roster.
Getting back to The UberMan, Dirk's journey to MVP-level heights took a bit longer, was a lot bumpier, but no less important in helping shape him into The UberMan he was to become. With Nash around, Dirk may never develop the leadership skills and laser-like focus evident this past spring when he refused to allow his team to celebrate after trouncing the Lakers and showed an almost disdainful attitude for the Western Conference Championship trophy. The UberMan had reached each of those goals before, and on neither occasion did he take home the ultimate prize. His past failures had so focused Dirk that it seemed that nothing else mattered but the Championship. Does Dirk become the UberMan if his mentor/caretaker/running-buddy is still around? If Nash was the big brother and Dirk the younger brother, does Lil' Brother ever blossom if Big Brother's shadow is everpresent?
It's impossible to say for sure but Dirk himself said after Game 6 of the Finals that the trials and tribulations he faced along the way helped him become the player he is today by forcing him to work harder.
I am not saying that losing Nash for nothing was nothing but good for the Mavs. Such an assertion borders on absurdity. From an organizational perspective, losing a player of Nash's caliber is never a good thing, particularly when one considers the importance of DB.com's all-important Asset Management. However the challenges encountered since that unfortunate parting have brought forth positive results for all parties involved in that transaction.
Adversity is a funny thing. It can either break you or it can serve as the crucible that forges you into something greater. Dirk is a superstar who has struggled, quite publicly, with adversity. Somewhere along his odyssey, he became The UberMan and his Mavericks recently became champions.
However, it's impossible not to wonder what could have been. A few years ago, former Rockets G.M. Carroll Dawson noted, "It's staggering to think that those two were on the same team at one time. But I don't think they'd have become the players they are today if they hadn't separated."
I couldn't agree more. Meaning, as odd as it sounds, I have to be
glad
that they did.