DONUT 1:
The Wild, Wild West of NFL free agency has swept through the Wild, Wild East of the NFC. The result: The
Philadelphia Eagles
have built on last year's 10-6 foundation by adding All-Pro cornerback
Nnamdi Asomugha
, standout defensive lineman
Cullen Jenkins
, another fine corner in
Dominique Rodgers-Cromartie
and defensive end
Jason Babin
. That's four huge-upgrade starters on defense, plus they've added compelling backup QB
Vince Young
. Jones' Cowboys? They were 6-10 last season and the Wild West sweep has left us only with tumbleweeds.
DONUT 2:
There remains a mystique about the Cowboys, an aura build by Tex Schramm and Tom Landry and then rebuilt by Jones, that has resulted a false sense of contention around here. It's pseudo-contention. It SEEMS like the Cowboys are usually pretty good. … Yes, yes, we know that Super Bowls haven't been won since the trio of them in the early 1990's. And that they've won one playoff game since 1996. But Dallas is a marquee team, a respected franchise, a feared contender …
Or at least that's what it looks like on TV. And what it sounds like when new defensive coordinator Rob Ryan promises he's going to "kick the ass'' of overhyped foes (like the Eagles). ... forgetting, of course, that nobody is overhyped like the Cowboys are overhyped.
DONUT 3:
The reality is that in the decade past, the Cowboys are a .500 team.
The Cowboys' challenge isn't about the other franchises in DFW, the
Dallas Mavericks
having just won the NBA title and the
Texas Rangers
having just participated in the World Series. The competition with the Mavs and the Rangers (and the Stars), if it is that, is a competition for media play and the audience's expendable income.
There is this, though: The Mavs just created a model for having a plan, sticking to it, executing it ... and being able to alter on the fly when fate intercedes. (Example of pre-planning: The DUST Chip. Example of on-the-fly adjustment: JJB closing the Finals as a starter.)
DONUT 4:
For the Cowboys, the competition that matters most is the one unfolding right now in respective front offices and eventually on the field, where the Cowboys – having been left table scraps while Philly and others feasted at the big boys' table – seemed destined to be a second-tier team again this year.
Championships aren't won in July and August. But championship foundations are built 12 months a year. And that includes right now, when the Cowboys have seemed to be utilizing a grab-bag approach to talent acquisition.
DONUT 5:
"We knew we had to be ready to move decisively, ready to move quickly," Jones said last weekend of the team's shopping philosophy. "We knew we had some key things we wanted to get done relative to continuity on this team."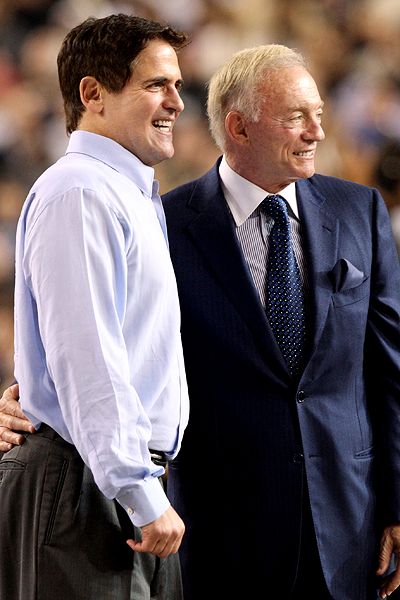 That applies, in a positive way, to the retention of offensive linemen
Doug Free
and Kyle Kozier. But it's an empty platitude in regard to Dallas' overall take and overall style.
DONUT 6:
Did the Cowboys want
Marcus Spears
, or did they flip-flop on him only because they were surprised to lose
Stephen Bowen
? Who were those starting safeties working in camp (now to be replaced by Elam and Sensabaugh)? Did Dallas get caught with its pants down in the secondary? How is the Dallas defense going to be better when it was last year when the cast of key characters is essentially unchanged?
"The players, agents and teams that have properly prepared themselves for the end of the labor dispute and the beginning of training camp will be fine,'' superagent Leigh Steinberg told me a couple of days ago. "The teams that didn't spend the 'down time' getting their ducks in a row? They will never catch up.''
Leigh wasn't speaking negatively of the Cowboys front office folks, with whom he has a wonderful relationship. But this much is clear: Dallas is among those playing catch-up – and those are the Eagles showing the Cowboys the bottom of their cleats.
DONUT 7:
One more Jones factor here: Jerry's penchant for salivating for "sexy'' players. Historically he's been willing to overpay for names that propel the Cowboys brand, regardless of whether the price paid for them was sound. That philosophy worked with Deion Sanders ("worked'' in terms of winning a Super Bowl, if not in overseeing a long-term stable locker room). But did it work with Rocket Ismail or
Joey Galloway
or Roy Williams?
DONUT 8:
Would it have worked with Asomugha?
My understanding is that the Cowboys were not initially interested in the free-agent Raider. As brilliant as Asomugha is, Dallas already employed potential answers at corner (Terrence Newman and Mike Jenkins) and needed that aforementioned help at defensive end at safety. And then the Cowboys – maybe more specifically, Jerry, recognizing that sex appeal – changed their minds. They entered the bidding for a great player they didn't really need.
DONUT 9:
The acquisition of Asomugha would've likely meant the releasing of Newman. Dallas lost the war … to the Eagles, of all teams … and now have to pacify Newman, hoping he'll understand why he was invaluable one day, expendable the next, and again, now invaluable. (And now, hurt for the remainder of at least the preseason, unfortunately.)
DONUT 10:
Consider this again: What are the Cowboys, at this moment, but the definition of "the all-hype team?'' An illustration:
I promise you, had the Cowboys signed running back Ronnie Brown, it would've been "hyped.'' Instead, the Eagles signed him -- and he's only the seventh- or eighth-best upgrade Philly's made to its roster.
DONUT 11:
As you may know, I'm a Jerry believer. His commitment is beyond question. In a football street fight, I'll take Jones on my side. (And you'll want to be on my side, too, if you are a Premium Mavs fan and are emailing me at Fish@DallasBasketball.com for a chance to win this week's DB.com Summer Swag, a $25 giftcard from Golfsmith!)
DONUT 12:
Anyway, my criticism of Jerry and the Cowboys isn't that they aren't executing their plan. Nor is it that their plan is flawed.
My criticism of Jerry and the Cowboys' summer-of-2011 plan for talent acquisition is that it seems there really isn't one.