The
Dallas Mavericks
' NBA championship is frozen in amber but surrounded by garbage. No matter how the shadows clash with the light, the Mavs' first-ever title – marked by an almost heroic level of unselfishness - is being offset by misguided greed, wasted efforts and single-minded avariciousness. In the time it takes for one last
Dirk Nowitzki
shot to swish through a net, the NBA has morphed itself from all the things fans love about our games to all the things we despise about big-time sports.
And for the foreseeable future, for better and for worse, the Dallas Mavericks threaten to be The Longest Champions.
Eventually, surely, somebody will break and the league's labor dispute will end. There will be a secret caucus at a New York hotel filled with dark suits and red neckties. The National Labor Relations Board will have had its voice and a few blowhards in Congress will have done the same, and
Kevin Love
or Ashton Kutcher or Metta World Peace or some other unlikely spokesman will break the news on Twitter and there will be peace. That settlement will be painted as a compromise, and commissioner David Stern and players representative Billy Hunter will stand together behind a podium – and behind the smiley-faced charade that an agreement was reached "for the good of the fans.''
Athletes will roll into their respective towns with relieved enthusiasm, unpaid debt and probably a layer of belly fat born of inactivity. Owners will "generously'' make concessions on ticket prices maybe offering a free hot dog to a family of four that buys the first three hot dogs at full price. The media will be back, too, because we are the most obedient sheeple of all; while an owner might earn $5 billion and while a player might earn $5 million, our skills are specific, limited and easily replaced.
But maybe the average NBA fans are not sheeple. Maybe some of them are not devoted enough to blindly return. Maybe others about them are too devoted – devoted to the right thing -- to do.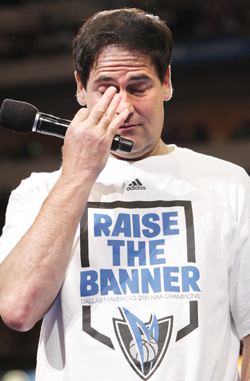 "The right thing''? The way Nowitzki and his Mavericks captured that title. Vocal owner Mark Cuban made a sacrifice, accepting the advice of his coach and star player to duct-taped his mouth. Coach Rick Carlisle made his mark but he also made his sacrifice, releasing his grip on the team steering wheel to allow
Jason Kidd
to oversee a "flow''offense.
Shawn Marion
,
Jason Terry
and
Brendan Haywood
are all "name'' players who acquiesced to bench roles.
Tyson Chandler
,
Brian Cardinal
and J.J. Barea re-wrote their resumes by reinventing themselves. Chicken salad was made of injuries to penciled-in starters
Caron Butler
and Roddy Beaubois.
And it all came together, against the odds and against a Miami Heat team that was structured in a vastly different way. Maybe
LeBron James
is a more talented individual player than Dirk Nowitzki is. Maybe
Dwyane Wade
is, too. But The UberMan utilized every American Sports Cliché Attribute … and the German made them his. Heart, passion, desire, determination, and of course, skill …
Is that what will be remembered about 2011? Dirk singing "We Are The Champions'' to a couple of hundred thousand Mavs fans while hanging from the American Airlines Center balcony? Or Stern and Hunter singing their summer-long funeral dirges?
Maybe the contrast from "postseason'' to "no season'' wouldn't be so sharp had Miami won the title, LeBron's "Heatles'' having been assembled in a manner that matches the present climate of crassness. Or maybe that's a Mavscentric view, that Dirk's accomplishment is more "pure'' than the norm, that the fact that he seems disinterested in "cashing in'' with endorsements. And maybe that's not fair to James and company.
But all of them – all sides, including the agents, and all teams, including owners and coaches -- deserve the disgust that is about to be delivered by an audience that threatens, in the coming months, to shift from angry to apathetic.
That's not the way it works for the NFL now. "Apathetic'' was likely not an option. The NFL is as much a part of American pop culture as television itself. The NFL is central to American gambling, to American holidays, to the ways parents of all colors and creeds and socioeconomic levels communicate with their children.
The NBA cannot make that claim. Yes, there will be unprecedented prosperity for the league going forward because the TV contracts will be in place.
But that's no guarantee you'll watch. Collecting money, as the NBA will be doing, is not the same as capturing hearts and minds.
Meanwhile, assorted NBA players make mostly vague plans. Who wants to go to England, to China, to Turkey?
Most of us don't have offers yet and most of us haven't seriously explored it and most of us know that we'll have to return as soon as the NBA reconvenes and most of us haven't the slightest idea what might happen in the event of injury and do I really want to be an American in Istanbul right now?
And NBA fans might start making other plans, too.
I believe there are owners who are willing to forfeit the 2011-12 season and that they are supported by three powerful foundations: One, there are owners willing to do so because they are relatively new to the league and they see winning these negotiations and a favorable CBA as a way to quickly recover their investments and make their futures more profitable.
Two, there are owners willing to do so because they empathize with what happened to the
Cleveland Cavaliers
and owner Dan Gilbert when hometown hero LeBron took his talents out of The Rust Belt. Some estimates have the franchise that devoted everything to James losing a quarter of its value when one player didn't share that devotion. Too much power for one player, some will argue.
And three, there are owners who are willing to forfeit the 2011-12 because they can.
There are almost a dozen NBA owners with personal wealth of $1billion or more. They can afford to prove that they are right. They can afford to win the argument via attrition. They can afford to forfeit endless seasons.
Ultimately, who is right will not matter. The owners are led by Stern, who seems smug and vindictive and holds such power that the people who employ him can't say exactly how much they pay him. The players are led by Hunter, and privately, by agents, who seem willing to feed the notion that athletes should be insulted by any suggestion that they are nothing more than extremely valued employees.
So the only possible way to enjoy this – and this is a stretch -- is to be a Dallas Mavericks fan.
When the NBA returns … in October or February or sometime later in this half-decade … the Mavs will celebrate again. They will ...
we will.
... revisit and bask in their collective and unselfish brilliance. There will be an in-game awards ceremony and the memories will come flooding back. The Larry O'Brien will be in attendance. Carlisle will crack a smile and Kidd and Cuban will share a hug and Dirk will butcher some more Queen songs.
In the meantime, Mavs fans have it better than the rest, because they can buoy themselves with feelings that haven't yet faded, feelings that fight their way through the clash between shadow and light.
The Dallas Mavericks' championship is frozen in amber, an artifact of what might be remembered as as a different time and place. We Are The Champions, for now and for the foreseeable future … The Longest Champions.