PRE-DONUT:
Friend-of-DB.com Curt Pickering, the long-time NBA scout and around-the-world coach, is coming into Dallas this week to scout talent for a team that will tour China this season.
Can you ball? Curt, the president and coach of the minor-league
Santa Barbara Breakers
, will oversee the tryouts (along with members of the Texas Legends staff, which will also be eyeballing prospects) on Aug. 27-28th at Senter Park (999 Senter Rd, Irving 75060, (972)721-2641) from 10 a.m. to 5 p.m. Cost of the camp is $145 and for more information right now, call Ikie Corbin at (682) 429-7908.
DONUT 1:
Larry is bigger than you think he is, maybe because in so many photos you've seen of him, he is being held by 7-foot-tall men. He has fingerprint smudges on him, including, now, mine. And he has a certain power over people in his presence; he makes you smile as wide as your grin can stretch.
That's my Larry. I think I'll keep him.
DONUT 2:
What's Charlie Sheen up to nowadays? He's on stage ... catching the trash being thrown at him by booing audience members.
Hey, Tony Cubes, you're not still thinking of going into business with this unfortunate mess, are you?
DONUT 3:
Three ways to Get In, Get On and Be Good:
*
Any Friend of the Mavs on Facebook is a DB.com Friend of Fish.
*Please check out
the Mavs DB.com Store!
Which will it be? 'YES. WE. DID'? 'Take That Championship Wit Chew'? 'The UberMan'? Or 'KIDD BBIQ'?
*Come join us on Twitter!
Follow @fishsports
DONUT 4:
May I please invite you to check out the North Texas $100,000 Smile Giveaway? If you can't get your smile from Larry ... you might want to get on that by going to my family dentist ...
McKinneyDentist.com!
Dr. B and his staff have been friends and supporters all the way back to the Fish For Lunch days. And they truly are the best in the field of family dentistry.
DONUT 5:
In case you missed it:
Our rather brutal takedown of Chris Broussard's ESPN piece on his Mavs plan to get Deron or Dwight.
It's Premium stuff ... an "Amateur GM'' classic!
DONUT 6:
Of course, we don't mean to be too dismissive of the Deron part of the idea (which is nothing new). In fact, it's common enough to be the source of an uncommon video effort ...
DONUT 7:
In the rare moments when I watch the Little League World Series on TV, I'll tell you what I see: Eight small children per team, swinging and missing, misjudging pop-ups and getting overly emotional while imitating some hand gesture they saw some Major League do ... and in the middle of them, one large child per team, 5-11, 170, pitching and batting third and looking like a college prospect.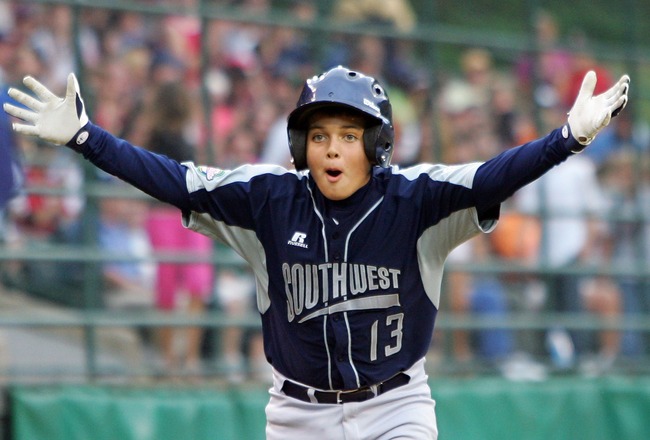 Is this benefiting the viewer, because we are so bored until football starts? Is this benefiting the child, who is gaining a warped sense of self-importance? Does this make money for ESPN or for some energy-drink sponsor?
Why is this on my TV?
DONUT 8:
TrueHoop steers us to a bundle of links that attempt to answer the question,
Do good-looking jocks make more money?
As someone who is both ugly and poor, I'm not qualified to comment further.
DONUT 9:
Want MORE Mavs? Sign on up! It's about a dime-a-day for the very best in Mavs coverage from DB.com. And yes, we keep it rolling all summer long ... You won't get 'em covered like you get 'em covered here!
Go Mavs and Go Premium!
DONUT 10:
I had a late-night conversation with an in-the-know football guy who used to work at the University of Miami who whispers that this Nevin Shapiro thing comes with a large enough net to take down certain former U of M staffers now working at prominent positions in our beloved state of Texas.
Who should be shaking in their newly purchased cowboy boots? Guesses, anyone?


DONUT 11: Kobe gives some dough to Lakers staffers who are out of work due to the lockout. Aw, that Kobe. I always liked that guy.(Not completely true).


DONUT 12:
Hire Michele Bachmann for President?
If you say so. But now I know I can't hire her as a DJ.