Take a peek back at the 2011 playoff and Finals highlights and your eyes will quickly be drawn to a wealth of memories Mavericks' fans won't soon wash away. There was
Dirk Nowitzki
unleashing his "uberness" upon a mostly unsuspecting national audience, showcasing a dominance many in Dallas had accepted long ago.
Jason Kidd
orchestrated an intricate masterpiece on both sides of the ball, including drilling a handful of vital three pointers.
Tyson Chandler
and
Shawn Marion
anchored a defense most still fail to fully recognize even after it escorted a championship parade to the streets of downtown Dallas.
Jason Terry
buried the haunts of playoff failures to stand tall on the shoulders of bold proclamations – and a tattoo -- perhaps never more so than in his spectacular first half of Game 6 against the Heat, not to mention hitting 9-of-10 threes to usher Phil Jackson into retirement.
JJ Barea asserted his will in the paint, ignoring the fact that he often gave more than a foot to the trees rooted there.
Brendan Haywood
,
Peja Stojakovic
,
DeShawn Stevenson
,
Corey Brewer
,
Brian Cardinal
and
Ian Mahinmi
each fed the flame with key contributions to construct a Mavs fire that swallowed the NBA whole.
Over the course of a 21-games, so many players fulfilled their role, yet we find two major names in the preseason plans from a year ago conspicuously absent, perhaps forgotten in the eyes of some:
Caron Butler
and Roddy Beaubois.
Robin and the Boy Wonder were not one in the same, yet both shared a fate. Both failed to see a minute of action in the Mavs playoff push. This wasn't the way things were supposed to go.
If Dallas dared maintain the hopes of a contender, there was no way around the fact that Butler and Beaubois would have to play vital roles.
Butler was the man who could finally push Terry down a notch on the scoring totem pole and provide a second scorer capable of stepping up in the style of game prevalent in the postseason, predicated on half-court sets, strength, toughness and a defensive presence.
Roddy B encapsulated what the Mavs had gone so long without, a penetrating shooting guard capable of finding easy baskets and breaking down defenses with quickness, athleticism and blazing speed. As Dirk labeled him, he was the future, but a future able to bring much needed unpredictability now.
If there was reason for hope, reason to believe the ghosts of playoffs past could be left to cruise the courts of irrelevance, of yesterday, it resided squarely in these two. Without them, hope was a misconception of the naively optimistic. It was pure insanity to believe otherwise … or so we believed.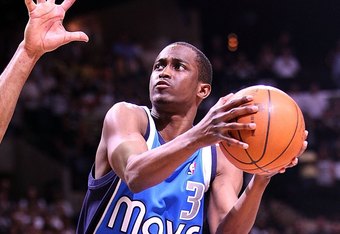 Roddy B saw his season stolen when a broken foot ripped the first 54 games away, essentially trashing the time needed to build upon the flashes of brilliance his rookie campaign displayed. Instead of a talented player taking the next step in converting potential to consistent impact, he succumbed to the reality of being a raw talent trying to overcome a missed preseason, 54 games and more than half a year worth of practices. On a team of veterans who justifiably believed their time was now, not several years down the line, his learning curve was hard to accept and his confidence soon faltered.
After hitting 51.8 percent of his field-goal attempts his rookie season, Roddy converted only 42.2 percent in his abbreviated sophomore campaign. Combine this slip with a loss of 10 percentage points on his three-point tries and a rise of just over 21 percent in his turnovers-per-minute, and you begin to see the picture of a player who had missed too much, too early to make an immediate impact.
To add a layer to that portrait: in 28 games Roddy B hit at least half of his shots only nine times, 40 percent of his threes seven times (including zero makes in 11 games, though he never failed to take an attempt). This means he only reached the percentages he averaged the season before about a third of the time from the floor, a fourth of the time behind the arc.
What had been envisioned wasn't happening. In place of progress came an injury-aided regression.
After Jason Kidd and Dirk once again requested that DeShawn Stevenson be inserted into the starting lineup, Rick Carlisle made the move for the final game of the regular season. Even had Roddy not suffered a setback with his foot, the writing was on the wall. His time lay ahead, while the team he played for was caught in the throes of now. He needed the one thing his injury had ensured he would go without: time … experience.
To replace him, from the shadows stepped JJ Barea, whose fearlessness in the paint quickly promised another avenue to the penetrator the Mavs desperately needed. Mix in the rugged defense of DeShawn Stevenson, the versatility of Kidd, who was able to guard three positions (point guard, shooting guard, small forward), and the offense of Jason Terry, who eclipsed a PER of 20 for the first complete session of play (full regular season or playoffs) in the 2011 postseason.
Though the nature of hope was not a mirror image, their paths ran parallel in their own way. Caron may have not been the future like Beaubois, but he was believed to be a savior in his own right. He was to be the reliable second scorer capable of lessening the burden resting squarely on Dirk's shoulders. To be blunt, he was the man who could bring the scoring help Nowitzki often seemed to lack come playoff time.
Things may have taken a rev or two to get rolling, as Caron limped from the gates by scoring 12.7 points per game while shooting 38.7 percent, including 31.3 percent on his three-point attempts, in his first 12 games, but then the switch flipped.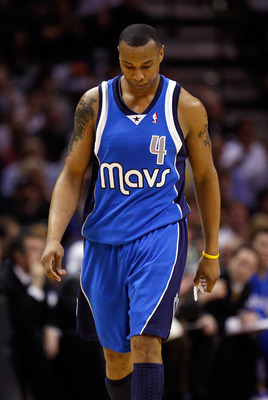 Over the next 16 games, Butler began to show that the expectations placed in him were not misplaced. During this 16-game span, he averaged 16.7 points on 49.1-percent shooting, including an impressive 46.9 percent behind the arc.
This was the Caron Butler Mavs fans had gotten excited for when
Josh Howard
and company were sent to Washington for Butler, Brendan Haywood and Stevenson. Dallas had their Robin. Maybe this team could take that next step without demanding an unproven sophomore (Roddy) carry them there after all.
And then, only three games after Dirk Nowitzki went down with a knee injury that would cause him to miss nine straight games, with Caron's family and friends watching on New Year's Day, injury promptly removed another member of the thought-to-be Mavs starting five, leaving Butler to lay writhing in pain on the Milwaukee court. If "Tuff Juice" was the man on the floor not getting right up, dusting the hit, the pain, off with a defiant wave, this was serious.
Eventually, after pushing his kneecap back into place, refusing to allow those he cared for to witness his exit come with others carrying him from the court, Caron walked gingerly to the locker room and out of the 2010-11 Mavs season, at least as an on-court contributor, under his own power.
Now missing 40 percent of their envisioned starting lineup and the primary sources where most saw any improvement coming from, along with any separation from the past, the Mavs faced a very different season.
Yet, as onlookers grew to expect from this team, their largest setbacks proved to be their most significant motivations. Dallas would be damned if they were going to let the doom that may have devoured lesser teams control them. Their time was now; even if now didn't want them.
You can argue Shawn Marion stepped in admirably for Caron Butler, including averaging the most points per minute and highest field-goal percentage (third highest of his career) since his final full season in Phoenix, and you would not be incorrect. But, it was more than this.
Peja Stojakovic, despite his inability to positively impact The Finals, helped fill the offensive void left by Butler's absence, if by nothing more than forcing defenders to honor his presence with their attention, though he often did more. Corey Brewer brought energy, defense and found ways to change games in limited minutes, perhaps never more than Game 1 of the Lakers' series, when Dallas denied certain defeat and an early series deficit to erase a 16-point lead in the second half.
Brian Cardinal, Jason Kidd and Stevenson also refused to shy away from contributing at small forward, even if only briefly. Without Marion, all of this is for naught, but without the cavalry, it's Marion's effort that is wasted.
Dirk wasn't casually tossing words when he called the Mavs championship "a win for team basketball."
On the court, Roddy and Caron may have become forgotten men, though to argue they failed to contribute to a team that would capture a championship would be shallow and misguided, particularly in the case of Butler. His toughness, his determination to overcome an injury that would have left many to sulk in their personal loss, his continued need to hold teammates accountable, and his refusal to walk away from his team; all of this demands that his presence be noted, not forgotten, even if you can't find his name in the stat sheets.
Said Carlisle of the free-agent Butler, who the coach very much wants back next year: "He's just one of those special guys. ... It just s "It's been an inspiration to have him around.''
Beaubois will be back, too, hopefully healthy physically as well as mentally.
"It starts with his health,'' Rick said. "What we need from him to be the kind of NBA player we want is defense and consistency, not just be a mercurial talent. ... But let me be clear: he can do things no one else on this roster can do, and we still see him as a building block for the future of this franchise.''
In the end, we're forced to realize that this was a "team" victory. When 40 percent of the preseason's projected starting lineup was torn away by injury, it was not a single player to step in to fill the void. Rather, a handful of selfless men who milked their strengths for every drop and as a group buried what was lost, utilizing the unit above the individual.
What makes this team so truly special is the fact that all 12 active members found ways to contribute, to step up when called upon and to embrace whatever role fate thrust upon them.
And, because of it, they are the NBA champions.