DONUT 1:
The NBA is on hold. But pro basketball isn't. That's why scout Curt Pickering was in town over the weekend, evaluating local talent to bring with him on a touring team in China. (And DB.com's got the scoop on who made it!) While Curt was here, though, he also visited with Rick Carlisle and they remembered their Summer League days, when men were men and when Greg Kite and Charles Oakley got bloody.
DONUT 2:
Pickering is now the owner and coach of the minor-league Santa Barbara Breakers. But before this gig, and before he was a
New Jersey Nets
scout, he was allowed to serve as the head coach of a
Boston Celtics
Summer League team that featured a big man named Greg Kite and a savvy shooter named Rick Carlisle.
"Rick wasn't the greatest athlete,'' Pickering tells me. "But he could keep you in a game as a player. And he was the smartest guy out there. High IQ, basketball-wise and otherwise.''
Pickering and Carlisle remember watching in frightened awe the time when it Kite collided with Oakley and blood spewed everywhere – mostly from Kite's damaged face.
The referee was tough guy Bob Delaney, who called the foul on Kite's face.
"Now, Bob was an undercover cop, he went against organized crime, the works,'' Pickering says. "You didn't mess with him.'' But Kite did so anyway. With smart guys Pickering and Carlisle looking on, Kite did a dumb thing.
"Foul on ME? Foul on YOU!'' Kite bellowed, swiping his hand across his mug, grabbing a palm full of blood, and wiping it across the chest of the ref.
"Oakley has his tough-guy reputation and Bob Delaney has his,'' Pickering says. "Rick and I figured Greg Kite would get his, too – a reputation that would ruin him. Luckily, it didn't stick.''
DONUT 3:
Because Pickering's touring team will be representing our country and our city in China, we certainly hope everybody keeps their blood to themselves. Here are the guys – many of them with North Texas ties -- DB.com has learned have been invited on the trip:
*
Chase Adams
, a 5-11 guard who played at Pittsburg in college and as a pro has been with Dallas Impact and SVD Dortmund overseas. He was named Most Outstanding Player at the recent tryout camp.
*Seth Scott, a 6-10 center who played college ball at Portland State and was a pro with Serrelous (France). He's returning from overseas to make his mark on the DFW basketball scene.
*Russ Permenter, a 6-9 forward from Temple, Texas, who played at
Providence
and is now trying to earn his first pro contract right out of college.
Also …
*
Jason Horton
, 6-2 guard from Mizzou who has played professionally with the Dallas Impact/RGV.
*Terrel Harris, a 6-6 forward from Oklahoma State who played with RGV.
*
Yemi Ogunoye
, a 6-9 forward from Oral Roberts most recently with the Tulsa 66ers of the D-League.
*Johnnie Jefferson, a 6-4 guard with Dallas ties.
*
Josh Carter
, a 6-6 forward from
Texas A&M
and professional team Maccabi Ashdod.
*Henry Dugat, a 6-0 guard from
Baylor
and a pro with Marinos (Venezuela).
Good luck, fellas. Keep it clean!
DONUT 4:
Did CNN host Piers Morgan really insist that Mavs owner Mark Cuban should run for President?
'Are you kidding me?'' Cuban said, adding that the thought has "never even crossed my mind.''
No disrespect to Tony Cubes, but I've probably given as much thought to Mark Cuban's accomplishments as any person on earth. I've shared my admiration for the man's talents a thousand times. And the thought of "President Cuban'' never crossed my mind, either.
I'm left thinking Piers Morgan both not from here and the planet's biggest ass-kisser.
DONUT 5:
Dirk is leading Germany in the European Championships, trying to help his nation qualify for the 2012 London Games.
The tournament is in Lithuania ... and no, I'm not actually in the gym. But we'll get you covered!
DONUT 6:
Three ways to get all Mavvy:
*Come join us on Twitter!
Follow @fishsports
*
Any Friend of the Mavs on Facebook is a DB.com Friend of Fish.
*
Dress like a champion! The Mavs Jason Kidd BBIQ is in! Show off your BBIQ!
DONUT 7:
Thursday, Sept. 8. DB.com Get-Together at Bonnie Ruth's, "Frisco's Neighborhood Bar.''
Lebanon and The Tollway for the NFL opener. Be Ready. Be There.
DONUT 8:
The sights and sounds of that Melo League game ... the KD Show, essentially, as he led the scoring in a 149-141 game ...
DONUT 9:
And thoughts from the Tuesday
exhibition game featuring LeBron James, Kevin Durant, Carmelo Anthony and Chris Paul on the same team.
DONUT 10:
The Washington Post examines
how Javaris Crittenton became a murder suspect on the run.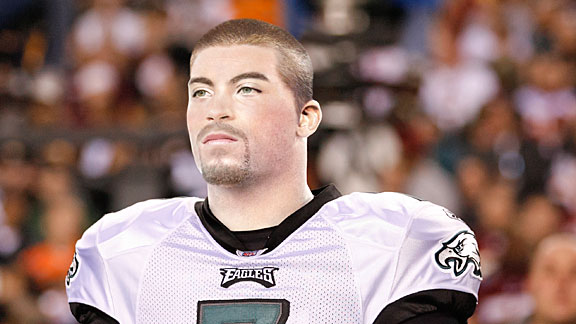 DONUT 11:
I can't decide which is more clumsily executed:
This ESPN column titled "What If Michael Vick Were White''
or the accompanying photo.
DONUT 12:
Seriously, I suppose there might be a place for a solemn and analytical socioeconomic study of this sort of thing ... but this ain't it. As is, all it does is cause me to playfully wonder ... Hey, what if Romo was Chinese? What if Manning was Cablinasian? What if Unitas was Na'vi? What if Dirk was black?
Again, if somebody wants to undertake that last notion, please first issue a thesis statement. What will you be attempting to establish? Would Dirk being black mean he is African-American? African? African-German? Would it mean he grew up in Wurzburg or in Watts? Are his parents black? Are they tall? Do they like sports?
A project like this requires more than just a question. It requires a thesis statement and an attempt to prove it. ... or at least some educated guesses as to the "what ifs'' that make a person what he or she is.
But done ESPN's way? What if nobody cares?