DONUT 1:
The world of the defending champion
Dallas Mavericks
is on hold as the NBA and its players union will hold a bargaining session today ... and reportedly maybe possibly on Wednesday as well.
Two straight days of work on this? What is this, a concentration camp?
It's so serious that multiple reports have union boss Billy Hunter canceling a planned trip to Miami on Tuesday to instead work on negotiations.
Appreciate the sacrifice, there, Billy.
DONUT 2:
Whatever happened to former Mavs first-rounder Mo/Moe/Maurice Ager?
Instead of being the next Dr. J, he's now thinking he's the next Dr. Dre. (Yes, I made that up myself.)
Ager is just 27; one would think the Mavs' top pick in 2006 would want to keep ballin'. On the other hand, the image of Ager that is stuck in my head is not a flattering one. I can remember him being very slow to actually get out on the floor for extra pregame work, night after night. He'd pause to sit down in a chair to tie his shoes … and then he'd re-tie and then re-tie and then re-tie them again. Almost like he was dreading actually having to be out on that floor.
DONUT 3:
We welcome to DallasBasketball.com a new partner,
Classic of Carrollton.
What do they think of the Mavs' title? It causes GM Bucky Davis and the guys to Relax and Enjoy The Difference! At the bottom of Donuts, see the Classic box and click away … and when you are ready to go car-shopping without the high-pressure approach, call Bucky at (972) 242-4000 and tell him The Fish sent you!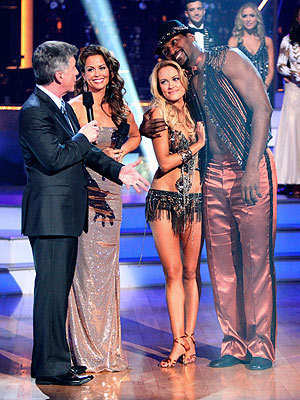 DONUT 4:
Metta World Peace, the NBA star formerly known as Ron Artest, was the first contestant dumped from "Dancing With The Stars.''
And the Lakers oddball admits now that maybe he didn't take the competition seriously enough.
"I was having a great time and I was looking forward to learning a few dances, but I wish I would have put in a little more effort," he tells People magazine. "Years ago when I saw 'Dancing with the Stars,' I didn't think I could ever do the show. And now that I'm here, I'm like, 'I wish I would have tried a little harder.''
After what happened in the playoffs against the Mavs, that sounds like a team motto for Artest's Lakers!
DONUT 5:
One more Ron-Ron: The LA Times reports that Metta's 8-year-old daughter Diamond wants to take his new last name. So she'll be "Diamond World Peace.''
Sweetheart, please do not do that to yourself. OK?
DONUT 6:
Good for the Colts, who gave it a ferocious go on Sunday night before losing to heavily-favored Pittsburgh. I'm amused by the critics who insist the Peyton-less Colts should purposely lose every game in order to secure the services of next year's No. 1 overall pick (and Stanford QB Andrew Luck).
Before the Colts "go ahead and tank the final 13 games of the season,'' they should consider not only what can happen positively for a team that does that (think Spurs), but also what can happen negatively. I believe that if you intentionally introduce losing into your locker room, you leave yourself open to the cancer of losing. It's also not within the spirit of the game. It's also not fair to the guys presently on the team. And it's probably an invitation for karmic disaster.
But most of all, losing threatens to make you a loser.
DONUT 7:
Thanks to
McKinneyDentist.com
for their support of DB.com and the Mavs ... and their personal attention when it comes to the care of my family. Folks, check 'em out. They are the finest dentists in Collin County ... and quite possibly the world.
DONUT 8:
This isn't the death of sports writing in Dallas. Nor is it the death of my long-time journalistic sidekick Richie Whitt, who I happen to know is negotiating a handsome deal to continue writing while also hosting the afternoon show with Greggo on The Fan. No,
The Dallas Observer's decision to end Whitt's award-winning run at the paper
signals another shovel full of dirt on the coming death of newspapers.
DONUT 9:
Click on over and join us on Twitter!
Follow @fishsports
DONUT 10:
I have more on this later in the week, but very briefly here:
After watching Cowboys QB Tony Romo perform last night in Dallas' 18-16 win over Washington -- and doing so with a cracked rib and a punctured lung -- I'm as convinced as ever that we as outside observers simply must leave the decision to play with injury to the people who are injured. CBS analyst Boomer Esiason had the nerve to insist that Dallas doctors are negligent by allowing him to play with the injuries ... But who knows better what to do here? The guy with the crack and the puncture seeking wins? Or the guy with the headset and the teleprompter seeking ratings?
DONUT 11:
Did we create a way for you to dress like a champion? YES. WE. DID.
Check out all the cool swag in the Mavs DB.com Store!
DONUT 12:
Michael Vick is complaining that refs aren't protecting him like other QBs are protected. In other words, to quote reader ScottC, Vick's being treated like a dog.