DONUT 1:
It's not exactly George Allen spitting on his hands and rubbing them together in anticipation of his
Washington Redskins
taking on his hated rival from Dallas. But as a way of rekindling a dormant rivalry,
DeAngelo Hall
's incendiary remarks about wanting to "target in on'' the injured body parts of
Dallas Cowboys
Tony Romo
and
Felix Jones
will do.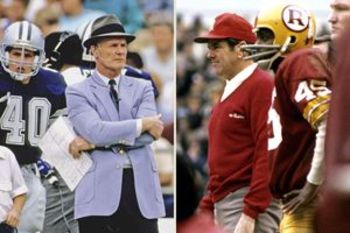 "I want to get a chance to put my helmet on whatever's hurt," says Hall, the Redskins cornerback. "Romo's ribs ... I'm going to be asking for some corner blitzes. If I know Felix Jones' shoulder is hurt, I'm not going to cut him. I'm definitely going to try to hit him up high, so that's just part of it. ... If you know something's wrong with an opponent, you're going to try to target in on that. We're going to try to definitely get as many hats on that team as possible."
DONUT 2:
These comments will achieve certain things for Hall:
*He will get booed mercilessly by the Cowboys Stadium crowd on tonight.
*He will fuel a duel that teammate
Rex Grossman
calls "the biggest rivalry in football'' – a take that has less validity because of the fact that Dallas has a lopsided 14- 6 advantage over the Washington Redskins in the last 10 years. (And because rarely are both teams contenders at the same time.)
*He will bring attention to himself ... including questions about whether his comments and acting on his comments are out of bounds. ... and maybe including some "profiling'' on the part of the game officials and the NFL itself.
DONUT 3:
Legendary Cowboys linebacker Lee Roy Jordan is quoted as saying of ex-Redskins coach Allen: "George had a real hate rivalry for us. He used to say, 'If we can injure (Roger) Staubach, we have a chance to win.' He really made it intense.''
Football players often say they don't play with the intention of causing injury. But maybe playing with the intention of
worsening an existing injury
is different?
Cowboys runner Felix Jones does indeed have a bum shoulder. And Romo led 1-1 Dallas to a win last week in San Francisco despite a busted rib and a punctured lung. The quarterback is being fitted for a Kevlar vest (as is tight end
Jason Witten
) as part of his plan to play against the 2-0 'Skins.
DONUT 4:
Is is fair game to pour salt into an opponent's literal wound?
And is football different from, say, basketball?
DONUT 5:
I give you
Karl Malone
, a Hall-of-Fame talent but also a bully in shortpants, a man who used dirty tactics to get every edge.
Remember all the way back to 2000,
when Malone was slapping Mavs, tripping Mavs and seemingly intentionally going after Dirk's bum shoulder?
DONUT 6:
There are gameplan issues that sometimes preclude this sort of contact. The Mailman was called upon to guard
Dirk Nowitzki
. That was going to be a 30-minutes-plus matchup going in. Even in Malone's later years, it didn't have to be Jazz-Mavs and it didn't have to be Dirk. Any Mav would do.
In tonight's football game, how mano-a-mano will it really be?
Hall's comments suggest that the bull's eye will be on Romo. But it'll also be on Hall and his ability as a tackler, a hitter, a blitzer and a pronosticator. ... and the same eye might never find the two guys in the same televised picture.
Last week, Hall made two impressive open-field tackles, one on a Giants tight end and the other on the bullish
Brandon Jacobs
. So suggestions that the 5-10, 195-pound Hall cannot tackle are inaccurate.
But does DeAngelo sack the quarterback? No – so he might be the wrong guy to eyeball when it comes to malicious hits on Romo.
In Week 1, in a win over Arizona, the key play of the game came when rookie defensive end
Ryan Kerrigan
intercepted a screen pass and returned it for a touchdown. On the play, Washington coordinator Jim Haslett called on his 3-4 defense to trigger what some would call an "all-out'' blitz. The third-and-11 nickel alignment called for five defensive backs and included six pass-rushers – including, of course, one DB. That defensive back was safety Oshiomogho Atogwe. As much as Haslett likes to bring rushers from the secondary, the use of a safety is more conventional than the use of someone like Hall.
DONUT 7:
DeAngelo Hall attacking the quarterback? Nah. That's not been the case for Hall; in his eight-year career, Hall has twice recorded half-a-sack.
DONUT 8:
Haslett on Wednesday noted that the rules that protect vulnerable quarterbacks make Hall's remarks something closer to "logical'' than "incendiary.''
"You think about it,'' Haslett said. "(A defender) is not allowed to hit (a quarterback) in the head and you can't hit him below the knees so there's really only one place he can hit him. Realistically, (the ribs) are the only place you can hit a quarterback now."
At the same time, Hall won't be allowed to "put my helmet'' on Romo when the quarterback is in the act of passing. Of course, this assumes that everyone plays by the rules. Is a 15-yard penalty a beneficial trade for a cheap shot that eliminates Romo from the game? Or, taking it back to the NBA, what if the illegality becomes so commonplace that the refs decide to semi-legalize it?
DONUT 9:
Which brings me to
Bruce Bowen
, who unlike the talented Malone wouldn't have survived in the NBA without dirty play.
Is there some subtlety here that allowed Bowen to get away with such behavior for a decade? Is this style worthy of punishment ... or the rewards given Bowen, which include championship rings, an ESPN gig and all the bowties money can buy?
DONUT 10:
In tonight's football game, this will likely be less about Hall-vs.-Romo than it is about Redskins-vs.-Cowboys – and other potential attackers.
Like Redskins linebacker
Brian Orakpo
, who recorded 11 sacks in his rookie season of 2009 and nine more last year.
DONUT 11:
"If somebody gets injured you want to go after the injury,'' Orakpo says. "But we're going to just play our game. We're going to try to get Romo down when we can. We're not going to just target the ribs and forget about trying to get the ball out or forget about trying to get him down and just hit his ribs. Nah, we're going to do the best we can to get him down and get off the field."
DONUT 12:
Hall grew up in Redskins Country, in Virginia, "and so I don't like these guys (the Cowboys). It's no secret about that. We're going to go out there, it's going to be a lot of fights after the whistle, there's going to be a lot of tongue going on. That's what you get when the Cowboys and Redskins play. … If you can't get up for this game right here, then something's wrong with you."
Haslett is suggesting that Hall's bull's-eye comments were meant to be funny. But no ... like Karl Malone and Bruce Bowen before him, Hall is making serious business of causing injury.
DeAngelo Hall isn't trying to bust our chops. He's trying to bust Tony Romo's.