"I want to feel the change consume me, feel the outside turning in. I want to feel the metamorphosis and cleansing I've endured within my shadow. Change is coming. Now is my time. Listen to my muscle memory." Maynard James Keenan of Tool in the song Forty-Six and 2.
Peel back the skin, peer into the sustenance that feeds this lingering smile, this bridge trying to hold us above the spreading chasm created by a lockout seeking to deny us our joy and what must you see?
At the surface, the eye is escorted to the obvious.
Dirk Nowitzki
,
Jason Kidd
,
Jason Terry
,
Tyson Chandler
,
Shawn Marion
and at least eight other players decorate the scene of a championship composition. Together, or individually, they perform as the leads in our memories while the video rolls on endlessly through our mind's eye.
Whether you remember Dirk stamping 48 points to the forehead of the Oklahoma City Thunder in Game 1 of the Western Conference Finals, or Kidd luring
Russell Westbrook
into the air before calmly drilling a corner three in overtime of Game 4 in the same series, or JJ Barea sent crumpled to the court after "The Coward Bynum" could take the humiliation no more, or Jason Terry arcing a 3-pointer high over a King temporarily made a prince; regardless of what your internal monitor plays, the odds are you're not focused on another who deserves as much credit as any … and shouldn't there be an abundance to spread around?
We've issued a pair of apologies to two players in whom we harbored deep doubts (sorry, Jason Terry and sorry, JJ Barea ), and though this doesn't quite fall into that same arena, it is a call of respect to one who deserves it:
Dallas Mavericks
coach Rick Carlisle.
By enduring a change, adding a slight evolution in approach, and also relying on his own approach, Carlisle allowed us all to bask in the metamorphosis, to shed the chains of recent failures, to emerge from that shadow both cleansed and refreshed as we strut with a our new chromosomes, a step beyond our former. Stripped down: Carlisle both stayed the same and allowed for a change to deliver us this time, this glory, this once marveled upon yet untouched rung of the basketball ladder.
As the 2009-10 season drew to a close, we found ourselves locked in the bitterness of doubt and anger. The second-seeded Mavs were sent home in the first round for the third time in four seasons. Even worse, it was the hated rival, and seventh-seeded, Spurs to escort Dallas out in the face of revived hopes after the arrival of
Brendan Haywood
and
Caron Butler
.
To recognize both the changes and the similarities let's travel back to that early exit for a moment. We'll begin with a peek into a few of the major complaints of that time.
We'll look at an overreliance on the quantity of the known, or subservience to "muscle memory," and a perceived inability to adapt to his roster.
Carlisle's greatest perceived failing was likely housed primarily in the frame of two players who remained in longtime roles to the chagrin of many:
Erick Dampier
and Jason Terry.
Brendan Haywood arrived and quickly began to erase a void many had felt grow as the years piled at the base of Dampier's heavy soles. Merely a glimpse was enough for more than a few to call Haywood the best center the Mavs had ever known (we hadn't seen Chandler in a Mavs uniform yet), especially in the Dirk Era.
Big Wood had played exactly one game as a Maverick when Dampier underwent surgery to close an open dislocation of his right middle finger, thrusting Haywood into the starting lineup in his first home game with Dallas on February 17, 2010. From that moment until the job was handed back to the diminishing incumbent on April 3rd, Haywood clearly asserted himself as the dominant of the two centers in the eyes of fans and many analysts alike.
During that span, Haywood played at least 30 minutes in 11 games, the Mavs went 10-1 and he averaged 10.8 points, 9.7 rebounds (including 3.5 at the offensive end) and 2.8 blocks. Despite his superior play, the starting job slipped from his grasp … and the Metroplex sighed.
When Dampier played just over 118 minutes in the playoffs (including four starts) and scored only five points, coming solely on the 5-of-12 free throws he converted in Game 1, that sigh grew to an exasperated groan.
Jason Terry was entrenched as the reigning "Sixth Man of the Year," and despite the addition of Caron Butler he continued to be relied upon as the second scoring option behind Dirk. Part of this reliance was born of necessity, as Butler was still in the process of learning his place in the offensive hierarchy. Yet, with glimpses of brilliance Roddy Beaubois had entranced Dallas fans, tantalizing them with the prospect of untapped and unlimited potential.
While many contrived a direct battle between JJ Barea and Roddy B, choosing a one-or-the-other approach and overlooking the fact that both could be contributors (though, in fairness, minutes for one undoubtedly came, at least partially, from the pocket of the other), the Free Roddy B debate did not find its 2010 culmination with Barea, but rather in Game 6 with Terry.
The Mavs limped from the tip of Game 6, allowing the Spurs to surge to a lead as large as 22-points. Enter Roddy B.
Contradicting the lack of pace or energy on the court for Dallas, Roddy provided a spark that would soon become a flame. Dirk scored 25 points in the second half, thanks in part to 25 points on the game from Caron Butler and an electric 16 from Roddy B, the Mavs momentarily took the lead in the third quarter when Nowitzki sank a three pointer.
With the game once more a game, Carlisle made a decision that many would view as his most memorable error, as well as one that seemed to directly lead to the season's end: he removed one of only three players who appeared capable of completing the comeback, Roddy, and reinserted a struggling Jason Terry. Things didn't go as hoped. Terry finished the game with two points on 1-of-7 shooting, capping off the worst playoff performance of his career, averaging 12.7 points on 37.7 percent shooting.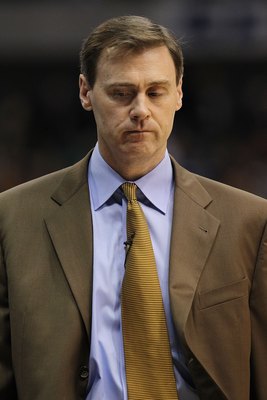 Carlisle had turned to one of the team's stalwarts to deliver and was not rewarded for his faith. He believed in a player he'd believed in all season. The player didn't come through. It's as simple as that.
Finally, completing a triumvirate of mistakes,
DeShawn Stevenson
did not play a meaningful minute in the Spurs series. George Hill had routinely demolished the defense of Terry and Barea, and whoever else tried to contain him. Rather than turn to a guard with a stellar defensive reputation who had been with the team for a limited time (Stevenson), Carlisle stuck with those he knew.
Eduardo Najera brought a physicality to the series that changed the tone and gave the Mavs something they seemed to lack as group: aggressive toughness. It wasn't just hard fouls, though they played a role, but an attitude … a "disposition.'' (A word, we would learn, that is a Rick staple.)
It was something that Stevenson could have provided. It was something the team went without. And, it was a part of the reason they would not advance to the second round.
Moving on from the above to another issue, Shawn Marion was often cast to a corner, relegating him to something along the lines of a Bruce Bowen-ish offensive role, "Stand in the corner and stay out of the way on offense, and dominate on defense."
The essence of the idea was sound. The execution was lacking an understanding of the pieces in play.
Clearly, the perceived issues ran deeper than the few paragraphs above. You could send questions down the tributaries that led to the final river of evaluations, such as whether or not regular season minutes would have helped Carlisle gain a trust in Roddy that clearly wasn't there in the biggest moments, but the above encapsulates the generalities of opinion over his failures.
What did Carlisle do to step through that shadow, to emerge from the cocoon of that loss, to deliver us where we now stand?
It would seem he both heeded the whisper of muscle memory, holding to his principles, while embracing an ever-evolving approach in accepting the traits of the team he leads. Less may have changed than the final results would dictate, but there was a change.
We'll begin with changes, primarily with his ability to play to individual strengths, a process ushered in by a greater understanding of the players on his roster that came with a bit of continuity among the roster's key contributors (other than Tyson Chandler). Like a puppeteer coming to understand just how to manipulate the strings directing a chorus of marionettes, he allowed the slack or brought the line taught when needed, as needed.
On offense, he allowed one of the greatest basketball minds of all time to apply that mind to the game as he saw it by granting Jason Kidd the freedom to orchestrate the "flow" offense. Structure, predictability, can be any coach's favorite vision. The absence of either, even for a play, can scratch their inner sensibilities to the point of raw frustration with frightening velocity.
There's little doubt Carlisle bristled internally at various points when Kidd's offensive direction may have tread in a varying direction to his own, but he left the reins slack. He catered to Kidd's greatest strength, rather than neuter it with constricting restrictions. It wasn't always pretty, but it also wasn't detrimental.
This was Kidd's offense to run, even if influenced by the essence of discipline Carlisle brought with him from day one. Carlisle and the coaching staff may have aided in the design of specific plays, in plans of attack meant to find the weaknesses of opposing defenses, but it was Kidd so often allowed the discretion to choose their moment of implementation. It was the "flow" offense, but it was Kidd steering the current.
In addition to this freedom, whether by the hand of Kidd or the coaches, came small acceptances to his players' strengths or weaknesses. Far less often, Marion was left in the corner, a forgotten man left in a spot to fail, to find an open shot he'd become less than efficient with. Instead, he was given more opportunities to post up, capitalizing on odd, and often unpredictable, shot releases and the gifts of his athleticism to frustrate otherwise capable defenders.
This led to a refreshing revelation early in the Miami series:
LeBron James
could not defend Marion in the post. He was bigger, more athletic, deified for shutting down
Derrick Rose
… and almost helpless. Marion in the corner, he could handle with ease. Marion posting up, he could not.
Add to this a heavier reliance of the pick-and-roll game when JJ Barea and Dirk were in the game together, and an offense that was made up of similar pieces found highly different results. The strings had merely needed some slack, and with it, the marionettes found they could feel the life coursing through their hungry veins. They could move in the spaces afforded them. They could thrive.
Setting aside the seduction of the ego is no small task, particularly in the world of sport, where it must so often be relied upon to succeed. Yet, seeing his roster, being aware of the individuals comprising it, Carlisle did just that and took a step back to allow his cast of veterans, led by Kidd and Nowitzki, to find their own way.
Carlisle did change, and in doing so he allowed his players to do the same. No more were they a group unable to overcome the rigors of playoff defense, but capable of devouring what had once "choked" them.
At the same time, Carlisle leaned on the defensive ideologies that stand as a clear foundation to his coaching approach. When scouts and analysts doubted the ability of a zone defense to remain advantageous once the playoffs arrived and opposing teams could spend ample practice time preparing for and dissecting it, Carlisle simply asked that his team excel in what many labeled a "gimmick."
He knew it wasn't going to be their sole defense, or even their primary look, but he also understood the players on his roster. He did not shy away from the fact that he had a pair of undersized guards not known for the defensive presence (Barea and Terry), but found a way to ease their burdens with "changeup" moments … not to mention the impact of players who were more than capable defenders. It wasn't always the presence of the zone, but the timing of when it was unleashed.
When opposing teams would begin to find a rhythm, the zone became a feasible method of flicking the metronome inside their heads, pushing their movements slightly off, even if only for a moment. Once a drum has one beat out of time the next may become rushed, out of synch, and may struggle to find its way back home. While running the "flow" offense, Carlisle's use of the zone found ways to take their opponent out of it.
Players like Tyson Chandler, Marion, Kidd, Stevenson and Haywood could still dominate at the defensive end, particularly if they weren't asked to expel their energy chasing players across the court every second they were out there. If you left them the fuel, placed them in the position to influence the game in its biggest moments, they could … and would.
You are right to acknowledge the skills of the individual, but would be wise to also note the effectiveness of the coach, whose job it is to put those players in a position to succeed, to put their extensive tools to work with the greatest chance for the desired outcome. Carlisle did this, and did so extremely well.
One more area Carlisle chose not to deny the pull of his own muscle memory was his willingness to rely on those who had set the table, those that had helped the Mavericks clinch the third seed by tying the Lakers for the second best record in the Western Conference.
He'd been burned the season before. Instead of allowing those failures to define a player like Jason Terry, he showed his faith to be resilient. Perhaps this wasn't by choice, but by a limitation of options. Even if you adopt such a pessimistic view, that doesn't mean another path could not have been chosen, only that the other choices may not have been as strong.
You may say, "What choice did he have but to rely on Terry?", but that ignores the choice to take the ball from his hands, or remove him from the court. Regardless of how you label this, the fact is Carlisle did exactly what he'd done a year before: he placed his faith where he must. He trusted his veterans to come through.
The prior season, Dampier and Terry and others let him down. This time around, Terry, Stevenson, Barea,
Peja Stojakovic
and others came through.
Carlisle did his part. He put them in a position to succeed. He gave them the crutches to lean on when needed. He allowed them the freedom to grow. He demanded sacrifice. He did exactly what a championship coach must do.
He got the most out of the tools at his disposal by weaving them together in such a manner as to hide the weaknesses of one behind the strengths of another (Terry and Barea have no hope of defending opposing guards when on the court together … unless their aided by a zone, by the defensive prowess of a Kidd, Marion, Stevenson, Haywood or Chandler behind and beside them).
We're not here to proclaim Carlisle could have achieved ultimate success without the contributions and drive of players like Dirk, Kidd, Marion, Chandler and Terry, only that he pieced them together in a manner that allowed and assisted them to do so. He made sure this team believed in themselves, and then put them in position bring that belief to life. He did exactly what he had to do when he had to do it, just as his players did.
He allowed the change to consume him, to feel the outside turning in. Mavsnation all felt the metamorphosis and cleansing endured in the depths of a haunting shadow. Change came. Now was their time.
Thanks to the Mavs for the Rick-at-the-piano photos!