I desperately want to believe that, this time, after a Week 2 evisceration of San Francisco, the snipers will finally stop taking potshots at
Tony Romo
.
I want to harbor the naïve assumption that a gutcheck performance on par with
Emmitt Smith
's separated shoulder – Jerry Jones' comparsion, not mine – and the long overdue outpouring of positive press will serve as permanent varnish on Romo's reputation both in and outside of league circles. That it reminds everyone to appreciate having a three-time Pro Bowl signal caller amidst a league-wide dearth in quality quarterbacking, and far more often than not, Romo is part of the solution to what ails the Cowboys rather than a cause of their problems.
I'd love to hope against fleeting hope that his stunning fourth quarter and overtime prompts a reexamination of a "soft, choke artist" labeling that simply can be termed lazy, and for those who administer it to reevaluate their opinions based on fact rather than a predominantly flimsy fiction.
But if I'm truly being honest, I know none of that will happen. Barring a Super Bowl ring, Romo will always be cast a player who wilts under the luminous wattage of pressure, the glowing headlines of this week destined give way to scalding diatribes whenever he falters again in a close game. Unfair as it is, the portrait of Tony Romo as a crunch time failure has been painted with too many brush strokes and too many layers to be redesigned so easily.
I know all of this to be true because it happened to
Dirk Nowitzki
for the past half decade.
We were all there, powerless to stop any semi-savvy media member with a column, radio show, or TV spot to tag an 11-time All-NBA pick, 10-time All Star, and a former MVP with those very same "soft" and "choke artist" terms while ceaselessly chiding that the
Dallas Mavericks
will never win a title with Dirk as their best player. Of course, the die-hards knew otherwise, as did those who matched up against him every night; had you asked anyone worth their salt about Dirk's place in the league, the response was always one of deserved admiration and respect.
The problem, though, was that their voices were meek amidst the din of those dissenters.
When, the Mavs lost in the 2006 NBA Finals, the indictment came down that somehow it was all Dirk's fault, ignoring the fact that a roster that lacked a real point guard, post threat, and consistent slasher somehow made it within two games of an NBA championship, and that's without getting into just why, exactly, Google autocompletes "2006 NBA Finals" with "controversy," "rigged," and "referees."
When they were ousted by Golden State in 2007, the dominant narrative was that Dirk was the least deserving MVP in NBA history rather than Don Nelson employing nine years of data on his former pupil's tendencies to construct a perfect defensive gameplan (take away his drives to the left; put a lengthy, rugged, athletic defender on him like
Stephen Jackson
; stagger, delay, and toss in backside double-teams to keep him confused about where the pressure was coming from), or Golden State consistently knock down three pointers (37.1 percent in their wins, on 42-of-113 shooting), or
Avery Johnson
having a coaching meltdown for the ages, or Dallas merely getting beat by a hungry team feeding off all of those factors.
When they were dumped in the first or second round in each of the next three years, every time it was somehow Dirk's fault, setting aside that he was sensational in each series while his teammates were largely sedentary.
But the opinion shapers with the largest platforms never showed much interest in drawing out those distinctions. The sad irony of having more around-the-clock sports coverage than we know what to do with is that very little of those limitless programming hours are devoted to substantive argumentation and analysis. Maybe it's because our short-attention-span society can't handle focusing on one subject for more than a few minutes, maybe it's as simple as nobody wanting to do the research, or perhaps it's something else entirely. Whatever the cause, though, too often the effect is mainstream coverage of an athlete or sporting event being reduced to finding a relatively nuance-free opinion that sparks a reaction, and hammering it home repeatedly until it becomes interminably associated with their legacy.
Dirk is Exhibit A, with a 13-year resume of brilliance boiled down to the results of two series – Miami and Golden State – and the resulting extract treated as the alpha and omega of his career. It resulted in all those cat calls, labeling, and mockery, and it happened because, frankly, it's a lot easier to ascribe Dirk Nowitzki the role of "choke artist'' and let the audience do the resulting mental leg work on their own instead of devoting exponentially longer to scrutinizing every shade of gray.
Never mind the search for truth; the new name of the game is finding the path of least resistance, consequences be damned.
It's here that I should give a disclaimer and point out that in no way, shape, or form am I trying to compare the impact of what Romo has done in the NFL to what Dirk has accomplished in the NBA, even pre-title;
my compatriot Chuck Perry already handled that in much greater detail.
One is a very good player who draws considerable – though I'd argue unwarranted – debate over whether he is one of the top 10 players currently playing his position. The other was one of the 30 greatest players to ever play his sport before he won a title, and now is regarded as one of the 20 best since that seminal moment.
Romo, even if he wins a title someday, will never be held at Dirk's level of esteem in his chosen sport, nor should he based on the scope of his achievements. Looking outward, a certain generation of Cowboy fans and perhaps NFL fans will remember Tony Romo; anyone that is marginally cognizant of basketball history will remember Dirk Nowitzki.
Yet it's become obvious that despite that difference in stature, Romo is a victim of the same pre-title treatment Dirk grappled with for those five excruciating years, the piñata for our 24/7 media cycle to bash as an underachiever and a fourth-quarter failure with only limited merit.
Take, for instance, the resulting fallout from the Week 1 Jets debacle, in which he turned the ball over twice in the fourth quarter to propel a New York comeback. There was certainly room to discuss how Romo spent the first three-and-a-half quarter shredding arguably the game's best pass defense for 342 yards or to go further in depth on the how's and why's of a piss-poor blocked punt that resulted in a game-tying touchdown.
Instead, SportsCenter spent the morning running a timeline of Romo's greatest meltdowns while Jemele Hill and Skip Bayless used the afternoon to debate whether he was the LeBron of the NFL in a segment that simultaneously managed to be unfair to James (because Romo is nowhere near the player in the NFL that LeBron is in the NBA) and Romo (because unlike LeBron, he actually wants the ball in the fourth quarter) at the same time.
The point of that last paragraph isn't to bash the Worldwide Leader; rather, it's to highlight some specific examples of the chorus every network anchor chirped with Romo's headshot perched above their shoulders. And, really, there's nothing wrong with having those discussions if they're part of a larger dialogue; however much these games were or weren't Romo's fault, there's a reason some production assistant was tasked with assembling a paean to his greatest losses as a Cowboy or the fact that you're probably rattling each one off in your head as you're reading this (Seattle in the 2007 playoffs; New York in the 2008 playoffs; the 2008 regular-season finale against Philly; and the 2009 playoffs against Minnesota. The problem is that this tends to be the only type of discourse regarding Romo, and it's not very accurate, either.
About a minute into the Romo-LeBron segment, Hill challenges Bayless to show her, "the evidence from Tony Romo [that he can produce in the clutch], because [she didn't] see any," which is equal parts laughable and sad because she never bothered to look; not only did Bayless remind her that Romo has produced nine – now 10 after the San Francisco game – fourth-quarter comebacks, but what's lost amid everyone's bellyaching is Romo's 100.1 quarterback rating in fourth quarters constitutes the fourth-highest mark in NFL history.
Not that this is at all new; the Dirk Dissenters who waxed poetic about his supposed feeblemindedness in crunch time never bothered to check the numbers, either. According to the folks at 82games.com, who define "clutch scoring'' as "points scored in the final five minutes of a game in which neither side is ahead by more than five points,'' Dirk is one of only three players, along with James and
Kobe Bryant
, who have finished in the top 10 of points per 48 minutes in crunch time scoring in every season from 2007-2011 – and all of that's well before we get to what nightly Mavs-watchers knew about his gumption, which was on display a long time before the championship run.
The larger the platform, though, the less likely we are to hear any of that.
It doesn't take very long to start punching holes in Romo's culpability in that NFL Live timeline once you stop to take a look at each individual game. You could point to the patchwork offensive line that that had Romo running for his life against the Giants, left him with busted ribs after the Philly game, and got him sacked six times by Minnesota. Or the coaching he endured from an in-over-his-head Wade Phillips and a past-his-prime Bill Parcells, which ranged from passable in the best of times to atrocious in the worst. Then there's the entire side of the ball that he has no control over whatsoever, featuring a secondary that hasn't deployed a quality cover safety since
Darren Woodson
's retirement and has spent three of the past five seasons in the bottom half of the league's pass defenses. None of that absolves him completely, but it certainly mitigates things.
Mitigation, though, detracts from black-and-white opinions, and opinions are what drive coverage. Opinions spark debate, which inevitably results in the debater (read: common sports fan) seeking out validation, something most accessible via television or the radio to see/hear what his/her favorite pundit has to say on the matter. Naturally, that boosts ratings and, in turn, profit.
Financially, then, it doesn't make much sense to make things "fair and balanced," as the decidedly right-leaning FOX News likes to croon. What does is continuing to hold fast to the party line, whatever that may be.
So instead of rooting out the culprit of the Cowboys' latest gut-punch loss by going over the key sequences in all four quarters, we get a 30-second timeline of Tony Romo epic fail with catchy Muzak sprinkled over b-roll. Rather than break down the each of Mavs' possessions in the final minutes of a tight playoff loss circa 2008, we were bombarded with and endless array of roundtables, with each panelist given 20 seconds to tell us why – in their opinion, of course – Dirk Nowitzki couldn't get it done when it mattered, never mind how little weight there was behind it.
This isn't analysis; it's intellectually-bankrupt shorthand. Values are assigned as soon as there is enough information available to create them, yet rather than challenge those labels when new data becomes available, they instead are gradually stripped down to their most basic elements and spit out all over again. At the onset of this process, it was on the pundit to make their case plain and stated; after a few years of regurgitation, though, all anyone needs to do is toss out a few key words – "choke,'' "soft,'' "Seattle,'' "no playoff wins'' – and the audience takes the point through to the desired conclusion on their own in a form of call and response.
Occasionally, something like Romo's San Francisco game sends a momentary shockwave to the system, but nothing really changes. The reason I'm skeptical that anyone will remember Romo's gutty injury-ridden performance is that nobody ever recalls
Dirk's unreal game against Phoenix in April 2008,
in which dropped 32 points with 12 rebounds on one leg to will the Mavs to a victory they absolutely had to have to get to the playoffs.
It was gritty.
It was gutty.
It was pretty damn heroic.
It was completely buried six months later. In part because Dallas took a shellacking from New Orleans, yes, but more so because it didn't fit the archetype that Dirk was supposed to embody.
Soft players aren't supposed to recover from month-long injuries in half the time, or dogmatically play through endless ankle woes. Nor are they supposed to thrive in spite of personal turmoil, like Dirk did in the Denver series when he averaged 34/11/4 on 53-percent shooting smack dab in the middle of his then-fiancé Crystal Taylor getting exposed as a con artist.
So the injuries were glossed over, and the human interest story that should have garnered him more respect and sympathy on a national level than any other moment in his career instead was twisted into a cautionary tale of stupidity; a millionaire who let his heart overwhelm his good sense and should have known better than to blindly trust a woman who cold-called him on the phone one night.
Similarly, four seasons and one blonde bombshell later, we are still lectured about how Tony Romo's vacation to Mexico with then-girlfriend Jessica Simpson prior to the Giants game is the only proof needed to show he doesn't take football as seriously as he should.
You know who was riding shotgun with them? Jason Witten, not that you've heard his name brought up in association with that since the weekend it happened or that you're likely to again. That's because it doesn't fit the profile of the hard-nosed, tougher-than-a-two-dollar steak tight end. Witten's most famous NFL moment, and unequivocally the one re-aired in highlight packages, is him marauding the down the sideline against the Eagles with his helmet some twenty yards behind him; Romo's is a botched snap clanking off his hands against the Seahawks. Gladiators like Witten aren't supposed to go to Cabo before the playoffs but a pretty boy, pop-star dating quarterbacks would, which is why only one of them still is reminded about it multiple Pro Bowl appearances after the fact.
Then again, this all rings true on the opposite end of the spectrum as well. Contrary to popular belief, Romo and Dirk haven't gotten that treatment because they were targeted as part of a larger agenda. Just as those labels are virtually written in permanent ink, so too are they stubbornly immutable for anyone branded a champion.
Case in point, Big Ben. A half-decade of NFL coverage has drilled into our heads the concept of Roethlisberger being the ultimate winner on the football field by virtue of the two Super Bowl rings he procured before his 27th birthday, and a regular season winning percentage that ranks fourth all-time. It doesn't matter that he put up the worst QB rating ever for a Super Bowl-winning quarterback against Seattle (22.6), or that he was one miracle catch away from never winning that second ring, or that he was largely terrible in a losing effort in last year's Super Bowl, lowlighted by two back-breaking interceptions, or that the ethos of Steeler football revolves around stingy defense, sound coaching, and running the ball far more than it does Big Ben.
Roethlisberger has the hardware and just like it's easier to continue to characterize Romo as a choke instead of investigating how true that mythology is, it's also a lot more convenient to proclaim that Roethlisberger has the pedigree of a champion instead of questioning his validity among a club of multiple Super Bowl winners that also includes names like Montana, Elway, Griese, Staubach, Brady, Aikman, Bradshaw, and Starr. If it looks, sounds, and smells like a Hall-of-Famer, then what's the point of questioning it, even if his stat sheet has a lot more in common with Jim Plunkett, the only two-time winner who isn't enshrined in Canton?
That's why, as the country had a collective hissy fit over Romo's fourth quarter New York, everyone whistled and looked the other way when the Steelers got curbstomped by the arch-rival Ravens 35-7 with Roethlisberger tossing three picks as a part of a seven-turnover day; had Romo done that in a game against the Eagles, the internet may have exploded.
But Roethlisberger was only a footnote in most of the postgame coverage, the media somehow toeing the tricky tightrope of praising Baltimore's D without making him a culprit; if you don't believe me,
read the postgame AP story
and count how the number paragraphs go by before you see his name.
As Peter King, perhaps the best NFL writer on the planet, wrote in his Week 1 Monday Morning Quarterback column, the Steelers and Roethlisberger "get a mulligan," something all the latter is afforded at oh-so-many turns on account of that accepted context as a championship player.
Which brings us to Kobe Bean Bryant. None of the following is to say that any of his status as one of the 15 greatest NBA players ever is or should be under any dispute; Bryant has earned every bit of his plaudits. That, however, doesn't change the fact that all of the following occurred in a five-year span from 2004-2008: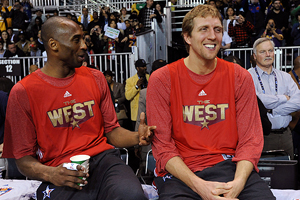 • In the 2004, Bryant pretty much singlehandedly shot the Lakers out of the NBA Finals against Detroit to the tune of 22.6 points per game on 38.1% shooting and attempted just 5.0 free throws per game. The Pistons won in five games in one of greatest upsets in Finals history.
• Following that series, the long-boiling feud between Bryant and Shaquille O'Neal finally spilled over the top with Shaq getting shipped out of town to Miami and Phil Jackson retiring. To this day, there are conflicting accounts about what really happened… which is dumb since Jackson, the guy who coached both players for the duration of their time together, wrote a tell-all book in which he not-so-subtly blames most of it on Kobe, but goes into detail about how Bryant spent a lot of time acting like a petulant child.
• For the better part of the next two seasons, Bryant divided his time between launching bad shots and antagonizing his admittedly terrible teammates to the point that Chucky Atkins actually went on the record to tell reporters that any should questions should be directed to Kobe because "he's the GM [and] it's his team." Bryant, to his credit, has drastically improved in this department but it's a habit that's never fully gone away or is it likely to at age 33.
• All of that culminated in Game 7 against Phoenix in 2006 where, fed up with an avalanche of his teammates' missed shots, Kobe did what any consummate leader would – he gave up. More specifically, the NBA's scoring leader and the NBA leader in shot attempts during the regular season with 27.2 per game hoisted up a grand total of three in the second half, instead playing a very blatant game of hot potato while making little effort to hide his disgust at a supporting cast that made just 32 percenr of their shots on the night. The Lakers were routed 121-90 to complete a collapse after they held a 3-1 series lead.
• Playing on a retooled Laker squad in the 2008 NBA Finals against Boston, Bryant disappeared in the final three games of a six-game series loss to the Celtics, averaging 21.3 points per game on 33.8 percent shooting. The most disturbing part, though, was his complete unwillingness to get to the line, totaling just 18 free throw attempts over that span while frequently settling for mid-range fadeaways. If you're keeping score at home, that's one Game 7 that he in which he outright quit, two very bad Finals' performances that directly led to a Lakers series loss, a three-time Finals MVP he helped ship out of town, and well over a half-decade of, at times, treating his teammates with downright hostility.
With the occasional exception of the Shaq feud (because it was so huge of a story that it's impossible to ignore) none of it gets brought up anymore. Kobe's five championship rings have made him above reproach, to the point that his past transgressions are either omitted entirely or, in the case of his dealings with teammate, romanticized into fruitless comparisons with how MJ led with tough love in his era while ignoring the fact that Jordan's teammates revered him above all else; never, under any circumstance, would one of them sell him out to the media the way Atkins did with Kobe.
Compared to the treatment Dirk received, it's certainly not fair.
Then again, how much of it really is?
It's all spun from the same cloth, these perceptions. Obsequious or odious, infatuous or inflammatory, positive or negative; the labels that Roethlisberger and Kobe wear with badges of honor are spawned and cultivated with the same zeal as the slings and arrows fired at Romo and Dirk.
The good news for Romo is that, should he ever end up leading the Cowboys to the promised land, he'll be adored with the same fervor as he's currently mocked. We should know; the very best example of that phenomenon is Dirk himself.
There was so much to take from the Mavericks finally grinding their way to a title after the roller-coaster ride from the past decade, but one of the most important was catharsis. Primarily for Dirk and the team itself, obviously, but also for everyone in the Metroplex who lived and died with each loss, kept defending them to their friends, and most importantly had to stomach all those misinformed half-truths spouted off at every turn. What happened in June not only redefined the identity of an organization but the fan base to boot, turning it from a group constantly on the defensive about the skeletons in the Mavs' closet to one on the offensive, armed and ready with the ultimate "I told you so" moment.
No one embodies all of that more than Dirk, who is now the darling of the national media's eye after being its joke for entirely too long. Those same analysts who called him "soft'' cackled in delight when he won Game 2 with layup off his busted left finger, only to then be amazed two contests later when he dragged himself and the Mavs to victory in The Fever Game [that's right; it's a proper name].
The ones who said he wasn't clutch praised him time and again when he came up with one timely shot after another when Dallas needed it most.
The round-table panelists who once used their 20 seconds trying to trivialize his greatness closed out the Finals broadcast by proclaiming him one of the 20 greatest players to ever take the floor.
Of course, the cliché driving this newly-discovered admiration is as hackneyed as the one before it. For all the fawning we've heard in the past four months, nobody has come out and they were wrong about Dirk Nowitzki, or that his ultimate triumph makes them question the light he was held in all these years. Instead, we hear how he rose to their standards by fixing all those flaws he had before, that he developed the killer instinct he lacked all those years.
Make no mistake; this isn't a re-evaluation of five years of misperceptions, nor does it entirely make up for it. They simply subscribing to a different type of stereotype now, papering over the wall they built rather than knock it down to reshape its foundation. In their minds, Dirk's championship overrides all of his old failures, even though there weren't many of substance to begin with.
Still, no matter how the bitter past is reconciled with the saccharine present, the post-title Dirk treatment isn't so bad. Romo should count himself fortunate if he one day gets his own taste of it after traipsing the same trying path.
Until it happens, though, don't expect things to stay better for long.
After what we saw Dallas' other once-maligned star deal with all those years, expect a few more fresh coats of paint to sensationalize the portrait of Tony Romo before it's all said and done.
Follow @mikelikessports
Follow @fishsports