THE MEETINGS
Assuming that our reading of tea leaves is correct, both NBA owners and players are finished with the rhetoric and ready to get down to business. At some point, perhaps even this weekend or early next week, both sides will shake hands on a deal - and then organized chaos will ensue.
Yes, we know that Friday's session, featuring a host of owners and (finally) some of the star players, was filled with intensity. ... intensity that reportedly included
Dwyane Wade
responding to commissioner David Stern's finger-wagging by saying, "Don't point your finger at me. I'm not a child."
But after the meeting, Stern said, "The three big things are the system, the economics, and revenue sharing, and we've taken care of one," indicating that revenue sharing is agreed upon.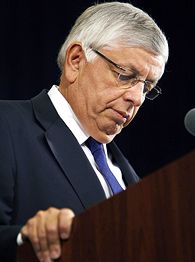 But for now, our optimism stays. And so does our anticipation.
So much will need to happen so quickly. From that handshake, we'll see a time-consuming back-and-forth of lawyers forming the details into a written-and-signed CBA, then the beginning of free agency (which can only begin after the deal is signed), then the beginning of the already-delayed training camps (with rosters being assembled on the fly?), through the shortened preseason … and then, finally, hopefully, Opening Day of the
Dallas Mavericks
season with the banner being revealed and the jewelry being awarded and the Mavs-Bulls eventually tipping off … And all of that in about 30 days!
WHAT LOOMS ON THE HORIZON
The groundwork for the frenzied time ahead will begin with the deal itself. The key compromise making it possible appears to be the owners' willingness to accept a continuation of most of the system of the 2005 CBA, particularly one with no team-by-team hard cap on player payroll. But in exchange, many little rules are on the table and taken all together, they may bring considerable change to the fabric of working the cap to create and keep a team. While we don't yet know which details will become part of the new agreement between players and owners, some of the changes that are rumored to be under consideration for the new deal are:
*A player-owner revenue split around 50-50.
* No hard cap on team spending, but a graduated luxury tax that is proposed to cost an owner $2 for each dollar spent in player payroll between $70M-$75M, $3 for each dollar of $75M-$80M, and $4 for every dollar over $80M.
*Contract lengths limited to a maximum of three or four seasons.
*Limiting Larry Bird rights — which enable teams to exceed the salary cap to re-sign their own free agents — to one player per team per season.
* The annual mid-level exception, which was valued at $5.8 million last season, cut in about half.
* Reducing maximum mid-level contract lengths from five years (current) to two or three seasons.
*Adding a new rule that would prevent teams from signing or extending a player acquired by trade using a Bird exception unless they are acquired before July 1 of the final season of the player's contract.
*Sign-and-trades eliminated.
*Bi-annual exception (worth $2 million) eliminated.
*Significant reductions in maximum salaries.
* Significant reductions in annual raises.
*A 5-percent rollbacks on all current contracts this season, followed by 7.5 percent next year and 10 percent thereafter.
* Some sort of franchise-tag system (similar to what the NFL employs).
*An amnesty provision allowing a team to waive a player and pay him without being taxed on his salary.
*Another amnesty provision allowing a team to waive a player and pay him without being taxed on his salary and without him counting against the team cap.
*A restriction that allows big spending teams to exceed the annual luxury-tax threshold only twice every five seasons.
*Enhanced revenue sharing provisions that will drain money from some franchises, enrich others, put demands on franchises on both ends of the equation, and which may or may not actually be encoded as part of the CBA.
Whatever is decided, once the handshake occurs, the formal "lockout" is likely to end immediately. That will allow players to talk with management, and permit player access to team facilities for informal work sessions. At the same time, a blur of front-office activity will begin, as teams will scramble to evaluate the rules changes regarding player acquisition, while at the same time talking with agents and players to find out what deals might be possible in free agency.
About 10-14 days after the handshake, the new CBA will get finished and signed, and a day or so later the free agency signing period will begin. With training camps probably opening less than a week after free agency starts, and with the season to follow in another week or two, free agency should be a mad scramble for both players and teams - and also for fans trying to figure out what's going on and how their team is doing in the off-season acquisition challenge.
THE MAVS AND THE NEW CBA


During that rushed month or so, in some ways the Mavs will be no different than the rest of the NBA teams. A quick glance through rosters and free agent lists shows that most teams will be filling five or six openings, although some do have draft picks, restricted free agents, and/or players with unguaranteed contracts that might fill some of those slots. Dallas has 10 players under contract for the 2011-12 season, with no picks or RFA's, leaving them five openings to be filled.
But, unless the new rules and their resulting restrictions create some impediments, the Mavs may be poised to easily fill their roster.
Tyson Chandler
, JJ Barea,
Caron Butler
,
Brian Cardinal
, and
DeShawn Stevenson
have all expressed a desire to return and fill those five openings.
Is that possible?
The Mavs current payroll (for 10 players) sits at $62.3M. But maybe there will be a 5-percent reduction in that number, within the new rules. And there also might be some transitional leeway in some of the new CBA's added restrictions.
Could that leave room to return most or all of the five and stay at a payroll/tax number that Cuban can live with?
In 2010-11, the Mavs player payroll was about $87M, with another $17M in tax, for a total of $104M in player expenditure. Making team-friendly financial assumptions, per the proposed new rule we'll lop 5 percent off the existing payroll, which reduces it to around $59M. Then we'll pencil in new deals (using the economic world of lower caps in a new CBA) for Chandler at $10M, Butler at $6M, and Barea at $3M (new MLE-sized), with Stevenson and Cardinal getting minimums of around $1M each.
That creates a payroll of $80M and using the proposed enhanced scale, a luxury tax of $25M, creating a total player payroll of $105M.
Doable? In light of Cuban spending $104M in 2011-12, and the chance to win another title, the Mavs would probably love to have such an opportunity.
While those decisions are being made, it's likely that other camp bodies will have to be assembled. Remember last summer, when the Mavs brought a group of "extra guys'' to camp, one of them being Brian Cardinal? That worked out pretty well. If returning all five from last year isn't workable, one or more of camp bodies may again provide dividends.
THE DEVIL IS IN THE DETAILS
However, some of the new CBA's details may make the Mavs consider more complex moves. Or tie their hands.
What if the new CBA contains a restriction that big-spending teams may only exceed the annual luxury-tax threshold twice every five seasons? With multi-year offers as part of most deals, would future year numbers scuttle the viability of our 2011-12 outline above?
Or what if the new CBA limits Bird rights to "one per team per season." In that case the Mavs would be forced to pick between Chandler and Butler, and perhaps Barea as well, for their sole Bird exception this season.
If no Bird rights are available for him, would Barea return for an MLE contract (especially if it's a slimmed-down version) instead? Or would Butler, perhaps taking a one-year deal to transition him to a bigger free agent opportunity next summer after he has a season to demonstrate a return to health and (hopefully) with a title contribution in his resume?
Or what if there is an amnesty provision to consider? In the eyes of some, erasing the contract of
Brendan Haywood
would then be a viable option, particularly if that was accompanied by a reduction in the team cap. If amnesty also provides Dallas with cap room it can re-use, the idea becomes more viable. But if the new CBA makes it more difficult to turn around and re-spend those savings elsewhere, where dumping Haywood is only about saving money while losing the player, that's not what the Mavs want; they pay him for a reason. Without a hard cap there would certainly be no "must-do'' reason to release Haywood. If given that choice, what would happen?
WHAT WE KNOW


A new deal is coming at some point, maybe even in a few days. And then it will get hectic. Assuming there's no true hard cap - which is rumored to be the compromise allowing a deal - Mavs owner Mark Cuban could be freed to continue being a big spender when it comes to big talent. Maybe, just maybe. And if Dallas can somehow find a way to bring back last year's championship club plus add the talents of
Rudy Fernandez
and Caron Butler (who was injured and unavailable for the second half of the year), the Mavs will certainly be considered a contender.
Know that Cuban has long felt he can continue to be a winner no matter what ... as long as he knows what rules we're playing by. We may be about to learn those parameters.
But don't blink, because if it all works out that way, it will happen in one madcap month.