DONUT 1:
Reported by all us dopey sportswriters: 'The Mavs and Rangers success puts increased pressure on Jerry Jones and the Cowboys to win a Super Bowl.' Really? Why? Who says? Is there a government agency that measures such things?
I thought when one team in a city won a title, it "helped the momentum of all the other teams''? Isn't that what we said happened with the Rangers, that the good Mavs vibes somehow transported themselves all the way to Arlington?
I'm not saying the Stars, Cowboys, Rangers and Mavs live in respective vacuums. And when Dirk showed up to this weekend's Game 6 as Texas clinched the American League title, there might be something tangible there.
But Tony Romo playing poorly, or playing well, in the loss at New England on Sunday? I don't see a Rangers connection there. And in terms of fan pressure/fan expectation, when it comes to the Cowboys, the titles-are-our-birthright mindset around here means Jerry Jones' team is always considered a "contender'' and always crushes the hearts of the faithful when it falls short.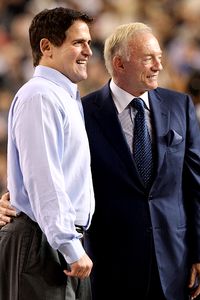 If at some point, the DFW public ceases to buy Cowboys tickets (or to watch them on TV) because it would rather watch the Rangers or the Mavs ... now, that's tangible pressure. Do we see that transformation happening anytime soon?
DONUT 2:
Coming up Tuesday for Premium Mavs Fans: My 1-on-1 exclusive visit with
Dallas Mavericks
coach Rick Carlisle ... he talks with me about "Moneyball,'' his bittersweet summer and his "sudden genius.''
Other stories DB.com is working on: The silliness of the concept of an "NBA Alt-League'' (though I hear Aurora, Illinois Public-Access Cable TV is willing to handle broadcast rights, with games to air as the lead-in to "Wayne's World.'') ... Are the Mavs better suited than most to roll into a shortened season and win? ... David Lord's CBA-related insights into the lockout negotiations ... Stay tuned!
DONUT 3:
Here's the Mavs-related video that has everybody -- except me -- rollin' in the aisles,
as Tyson Chandler and Shawn Marion get 'locked-in' for Funny or Die.'
Given the two choices -- as much as we all love anything Will Ferrell is involved in -- I'd rate it "die.'' But maybe we're all so NBA-starved that anything that's a little bit funny seems a lotta bit funny?
DONUT 4:
JaVale McGee undermined the players by exiting the big meetings in LA to announce that some of the fellas are ready to "fold.'' His union brothers went nuts on him (I hear Jack Nicholson even ordered a 'code red') and then everyone involved shifted into such a denial mode that even McGee himself insisted he was misquoted.
But a bunch of reporters recorded McGee's unmistakable words.
The audio file from the LA Times.
Three intriguing offshoots here:
*McGee is unquestionably speaking a version of the truth. Almost certainly, out of 450 guys, some have softer stands than others. (McGee says that only "25 or 30'' guys even attended the meetings.) McGee himself apparently is willing to contemplate "softening.'' That's one. The thoughtful Shane Battier noted over the weekend that he'd be willing to sacrifice something in BRI if it meant more affordability for fans. That's two.
*You hear a lot about all of us wanting people to speak their truth ... we give them credit for something that is now called "speaking truth to power.'' When Dwyane Wade backtalked David Stern, wasn't he "speaking truth to power'' and didn't the union love it? Now, isn't McGee "speaking truth to power'' -- but the power (his own union) doesn't want to listen?
*NBC Sports' reaction to McGee's leak:
"The odds are that JaVale will not be asked to attend the next meeting.''
And there you have today's new definition of "solidarity.'' You don't agree with everything Hunter and Fisher are saying? Then you are uninvited to the meetings.
DONUT 5:
More proof of media dunderheadedness:
Last week on his Twitter account,
LeBron James
sent a note to ESPN NFL analyst John Clayton:
"When is the deadline for a team to sign a free agent?''
And awaaaaaaaaay we go ... TV stations digging up old LeBron high school football video, blogs working to analyze which NFL team might accommodate LeBron ...
Dudes ... he was making a funny. Relax.
As I've said before, if LeBron James COMPLETELY devoted himself to playing professional football -- or, better said, had he exited high school and done so, he would've been a player and might've been a force. I always like to point out that maybe the best high-school receiver in the NBA today, the guy who was just as blue-chip as LeBron was, is
Matt Barnes
. ... do we imagine Matt Barnes being able to easily cross the sports street to star tomorrow for the Chargers?
So it is conceivable that a fully devoted LeBron could add bulk and be an
Antonio Gates
. Or maybe he's be
Braylon Edwards
. Or maybe he'd be
Martellus Bennett
.
But right now? LeBron James as an NFL player is just a funny tweeter.
DONUT 6:
And just when I thought that we all had an understanding there ...
DONUT 7:
... ESPN keeps doing it ...
Now, my old colleague John Clayton seems to have tongue-in-cheek here. Everyone else? Breathless with anticipation!
DONUT 8:
A hearty "thanks'' to some of our partners who make our Mavs coverage on DB.com possible: Give a click to I bet I could recruit the involvement of
MavCowTickets
and
Esparza's Restaurant
and
Classic of Carrollton
and
, if you please!
DONUT 9:
Former Mavs "star'' Antoine Walker is apparently going to D-League it this season. He'll get $25,000 to play for the Idaho Stampede.
And yes, I'm a step ahead of you here. February 15, it's the Idaho Stampede against the Texas Legends in Frisco. Be there!
DONUT 10:
Want more instant Mavs stuff instantly? Come join DB.com on Twitter!
Follow @fishsports
DONUT 11:
A Yahoo columnist tells us that the oughta-be-unleashed solution to the lockout is sitting right before us (in an airplane, wearing a Hanes undershirt and a Hitler mustache): Michael Jordan should solve the dispute!
And I agree. "Air Jordan'' should cal Thor and Paul Bunyan on their cellphones and then the three of them should ride into New York upon trusty unicorns while shooting webs from their wrists.
Seriously, I can think of two very specific groups that probably pay Michael Jordan little mind. Those two groups are:
*His fellow owners, who view him as the inexperienced new owner of an unsuccessful franchise;
*The players, who view him as "the enemy.''
Outside of those two factions, though ... hell of an idea.
DONUT 12:
Yes, Hank, I'm ready for some football tonight. But I'd like it served the old-fashioned way, with no Obama-is-Hitler flavoring, OK?
Thanks, Hank. And goodbye.