DONUT 1:
First off, to be fair: The exhibition games dotting the map have been successful, for what they are. Another such event is on the horizon, slated for Oct. 23 in Oklahoma City.
Kevin Durant
and
Blake Griffin
will captain the teams. LeBron is supposedly showing up.
Russell Westbrook
will be there, too. (If the organizers have a sense of humor, he'll be on the team opposite KD.) And in terms of a one-time deal, it'll be the place to be.
In Oklahoma City. For one night.
DONUT 2:
But staging such an event, as opposed to the locked-out players starting their own league, as
Amare Stoudemire
vows will happen, as
Carmelo Anthony
insists makes sense?
"It's possible," Anthony tells SI.com. "It's very possible, with all the relationships and connections players and agents have. ... At the end of the day, with all the guys Nike and the Jordan Brand have, they are very powerful. If we were to come to them and ask them, we're pretty sure they'd be into it."
Well, what's stopping y'all?
DONUT 3:
What sort of issues would a "new players association'' (Let's call it the "NPA'') encounter? Well, let's begin with facilities. Where would the Dallas franchise play? I don't believe the powers-that-be are prepared to sever the existing basketball ties that focus on the AAC. So … we'll see everybody at
SMU
's gym?
DONUT 4:
OK, I'll call SMU. The ladies' volleyball team is usually very accomadating. So maybe we've got a gym.
How are we going to pay the players? 'Melo thinks Nike is going to do it, but ... I bet Nike feels it
already pays the players plenty, especially while they're not playing.
Gate receipts at the SMU gym won't be enough. Corporate sponsorships? Maybe, though that means 'Melo's pals at Nike and Gatorade and Budweiser -- which are presently in relationships with the NBA – would have to cheat on their partners. … or sever those ties.
(To answer your question as it pops into your head:
"Hey, Fish! If Budweiser is the NBA sponsor, why wouldn't a competitor like Coors jump at the chance to be the alt-league beer?''
I already sought out an answer to this, from a big-time Mavs/NBA sponsor. The best way for Coors to look like a second-class citizen is to be the sponsor of a second-class league. So, no sale there. But maybe that manufacturer of HUGE booze bottles will want in, with a four-eyed Dirk as the spokesmodel.)
Only four Donuts in, and we're already asking for a lot of billion-dollar "severing'' and sacrifice on the part of everybody except … the players, who are starting this league because they want to get paid, right?
The cancellation of one month of NBA games will cost players a total of $350 million in salaries.
Leaving out all the other expenses involved in running a team and in running a league ("socks and jocks,'' as Jerry Jones used to say) … when the NPA tips off starting, say, in January … where is January's $350 million in salaries going to come from? Forget six months. What about one month at $350 mil?
If it's a six-month season, that's $2.1 billion for the year. Is Gatorade putting up $2.1 billion for a start-up league?
I guess I could do my part. I bet I could recruit the involvement of
MavCowTickets
and
Esparza's Restaurant
and
Classic of Carrollton
. Hey,
, how many fillings does it take before you can pitch in $2.1 billion?
Maybe the players will take paycuts to participate in the upstart NPA. … Of course, if they are going to take paycuts in order to participate in an under-financed, short-term, ill-fated league … they might rather go ahead and take paycuts in the established league in which they are likely to get something closer to that full $2.1 billion that will be due them as soon as they forge an agreement with the evil owners.
Which they have the authority to do ... TODAY. (It's Mediation Day, so maybe there really will be some progress. ...)
But yeah, sure, maybe everyone will be all fired up to engage in fake games (without big paychecks and without full solidarity and without insurance, 'cause that's expensive, too! Let's do a heat check on an exhibition game set for Sacramento. From Sports Illustrated:
Kings small forward Donte Greene is well on his way to organizing a game in Sacramento, having taken to Twitter on Tuesday night to get it done. If Twitter agreements are binding, he has secured the services of Washington's John Wall, the Kings' DeMarcus Cousins, and Lakers small forward/Sacramento native Matt Barnes. Invites have been extended to Sacramento teammates Tyreke Evans and Fredette as well, according to one of the game's organizers.
Even the SI.com report sounds like it's half-asleep. They're going to get four or five guys from Sacramento to maybe play in Sacramento?! Ah, the power of solidarity. (Remember, they only got 25 guys to come to the Beverly Hills Hilton for the most important meeting of their lives.)
Can't wait to see the ticket-sales totals from the good people of Sacramento who are starved to watch Donte Greene play in a practice game.
DONUT 5:
How about revenue from television? Who is going to watch, and how are they going to watch? To my knowledge, of all the fun exhibitions that have been staged, the only one that was televised was the recent South Florida game. That was on a local channel in Miami.
Not the main affiliate for ABC, NBC, CBS or Fox. UHF Channel 33.
Nevertheless, all the NPA needs to do is get a TV deal, right? After all, the NBA's TV deal is worth will be paid $930 million ... that $31 million per team can easily fund 30 alt-teams!
DONUT 6:
Problem: Which network is ready to break ranks -- yes, more severing -- in order to partner with what to some is going to feel like (and certainly be portrayed as) Vince McMahon's XFL?
You know, it seems perfect for ESPN, what with all their extra channels and such.
Put the alt-league on The Ocho!
Too bad ESPN already has in place a deal with the established NBA. How about ABC? No, ABC
IS
ESPN. How about TNT? No, TNT is owned by Turner which is so partnered up with the league that when you receive a paycheck for work done for NBA.com (as I have done) the check is from Turner. Fox? You mean like my partners at Fox Sports Southwest, turning their backs on the Mavs to telecast the upstarts? C'mon.
I suppose there is a way to break from the spider web of media conglomeration that makes the mainstream media what it is today. But I wouldn't bet $2.1 billion on it.
DONUT 7:
Now, Henry Abbott over at TrueHoop has an idea: Maybe the players could skip the idea of a new league and simply be part of a TV show. No, not that "Basketball Wives'' crap; a basketball TV show.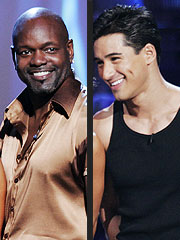 Henry writes:
Here's what I'm thinking: Don't compete with the NBA in terms of the ticket-buying public. Compete with them on TV. Sit down with TV producers and figure out the star-driven made-for-TV basketball competition that would haul in huge ratings. My first thought would be to set it up like "Dancing With the Stars." Performances in a big TV studio interspersed with behind-the-scenes footage that lets a general interest audience emotionally invest with the participants. Chris Paul's team vs. LeBron James' team vs. Kobe Bryant's team etc. on and on week after week. With quality production, that thing could be edited down to an hour a week and draw a huge TV audience, which could mean real revenues for players, and a real threat to owners. … It's no NBA season, but it is a way for NBA players to generate top-shelf entertainment revenue.
"Top-shelf''? Well, no. But …
Not a bad thought in the sense that it means giving up the notion of being paid billions to participate in a new league and instead simply trying to keep the profiles high … and maybe engender some "friendship'' from an audience that is increasingly unsympathetic to the players' "plight.''
Heck, inasmuch as the idea comes from a "Dancing With The Stars'' mindset, why not go right to ABC (home of "DWTS'') with the idea? Oh, wait. That's ABC. Partners with the NBA. They're out.
DONUT 8:
Henry Abbott is a smart NBA writer. But I bet I know more about "Dancing With The Stars'' than he does. (Aren't I proud?) So some sidenotes, just to help you understand the aforementioned spider web: If you follow "DWTS,'' you know that some of the celebrities who have fared well there (in terms of either voting results or increased notoriety) include Billy Ray Cyrus, Erin Andrews, Kenny Mayne, Jennifer Grey, Mark Cuban, Melissa Rycroft,
Hines Ward
, Nicole Scherzinger, Trista Sutter, Cameron Mathison, Susan Lucci, Melissa Joan Hart, Michael Irvin, Jake Pavelka, J.R. Martinez and the shockingly awkward
Emmitt Smith
, who in fall 2006 won the title by beating out Mario Lopez. These names are significant in that all of them (and dozens of others) are on the program not because they are celebrities but rather because they are ABC/ESPN CELEBRITIES.
It seems like a diverse group. But they are all Disney property or ESPN property or ABC soap stars or graduates of "The Bachlorette'' or aspiring ABC employees. It is no coincidence that Scherzinger followed up her dancing by singing the NBA Finals TV theme song. It is no coincidence that Jennifer Grey won in spring 2010 just as she was re-launching her career with a TV sitcom on … ABC. Hey, what network is Mark Cuban's "Shark Tank'' on?
Back to Emmitt for a moment: Just as he won the championship, it was announced that he'd be joining ESPN as a studio analyst. Just after Mario Lopez finished second that year, it was announced he was moving to Broadway to star in "A Chorus Line.''
But Emmitt Smith is a better dancing than Mario Lopez?
It's a spider web, y'all. You don't get to have a TV show just because you want one … or even if your talent merits such success.
While I'm rolling with my deep knowledge of "DWTS'': Contestants get a base of $125,000. If they hang around week after week, they get bonuses for winning and if, after three months of enduring the work and the interviews by Brooke Burke, they can make a maximum of $365,000.
Now, who wants to inform Amare and Carmelo that we consider their three months of work so "top-shelf'' that it's worth something between $125,000 and $365,000?
DONUT 9:
Which takes me to the saddest realization of all, I think, both for the players and their desire to "put on a show'' and the owners, too ivory-towered to understand the game's true place.
DallasBasketball.com may be an odd place to make this case, but here goes: These fellas are grossly overrating the public appetite for Anything NBA.
DONUT 9:
Henry Abbott says a hoops "DWTS'' competition "would haul in huge ratings.'' Henry's wrong. Ron Artest was on that show and nobody voted for him. He was the first to leave, failing to outlast (in skill or popularity) the likes of Nancy Grace, Rob Kardashian and Chaz Bono. A couple of years ago, Clyde Drexler was an early boot, too.
Henry is too close to the NBA. So am I. So are you. The world in general doesn't give a crap about the lockout, about Ron Artest or about Clyde Drexler.
I checked out NBATV the other day. They don't really do "news'' over there, I guess. There are replays of old games and last week, there were replays of old movies.
Now, Robby Benson in "One On One'' appeals to me because it was filmed in Fort Collins, Colorado, near my teenage stomping grounds. But I remember wondering why the hell the NBA thinks ANYBODY (besides me) would tune in to watch "One On One'' on a given Tuesday night or whatever.
Answer: They don't.
Proof: The Twitter feed 'TVSportsRatings' reports that the Oct. 12 "NBA TV lockout coverage consisted of back-to-back airings of Robbie Benson in One on One: 11,000 viewers at 9p & 7,000 at 11p.''
There will be more people reading this sentence on humble little DB.com today than there were people who watched NBATV last night.
DONUT 10:
Again, my point is, I care about basketball waaaaay more than the average schmoe. And you do, too. So we might fill the void by attending Texas Legends games … but one of the reasons we'll do that is because it's a Mavs feeder program and Donnie and Del and Nancy and Spud will all be hanging around.
DONUT 11:
But alternate leagues and random pickup games and fish-out-of-water TV appearances by basketball players? That's not what we as fans signed up for. The occasional gimmick sounds fun (There's a possible matchup on the horizon between the current
Golden State Warriors
and the "We Believe" Warriors of 2007. No fun for us, but fun for them.) But consider the rumor that some guys think they will play the NBA-scheduled Bulls-at-Mavs game on their own, Locked-Out Bulls at Locked-Out
Dallas Mavericks
, for instance. …
Well, again, make sure you check to see if the SMU gym is available that night first, OK?
DONUT 12:
Charles Barkley tells NBA.com that the alt-league concept is "one of the stupidest things I've ever heard. That's up there with new Coke." I'm trying to give it more thought here than Barkley does ... Imagine the work involved in trying to assemble all the moving parts ... What happens when the lockout ends? Is the new league a lame-duck or a competitor? Does the talent pool get split in half? ... What guys are on what teams? Is there a dispersal draft? And if so, won't those subject to such a draft feel like "undervalued employees being ordered where to work''? ...
And then there is this, the rudest awakening of all for the players: If they start their own league, they will be their own owners. Won't the new league need rules by which to operate? You know, like a CBA?
Who is Amare Stoudemire going to negotiate against? Himself? Who is Amare the Player going to blame when things go wrong? Amare the Owner?
Follow @fishsports