DONUT 1:
Officially, it was a 139-128 win for the Blue Team over the White Team
in Saturday night's Josh Howard charity game at Fair Park.
DONUT 2:
Unofficially?
It was a chance:
For Kevin Durant to announce his plans to go overseas, maybe, but probably not.
... Jason Terry, who was initially listed as a player but instead accepted the assignment as a coach, to show up late because, well, Fair Park ain't exactly his neighborhood ... For Damon Jones to attempt to shoot he way (on seemingly every possession) back into the League ... For J-Ho to apparently suggest that he'd someday sure like to come back to the Mavs ... For young sensation John Wall to appear, but -- strangely -- to opt to not play ... For LaMarcus Aldridge to zip from here to NY to serve as the player rep for the Blazers, as Terry does for Dallas. ... For KD to serve as a facilitator and
to go fake-nuts because nobody was keeping track of all his assists.
... And for JD and J-Ho to lead the 18 players in a lengthy autograph session, post-game, for the 2,000 basketball-hungry fans in attendance.
DONUT 3:
Did Jerry Sandusky do his heinous deeds here in Texas, too?
DONUT 4:
Rick Perry just remembered that the third agency he wants to getting rid of is the agency in charge of making presidential candidates remember stuff.
P.S.: If that offends your political sensitivities, lighten up, Francis. There are 11 more months of campaigning to endure. That means 11 more months of campaign gaffes to make fun of.
DONUT 5:
As proof that anything the Cowboys do is polarizing, I give you a Nielsen poll that places Tony Romo among the top 10 most hated NFL players.
The list:
* Michael Vick, QB, Eagles. A true criminal.
* Plaxico Burress, WR, Jets. Recently released from prison.
*Ben Roethlisberger, QB, Steelers. An alleged criminal.
*Albert Haynesworth, DT, just signed by the Bucs, a certified knucklehead.
* Jay Cutler, QB, Bears. An alleged quitter (maybe a bad rap because of the casual way he carries himself).
* Chad Ochocinco, WR, Patriots. Controversial for controversy's sake.
* Vince Young, QB, Eagles. He of the "Dream Team,'' NFL underachievement, and maybe a screw loose.
* Carson Palmer, QB, Raiders. Truly simply the result of being in the news this week for the first time in years.
*Tony Romo, QB, Cowboys. Because ... well, just because, as there isn't much justification for including him with Ben/Vick/Plax.
DONUT 6:
Oh, speaking of Vick (the leader of a team that truly does not merit this many Donuts): He's apparently about to find himself in yet
another nude photo scandal.
You can take the NFL away from Favre. But you cannot take the Favrishness away from the NFL.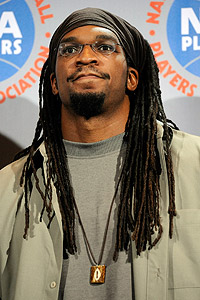 DONUT 7:
Hey, you want players' hashtagging on Twitter, or do you want some insightful questions asked by a union member?
I give you
Etan Thomas, the former Mav, and his coupla dozen questions.
I'll let you dig through this and you let me know if you find the one MAJOR problem with Etan's position ...
DONUT 8:
DB.com cannot do our thing without the help of sponsors and partners like I bet I could recruit the involvement of
MavCowTickets
and
Esparza's Restaurant
,
Classic of Carrollton
and
McKinneyDentist.com
. Give my guys a click, if you please!
DONUT 9:
As noted above, the player reps are going to vote Monday on the owners' latest offer. This is a switch from when they weren't going to vote, just hours ago. And it's well short of letting the entire body of the union vote. It's all very, very wobbly, fellas. Even the parts of this argument that make the players right (like the fact that all the concessions are theirs) are being handled wrong.
DONUT 10:
Come follow Fish and the Mavs on Twitter!
Follow @fishsports
DONUT 11:
When Penn State names me university president or athletic director, one of my first acts will be to deny Sandusky and Paterno their pensions. And I will prepare to fight in court to demonstrate how just that is.
One of my second acts will be to offer a compromise to the coaches: I will give their pensions -- to the exact dollar and every dollar -- to Second Mile.
As both men lawyer up, I will hope they are shamed into accepting my very generous pension proposal.
DONUT 12:
Don't look now, but the leaque is suddenly full of M.J.s!
Wizards guard
Jordan Crawford
tells the Washington Post, "I don't tell nobody, but I feel like I can be better than
Michael Jordan
."
Gawdalmighty can we please get these people back doing what it is they do well?