I begin with the fact that the "final'' offer from owners was sent in writing directly to every player. I add what I believe was the owners' hope: That players would push to vote individually on the proposal rather than allow Hunter, Fisher and 30 team reps to handle the voting themselves.
The NBA owners never got their wish. It never went to a vote.
And the question is, because it never got to a vote, are there a substantial number of players who didn't get their wish, either?
On that deciding Monday, the call was made in a New York hotel room by about one-fourteenth of the 450 players. The system: Not private ballot (the way democracy allows) but instead a show-of-hands system that naturally brings with it peer pressure and groupthink.
(Worth noting, obviously: negotiations have resumed this week, offering some hope that logic can prevail and a season salvaged. I must say, though, that after two years of such starts and stops and positive news followed by disastrous news, I'm of a "fool-me-once'' mind.)
The union says the decisions to this point -- to decline the owners' offer and to take antitrust action -- was "unanimous.''
But if we look and listen, team-by-team, even as the peer pressure and groupthink continues, you sense hints to the contrary.
Atlanta Hawks:
"I have not met one player who, after fully understanding the particulars of the NBA's proposal, concluded that this is an acceptable deal,'' wrote Hawks center
Etan Thomas
.
Well, Etan, keep reading. I haven't uncovered gray areas, questions or dissent within all 30 NBA rosters. Just 21 of them. So far.
Boston Celtics:
– For a key Nov. 7 vote, the Celtics were unrepresented. No player rep. No alternate.
Rondo later announced his news of complete Celtics unity … before
Glen Davis
spoke to the Boston Herald and said that if it were up to him, the union would accept ownership's offer.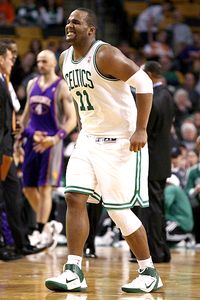 "Hopefully the union just made that decision for every player in the league, and not just 30 ... Are they making that decision for the rest of us? Or are they just making that decision for the Kobes of this league — guys who have made a lot of money already. "That's my concern,''
Davis said.
"At the end of the day the (players' representatives) don't make decisions for the majority of the players.''
They don't?
Chicago Bulls:
On Nov. 7, as the union was rejecting an NBA offer, the Bulls were not represented at the meetings by either of their player reps,
Carlos Boozer
or
Joakim Noah
.
Cleveland Cavaliers:
Cavaliers forward
Samardo Samuels
says that he didn't like the proposal, but would've voted to accept it.
"A lot of people in the league are panicking,'
Samuels said.
'You're talking about missing paychecks. Those paychecks you're missing are going to add up and guys have families and responsibilities and bills to pay. I'm just a guy that's coming out of college. I'm 22 years old, I don't have much responsibility.' ...
Of Paul Pierce's leadership role, Samuels says: "It's easy for Paul Pierce to say that. You've been in the league how long? You've got a decent amount of money saved up, but what about the guys just coming into the league who don't have (anything) saved up?''
Samuels, an undrafted rookie last season, touches on an untapped point about the union's constant preaching that veterans knew two years ago to start saving for this rainy day: What if you weren't in the league two years ago? What if you don't have Paul Pierce's financial resources, but only Samardo Samuels' financial resources?
Does a highly salary justify a louder voice?
Dallas Mavericks:
Jason Terry to ESPN: "The system has to be right. That's not just me saying that, that's all 400 players saying that."
Love ya, Jet. But how would you know that more than 400 people think something if they aren't asked?
DeShawn Stevenson sounds like he would've liked to have a voice, telling Yahoo, "I felt like we should have decertified in July. I feel like Billy Hunter is doing a horrible job ..."
Houston Rockets:
Kevin Martin
, the Rockets best player, emphatically stated that the players should take the current deal.
"If you know for sure they are not moving, then you take the best deal possible," Martin told SI.com. "We are risking losing 20 to 25 percent of missed games that we'll never get back, all over 2 percent (of basketball-related income) over an eight- to 10-year period (of the eventual collective bargaining agreement). And let's be honest: 60 to 70 percent of players won't even be in the league when the next CBA comes around."
That's a reasoned thought from a veteran. The same came from Luis Scola, who tweeted repeatedly things like, "I believe all the players should vote, not only the 30 reps.''
More exclamation-pointed thoughts came from Houston youngster Terrence Williams, who in a series of tweets said things like, "Hey, @NBPA, Let's play ball! Enough with the stare-off!'' and "The football players' leader took 1 dollar when they was in lockout. Hmmmm.''
But it sure looked at some point like somebody "got to'' Williams. Or at least calmed down Williams, because shortly after those controversial tweets, he send out a message announcing his complete support of
Derek Fisher
.
Hmmmm, indeed.
Indiana Pacers:
Pacers swingmen
Danny Granger
and
Dahntay Jones
"reached out to many of their teammates'' before the vote.
"Most people were abreast of the situation and knew what was at stake,' Jones said.
"Most'' isn't the same as "unanimous.''
But Granger wants to make sure all the Pacers are together on at least one thing: "I just found out,'' he tweeted, "that the owners and the NBA are trying to take free parking from us, too. ... 20 bucks to park at the arena for players.''
LA Lakers:
In what I think is a perfect example of how "hey, we call each other'' isn't enough, there is the case of Lakers guard
Steve Blake
.
A report says rep Shannon Brown assured that the union was vigilant in sending out a steady stream of emails to its constituents as developments in negotiations occurred.
But, in an unintentional revelation, he added for the story "that he knew of player reps trying to reach out to their teammates only to find the phone number they were provided with had been changed or disconnected.''
So how clear was the communication? After all, the Lakers' fingerprints are all over this thing. Fisher is the union president. Theo Ratliff is on the executive committee. Shannon Brown is pretty high-profile, and Kobe Bryant was the headliner at any meeting he attended.
Brown revealed that Blake was a dissenter who wanted to accept the offer. "I spoke to (Blake) and he was one of the guys who wanted to take the deal," Brown said to ESPN. "I respect his opinion. I didn't try to sway it. I gave him the advantages and the disadvantages of taking the deal and not taking the deal. Going into the meeting, I understood that he was one of those people that were for taking the deal.
Blake responded with a statement that included this: "My stance is simply to make sure we weigh all proposals. I have not made a decision on whether or not a proposal was right to take.''
Honestly, the players cannot even completely keep the obvious dissenters straight? If they are such rare creatures, how can Shannon Brown not easily identify them and their wishes?
This another problem with the "we called each other'' approach to voting. "Texting ideas'' isn't "voting.'' "Call your buddies and stay informed'' is not voting. Only voting is voting.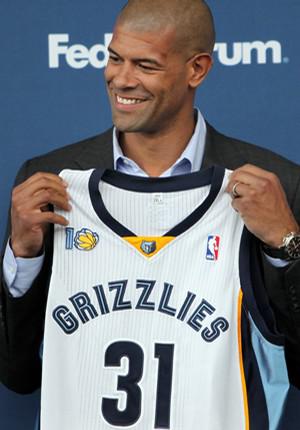 Memphis Grizzlies:
Wise veteran
Shane Battier
was asked by a fan on Twitter, "What would you vote today if a vote amongst players were held?" Battier's non-committal answer: "What are the final system issues?''
Battier apparently tried to get answers during an NBPA meeting when he wondered aloud if Hunter would be willing to take a $1 salary, as NFLPA head DeMaurice Smith did.
Yahoo reports that Battier was essentially shouted down by Hunter lieutenants. And to my knowledge, Hunter - who makes $2 million annually in his role with the union – still has not answered media questions about the exchange or the concept.
Miami Heat:
During the final vote,
LeBron James
– in some ways one of the foundation reasons why the owners are taking their present stand – was not in New York as part of the players' leadership. He was in London on a PR tour.
So
James Jones
, the players rep, was the Miami Heat's lone representative at the fateful meeting. He reported to the Miami media that he voted responsibly.
"I spoke to the majority of the guys,'' Jones said. "Just about all of 'em.''
Just about.
Milwaukee Bucks:
Same setup in Milwaukee, where player representative Luc Richard Mbah helped his local paper report "that he had talked to a number of Bucks teammates recently.''
Minnesota Timberwolves:
And more of the same. What did Minny rep
Anthony Tolliver
say before the big vote?
"Pretty much everything is split,''
Tolliver reported.
"Half of the people want to decertify. Half the people want to vote on it.''
And then a few days later, it everything got "un-split'' and "unanimous''?
New Jersey Nets:
Their player rep is
Jordan Farmar
. He wasn't at the meetings; he's playing in Israel. Their star is
Deron Williams
. He wasn't at the meetings; he's playing in Turkey.
New Orleans Hornets
: Chris Paul is the Hornets star and is a powerful union advocate. Less of a headline-grabber is David West, who tweeted, "We have 100 dollars to split. U get 50 I get 50...U split your 50 between 30 guys...I split my 50 with 450 guys. Think about it..''
Orlando Magic:
Chris Duhon
, the Orlando Magic's player rep, initially spoke out loud for his team on the eve of the final vote by saying his team would be choosing to accept the deal.
In less than 24 hours, Duhon flip-flopped, and was instead part of the" unanimous'' decision to reject the proposal. Are we to believe that overnight, Duhon received calls from eight-to-14 teammates who all simultaneously changed their minds?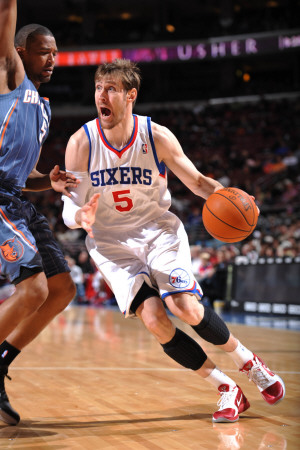 "I always said the deal sucks,'' Duhon later explained, claiming he "got calls from guys before walking in that either voted or changed their minds.''
Philadelphia Sixers:
Two loud voices got the Sixers situation settled. From rep
Jason Kapono
. Sixers rep Jason Kapono: "We're not going to be bullied by the league. No one there wanted this deal."
And from
Spencer Hawes
, who told reporters there is no point in taking Stern's proposal to union voters.
And that is that, except …
Andres Nocioni: "I want to vote, too,'' he tweeted. "It's our right.''
Marreese Speights
: "Why did the players do that? smfh.''
For those of you not versed in the Urban Dictionary, that means, "shaking my f----in head.''
Phoenix Suns
From rookie Markieff Morris: "Is it really all about the money??" ... "Lol just give everybody a mil and let us play lol ...''
Portland Trail Blazers:
A report noted that Portland forward
Lamarcus Aldridge
was "open to the idea of pursuing a vote.''
Sacramento Kings:
"Some of the young players I talked to, it's not about the money. We just want to go out there and play ball,"
DeMarcus Cousins said.
Utah Jazz:
Utah
is the team most openly indicating something short of unanimity.
Jazz center
Al Jefferson
"smiled and hinted he might get in trouble if he were to go off on his thoughts about the whole sticky labor situation,'' according to the local paper.
"I want to play ball," Jefferson said.
In the same report,
from forward Jeremy Evans: "There's millions of dollars here and everybody doesn't get that. So I'm just like, take whatever is given and let's play."