DONUT 1:
After all the starts and stops toward an agreement two years in the making, that word "tentative'' is a bit bothersome. To so cover all asses, we quote both sides:
"We expect our labor relations committee to endorse this deal, this tentative agreement, and we expect our Board of Governors, at a meeting we will call after that, to endorse the deal," commissioner David Stern said after 15 hours of meetings on Friday.
"We're confident that once we present it, (to the players, they) will support it," said not-a-union chief Billy Hunter.
So assuming "tentative'' goes away, what does this all mean to the
Dallas Mavericks
?
DONUT 2:
We start with the Mavs Event of The Centuries: The Christmas Day game between the Heat and the Mavs -- a rematch of the NBA Finals and the last time any of us saw basketball -- is not only on ... it's the season-opener.
So you get the opener. And the Heat with Dwyane Wade and LeBron James. And they get to stand there and witness the presentation of the Mavs championship rings and the raising of the Mavs' 2010-11 championship banner to the rafters of the AAC.
The Mavs Event of The Centuries.
DONUT 3:
That begins a 66-game season (completely re-jiggered after that Christmas opener) and theorize as you might, there is no real solid answer as to whether that represents a Mavs advantage or disadvantage. A condensed season, with more games packed in, might mean more demands on older bodies like Jason Kidd. On the other hand, Dallas' experience and depth could help the Mavs' cope with those issues.
There will still be an All-Star Break, as always, with the February game slated in Orlando. And the NBA Finals will be pushed back a week. Otherwise, it's business as usual ... 'cept all crunched together.
DONUT 4:
Before the games start, there must be free agency and training camp. Depending on the Mavs' roster turnover, camp can be a breeze. While Holger recently characterized Dirk Nowitzki as being "out of shape,'' such things are relative. There is no reason to think Dallas centerpieces such as Dirk and Kidd and Marion and Terry will be anything but ready to go.
We've seen Caron Butler on the floor in Florida and his knee is healthy. So injury-wise, there is one issue: We've been told Roddy B is "three weeks away'' as his foot heals from yet another surgery.
But again, so much is intact here. Assistant coach Dwane Casey is gone to take over in Toronto, but Carlisle's staff features Terry Stotts and the elevated Mathis and Armstrong and Rick's "Be Ready'' system is in place.
Training camps will reportedly begin Dec. 9. ...
DONUT 5:
And in what will create an incredible frenzy of news here on DB.com, also reportedly opening on Dec. 9 will be a brief free-agency window.
And this, really, is the defending champ's one and only major concern.
DONUT 6:
Along with the tentative nature of this deal comes a great deal of gray area when it comes to the details of a coming CBA. Is there a 50-50 split of BRI, or did somebody get nudged to 51? Are the mid-level guys being squeezed? And most important to Dallas, are there severe luxury tax penalties that might preclude the Mavs from winning by spending, or at least by inking their own?
"I think (the new deal) will largely prevent the high-spending teams from competing in the free agency market in the way they've been able to in the past," deputy commissoner Adam Silver said. "As I said, it's a compromise. It's not the system we sought out to get, in terms of a harder cap. But the luxury tax is harsher than it was in the past deal ..."
If that is an accurate portrayal, that's probably not what Mark Cuban wants to hear. Yet my understanding is that big spenders will still be permitted to be big spenders.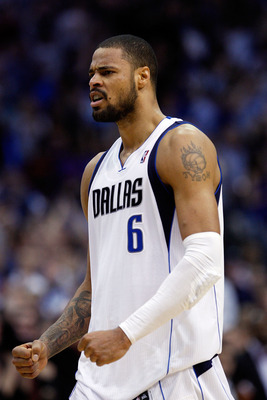 DONUT 7:
The focal point of all this is, of course, Tyson Chandler. DallasBasketball.com cannot state this strongly enough: Based on the last CBA offer the owners presented to the players, there is no practical reason the Mavs cannot re-sign TY.
We've informed Chandler of this, because even he didn't seem to understand how easily a handsome long-term contract for him can fit into Dallas' budget and under the possible CBA rules (again, Silver's comments notwithstanding). Premium Mavs Fans -- and yes,
you should check out our 7-day free trial and become a Premium Mavs Fan for just about 10 cents a day
--
can read all about how Tyson Chandler fits back in Dallas budget here.
You know what? Let's go BOGO! I'm in such a lovely mood that I'd like to offer you a buy-one-month-get-a-second-month free deal ... 10 cents a day just got cut in half ...
Become a Premium Mavs Fan
and get the best coverage possible of your World Champion Dallas Mavericks! (Subscribers will be charged following their free month.)
P.S.: If you are among the hundreds of DB.com Mavs fans who have signed up for a year or more of Premium Mavs coverage and you're saying to yourself, "But Fish, where's my special treat, my reward for my loyalty to and support of the site?'' Message me via DB.com Boards. I'll hook you up with some Mavs DB.com swag.
DONUT 8:
As we move forward with Mavs basketball (yeah!), please support the DB.com sponsors and partners who support us. Thanks to
MavCowTickets
,
Esparza's Restaurant
,
Classic of Carrollton
,
Game Havens
and
McKinneyDentist.com
. Give my guys a click, if you please!
DONUT 9:
Not only can Chandler fit back into the Dallas financial plan (again, assuming the new CBA resembles what was on the table a week ago), but the Mavs can also fit back into the fold ALL of their important free agents.
We'll have much more detail on this coming up, but for not, consider these names and numbers:
Chandler $10M, Butler $6.5M, Barea $4M, Stevenson $2M, Cardinal $1M.
Our David Lord has crunched the numbers. Trust that Donnie and Tony Cubes have done the same. It can be done.
Worth repeating (for me, 11 years of repetition): If you give Cuban and Donnie the rules of the game, they will be successful within whatever those parameters are. They've done it 11X50 ... which, by the way, barring a 50-16 record this season, is either about to die or will be continued in 2012-13 with an asterisk.
DONUT 10:
Come follow Fish and the Mavs on Twitter!
Follow @fishsports
Meanwhile, there is also Mavs buzz at
DB.com Boards!
It's always free, it's sometimes fun and it's occasionally frightening.
Also, allow me to help you with your holiday shopping, Mavs fans! Check out
the Mavs DB.com Store
and I promise you, we are pepper-spray safe!
DONUT 11:
There is one additional wildcard when it comes to the Mavs roster, and that is Rudy Fernandez. From what we understand, he's planned to leave Spain to play for Dallas, for at least one season, before re-evaluating. I'm concerned that Rudy is going to bring with him as much drama-queening as he is quality play.
(Oh, and he might bring with him a month-long knee injury, too.)
We shall see ... meanwhile, I assume that Ian Mahinmi, who is in France, will be returning to Dallas immediately. And I've been in contact with the Dominique Jones camp as DoJo was very close to packing his bags for overseas. I know he's happy to be traveling from Florida to Dallas instead of from Florida to ... wherever.
DONUT 12:
Is there an Amnesty clause in this coming CBA? If so, the Mavs will have decisions to make there regarding Brendan Haywood and his contract. Our feeling is that Dallas knew exactly what it was doing when it assembled multiple bodies at center and that it will lean to keeping Big Wood as the backup to Chandler. Again, this remains a gray area ... but
you can read more about Haywood and amnesty here.
DONUT 13:
Brian Cardinal on Twitter:
"I was having an awesome dream.... Then I woke up and realized the lockout might be over... Wow two awesome dreams!!!
Dirk on Twitter:
"NBA is back? Great news today. I'm so happy for all our fans and all the people who work in and around the arenas. Go Mavs!''
Folks, the DB.com staff is all over this ... all weekend, and as usual, 24 hours a day. Check back throughout the weekend for more coverage from DallasBasketball.com!