The Mavericks under Mark Cuban have been willing to spend as much as anyone, in a desire to be competitive. And it's been a huge success, with a decade-plus run of 50-or-more win playoff teams, culminating in an NBA title in June.
But a new CBA is ahead, and it's one in which the general framework is intended to lower salary outlays and discourage teams from spending freely.
THE BIG QUESTION FOR MAVS FANS


With all the extra financial restrictions, we're repeatedly being asked: Won't those changes kill the Mavs chances to keep their title team together and perhaps win another title or two in the next few years?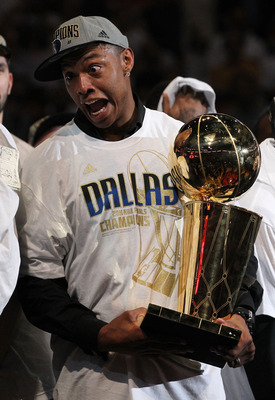 The simple answer is "No." (We'll share the detailed analysis below, to demonstrate how true that is.)
Then what about
Tyson Chandler
's declaration that the new rules would keep him from returning to the Mavs? Simply put, no matter how you look at it, he was wrong. Nothing in the rules changes will stand in the way of Chandler or any of the other Mavs free agents (Butler, Barea, Stevenson, and Cardinal) returning.
Before we go inside the numbers in greater detail than before, let's be clear. Having the ability to make big offers doesn't mean the Mavs will necessarily re-sign all their free agents. There is also the matter of "how much is the right amount" and with a ring from a title, other teams may offer those players so much that they decide they want more than the Mavs are willing to pay. But that reality was true under the prior CBA as well.
THE BASIS FOR OUR ANALYSIS


We've reached our conclusion that the Mavs can definitely keep this team together, if they choose, using some facts and some assumptions that we think are very reasonable. The facts we used are simply the numbers in the contracts already signed, along with the rules in the CBA ahead. Our assumptions are three-fold. (By the way, we have a great deal of faith that Cuban, Donnie and Keith Grant are juggling the same numbers and coming to similar conclusions.)
First, we expect NBA revenues to grow year over year, which will move cap and tax numbers from their current levels. So we have assumed that growth is a consistent 5%. That number is lower than the compounded growth rate in the cap from the start of the 1999 CBA (approx. 6%) but a shade higher than the cap growth during the 2005 CBA years only (approx. 4.9%). In light of the unusually dismal economic environment during the last CBA, we think 5% is a reasonable and perhaps extra-conservative assumption.
Second, as we've outlined for you previously, the Mavs last season spent about $105 million on player payroll, in salary and tax. We think it's a reasonable assumption that they will continue to budget that same amount of player-payroll outlay (or more) in the upcoming years, at least while there continues to be a window of opportunity for titles with Dirk playing at a superstar level. While we've merely assumed they stay level with that $105-ish million in spending, that gives a sizable cushion for our conclusion, as their budget is actually more likely to grow (rather than stay the same) as revenues grow.
Third, we assume that the Mavs will budget to avoid being classified as a Tax Repeater. Such a designation, which is made if a team is a taxpayer in any four out of five years, adds an extra $1 in tax for every dollar above the tax line, in addition to the other taxes being paid.
COMPARISON: MAVS EXISTING CONTRACTS VS BUDGET


Using a starting tax level of $70M, with our assumptions above and the new tax rules, the Mavs player payroll budget of $105M would allow the following year-by-year player salary totals over the new 6-year CBA, with tax being paid each year in parentheses:
$87.5M ($17.5M), $87.5M ($17.5M), $87.5M ($17.5M), $81M ($0), $85M ($0), $95.5M ($9.5M).
Currently the Mavs' year-by-year contractual commitments for the upcoming six years are:
$62,329,155 (10 players), $40,895,482 (4), $40,861,677 (3) , $9,798,000 (1), $0, $0.
That leaves the Mavs the following year-by-year spending room to fill their roster:
$25.2M (5 players to sign), $46.6M (11), $46.6M (12) , $75.2M (14), $85M (15), $95.5M (15).

YEAR 1 (2011-12): BRINGING BACK THE DEFENDING CHAMPS


We've been told that Chandler, Butler, Barea, Stevenson, and Cardinal would all prefer to return (if the money can be worked out). We acknowledge that JJB might get blown away by an offer or that Caron' flirtation with Miami might convince the Heat that it needs another swingman with its MLE more than it needs a center. But the players have expressed desires to stay and and we've also heard that the Mavs would like to make that all happen. Is it possible?
We think so, if those five players are willing to accept salaries that fit within the Mavs ongoing salary structure.
That structure pays the superstar (Dirk) like a superstar, the starters and key semi-starters who contribute full-time in the $6.5-$10M range, the part-timers and backups who play a big role in the $2-$4M range, and the rest getting less. As the Mavs have signed and re-signed players in recent years (such as Barea, Kidd, Marion, and Haywood), the team has stayed true to the structure and the players have been willing to fit in.
There is a logical flow to it all. … a balance that may even contribute subtly to the Mavs' locker-room chemistry strength.
With $25M available to spend, we can fit all 5 into that very same pay structure. We'd do it like this, with the number of years in parentheses: Chandler $10M (5), Butler $6-7M (4), Barea $3-4M (5), Stevenson $2M (2), Cardinal $1M (1). (Note: Butler can only be offered a 4-year deal because of his age and the over-36 rule.)
On the heels of a title, some players may be pursued by other teams with bigger money, but the hope is that the winning and chemistry, alongside being paid fairly within the structure, will tip the scales to the Mavs if that happens.
Are contracts of that size reasonable, independent of the Mavs pay structure? We think so. Dallas has enough talent that it takes some shared sacrifice contractually to be a part of it, but the numbers we propose are in the right vicinity.
Chandler at $10 million –
He's a top-level defensive center, and is only 29, but his history shows three teams giving up on him due to extensive health concerns. Centers do get paid quite well in the NBA, but to make star money a player must be able to create their own shots and not just score on oops and put-backs. The key here is that Dallas is made for his skill set alongside Dirk and Kidd, and at a starting salary of $10M we've put him on the upper edge of that non-superstar tier in the Dallas salary slotting. And that's a compliment.
Butler at $6.5 million –
It's a cut from the $10M he's used to. But coming off a knee injury that cost half a season, and with the MLE at $5M, will anyone offer him more while giving him a great chance to win a title? Coming from the mess in Washington to the top of the league in Dallas, why would he go back to something like that?
Let's add an extra note about the 4-year contract we envision here for Caron. The reason we penciled that length in, is it would be the max number of years he could possibly be offered (the over-36 rule would prevent a 5th year) and we are demonstrating "financial fit" for the Mavs to do what they need to do right now.
At the same time, he is coming off a severe knee injury. In that context would 4 years be too much of a risk? Perhaps. We're making the assumption that his downside risk will be age, not recuperation, and our 4-year proposal is made accordingly. But the Mavs more than anyone know how close he was to returning (or not) in the Finals, and if significant questions remain in their minds, those same question marks will also be there as a damper on competitors offers.
If it's needed, the Mavs certainly have the ability to bring him back on a 1-year deal that gives both sides a better chance to fairly evaluate him before locking into a longer contract. That would add talent and depth to the mix for this compacted season ahead, it would carry a no-trade commitment (by rule) ensuring both sides (as well as the entire league) would get to see how he performs for a full year, and both sides would have full freedom next summer after that showcase year to determine their preference for ensuing years.
We'll have more on Caron in-depth later this week.
Barea at $3.5 million –
Coming off his playoff showing, he'll get a windfall raise from his 3-year deal totaling $4.5M. He may get offers to start somewhere under a full MLE deal of 4 years and $21M, but would a max length Bird offer from Dallas starting at $3.5M and totaling $20M over 5 years persuade him to return in the same sparkplug backup role behind
Jason Kidd
? Oh, and with some b2b2b's on the schedule – yes, stretches of three games in a row – the Mavs can tell JJB that he will be a part-time starter in Dallas, on nights when Kidd needs a rest.
Stevenson at $2 million –
This is less than his previous deal, and more than he probably could have gotten before his playoff showing. But considering his role and age, wouldn't two years at $2M be enough to get him back in his veteran Bruce Bowen-like role?
Cardinal at $1 million –
Minimum contract, and the same as he got last season when he had to audition just to get on the roster.
BUT WHAT ABOUT THOSE FUTURE YEARS?
While all of that works for 2011-12, does it still fit within the future budget limits? Absolutely. Let's say all those players sign as noted above (total $23M in year 1) with max raises built into their deals. Year by year, here's what we'd see using those numbers.
In year 2 (2012-13), the team would enter 2012 free agency with about $64.6M in salary committed to 8 players, and Beaubois and Jones could be kept using team options for about $4.5M. That would leave more than $18M to re-sign or replace Kidd, JET, Fernandez, Mahinmi, and Cardinal. A draft pick might squeeze out a spot, or perhaps keep everyone and pencil in Kidd $5M (2), JET $5M (2), Fernandez $3.5M (3), Mahinmi $2.5M (3), and Cardinal $1M (1).
We'll say that happens. What next?
In year 3 (2013-14), the team would enter 2013 free agency with about $83M in salary committed to 11 players and Jones available on a team option for $2.3M. That leaves $2M to fill 3 roster slots, with Beaubois, Stevenson, and Cardinal as free agents.
If Beaubois has started to fulfill his potential by that point, that's clearly not enough space – but in that case, they might have already parted ways with Jet and/or Fernandez and have much more budget room. But for our projection, let's say they let Beaubois go, and fill those last three slots cheaply by adding a draft pick plus two veteran free agents (in the same way they got players like Singleton, Bass, Mahinmi, Cardinal, and so on). They're still within budget.
Let's note that to get to that point, the team has been virtually intact for three years in a row (including 2010-11), with no one getting better, no one getting worse, no major injuries, and no trades. We know that just won't happen, of course – but our exercise is to prove that there really isn't anything to prevent the team from signing their free agents now to contracts that fit their structure, and maximize their chances to defend their title. And in the worst-case scenario, their price to pay is having to do without one of Fernandez, Beaubois, and Jet at some point during or at the end of two years.
THE FINAL THREE YEARS: A CROSSROADS AND BEYOND
That takes things to year 4 (2014-15), and for the summer of 2014 there is currently only one player under contract (Haywood). In our scenario, we've projected a drop in player budget to $81M in that year, along with additions of Chandler, Butler, Barea, Fernandez (or Beaubois), and Mahinmi to the commitments. That leaves $40 million in budget room, and 9 roster slots to fill. Easily doable.
But also not very likely.
Right now the summer of 2014 is set to be a crossroads summer for the Mavs. Dirk will be a 36-year-old free agent, with Kidd, JET, and Marion presumably gone. In our scenario, the center core will still be intact with Chandler, Haywood, and Mahinmi retained, and the other holdovers would be Butler, Fernandez, and Barea. Would that be a strong enough core to keep contending? By then, will the Mavs have made different choices in the interim, to have an even better continuing core so they can keep Dirk and chase more titles? Or will that become the time to rebuild? This early, it's impossible to accurately project that far ahead - but it's certain that signings this month won't be an impediment to what they ultimately do in that 4th season.
THE ONLY CHOICE FOR TODAY
That looming crossroads, even three years down the road, reinforces the key point for every decision on this year's free agents. At some point – one coming way too soon - the Mavs will inevitably endure the situation where Dirk will leave or retire. With it on tap for perhaps as soon as 3 years, there should be no question that the time to put it all on the line for a title is now. As we have shown, it can be done now without slamming their window of opportunity shut prematurely as a consequence.
Can Chandler, Butler, Barea, Stevenson, and Cardinal make a difference? Having so much depth, experience, and chemistry promises to be a huge factor in this season with so little training camp time and so few off days for practice. In our estimation, with the window so wide open and such a huge advantage to be gained, the answer is easy: Keep them all. It's time to win more titles.