Begin this story with the understanding that up until recently, Nene, a native Brazilian, was in love with playing Denver. He married a local girl. Is an important part of the community. And is a centerpiece of a team ...
That personnel-wise, has fallen apart.
'Melo's gone. Billups is gone. K-Mart and JR are stuck in China. (Maybe until the end of February or longer.) There are indications he feels slighted due to not having been offered a new deal last year. No one -- 'cept for some Mile High loyalists woozy from Tebowmania -- would blame Nene for not wanting to go it alone in Denver.

That much we know for certain. We also know of the Mavs' high opinion of Nene, and since last February there have been repeated reports of Nene possessing a short list in his mind and Dallas being on that list.

Let's assume those to be the facts. He's healthy too, at 29 long removed from the 2005-06 season, when Nene suffered a serious knee injury causing him to miss the remaining 81 games, and 07-08, when testicular cancer took all but 16 games. From from 2005 to 2008 he averaged only 34 games per season. But he's been an iron man since. Not an issue.

Those facts are the easy part, along with his fine numbers. He does the big things (14.5 points and 7.6 rebounds) and the little things well. Examples: He runs the floor with skill either on the break or by creating space to receive and can finish when playing with point guards able to deliver the ball. He converts more than 60 percent of his attempts from the floor. He's good for more than 70 percent from the free-throw line.

Hey, wait a minute ... that sounds like Tyson Chandler?!

I'll get there -- the largest gray area, the gray elephant in the discussion -- in a moment. First, a boatload of other grays:

*Opting out of the $11.6 million he was due? Is he that unhappy with the direction of the Nuggets?
"I just have to wait and weigh my options and see what's best for my family and me," Nene told the Denver Post today. "I am very excited that I will get to go back to doing what I love. It's been great nine years in Denver and everyone knows who knows me, they know how much I love the Nuggets organization and city of Denver. Thanks to the blessing from God it's a special moment in my career."

*Um, that sounds like goodbye. So assume so. Is there $11 million to earn elsewhere? There are under-the-cap teams that could amnesty an existing player to loosen up room. Unfortunately, most of those teams figure to be as lousy as the Nuggets.
Nevertheless, the Rockets, Warriors, Pacers, Nets and Heat (yeah, them again) either figure to be interested or are reportedly so.
*Indeed, some reports say certain teams have "expressed interest'' in Nene. Ah, another gray area, for how exactly do they do that? How do the Mavs express interest in another team's player prior to the opening of the FA window on Dec. 9? They certainly cannot tell the player directly. They could call the Nuggets ... but why would the Nuggets then issue a whispered pronouncement of Nene's list?
I suppose an agent could concoct such a list. So, let's blame an agent.
*Sign-and-trade is the only answer if Nene wants to go to a team that has money, contender status an enough talent to give back to Denver in exchange. Dallas, of course, qualifies in all three categories.
*But wait. What about Tyson Chandler? If Dallas is interested in a sign-and-trade to bring in Nene, what does that say about TY?
Fact: Nene is a Plan B concept for the Mavs. It's a sexy Plan B, but it's still a reserve plan in case something goes awry with Chandler.
Theoretically, some of those same teams that are interested in Nene are interested in Chandler. Let's use the Warriors as an example: I believe Golden State could find room to give TY more than the $10 mil a year we think Dallas wants to give him. Heck, what if GS offers him an insane $14 mil? Or a max deal of $17 mil? Now, it'd be for four years, one less than he can get with Dallas (if I'm reading my CBA right). But still ...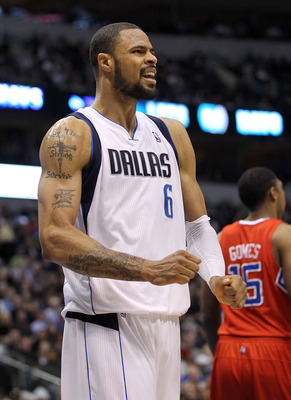 Away he goes. To make near max money and win a championship with the Warriors! (teehee.) Now there is a void in Big D. Now Dallas turns to Nene and turns to the Mavs and offers a sign-and-trade.

Will Nene have been waiting around to serve as the Mavs' Plan B center? Bidding starts at 12:01 a.m. Dec. 9; how many centers' doorsteps do the Mavs plan to camp upon? Meanwhile, in S-n-T talk does Denver want to accept pieces from a fellow Western Conference team? And how much would Dallas sacrifice to essentially spin its title-contending wheels by giving up pieces in order to get Nene to replace Chandler?
To be clear: Yes, if you don't have Chandler, you give up a near-kitchen-sink package to replace him. But it's much easier and simpler and more beneficial to retain TY AND your kitchen-sink parts.
And this is where the gray area goes to black and white: So many dominoes would have to fall just right in order for Nene to become a Mav ... and all of that is only after so many dominoes would've had to fall
wrong
in order for Chandler to become an ex-Mav.
Expressing mutual admiration is smart business for the Mavs and Nene. But once facts are separated from non-facts, it's clear that the smarter business is to ensure mutual admiration between the Mavs and Tyson Chandler.