ITEM 1:
The optimal way for the
Dallas Mavericks
to acquire and keep disgruntled Orlando center
Dwight Howard
is to acquire him before the trade deadline and either sign him to an extension then or let him go free in the Summer of 2012 with the wink-wink promise of him re-signing in Dallas for five years and with the allowed 7.5-percent annual raises, a total take of $110.8 million. (He can sign only a four-year deal with a "new team'' so there is more money to be made – about $25 mil more – by doing the five-year deal with his "existing'' Mavs team.
How to trade for Howard now? Offer
Tyson Chandler
as the centerpiece of what you are sending to Orlando.
How much of this sort of thinking (whether it relates to
Chris Paul
,
Deron Williams
or Howard) is a pipedream is uncertain. Same with the concept of stripping down the Mavs so they could afford to acquire two stars (Howard + either Deron or CP3?) to team with Dirk. That strip-down concept – which would begin to explain why Dallas isn't yet committing to free agent
Caron Butler
-- is something we're working on.
There is certainly a way to make one of these pieces fit. Take Howard: It's the Mavs giving up their "kitchen sink'' (a variation of what they offered New Orleans for Chris Paul last summer) while taking on the bloated contract of
Hedo Turkoglu
(three years and $35 million remaining) as ballast.
Remember that for teams like the Mavs, Lakers and Nets, this isn't about financial limitations. The Lakers have a mind-boggling-sized new TV deal with Time-Warner Cable (reportedly $3 billion for 20 years) that pays them enough to care not about a lux tax. They can be the
New York Yankees
of the NBA in terms of payroll spent in comparison to everyone else. The Brooklyn Nets hope to set themselves up similarly. That TV deal was a big driver for the small markets to want the lockout and to want the shutdown the league, as they face the conundrum of being unable to compete on any sort of level playing field.
Revenue sharing, plus extreme tax penalties for having a huge payroll and always being a taxpayer, will spread some of that windfall around the league. But it won't keep the Lakers and the Knicks and maybe the Nets from spending.
As for the Mavs, we've already outlined how a payroll north of $80 million annually makes sense. It's becoming more apparent now, though, that Cuban and Donnie are examining creative ways to spend that money – and when to spend it.
Know this, though: Orlando GM Otis Smith isn't exactly running from the notion of dealing Dwight. "I think you have to look at everything," Smith tells the Orlando Sentinel. "I don't think you can take anything out of consideration."
If Chandler sees this writing on the wall … it's one more reason the oft-dealt center feels unappreciated by the Mavs.
ITEM 2:
DB.com has structured ideas based on Chandler earning $10 mil a year to stay in Dallas.
Meanwhile, noises from the Chandler camp indicate that whatever numbers Dallas has discussed aren't in the same ballpark as what Chandler is thinking. (We'll get to that in a moment.)
Whatever the number is, if TY is ultimately trade bait, remember that his new contract needs to be attractive to his new owner. In other words, the Magic will want to be comfortable with what they will be paying Chandler over the course of five seasons while they re-load in a post-Howard environment. (Or comfortable with what
Andrew Bynum
gets if the Lakers do this deal, or comfortable with what
Brook Lopez
makes if the Nets pull off a Dwight acquisition.)
But here's a top reason the defending champs aren't stumbling all over themselves making bids on Chandler:
Wouldn't they only be bidding against themselves?
Yes, Mark Cuban's free-agent policy of "go shop yourself, enjoy the wining and dining, and then come back to us'' backfired that once, badly, with
Steve Nash
. But how proactive should the Mavs be in setting the market price for Chandler? Why not let the Warriors and the Rockets and the Nets and the Raptors set the market price, at which time the Mavs can decide, hopefully in tandem with Chandler agent Jeff Schwartz, how to make those numbers work (or not work) in Dallas? (Speaking of agents: the very Mavs-friendly Dan Fegan represents Dwight Howard. Just so you know.)
The highest bidder will likely win the prize (and remember, the Mavs can offer him five years, those other teams just four). But the
first
bidder is no more likely to win than the
last
bidder.
ITEM 3:
So what will the price be?
We were crunching numbers late Friday and came up with this:
TY has finished 10 years in the NBA. So he is eligible for 35 percent of the cap (not just 30 percent) in Year 1. That, we realized, would move his max limits upward to(according to our calculations) $20.32 in Year 1, and $86.75 million over four years.
So …
When we hear reports that Chandler may be wanting "$75-to-80 mil,'' that would mean he'd be asking for a salary in Year 1 of $17.56 million to $18.74 million … and in his mind, he could already be considering that a "discount'' and that he's being "modest'' in his desires because it's less than the max he is eligible for.
We covered a dozen TY angles on Friday (take the Chandler Quiz!)
but we're just now considering the real possibility that he sees himself as a max guy.
But then this Saturday morning we woke up to a report from Sports Illustrated that insists
that Chandler is seeking that $20-mil-to-start maximum contract.
According to sources, Nene, Chandler and (Marc) Gasol all set their early asking prices in the neighborhood of maximum-contract territory, starting at $14.8 million for Gasol, $17.7 annually for Nene, and $20.7 million for Chandler.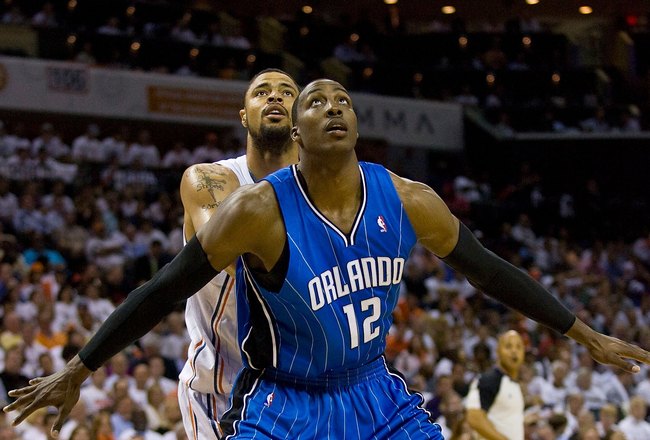 Nene, by the way, is on the Dallas radar. (Read all about that here.)
Gasol is restricted and therefore likely to be matched to stay in Memphis. And Tyson? We can say that the Mavs face a dilemma here,
a "tough decision,'' as Jet said this week.
We can say that trying to weigh the one-in-the-hand signing of Chandler vs. the two-in-the-bush chase of somebody like Howard is too risky. Keep in mind that we haven't confirmed SI's report on Chandler's wishes. But we know that the Warriors certainly think of him as a difference-maker are are saying so openly.
So if Tyson Chandler really views himself as a $20-mil-a-year player – that means he views himself as being more valuable that Dirk, LeBron, Wade – then the "tough decision'' about what to do with him just got easier and the "too risky'' option of chasing Dwight Howard just got less so.
Want more Mavs inside stuff? To celebrate the start of the NBA season and the Dallas Mavericks' title defense, let's go BOGO! Take advantage! Buy-one-month-get-a-second-month free deal ... 10 cents a day just got cut in half ... Become a Premium Mavs Fan and get the best coverage possible of your World Champion Dallas Mavericks! (Subscribers will be charged following their free month.) It's pennies a day! Go Mavs and Go Premium!