DONUT 1:
Make no mistake who is engineering The Runaway Rumor Train right now, and here's two hints: It's not the teams and it's not the players.
How, for instance, does J.J. Barea get tied to the Sacramento Kings? Sacramento employs Tyreke Evans and a skillion other guards with an assortment of talents, but the Kings want to get in a bidding war for JJB? From what source would that story possibly be generated?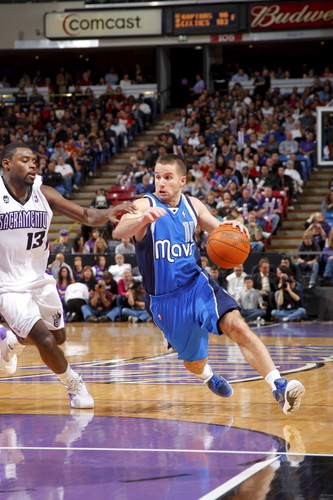 Same thing goes for Tyson Chandler and his "$20.3-mil-a-year
demand
,'' by the way. He's never said it. A team's never reported it. And "demand'' is almost certainly too forceful a word. But an agent can (and did) float that number to the media ... yeah, it makes TY look a bit greedy and a lot nuts. But it also opens up the lid on what the world might eventually see as a "bargain'' when Tyson ends up getting less than that.
More than a week ago, $10 mil seemed about right for Tyson Chandler. (Actually, we wrote that back on Nov. 26, and also wrote that the Mavs have an awareness of how $10 mil for Tyson allows them to bring back the gang from last year. It's "breaking news'' elsewhere but Tyson-at-$10-mil is old news to DB.com readers. Congrats!) Suddenly, amid talk of $20 mil, can't you feel the inside of your head involuntarily moving the TY bar up to $12 mil or $14 mil or $16 mil?
It's The Runaway Rumor Train and you have little control over it. This is the agents' trip, for now.
DONUT 2:
The condensed 66-game season, in a compacted nutshell: Teams are going to play n average of 16.1 games per 30 days this season. Last year the normal average was 14.56 games per 30 days. Two more games a month? That sounds survivable ... we'll know more Tuesday night when the official schedule is announced. Also at that time,
MavCowTickets
will begin to have answers to all your questions about ticket availability. Stay tuned!
DONUT 3:
Come join
Game Havens
this Saturday as they host the FIFA 12 Ice Bowl tournament at the Buffalo Wild Wings in Garland. This is the first of five gaming events that are a part of the Game Havens SPORTS 12 season at various Buffalo Wild Wing locations, and DallasBasketball.com team is helping Game Havens support the Berkner High School Lady Rams Soccer team as they prepare for the real ICE BOWL XXI in January – a major North Texas girls high school soccer tournament. If you know your way around an xBox,
check out Game Havens Facebook events!
DONUT 4:
Today has been deemed the first day teams can visit with players. (So weird how the NBA is doing this decision-making and rule-crafting on the fly.) So reportedly, the Bulls are setting up a face-to-face today with
Caron Butler
.
Here's what we don't know (and I contend that Caron doesn't, either): Caron's been working out in Chicago and is from nearby Racine, Wisconsin. And today he meets with the Bulls. (NBA.com reports that his itinerary also includes a visit to the Clips on Monday night, to the Spurs on Tuesday, to the Nets on Wednesday and to the Pistons on Thursday.)
Is the Chicago meeting one of convenience or is Tuff Juice viewed as a final piece to a title contender? Is this about raising the profile of a player (and his agent) or about the need of teams to familiarize themselves with a nine-year NBA vet?
I'm told (not by agents!) that the "level of seriousness'' for all these players who have been linked to all these teams is "not high. ... It's still a feeling-out process.''
So is today Dog-and-Pony Show Day in Chicago and elsewhere? Or the beginning of the end of last year's Mavs roster as we knew it?
DONUT 5:
For Chandler, by the way, it does indeed begin ... The Tyson Tour! My understanding is that TY arrived in the Bay Area yesterday in preparation for a Monday meeting with the Warriors. I guess we can assume that he'll spend the week touring the country in search of $20 mil or whatever.
I continue to hear hints that Houston really believes he's a put-'em-over-the-top potential Rocket.
DONUT 6:
There is one way to satisfy Dwight Howard in order to keep him in Orlando: Hire him a sidekick like Chris Paul.
The two are pals and while Howard is plotting his exit (to Dallas?!), staying in Orlando and re-upping there can earn him a five-year deal worth in excess of $100 million.
But what wonderful assets does Orlando possess to make such a deal? The Magic's problem is bloated salaries (Hedo and Arenas), not under-priced kids with potential as rebuilding blocks.
Meanwhile, what does Dallas have available as Dwight bait? Well, the "kitchen sink,'' as always. Oh, and if they work it right, the Mavs would be able to offer Tyson Chandler to get Dwight Howard.
DONUT 7:
DB.com cannot do our thing without the help of sponsors and partners like
MavCowTickets
and
Esparza's Restaurant
,
Classic of Carrollton
and
McKinneyDentist.com
. Give my guys a click, if you please!
Oh, and while you're surfing, come give the
DB.com Mavs Facebook Page a Like, too!
DONUT 8:
Should Dirk be SI's Sportsman of the Year?
DONUT 9:
How's Rudy Fernandez' knee? The gang at DB.com Boards collects some Real Madrid info that leaves a darn good impression.
DONUT 10:
An argument I can make in support of paying TY whatever:
So, Cuban has to pay more tax in later years because he spent to keep the gang together? Maybe that's the Dirk-related price you pay for Nowitzki having provided the Mavs a hometown discount and a title.
It can be argued that Dallas should overpay for Chandler as a reward to Dirk … and as a balance for having underpaid for Dirk.
We don't yet know if that mirrors Cuban's thinking, though it appears not. Do understand this, though: Cuban and Dirk are remarkably, unusually tight. The moves the Mavs make in the next few weeks will be done IN SUPPORT OF The UberMan and WITH THE SUPPORT of The UberMan.
DONUT 11:
In case you've missed any Mavs news ... like:
*Barea & The Knicks & What Were We Fighting For?
*Tyson Wants $20M? Dwight Wants To Join The Mavs? The Dollars And Sense Of It All
*CatchUp Reading: 'Oh My God, They're Going To Win!' - A Boston Writer In Mavs Championship Court
*A 12-Question Quiz - 'Tyson Chandler Is _____?'
*Mavs Open Gym At The AAC - But Jet's The Only Guy In The Parade
*Exclusive: Revealing The How-To's Of Mavs Roster Budgeting: Tyson, Caron, Dirk In '14, Every Year, Every Penny
Get all caught up on all the recent days' Mavs news from DB.com here.
It's all here. Every minute of every day. If you need to get informed about your World Champion Mavericks, know there is much, much more to come today and every day as we take you through free agency, into training camp and into the start of the 2011-12 NBA season! Check back early and often!
To celebrate the start of the season and the
Dallas Mavericks
' title defense, let's go BOGO! Take advantage! Buy-one-month-get-a-second-month free deal ... 10 cents a day just got cut in half ...
Become a Premium Mavs Fan
and get the best coverage possible of your World Champion Dallas Mavericks! (Subscribers will be charged following their free month.)
Go Mavs ... and at pennies a day, Go BOGO!
DONUT 12:
DeShawn has some time on his hands right now.
So he's working on the business end of the tattoo needle.
Oh, and the blond hair is a nice touch, too, kid.