MAVS RUMOR CENTRAL: Dust Settles, Romance Blossoms - 11a Dec 14
Tuesday was the annual Mavs Media Day. It's an overwhelming wave of proof that the NBA season has crept to stand at our front door … and by "creep" we mean approached like a chorus of thunder caught in the belly of a tornado, while maintaining the sneakiness of a field mouse.
It's a contradiction, a study in the dichotomy of a booming stealth. To explain, stepping from the cell of the lockout we've been bombarded by a monstrous amount of noise, information, rumors, roster moves, heartbreak, excitement, questions, answers or hints of answers and the intermingling of a thousand voices all yelling at once.
The NBA is back. If you're tuned into the sports world at all, you know. There's no denying the chaos of this mini-free-agency period, nor the hectic pace at which the Mavs have undertaken a continuous shifting in roster make up. In other words, you've been encompassed by the "boom."
Yet, for all of its sensory overload, a fact failed to truly hit home … at least for me ... and Media Day ushered this final notice in. The season truly is on the verge of beginning. Beyond all of this rushed mess, the 2011-12 season now waits to cross the threshold and pass through our front door.
And, regardless of the still spinning winds and debris, we couldn't be happier.
*A SHIFT IN MOOD: At practice on Saturday, there was the usual levity among the players. On Sunday, we showed you the video of Dirk not-quite dunking from a flat-footed stance directly beneath the rim, and again the light-heartedness was there.
You could sense it in the smiles Jason Kidd didn't fight to conceal, in the usual energy Shawn Marion encapsulates, in the ease of Dirk. The championship was real. It's residue left a film on many of the Mavs, protecting them from the doubts, the haunts, of their previous basketball lives.
That change, you could sense … even if it was something far too intangible to touch. Yet, there also seemed to be something missing, as if a somber undertow flowed beneath the surface of that joy.
Tyson Chandler was gone. Caron Butler was gone. JJ Barea was as good as gone. Their absence made it impossible to ignore: last year was over. A new day had begun, and with it, an undeniable change had been ushered in.
For all of the joy, there wreaked the sadness of goodbye. And, it was understandable; the greatest season of their career was over. As it always does, yesterday, no matter how great, was yielding to today and bracing for the coming of tomorrow.
Media Day dragged with it a new shift, a new acceptance for a possible excitement. Lamar Odom had risen from the wake of Chandler's departure. Vince Carter was strolling around the Dallas practice court wearing his new Mavs number 25 jersey, even poking his head around his new GMs shoulder to let the surrounding reporters know "(Donnie) is a great guy," with a large grin. Brandan Wright (who Donnie labeled a "Brandon Bass starter kit") was there. Delonte West was on the way. Brian Cardinal had been re-signed.
Perhaps it was simply the normal progression of time, getting a couple of practices under their belt, being allowed a moment to move on, but it seemed like something more. Though new and undoubtedly different, maybe today could be as great as yesterday. For parting the seas of reporters, being directed before green screens, conducting interviews … there was Lamar Odom. There was Carter. And still, there was Dirk, Kidd, Shawn Marion (the "blonde bombeshell" as Donnie Nelson called him), Brendan Haywood and Jason Terry.
Mixed among the new were the old. Mixed among the sadness of goodbye, of change, were the bastions of proof for a Title that Dirk repeatedly mentioned could not be taken away.
Maybe this is nothing more than the romantic notions of a single writer, but the mood felt different. From the ashes of the departed rose hope with the newly arrived.
Even if we don't quite know where it's going, there's an excuse to be excited … again.
THE NAMES JOINING THE MARQUEE: Clearly, the two biggest names added to the Mavs roster thus far are Lamar Odom and Vince Carter.
Above, we painted a picture of the change in atmosphere around the Mavs, but do so without focus on Odom or Carter. So, how did they seem to fit in … you know, far before we can truly know how they'll fit in?
Carter was in a clear good mood, though you could sense the edge beneath. Everything this roster was a year ago, in the sense that they were a group of veterans who had attained all the necessary personal accolades and were ready to set individual glory aside for team success, you could feel in Carter.
Obviously, this wasn't a game situation, but this didn't feel like a man needing every eye in the gym on him. Rather, he came across as a veteran with a satiated shelf of personal trophies, but a lasting need to chase that one left unattained. In his own words, Carter came here to win.
We'll wait to judge the product until we've seen it on the court, but, for one day, the approach echoed one we saw from 15 guys a year ago.
Lamar Odom is a prize. He's the primary reason hope crept back into the minds of many. He's a versatile, multi-talented player than can be a difference maker. Yet, he's also undergone an unexpected, and very likely unwelcome change. Even if he demanded a trade out of Los Angeles, he did not design the situation that led him there.
Understandably, considering the sudden nature of his departure/arrival, it was hard not to notice a swell of emotion bubbling beneath the surface for Odom. He noted that he felt "disrespected" by the actions of his former team, and he didn't deny that emotion played a part in his ordeal.
"Anytime you make a sudden switch," Odom said, "it gets a little emotional."
Logic demands that he be granted the time to digest his circumstances, to adjust to the changes undergone. He'll be ok. He repeatedly stated his happiness to be in Dallas (quite a different sentiment than the one he expressed at the notion of having been forced to New Orleans), and we don't doubt that sentiment. We'll happily give him a little time to mesh, to sink in, and to embrace where this road has led him.
We don't mean to portray him as a sad, downtrodden man. That wasn't the case … at least not to degree it may seem. He wasn't near tears or breaking down. There was just enough in his words and demeanor to let us know he may not have completely moved on yet.
In other words, we feel confident that there is no justification for trepidation over his addition. Odom will be Odom as soon as reasonably possible, of this, we are confident.
In other areas of note: Odom seemed to go out of his way to make sure we all knew he would be clearing the presence of Khloe Kardashian's (his wife) family's reality show with through Mark Cuban, his coaches and his teammates. And, if any thought it would be a distraction, it wouldn't be here. This was likely in response to some reports from Los Angeles with some claiming it was a distraction there.
Though, he did share a light-hearted moment in reference to Mark Cuban, "He seems like a guy, like he'll like (the show) … I'll talk to him about it."
One interesting side note: Odom was asked if the Lakers felt a lack of respect for the Mavs, perhaps opening the door to being swept in last year's playoffs.
"That was our problem a lot of times. We didn't respect anyone," Odom said, "but that's how you win."
Make of it what you will. It's an interesting comment.
TWO MORE GOODBYES: Not long after Media Day had come and gone came the news that the Mavs were sending Rudy Fernandez and Corey Brewer to the Denver Nuggets for a 2016 2nd Round pick from Memphis (belonging to Denver).
As some may now, we (especially myself) threw a lot of support Rudy's way. His skill-set seemed destined to fit perfectly into the structure of Dallas' offense. He could dribble, pass, create, finish and shoot. Sadly, what he couldn't, or wouldn't, do was compete to earn his minutes.
From a full serving of potential left unrealized in Portland, whether constricted by system or attitude, we're left with a vision of the unknown and more of the same. Rather than a player willing to fight his way to a prominent role on the reigning champs, we were forced upon the realization that Fernandez was nothing more than a prima donna demanding the treatment of a star … without the resume of one.
From acquisition to departure, Rudy is an undeniable swing and miss for Donnie and the gang. You can't deny the facts. A 1st and 2nd round pick were essentially traded for a 2016 2nd rounder. That's not a positive exchange, even worse when you add Brewer to the mix.
That said, considering the recent track record of the MBT, and the number of swings they've taken that have landed, they were due a miss. This isn't the end of the world, and the sky isn't falling.
To be blunt, why would any team want a player unwilling to earn his way, to fight for his place? Consider us removed from the Rudy bandwagon. He didn't want to be here … now he's not.
On a sad note, we hated to see Brewer leave. We loved his hustle, his enthusiasm, and the fact that he refused to leave his smile behind. Forever, we will be thankful for what he did in Game 1 of the Lakers series, when he almost single handedly reversed the course of the game. Unlike Rudy, he was a part of the Mavs' championship and Denver is lucky to get him.
Unfortunately, his departure became a necessary evil within the goal for optimal cap space next season, when he was slated to earn $3.2 million. While we hate to see him go, we take to heart the knowledge that we cannot judge his exit until we know where it leads. Right now, there simply isn't enough information to make that call … other than to again say we're sorry to see him go.
IN SUMMATION: Welcome to the Mavs Lamar Odom, Vince Carter, Delonte West and Brandan Wright … and welcome back Brian Cardinal.
With all of the new faces wondering the Mavs practice court, today at the AAC practices will almost feel like an NBA showcase rather than a Dallas team function. Rick Carlisle will have his hands full working through endless machinations with the tools at his disposal, and has little time to work through them all, but we can't wait to get our first glimpse this group in game action this Sunday when the preseason begins against the Oklahoma City Thunder.
We've said our goodbyes (those we know of) and our hellos (are there more to come?) now we're ready to say hello to a title defense that should prove to be entertaining at the very least.
- Michael Dugat
Donnie Nelson was saying all the right, polite things about newcomer guard Rudy Fernandez as the Mavs GM spoke to a horde of reporters at about 11 a.m. Tuesday at Media Day.
"Right now, we're trying to get him to Dallas ASAP, get him with the guys and then we'll see what the future holds," a smiling Nelson said.
But soon after, DallasBasketball.com met with Nelson in a one-on-one session and Donnie revealed to us the truth about the issues that have TuBasket.com and HoopsHype being the first to report that Moody Rudy is being dumped to Denver.
"There really are some paperwork issues there,'' Donnie said. "But to be honest, on our side, a lot of things have changed in the last few days -- obviously! -- and that changed the way, I guess, he was looking at things here.''
Among the things that have changed in the recent days (well after Dallas acquired the talented but erratic Spaniard from Portland on Draft night for a late-first-round pick): The Mavericks' smooth and rapid pickups of competition for the playing time Rudy once assumed would be his.
"Yeah,'' Donnie told us, "he'd be in a situation now where we've got a crowd of guys who are really going to compete for time at the 2-guard and on the wings. It's going to be a good camp with everybody here because Vince and Lamar and guys like that, in addition to the established guys like Jet and the kids like Roddy ... lots of competition, and that is a change.''
A change, we asked from something Rudy previously figured on? What had Rudy figured on?
"Being the starting 2-guard,'' Donnie said frankly.
And let us tell you, it's not just the front office that rolled its eyes there. You want a "defined role'' on a Rick Carlisle-coached Mavs team? You'd better be Dirk Nowitzki's twin brother. Because short of that, there is no such guarantee here for anyone.
(UPDATE: SteinyMo's got done deal at Rudy/Corey for a second-round pick. Rudy coming and going caused Dallas to turn a No. 1 pick into a No. 2 pick and Corey. But hey, the Mavs thought they were stepping into Rudy rose pedals. Turned out to be fertilizer stuck to their shoes. So they've scraped it off.)
We're disappointed to see Brewer go; but you know, he was in a minutes crunch here, too. Anyway, they did not have time to dawdle about with Fernandez, 26, who has a long-standing reputation as a very bright man with a drama-queeny streak. He pulled assorted homesick stunts in Portland. He recently signed a multi-year contract with Real Madrid. He almost certainly was prepared to negotiate a buyout of his $2.18M deal here, and now more than ever, it seems that after this 2011-2012 season he will return to play for Real Madrid.
CBA rules changes being what they are and championship visions being what they are, Dallas has taken this sort of approach even with the greatest center in Mavs history, Tyson Chandler:
We will do everything we can to accommodate you within our franchise framework, and if that doesn't work, heck, we'll even help you make a smooth exit.
Rudy doesn't want to be here within the franchise framework? Fine. How helpful need Dallas be to blow his dark cloud elsewhere? His issues will be shipped along, as will his invisible-ink visa and his playing time demands and his unwillingness to do the singular thing that all champions have in common: Compete.
So Moody Rudy is getting the boot. The Denver boot, or wherever. Doesn't matter as long as he doesn't want to compete to be here.
- Fish
MAVS RUMOR CENTRAL: Comparing Delonte West To JJ Barea - 1118p Dec 12
Now that we can't make Vince jokes, Kardashian jokes or Delonte jokes, let's get serious about Delonte-vs.-Barea by the numbers ... Caron's money with the Clips ... Some Mavs Amateur GM'ing ... A crafty way to pursue Dalember … Get caught up in MAVS RUMOR CENTRAL for Premium Mavs Fans - and access with a 7-day free trial!
And the news keeps rolling in. Delonte West has agreed to sign with Dallas, the newest member within an avalanche of roster moves over the past few days. West joins Lamar Odom, Vince Carter (now officially a Dallas Maverick), Brandan Wright and the newly re-signed Brian Cardinal as players who now call Dallas home though they weren't on the books just days ago.
So, what are our thoughts on West? Though he isn't a bad player, is he a bad guy, a fit for the Mavs? Is it an unnecessary risk to the high level of chemistry present in the Mavs' locker room? Is it an indictment on the players already on the roster who would have been the primary backup point guards (Dominique Jones and Roddy Beaubois in particular)?
Statistically speaking, West hasn't been as impressive as his pub would suggest. However, he is athletic and a strong defensive guard. At 6-4 he also provides some height noticeably absent from the Mavs guards in the recent past (though those days are long forgotten with Rudy (6-6) and Vince Carter (6-6)), though the smallish Terry and Roddy remain.
One other fact worth noting quickly: West has never played more than 71 games in an NBA regular season, and totaled only 24 last season with the Celtics. This hasn't always been the result of injury, but it should be a concern none-the-less.
Want some pertinent stats from West over the past three seasons, vs. JJB over the same period?
Shop and compare.
At a glance, there isn't much different between these players in the numbers, at least until last season. If you're searching for an area West rates positively in this comparison, turn to the defensive side of the ball, where Barea (despite his uncanny ability to draw offensive fouls) could be a liability, particularly when paired with Jason Terry … remember, there will be no Chandler net behind them this year, and accepting that Haywood can't play every minute, this absence may be blatant at times (assuming the Mavs roster remains as it currently is, which is far from a given).
West has shown that he is more than capable of holding his own … and those extra four to five inches of height West has over Barea won't hurt.
On the less-than-positive side, it's hard to miss the steady decline from West over the past three seasons, while Barea is fresh off fulfilling every Mavs fans fantasies for what he could become … we don't really need to refresh anyone's memory to his decimation of the Lakers or Heat defense on the way to a championship.
A portion of this decline may be tied to West's inability to stay on the court, though the fact that he hasn't been on the court can't be dismissed either.
Surely the jokes will flow about teammates' mothers, his issues with law enforcement, including being pulled over on a motorcycle a couple years ago with three loaded firearms, and battles with depression will surely cross people's minds, but the fact remains that West is more than capable of producing on the court … if he can stay on the court.
Finally, it's hard not to question this move as a vote of non-confidence in the youngsters already on the roster. This move would seem to remove Roddy and Jones as necessary pieces of the point guard rotation, or at least as significant ones. Low risk. High reward. Considering the situation, it's not a bad move. And, should things start to slide in the wrong direction, it will be easy enough to correct.
Raise your hand if you predicted this would be the Mavs roster less than two weeks before the opening of the regular season: Dirk Nowitzki, Jason Kidd, Jason Terry, Shawn Marion, Lamar Odom, Vince Carter, Brendan Haywood, Rudy Fernandez, Brandan Wright, Roddy Beaubois, Dominique Jones, Brian Cardinal, Corey Brewer, Ian Mahinmi and now Delonte West (and won't Delonte-vs-LeBron be a fun Cleveland reunion on Christmas Day at the AAC?)
Now, raise your hand if you believe this will be the roster the Mavs finish the season with? Not a lot of hands.
- Michael Dugat
MAVS RUMOR CENTRAL: Hold The Wisecracks (And The Hot Sauce And The Spongebob): Mavs Sign Delonte As Backup PG - 908p Dec 12
With Barea now residing in bball Siberia after signing with Minny, the Mavs were looking for help at backup PG. DB.com (and the Mavs) examined Billups, but he's Clippers property. So the Mavs have signed Delonte West to a one-year deal (we're told for the vet's minimum) with plans to give him first crack at the job. And speaking of 'cracks,' we'll try to hold our wise ones for the moment.
Delonte West
, the 28-year old former Celtic, Cavalier and Sonic is a career 9.7 ppg, 3.0 rpg, and 3.6 apg guard who shot 37.3% from behind the arc over his eight years.
Allow us to introduce Delonte to you a little further with this video of him as a Jim Rome correspondent…
Delonte loves fried chicken, hot sauce SpongeBob and Donuts?!?! We like him already around these DB.com parts.
But what exactly are the Mavericks going to get from the guy?
West has some significant past red flags, which include weapons charges, rumors of inappropriate inter-team relationships and a well-publicized battle with a bipolar illness.
The Delonte West Summer Timeline alone is a masterpiece.
but the talent is and always has been there. He's more of a natural scorer than a distributor, but he reasonably settled into a passer's role last year in Boston while playing behind
Rajon Rondo
. West is also a more than capable wing defender who can hold his own against point/shooting guards and some of the league's more minute small forwards.
Dallas is going to potentially need him as the change-of-pace guard Barea was last year while complementing J-Kidd. When bringing the ball up on offense, West ideally will be able to find his way into the paint thru lanes created by offensive mismatches all over the floor by Dirk, Jet, Odom, and company. He is a decent finisher at the rim and his mid-range game is a weapon that must be accounted for. Between him and Roddy B, finishing in the lane or driving and distributing is what the Mavericks are going to need from their backup point guard spot.
Ah, Roddy B. What of Dallas' faith in the idea of Beaubois and DoJo working the backup PG? It's not dead … but Delonte is a reliable player (if not a reliable person). With a short camp, he immediately gets some upper-hand in terms of rotation time.
And maybe Roddy B is left to be even more lonely?
In the bigger picture – and DB.com will examine this in greater depth in the coming hours -- the
Dallas Mavericks
have not-so-quietly created the deepest team in the league. The emphasis on signing proven players who will play on both ends of the court has obviously been on the minds of Donnie and crew while making free-agency moves. It's no secret that this 66-game schedule is going to be a beast for every team and that places a premium on depth at each position. In Delonte West, the Mavs have found a guy who – as long as KIDDIRK can keep him straight in the locker room -- can contribute at more than one spot as a two-way player.
If Delonte can come in and do that for the Mavericks, oh, he'll get his Doh-Nuts from DallasBasketball.com. Hell, we'll give him a dozen every morning.
- Kevin Brolan
MAVS RUMOR CENTRAL: Caron & Ex-Mavs Getting Their Money As Mavs Try Getting Better - 740a Dec 12
You cannot begrudge Caron Butler for going with a three-year, $24 million deal with the Clippers. There was a time when $5 mil was making sense. The Bulls must've giggled when the price got jacked above that, all the way to $8 mil.
I suppose Caron would've already had no regrets as he moves to what might've been "the perennially hapless Clippers'' and cashes in rather than staying as "part of the fabric'' in Dallas. I suppose he could've been trying to fool us when the Caron camp announced that he's looking forward to "teaming with Blake Griffin to bring a championship to the Clippers.'' Maybe Caron's camp initially giggled, too, when it released that statement. Because Blake's Clippers are fun. But they are not a Caron away.
However, they might've been a CP3 away. And now the Clippers are preparing for NO a bulked-up offer that includes (according to Broussard) Gordon, Aminu, Kaman and Minny's unprotected first-round pick.
The Mavs have collected better players than Caron to replace him (Lamar) and maybe better bargains (Vince and Rudy) and maybe already had one on the roster anyway (Roddy B). So it's all working out for everyone. Caron gets his $8M a year. ... JJB might just be getting paid (in Minny, according to NBA.com, so he can "mentor Ricky Rubio''! Si!) ... and TY gets the $15M a year ...
And when all the money is done flying and all the dust settles, the Mavs think they are at least as legit a contender as they were a year ago at this time, maybe even as they were six months ago.
- Fish
MAVS RUMOR CENTRAL: A Way To Use Barea To Get Dalembert & Billups - And Still Keep Powder Dry - 74p Dec 11
Allow us a moment to do our Mavs Amateur GM thing: What if Dallas wants to keep Plan A alive (Competing in the SuperTeam Era) while also adding two pieces right now? Two? But doesn't Dallas have just one roster vacancy? And isn't there an either/or decision to make regarding center and PG? Give us room to be creative here and we'll show you a way to bid on Dalembert AND Billups. …
To keep this simple, we'll bullet-point this:
*Our calculations say Dallas has a $3.9 million leftover in TE from the Chandler/Odom machinations. We're asking around to see if the new CBA allows for the continued life of an old Matt Carroll TE that at one time was worth $4.3 mil. Assume for the purpose of this exercise that it's a $4.3M TE.
The simplest way to have a chance at Starting Center 1B is to use that TE in a sign-and-trade to get Dalembert. Yes, yes, he might get offered more elsewhere, as teams like the Nets, Rockets, Clippers and Warriors are playing Musical Centers. But the Mavs should (will?) pitch him on the idea that the last time a solid center came through Dallas on a short-term deal, his name was Tyson Chandler and he exited with a ring, a fresh rep as a stud and $58 million.
And we say that Dalembert on the cheap is an extremely able replacement for TY (not even counting all the other upgrades Dallas had made just this week).
But that's only a way to get one player. Is Dallas really ready to hand over the backup PG reins to the kids? Or to alter the offense so much of the offensive orchestration goes through other guys, like Odom and Carter?
What if Dallas decides it really needs help at both spots?
And what if Dalembert doesn't want to settle for just $4.4 mil (the most salary they could offer using that $4.3M TE)?
* Hello, JJB. No, not as a returnee to Dallas. (As fun an idea as that might be, as the Mavs, owners of his Bird Rights, can pay him as much as they wish.) What if Sacto likes JJB, as was once rumored. Barea's contract will only count 50 percent (base-year rule) of what he gets for a trade ...
*So Dallas guides Barea to Sacramento, which is about to lose Dalembert for nothing anyway. The Mavs offer to Sacto a package of Brewer/Barea for Dalembert, with Barea getting $5-to-$6 million.
The rules would reward each player thusly:
If Barea is given $5M = Dalembert can get $7.05M
If Barea is given $5.5M =Dalembert can get $7.36M.
If Barea is given $6M = Dalembert can get $7.67M
In this very clever (if we say so ourselves) scenario:
1 Dallas is able to offer Dalembert more and has quality and depth at center to match last year's.
2 Dalembert gets a shot at being TYII and can get $7 mil-plus for his year. Under sign-and trade rules, the Mavs would have to offer him a three-year deal, but only the first one would have to be guaranteed, which fits perfectly with the Mavs one-year plan. Years 2 and 3 can be written without any guaranteed money, while still offering both sides a pre-agreed salary if the Mavs' one- year plan takes a detour and the Mavs want him to stay longer.
3 Barea gets rewarded with a handsome contract.
4 Sacto gets something where they were previously getting nothing.
And ….
*There is suddenly another roster spot available in Dallas.
And you call Chauncey Billups.
Billups was under contract in NY for $14.2 million. He's been amnesty'd, so now teams below the salary cap can bid for Billups' services. He's threatened to retire if the wrong team claims him, and if he goes unclaimed, Billups becomes an unrestricted free agent.
If Chauncey is free, he can sign for the $1.4M vet's minimum anywhere. (As discussed, it's been suggested to us that the Mavs have used the mini-MLE on Vince. So you offer the minimum to Chauncey.)
Worth noting: Again, we educate-guess the asset used to get Vince as being the mini-MLE worth $3 mil. (Dallas is a taxpayer, so they don't have the $5M MLE to give. And the additional years on Vince's deal? some confusion re Vince Carter deal. They can/will be "not fully guaranteed'' and easy to make go away.) Meanwhile, the Odom deal is official (a 2012 second-round pick and other second-round considerations in 2013 from the LA in exchange for a protected first-rounder), Brian Cardinal is in (with the $1.4 mil vet's minimum), Carter is in town, and Dallas has added to the camp roster by signing Drew Neitzel (6-0, 180) from Michigan State.
Back to the Dalembert/Chauncey thing: Our Amateur GM'ing here isn't a prediction. We haven't run this by Mavs suits yet, and it would take a lot of cooperation from various corners of the NBA world. Dalembert AND Chauncey? As with Odom AND Vince, acquired for virtually nothing?
But it super-loads the defending champs' roster. As as important as anything, assets and flexibility towards cap room are retained for when it's time to try to do the most clever and most impactful moves of all.
- DLord with Fish
MAVS RUMOR CENTRAL: LA Gives Up Paul Chase, Mavs 'Hit Home Run' Getting Odom For Nothing - 1140p Dec 10
Let's do this item-by-item style:
ITEM:
The Lakers' pursuit of Chris Paul went from "deal'' to "dead'' to "almost deal'' and now back to "dead'' -- so much so that reports have them completely turning their attention away from CP3.
ITEM:
Thus their swapping of Lamar Odom to Dallas, where he fits terrifically as a 3 (completing for work there with Marion) and as a backup 4 to Dirk. Odom comes with some zaniness, from his Kardashian TV involvement to his reputation for cruising through regular-season games. But his acquisition, first reported by ESPN, essentially comes at a price of nothing. (Oh, there will be picks involved from Dallas. So relatively nothing. Sefko reports that a No. 1 is involved, but that's it's top-20 protected and can be given at the Mavs' discretion in any of the next six drafts.
ITEM:
LA now gets a TE (worth about $8.9M). That gives the Lakers their flexibility to chase Dwight Howard ... and it is presumed Odom was deemed expendable because Orlando wasn't interested in taking him on.
Meanwhile, the Mavs got their TE for whatever Chandler's 1st year salary is in what became a three-way trade of TY to NY. If Tyson's total over four years is the reported $58M, the TE should be $13.583M. (For the record, that means Dallas still has a TE worth a little over $4M.)
ITEM:
Andrew Bynum was the LA's Dwight Bait, and Marc Stein suggests LA and NJ are now the leading competitors for Howard, who reportedly told his GM that he prefers NJ. Remember, though, NJ needs to like Lopez enough to take him on in order to facilitate Dwight's move there. And with LA, we see as a problem the fact that Bynum has just two seasons (and a large $16M a year) left.
And what do you think Bynum is going to do to Orlando once his contract expires?
ITEM:
As Howard has reportedly informed the Magic that NJ is his preferred destination, we wonder about those tampering charges that might cause this relationship to collapse? Maybe that's why NJ has created a backup plan and is prepping a huge offer to Nene. There are reports that LA has always been the superstar's fave, but after all the NJ talk, there's no reason to put much stock into that.
ITEM:
Likewise, it's cool that he mentioned Mark Cuban's Mavs by name when noting that he'd like to join a team where his talent-acquiring thoughts are respected by management, as he, said, Cuban does with Dirk. That's not the foundation of any true conviction to liking Dallas behind the three-team wishlist story. ... but here's the full quote:
"If Dirk told Mark, 'Hey, I think this is the direction our team is going, this is what we need in the locker room and these are the kind of players we need,' I think Mark would listen," Howard said. "That doesn't mean Mark has to say, OK, we'll make a rash decision. But I think he would listen and really found out what the player needs around him in order to win."
ITEM
Odom by the numbers. ... He's 32, won the NBA's Sixth Man Award last season, is a good ballhandler who can initiate the offense, is sound on defense when he goes hard and is annually a 15/8 guy with four assists per game over his career.
ITEM
Dallas is working feverishly to pull together a competitive team to "defend our crown with pride,'' as coach Rick Carlisle says. Vince Carter should be done this weekend. Brian Cardinal is coming back for a seat on the south end of the bench. And Odom is a worthy piece ...
The Mavs roster is up to 14 if Odom and Carter come and stay: Dirk, Kidd, Terry, Marion, Haywood, Mahinmi, Brewer, Roddy, DoJo, Wright, Cardinal, Rudy, Odom and Carter.
ITEM
Care to look at this as a swap of Chandler for Odom? Understood ... but Chandler was gone because of the Mavs' wanting to keep their powder dry for the future. So Dallas did the best it could in terms of "Asset Management'' regarding TY by getting a TE to help it acquire Lamar Odom ... out of thin air.
Odom, not incidentally, has this year and then a team option for next year, as we understand it. ($8.9M this year and then $8.2M in the non-guaranteed next, but its a team option.) So the Mavs could turn this into yet another one-year deal ... and still have lots of room to maneuver in the future.
This isn't the optimal plan. The optimal plan developed into Dwight/Deron/Dirk. (And can still be developing, as much of a long shot at it is.) But Dwight isn't gone yet. And CP3 is available again (the Clippers may be in the running there, if the league allows such things.) And consider this: If Dwight goes to NJ, the Lakers don't get to get better. But if Dwight goes to LA, the Nets got nothin' and Deron wants to leave.
And the Mavs are back in the batter's box again.
For now, I concede: Lamar isn't Dwight. But let's not hold that against him just yet.
MAVS RUMOR CENTRAL: Why The Mavs' Dwight Howard Pitch Should Be 3-Way With Knicks & Magic - 9a Dec 10
Could the Mavs be trying to make the Chandler-to- NY sign-and-trade into a 3-way deal for Dwight? We've got the numbers that say they should - and we've got the scoop on where and how such an idea would enhance the Mavs' front office pursuits as they try to work their trade magic again
If the TY-to-NY deal is not yet submitted, my suggestion to the Mavs is to persuade NY to wait a day or three ... and try to make the deal part of a Howard-to-Dallas blockbuster with the Orlando Magic.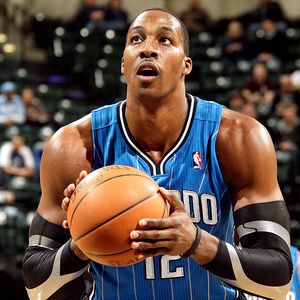 Why? For Dallas, it's in the numbers it would take to get D12 to Dallas - specifically, the salary-matching numbers.
If the Mavs net a "trade exception" from NY the size of TY's first year salary ($13.58M, if he's receiving the reported $58M total), they can then use that to land something-or-other with Orlando (or someone else; note Marc Stein's thoughts on chasing Sacto's Sam Dalembert). But it has to be used alone, and it couldn't be combined to use on a bigger salary.
But if they do a 3-way deal, that TY salary allows them to take back more than $17M under the 125% rule, and it can be combined with other pieces in matching incoming salary. The flexibility gained would be a huge advantage over the "trade exception" avenue. In a trade for Howard, it will take a ton of salary, and the Mavs might otherwise have to clean out the roster (so to speak) to match salaries as the rules require.
As a comparison: if the Mavs traded for Howard and Turkoglu and used a Chandler "trade exception" as part of the deal, they would have to send away another $14.4 million in salary to satisfy the rules. But if it was Chandler-to-NY in a 3-way setup, the Mavs would only have to send Chandler to NY plus about $9.6 million to Orlando. Or if the Mavs traded for Howard and Reddick, it would be Chandler (TE) plus $14.4M versus Chandler (3-way) plus $6.2M. In the 3-way, Orlando would net a massive amount of free cap space as a result and could pick and choose which Mavs they wanted the most, rather than taking players that were being included primarily as filler, enhancing the attractiveness of the offer.
What's in it for the Knicks to wait? Certainly the Mavs could sweeten the deal a tad if they had to. But perhaps the bigger incentive for NY would be to simply increase the Mavs' chances at landing Howard. It would be to their marketing advantage to derail Howard from going to the soon to be cross-town rival Nets, as well as keeping him from going to LA and teaming with CP3 and Kobe to form yet another SuperTeam roadblock to title pursuits. ... of course, the deal might just make the Mavs a SuperTeam, too. ... Which, if you've been reading DB.com, you know is the entire point of all this.
- D-Lord
MAVS RUMOR CENTRAL: Mavs One of Three Teams With Permission To Deal With Dwight - Dec 9
Sports Illustrated breaks the story in an odd but indisputable manner as reporter Sam Amick tweets:
"Orlando PR man Joel Glass calls to inform that D. Howard's agent now has permission to speak with Lakers, Nets, & Mavs about possible trade.''
If your first thought is, "Aw, Dallas doesn't have enough to give,'' you are thinking too small and you are thinking too fast. Don't get ahead of yourself here.
First, take a breath. Next, note that the sky is not falling. Third, note your owner's recognition of The SuperTeam Era and his distaste with him being one of its 25 Washington Generals.
Know that this aggressive approach is not new to the Mavs, who played polite with LeBron last summer but are trying to bully their way into being players this time around. They were offering
Tyson Chandler
a contract with the intention of dealing him to Orlando for Howard. Sources tell DB.com that it didn't work then due to three factors.
1 Tyson Chandler wasn't interested in playing along. (And will instead go to the Knicks. ... but I'm told the Dal-NY talks are continuing, and at 12:39 am Dallas time I know Mavs people are still at work.)
2 Orlando was not in seller's mode as of a few days ago, but was instead up until yesterday trying to keep Dwight and add. (That's changed.)
3 Dwight hadn't yet pushed the Magic with requests to be dealt. (That's changed.)
heck, that's all changed now. Friday at Magic camp, Howard was asked about his future in Orlando and he replied, "I'm here for now.'' Reports circulated that Howard has informed Orlando of his desire to leave – and of his wish-list topper.
Was it just to be with the Brooklyn-bound Nets? Was it just to be with the perennially golden Lakers?
No. The Mavs are in the mix, too.
It has long been Dwight's stated desire to play in a big-market and warm-weather city. Also in play: Joining a SuperTeam where he isn't singularly carrying the load.
The Lakers, with Kobe and maybe Paul, obviously qualify. They can give up Bynum in what might be the most attractive package to Orlando. The Nets are offering Lopez as the trade centerpiece, and Dwight goes there, he's in immediate concert with superstar pal
Deron Williams
.
The Mavs have a relationship with agent Dan Fegan. They have a relationship with DFW native Deron, too, and now you can go back to getting ahead of yourself.
Don't Dwight and Deron want to play together?
Now, how to keep those two twin dominoes from falling just right … Asking Superstar A if he'll come if you get Superstar B to come … and then asking Superstar B to come if you get Superstar A to come.
I haven't gotten to Dallas' post-Tyson package yet because I don't know of its specific makeup. Since July 12, 2010, I've known about "The Kitchen Sink'' -- Dallas' willingness to give up everything beyond Dirk to bring a second superstar to town -- and we know all of that is now in play. But so might be a large Trade Exception. And now you know why the Mavs worked on Tyson to be a sign-and-trade to NY; indeed, DB.com staffer Mike Bacsik decided to go obsessive on this subject tonight and huddled with Marc Stein ... and we think the sign-and-trade and TE might've been achieved.
Also, there are pieces being talked about in a three-way, and the way the Mavs have already budgeted down, there are expiring contracts on this roster that could open up eventual room for Orlando.
LA is talking about Paul. NJ is offering Nene. Dallas is closing in on Vince Carter. It's not known how those concepts are tied to the Dwight concept.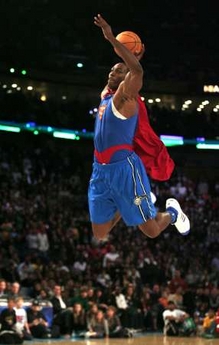 Dominoes needing to fall just right … or, if you are the very skeptical sort, a house of cards. But there are three teams in the Dwight game, and your
Dallas Mavericks
are one of them.
The Mavs are trying to play by these new rules. Or even nudge them.
To quote Dirk, "Donnie has the knowledge and Cuban always has got some stuff (up his sleeve). (Cuban) finds ways to get around the rules. ... We'll have to wait and see.''
We'll have to wait for the winner of the game. But the
Dwight Howard
game is on. And the Mavs have been dealt in.
- Fish
MAVS RUMOR CENTRAL: Dallas Negotiating With Vince Carter, Working With NY On Turiaf - 816p Dec 9
Drive-by scoops, tidbits and fact-based opinions on the flood of moves that are being made while the Mavs ... well, while the Mavs are working on a couple of major headlines themselves:
*DB.com has confirmed Steiny-Mo's report of Mavs negotiations with faded superstar Vince Carter. VC in Dallas would mean a reunion with ex-Nets buddy Jason Kidd, and almost certainly wouldn't be at this level of discussion without the OK of Kidd and Dirk.
Moments ago, in anticipation of the negativity toward Vince (much of which he's brought on himself as he's combined lethargy with Vinsanity throughout his career), I wrote on Twitter and on DB.com Boards, "You're gonna need dollars and years information on this pending agreement info before you completely crap all over it.''
Within seconds, I received a communication from one of the most respective Mavs minds around, who told me, "I'm glad somebody around here gets it.''
I'm flattered by the compliment, but make sure you get this, too: He made $18 mil last year. He wasn't worth it. Carter last year put up career-lows in points, FGA, assists and TOs per minute, with career-highs in 3-point attempts per minute.
But this contract will be for a fraction of what he earned before. … dollars and years. That's what's to be learned. Undoubtedly Dallas has offered a one-year deal. Certainly Vince has asked for more. "Keeping powder dry'' and "future amnesty'' are key phrases here.
What if he can do some Caron-type things (compare the lifetime numbers, kids) while being inspired by the presence of KIDDIRK … and motivated to prove himself on a short-term deal … and if he (obviously) doesn't clog your financial future …
Well, if you see that, and you are willing to wait before you crap all over the idea, "I'm glad somebody around here gets it.''
*Meanwhile, DB.com is sticking with its story regarding the pursuit of backup center Ronny Turiaf from NY in the Tyson Chandler departure. Dallas hopes for a sign-and-trade there, and NY needs to dump Turiaf anyway. (See more Turiaf stuff below.)
UPDATE: NY papers say Turiaf is being dumped to the Wiz. That means Dallas might accept somebody else off the NY roster (or nothing at all.) Mentioned: Landry Fields? Or ... Andy Rautins, 6-4, skinny, kid, being converted by Knicks to PG ... $800,000 on this final year.
*Media outlets are floating Dalembert-to-Dallas ideas. I haven't gotten the indication that Sam-on-the-short-team is very viable.
*Mavs sources indicate to me that Dallas is also checking out cheap veteran PGs, but while the front office was doing that today, Roddy B looked completely healthy while going through full contact on the first day of camp. And DoJo played some PG, too. Kidd and Carlisle raved about both.
- Fish
MAVS RUMOR CENTRAL: Dallas' Bid On Dwight And The Howard House Of Cards - 1135a Dec 9
The Mavs will get back in the batter's box after in recent days taking a swing at acquiring Dwight Howard. But the talks then never heated up, sources tell DB.com, due to three factors: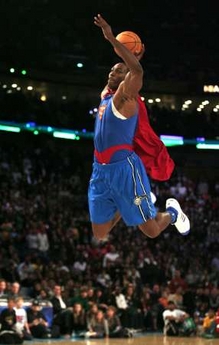 1 Dallas' bid was to include Tyson Chandler, who wasn't interested in playing along. (And will instead go to the Knicks. He informed Ben & Skin on ESPN Radio just now that he won't be moving as part of a Mavs' sign-and-trade for a small piece.)
2 Orlando was not in seller's mode, but was instead up until yesterday trying to keep Dwight and add.
3 Dwight hadn't yet pushed the Magic with requests to be dealt.
That's reportedly all changed now, as ESPN reports that Howard has informed Orlando of his desire to leave – and of his wish-list topper, to be with the Nets. That's in conflict with his desire to be in a warm-weather city but in concert with his desire to be teamed with another superstar, namely Deron Williams.
The Mavs' problems in a specific sense? First, attempting to persuade their pal, agent Dan Fegan, to see the benefits of keeping Dallas high on that list, too … so high that DFW native Deron ends up considering a future in Dallas as well.
(P.S.: David Aldridge of NBA.com is suggesting that Orlando is considering tampering charges against two clubs that have illegal contacted Howard. In this free-for-all environment, I don't even know what constitutes "illegal contact'' anymore. But it's an awfully short list of suspects in the case, right? And you wanna bet that NJ is on it?
Additionally, how to keep those two twin dominoes from falling just right … Asking Superstar A if he'll come if you get Superstar B to come … and then asking Superstar B to come if you get Superstar A to come.
Dominoes … or, if you are the very skeptical sort, a house of cards.
The Lakers can offer Andrew Bynum for Dwight. And they will, as soon as they get done screaming at David Stern in an attempt to get him to re-reverse the Chris Paul swap. Bynum is more attractive to Orlando that Brook Lopez of the Nets is.
The loser is all this isn't the Mavs. (Not yet, anyway.) The loser in this is Orlando, which is left trying to accomplish only getting under the cap and hoping from there. The Magic will send out big money and take in little, beg the acquiring club to also accept Hedo's bloated $34M, use the amnesty provision on Gilbert Arenas … and then start from scratch.
They will hope to win a lottery so they can get another Shaquille O'Neal. And he will eventually leave for a bigger market.
Then they will start over again, as they finally did a decade later with Howard … and then a few years later, that lotto guy will also leave.
The Mavs are trying to play by these rules.
Or, to quote Dirk, "Donnie has the knowledge and Cuban always has got some stuff (up his sleeve). (Cuban) finds ways to get around the rules. ... We'll have to wait and see.''
At issue for not just Dallas and not just Orlando but the rest of the league, too, is addressed in yet another letter sent by much-criticized Cleveland owner Dan Gilbert, who apparently helped push David Stern into the CP3 Block.
"I just don't see how we can allow this trade to happen,'' Gilbert wrote. "I know the vast majority of owners feel the same way that I do. When will we just change the name of 25 of the 30 teams to the Washington Generals? Please advise.''
Washington Generals! Ha! To some, that might be comical. But it's not wrong.
- Fish
MAVS RUMOR CENTRAL: Chris To LA Dead; Chauncey To Dallas Never Lived - 10p Dec 8
"Chris Paul to the Lakers" is no longer "Chris Paul to the Lakers.''
According to a flood of reports, the NBA has essentially vetoed the seemingly lopsided deal that would allow LA to swap out Gasol and Odom in a three-team deal (including Houston) because it's not in the best interest of the NBA.
A league announcement: "It's not true that owners killed the deal … League office declined to make the trade for basketball reasons."
Yeah, yeah. Quit splitting hairs. The right people said no to the wrong thing.
Who has the right to make such a demand of commissioner David Stern? Why, the owners of the Hornets. Who owns the Hornets? While they are in limbo, the 29 other NBA team owners own the Hornets.
So in essence, they are vetoing their own trade.
Does this mean Paul is off the market? We're betting trades that leave New Orleans completely naked (and unattractive to buyers) won't be allowed. (Dallas can therefore go ahead and keep its "Kitchen Sink'' offer in play.)
Does this mean Paul can simply wait out the season and sign with LAL next summer for five years and $100 million? CBSSports has written that, and that seems clearly wrong. LAL doesn't have the cap room to do such a thing.
So, can Paul get SnT'd to the Lakers next summer?
Conceivably ... but wouldn't it be for the same sort of deal that just got vetoed?
Paul's late-night tweet just now: "WoW.''
More WoW from New York, as the Knicks are trying to seal up Tyson Chandler for four years and $58M but need help. ... help in the form of a dump of Chauncey Billups. Various reports suggest that he could be amnesty'd or that he could get traded to Dallas to complete the TY acquisition.
There's a problem there (and it makes it so clear that the "various reports'' are written by guys who aren't talking to anybody at Mavs HQ:
While Billups to Dallas would prove how easy it is to replace Barea (who is also leaving due to Dallas' willingness to give him only a one-year-and-clear-the-books offer), it's not desirable for the Mavs to take on his $14M deal, even though it's expiring.
Why not?
Because that contract will make the Mavs a taxpayer. And if you understand the "Competing In A SuperTeam Era'' Theory, you understand that Dallas needs to be a non-taxpayer in two of the next five years.
Dallas doesn't need to take Billups, who would handicap their future as taxpayers. Instead, DB.com is told, Dallas is working with the Knicks to take something else, still expiring, but small enough to keep them from being a taxpayer.
Remember, there is no hardcore "matching'' issue here. Dallas can trade Tyson for a bag o' magic beans if it wishes.
So let's scan the Knicks roster. Who is a) expiring, b) affordable and c) helpful? Remember, with Chandler leaving, there will be minutes at center to fill. And there's a fit: Ronny Turiaf, the undersized-but-rugged veteran center, on a $4.3M one-year contract. (We can stick Landry Fields in there because he makes just $800,000 but he's a non-need at shooting guard.)
NY could move Turiaf or somebody else to make its room; it's not beholden to Dallas to deal. And when we start adding up pennies as the Mavs assemble a roster, remaining under the cap gets tight. But the pieces are available to get it done.
So the Chris deal is off. And there never was a Chauncey deal. But maybe there will still be a deal, and it might include Dallas.
MAVS RUMOR CENTRAL: Did Mavs Goof On Tyson By Not Acting Last Spring? - 7p Dec 8
The pessimism creeping in regarding the
Dallas Mavericks
ability to re-sign their most significant free agent,
Tyson Chandler
, is realized.
The Warriors thought they had him today, according to DB.com sources. Then the Knicks made their plans, reportedly getting him to agree to a four-year, $58 mil deal.
There are machinations yet to happen to put TY in NY. Other moves are being made as Chris Paul heads to the Lakers as part of a reported three-way.
This isn't how the dawn of the Dallas championship defense was supposed to open. Mavs fans weren't supposed to find their joy laced with trepidation … especially when the banner has yet to rise, the rings have yet to be handed out and the defense has yet to begin.
Or is it all part of a plan? And how did we get to here?
Facing the unknown of a new Collective Bargaining Agreement, where anything from a true hard-cap to other forms of drastic financial restrictions, constrictions, were thought to be feasible considerations; facing this level of uncertainty the Mavs made a decision, and thus entered into a gamble. They chose to set aside any deep negotiations until they knew the structure governing any and all ramifications a newly signed deal would carry forward, where the dollars would fit within a future concealed behind the wall of the lockout.
It's easy to look at the past through the prism of the present, to pinpoint precisely what lines of thought were misgiven, to highlight where prudence would be rendered painful indecisiveness.
Given the advantage of knowing what today's NBA holds, of the basic CBA structure, it's hard not to look back and come to the conclusion that where the Mavs believed they acted with forethought, caution and indeed prudence, they actually undertook a gamble that is may now be set to bite them in the ass.
The Mavs weren't alone in how they viewed their pre-lockout stance. How do you operate in a world where you have little to no idea of the environment? A minor missed prediction could carry catastrophic results. Even those that didn't agree with the "wait-and-see" approach could understand it, could even accept it.
Yet, regardless of how much sense it made then, if Chandler heads somewhere else we'll always be left to wonder if the divorce may have been averted.
And if what Dallas presented to TY (last spring or this week) was a one-year deal ... even at the max $20 mil, with the understanding that he might eventually serve as Dwight Bait ... well, we're still left to wonder.
Tyson made it clear he expected some version of negotiation to take place after the Championship was won, prior to the lockout settling in. In this space, the Mavs were alone in their ability to work out a deal with a player many would view as the best center in franchise history, and easily the best of the
Dirk Nowitzki
Era, as well as one of the most coveted soon-to-be free agents.
This quickly slips into the land of blind speculation, as we don't know what numbers either side would have been attached to had such negotiations taken place at that time. ... unless Dallas discussed with him a one-year deal at that time.
We doubt that, because they wouldn't know the dollars available. And one-year without specific dollars? Well, that would be insulting.
Tossing something out there like "Maybe Tyson would have been more amenable to the $10 to $12 million a year to start his deal at that time, with the joy of the Finals victory still so fresh, the bond within the team still glowing at its peak brightness," is easy, but completely unfounded in its feasibility, in its accountability to itself.
And now we know, bit by bit, that Dallas didn't want to do that, anyway.
In the end, in the present, the Mavs gambled. Or rather, ARE GAMBLING.
One-in-the-hand (Tyson) vs. what might be had later, bigger?
To piggyback on this situation comes another factor: are the Mavs forfeiting their chances at Chandler (and perhaps others, such as
Caron Butler
and/or JJ Barea) in the hopes of chasing a bigger fish in the near future? Would they throw away a clear chance for another Title (obviously, a team with Chandler, Barea and others is a contender, given that they did just win a Championship), for the mere chance to pursue a "better" future?
Dirk Nowitzki, who will be 34 years old before next season begins, and provides the essence of this team now and then. We'll not argue how many "prime" years we believe he has left (which we feel comfortable projecting out to around three seasons), but it's safe to assume we're not talking a decade, perhaps not even half of that.
Fresh off the pocketing of their biggest goal, winning it all, could the eye of the franchise moved away from "now" to designs of tomorrow?
Everybody wants a Dirk for their franchise, just as they all want a
Dwight Howard
,
Chris Paul
or
Deron Williams
.
Which takes us to the thought that Dallas didn't goof on Tyson ... because acquiring that level of player, two or three of them, is now the NBA way to fly.
What if Dallas captured lightning in a bottle? What if "competitive balance'' is a ruse? What if with all due respect to Tyson Chandler, Dallas management believes the wave of the future, the only way to truly compete in the future, is to be among the handful of contenders in a SuperTeam Era?
Gambles don't always work out the way we hope. The question -- and one we are working to address (with some fascinating hints from Mavs management) -- is whether a gamble is the only hope in a SuperTeam Era.
- Fish and Dugat
MAVS RUMOR CENTRAL: Warriors Believe They've Secured Chandler - But Knicks Want A NY Minute - 1150am Dec 8 2011
At 11:49 today, Dallas time, while Dirk Nowitzki was finishing up his ridiculously friendly meeting with the media at Mavs HQ, I was being told by an NBA source that the Warriors "are confident'' they've secured center Tyson Chandler ... and moments later, reports out of the Bay Area have that offer pegged at four years and $60 million. Various moves are/were being made within the Golden State organization to accomodate Chandler's signing.
I mean, they were doing everything but arranging for the moving vans.
Moments later, a Mavs source confirmed to me that he'd received the same "unofficial'' word.
But "unofficial'' isn't done, and CBSSports is leading the pack in reporting that the Knicks are attempting to engineer a complicated series of moves that would win them Chandler's services.
Until this development, we retained a shred of optimism regarding the idea that TY and the Mavs would visit a final time before a decision was made. But now it's a bidding war, and there is no indication Dallas wants any part of that.
By now you've probably already figured out the upshoot to the Knicks getting TY. It's the same upshoot to the Warriors getting him: It puts New York in the conversation for Chris Paul. I'm not sure what assets they have left if they do the TY deal. But we know TY is a CP draw. Meanwhile, the Knicks have to be exploring amnesty options (Billups?), sign-and-trades (with Dallas?) and the moving of a major piece, as
Melo/Amare/Chandler and desires for me creates a financial crowd.
- Fish
MAVS RUMOR CENTRAL: Hey, Wait A Minute, Tyson ... $57 Million Reasons To Stay? - 8am Dec 8 2011
Last night we wrote, about the national report saying Tyson Chandler that he might get as much as four years $50 million.
"Whoa. … wait a minute,'' we said. "That's only a little bit (relatively) more than the Mavs maybe giving him $10M … and it dang sure isn't $20.3M."
You want more detail? And truthfully, even more accuracy? Here goes:
1. In the typical deal with max raises, a $50M guarantee to TY from another team would start at only $11.7M in the first season. That first season is a little bit more - but since the money is guaranteed, it's the total that counts.
2. So to say that him getting $50M is "a little bit more" than a Mavs deal that starts at $10M is not accurate.
It's the same. Or less!
3. With no raises at all, the Mavs would easily be able to match the $50M in a 10x5 deal. Or they could match it with a five-year max raise deal that starts at only $8.7M.
You begin to see what the problem might be, in the minds of TY and his representation, as $8.7 million to start can be taken as an insult.
But when you calculate the numbers ... Wouldn't that also leave room for Deron WIlliams to come aboard as a free agent?.
4. If they start at $10M but also tack on max raises, he'd be getting 57.5M from the Mavs.
That gives us this bottom line: If Tyson Chandler is shopping in the $50M aisle while the Mavs are willing to give him any sort of long-term security, there is little reason -- short of his "being angry'' -- for him to end up elsewhere.
Indeed, if the national reporting is even close to accurate on this, $50M is a number at which the Mavs can dominate ... with the price being reasonable for them and with the Mavs being able to give TY an extra guaranteed year to utilize.
This isn't a prediction, but rather an observation: Remember last summer? Remember Kidd looking around? Wasn't he going to NY? And Haywood? Wasn't he going to Miami? And even Dirk taking his time, and even playing a little footsie in NY over a Suns-related dinner with Nash?
And then what happened with each, after so many knee-jerkers had screamed "All is lost" and jumped off buildings? They all came back ... found a way to pile up money and wins ... and signed with Dallas.
Not a prediction. Just an observation.
MAVS RUMOR CENTRAL: Are Bidders Falling Off Chris Paul? - 8am Dec 8 2011
A handful of quickies on Chris Paul (as I'm heading out the door to go visit with Dirk at the AAC):
*Things seem to be moving to fast in New Orleans (fast because the Hornets and Paul both want it that way) for extremely complicated deals to get done. That creates a problem for the Knicks, Paul's desired destination but a team without the right parts to deal straight-up.
*Lots of stories about GS and LAC falling by the wayside because Paul won't promise to sign there long-term. What's left out of the stories is that he'll change his mind if those teams assemble a SuperFriends lineup.
*Multiple reports insist that while Boston would do a one-year deal, Paul is not enamored with the Celtics ... which suggests that he would optimally like to join a team now and re-up next summer with that same team.
As noted in some detail below, the Mavs don't offer enough (compared to some other bidders). But they do offer stability. And as pipedreamy as it may seem, they do offer a chance at the vision of Paul/Dirk/Tyson.
It's worth a pitch.
- Fish
MAVS RUMOR CENTRAL: Plan B's, Smoke Screens, Trade Machines And CP3's Logical Destination - 9am Dec 7 2011
Mavs coach Rick Carlisle today said of Plan B's and such that there exist for Dallas "a whole alphabet of plans.''
Among the potential wrinkles in all those plans: Somebody like Tyson Chandler, after having his agent (or somebody) scream out all that $20-mil-a-year noise, actually gets his offer from the Warriors … and it's four years (instead of the five that Dallas can give him) … and it's not $20 mil a year.
TY watchers should not be shocked if Golden State overspends in order to make a splash (new ownership, remember). Nor, however, should we be shocked if the offer is nearer something reasonable.
Like, you know, closer to the $10 mil we've been talking about than the $20 mil his agent is talking about.
Hey Fish, you say, hasn't he already been given an offer?
The Chandler PR Dept. makes it sound that way. But I'm going to let you in on a secret – one not meant to embarrass Caron Butler but rather to shed light on how this works: "Sources'' keep saying he's got a bundle of $5-mil-a-year-plus offers, including one from the Bulls.
Remember when I wrote about the coming Dog-and-Pony Show?
I'm told Chicago -- a few days ago ballyhooed as "his hometown favorite'' -- has NOT presented Caron with an official offer.
'Cuz "Rumors'' aren't "Offers.'' "Positive visits'' aren't "Offers,'' either.
Back to the case of TY, as Marc Stein is suddenly reporting that he might get as much as four years $50 million. Whoa. … wait a minute. That's only a little bit (relatively) more than the Mavs maybe giving him $10M … and it dang sure isn't $20.3M.
Meanwhile, the Miami Heat make it sound as if they are close to acquiring a name player, too. It's good pub, but I'm told said player (I'll keep him nameless here) has already informed Miami that he's not interested.
Yet Miami writers keep including said name player on their prospects list.
Winning and money. That's what it's all about. It's why Golden State is such a logical landing spot for Paul, but ONLY if he indicates that he's willing to sign there long-term. And he is a) not yet doing that and b) unlikely to do it if he's GS's lone star. (He's already tried that trick in NO.)
So will GS overpay Tyson in order to lure Paul? Can both balls be juggled at the same time and have everything fall into timely place?
We talk (disappointedly) about Dallas' "plan,'' and wonder what it is. But how many contenders are locked-in, talent-wise, two days before Friday's camps open? OKC, I guess. Who else?
Anyway, Curry, Udoh and Klay isn't too much to give in trade, and at the same time, NO can sell that group as "promising'' to its wavering audience. And Paul/Tyson/Monta is a playoff core.
Between just you and me, FOX Sports asked me for the details of the Dallas offer than might top GS's. I told them frankly I don't know the exact pieces, and (again, between you and me, so don't tell FOX I told you this) everybody is so accustomed to playing with ESPN's Trade Machine that they think the answers are all in their computers.
That's not how this works. Logic can dictate, but not always. Things that seem apparent might be, but they might be smoke screens. The combinations are endless and that makes the possibilities almost endless, too.
- Fish
MAVS RUMOR CENTRAL: Dallas Is In Bidding On Paul - With A 'Tyson Twist' - 9am Dec 7 2011
July 12, 2010. That's when the Mavs' pursuit of Chris Paul began, with a call from Donnie offering the Hornets 'the kitchen sink' for CP3. Today, the moving parts have changed (including a fascinating Tyson twist). But Donnie's phone calls to NO? Those haven't changed. We take you inside Dallas' pursuit of CP3 as we launch 'Mavs Rumor Central,' a one-stop shop for Mavs personnel scoop:
First, let's shoo some pesky flies.
The Mavs are NOT simultaneously in "hot pursuit'' of Dwight, D-Will AND
Chris Paul
. That is not the correct terminology here. In a general sense they are working on ways to a) be competitive right now in defense of their world title, b) keep their powder dry for a major signing next summer, and c) acquire that major piece NOW, or at least before the NBA trade deadline (scheduled for February), and then once Player X is in place, invite him to re-sign with his original team (which at that point would be Dallas) for five years and somewhere in the $100 mil range as opposed to the only-four-year deal Player X could get if he signs with a new team.
Dwight is an inviting target for that. Why aren't the Mavs in "hot pursuit'' yet? Because Orlando is in complete disarray, from their allegedly inebriated CEO drunk-dialing Howard at 1 a.m. (and now "retiring'' at age 50) to GM Otis Smith's conviction that he can still be a buyer in the market before giving up on Howard and becoming a seller. (Bet on Orlando calling in efforts, however futile, to add Chris Paul.) I'm told the Magic isn't really soliciting calls on Howard just yet (and you can ignore the ESPN drum beat that has him involved in serious Lakers talk. At this time, there's no "serious'' there.)
Howard might be leaving Orlando. But not yet.
Deron is an inviting target for the plan, too, the DFW native not yet locked in long-term with the Nets. But again, the Nets are in buyer mode as they attempt to fortify their team and make it more attractive for D-Will to remain there. And their thoughts are viable; they have the money and the pieces to pursue Howard themselves, and to pursue
Tyson Chandler
, too.
Deron might be leaving New Jersey. But not yet.
The reason Chris Paul is on Dallas' front burner of potential "gets'' is because finally – in a change from July 12, 2010, and every day since then – is that New Orleans is listening.
The Hornets reportedly had a meeting with Paul and my understanding is that it did not go smoothly. Other teams obviously know that as well. So the Warriors are making a push. Maybe Steph Curry will be the centerpiece of their offer, but indications are that CP3 will not pledge to re-sign with Golden State.
If that's the case, the risk for the Warriors is too great. One year of Chris Paul isn't enough.
What if the Warriors acquire Paul in tandem with the signing of Tyson Chandler? That makes the Warriors a playoff team and their friendship theoretically increases the chances of Paul re-upping there.
Chandler, in fact, is a lynchpin in all of this.
He's met with the Warriors. In Houston, reports say the Rockets traveled to California to intercept Chandler and meet with him, too. (As I've reported in this space before, Houston believes Chandler can be their over-the-top add.) Tyson will likely visit with the Nets as well.
But if Tyson signs with the Nets, and then the Nets pursue Howard … does TY understand that the trade bait to get Dwight will mean Tyson is going to Orlando? That same scenario is among the issues that has Tyson miffed at the Mavs ... along with their wishes to pay him "just'' $10 mil a year and maybe even their mention of a shorter-term deal. (That's why Caron is put-off, too. And when Barea is told of one-year-offer idea, he'll also be miffed.) If the Mavs sign Chandler and then Dwight becomes available, the centerpiece of the Mavs' offer to Orlando will be … Tyson Chandler.
The Mavericks have explained to TY's agent that overpaying Chandler will block them from keeping him AND having the room to pursue Deron or Paul. (One ESPN report says overpaying Chandler will also prevent a pursuit of Howard, but again, to be clear: If the Mavs employ Tyson and want Howard, THEY WILL TRADE TYSON FOR HOWARD. Sorry to yell.)
Meanwhile, Chandler's price may be crawling back toward reality. ESPN reports that "one source close to the situation'' says "Chandler's deal from whoever wins the race to sign him will be at least $50 million over four years.''
A deal of "$50 million over four years'' is not max money. It is, in fact, $12.5 million. Some quick math: The state taxes TY would pay in California (while playing for apparent fave suitor Golden State) amounts to 10.3 percent (in his tax bracket). That means he should subtract $1.267 mil from his annual take. That puts him at $11 million and change. Factor in the cost of living in San Francisco … oh, and the fact that signing as a free agent in Golden State allows him to sign just a four-year deal while he could, at the right price, sign in Dallas for five years and … well, the only person really making more money if Tyson Chandler signs with the Warriors will be Tyson Chandler's agent.
One more tricky wrinkle to how the Mavs are conducting their business here regarding Paul: Once upon a time, the Mavs' "kitchen sink'' offer to New Orleans centered on The DUST Chip,
Erick Dampier
's $13-million super-expiring contract. Late in the summer of 2010, after New Orleans repeatedly passed on Donnie's offer (which at the time also included
Caron Butler
, Roddy Beaubois and multiple No. 1 picks and cash), the Mavs turned their attention to simultaneous talks with Minnesota for
Al Jefferson
and talks with Charlotte for Tyson Chandler.
Dallas created DUST-for-Chandler … and won a world championship.
Virtually every NBA team is fishing around CP3 right now. The Clippers are making noise about chasing Paul and more. (Reality: If they are truly unwilling to include Eric Gordon in their CP3 package – an insane notion -- they'll be lucky to net Caron Butler, and they will have to overpay to do so.) The Knicks are presently in fantasyland as they insert themselves into the CP3 conversation; he'd like to be there to join pals 'Melo and Amare, and that might be a powerful team. But NY seemingly lacks the assets to pull that off. Hey, what about NY offering Billups' $14 mil expiring? The Mavs will finish ahead of that.
Admittedly, though, the Mavs are not be the leaders in the Chris Paul pursuit in terms of assets available. The "kitchen sink'' can now include established assets like
Brendan Haywood
, youngsters like Roddy and DoJo, sign-and—trade candidates like Caron and JJB, and even expiring-contract veterans like
Jason Terry
. … all while, in a perfect world, keeping Tyson to team with old pal Paul.
The Kitchen Sink -- the term the Mavs themselves applied to this concept starting on July 12, 2010 -- now means anything but Dirk and TY. And remember, if the NBA world is really attracted enough to guys like Barea to offer them $5 mil as FAs ... wouldn't the Hornets be just as interested in acquiring him via a Dallas swap?
Yahoo was the first to report that Paul would be even more intrigued by the Warriors and Clippers (and I presume, the Rockets) if they were to add Chandler. Simple logic: That makes little sense for LAC, who can accomplish what they need to at center by retaining RFA
DeAndre Jordan
. That does make sense for Dallas … because in the team-up scenario, Paul would be off-the-charts intrigued, then, by joining a Mavs team that also employed Chandler.
Team X might offer a more handsome package. Of course, Paul would WANT to go to Team X to make that happen – and Team X would need his promise of a Summer of '12 re-up. Example: One report says the Celtics are offering Rondo, two future first-round picks, and restricted free agent
Jeff Green
in a sign-and-trade. But if that doesn't come with a promise from Paul to re-up with Boston, that makes little sense. … unless they strip down this summer and become players themselves for Dwight.
If Paul likes GS, that is true of the reported package offer of Curry, Klay and Udoh - an attractive trio of young building blocks.
(You notice a trend here: The continuing attempt on the part of players, if not franchises, to mimic the Miami model and assemble a trio of stars. In Dallas, would the very expensive SuperFriends of Paul/Dirk/Tyson qualify?)
Other moving parts keep moving. If Paul goes one way and Tyson goes another (to GS), center
Andris Biedrins
(packaged with, say,
Charlie Bell
) make as much sense in a sign-and-trade to Dallas than do the reports of Biedrins and his three years and $27 million remaining being ousted via amnesty.
Truthfully, again, when it comes to any of these machinations, topped by Chasing CP3, Dallas isn't the leader in terms of assets. But they are the leaders in terms of being the defending champ, of being relatively "big market,'' and of being a spend-what-it-takes-to-win franchise. And in the category of Phone Calls Made, dating all the way back to July 12, 2010. And the speed-dialing continues today …
MAVS RUMOR CENTRAL: Mavs One-Year Planning - 1159am Dec 6 2011
My understanding is that no matter the reports that say Dallas isn't in contact with him, the Mavs have issued to
Caron Butler
the parameters of a one-year contract. Maybe he views a one-year offer as so insulting that he doesn't consider it "contact'' at all. I don't know what the plan is with JJ Barea, though ideally he can be cap-friendly enough going forward to earn a longer-term deal. (UPDATE: Meaning ... a one-year offer now?)
However … If JJB leaves, that doesn't mean the Mavericks are completely ready to hand over the job of
Jason Kidd
's caddie to Roddy B.
Beaubois as a backup combo guard is intriguing. (Maybe, hopefully, to teams like Orlando and New Orleans and New Jersey?) But the indications I get are that if JJB leaves, the Mavs will explore the acquisition of a veteran PG with a minimum contract to stop-gap his way through the season. (UPDATE: Sefko mentions Earl Boykins and Earl Watson, informational fruit gathered from the agents tree.
MAVS RUMOR CENTRAL: Who Likes Foster? - 1159am Dec 6 2011
I mentioned it in Donuts earlier this week and now Sefko is getting the same vibe: Indy center
Jeff Foster
represents a contingency plan for the Mavs.
No, he's no Chandler. And no, the Mavs aren't interested in competing with the Knicks if they really want to give him the MLE of $5 mil. But Foster – and players like him – might be needed to fill out the roster, depending on whether Chandler and Caron depart as free agents or as sign-and-tradees.
MAVS RUMOR CENTRAL: A Way To Play With The Warriors - 1159am Dec 6 2011
Play around with this: You lose Tyson to Golden State but bring to town Biedrins and point guard
Charlie Bell
. Biedrins is 25, does everything pretty well except shoot free throws (Gary Boren might fix that) and is considered a financial burden because he's got three years and $27 mil left on his contract. (UPDATE: And Bell effectively replaces JJB.)
Yet $27 million is one-third or one-fourth of the size of the commitment TY might be requesting. Then …
Caron leaves. And you replace him with a $1 mil vet. Doesn't look like
Grant Hill
is leaning here and
Tayshaun Prince
(if he and Carlisle are OK together) would be more pricy than that. But something like that … Oh, and with
Rudy Fernandez
maybe starting at the 2. …
And how much worse off is your roster than it was a year ago?
Stay competitive with a roster like that … keep your powder dry … and try to be a player for Howard/D-Will/Paul either in the 2012 free-agent derby or this year before the deadline.
If I'm not being clear enough: The Mavs are not prioritizing Caron Butler.
Marion and Haywood's comments indicate they understand the business end of this.
Marion: "Hopefully we'll be able to keep most of our team intact. That's the positive side of it, hopefully we'll be able to, but you never know.''
Big Wood, after saying he would be happy to be part of a TY rotation: "But if I get more minutes out of the situation, that's fine, too.''
You'd like a guarantee that this is gonna work? I don't have that for you. On paper, it appears that New Orleans, to pick one, is going to receive offers (from the Lakers) that Dallas cannot match. But once LA shoots its wad on one deal, it figures to be out of assets. And then it can be the Mavs' turn.