Sports Illustrated breaks the story in an odd but indisputable manner as reporter Sam Amick tweets:
"Orlando PR man Joel Glass calls to inform that D. Howard's agent now has permission to speak with Lakers, Nets, & Mavs about possible trade.''
If your first thought is, "Aw, Dallas doesn't have enough to give,'' you are thinking too small and you are thinking too fast. Don't get ahead of yourself here.
First, take a breath. Next, note that the sky is not falling. Third, note your owner's recognition of The SuperTeam Era and his distaste with him being one of its 25 Washington Generals.
Know that this aggressive approach is not new to the Mavs, who played polite with LeBron last summer but are trying to bully their way into being players this time around. They were offering
Tyson Chandler
a contract with the intention of dealing him to Orlando for Howard. Sources tell DB.com that it didn't work then due to three factors.
1 Tyson Chandler wasn't interested in playing along. (And will instead go to the Knicks. ... but I'm told the Dal-NY talks are continuing, and at 12:39 am Dallas time I know Mavs people are still at work.)
2 Orlando was not in seller's mode as of a few days ago, but was instead up until yesterday trying to keep Dwight and add. (That's changed.)
3 Dwight hadn't yet pushed the Magic with requests to be dealt. (That's changed.)
heck, that's all changed now. Friday at Magic camp, Howard was asked about his future in Orlando and he replied, "I'm here for now.'' Reports circulated that Howard has informed Orlando of his desire to leave – and of his wish-list topper.
Was it just to be with the Brooklyn-bound Nets? Was it just to be with the perennially golden Lakers?
No. The Mavs are in the mix, too.
It has long been Dwight's stated desire to play in a big-market and warm-weather city. Also in play: Joining a SuperTeam where he isn't singularly carrying the load.
The Lakers, with Kobe and maybe Paul, obviously qualify. They can give up Bynum in what might be the most attractive package to Orlando. The Nets are offering Lopez as the trade centerpiece, and Dwight goes there, he's in immediate concert with superstar pal
Deron Williams
.
The Mavs have a relationship with agent Dan Fegan. They have a relationship with DFW native Deron, too, and now you can go back to getting ahead of yourself.
Don't Dwight and Deron want to play together?
Now, how to keep those two twin dominoes from falling just right … Asking Superstar A if he'll come if you get Superstar B to come … and then asking Superstar B to come if you get Superstar A to come.
I haven't gotten to Dallas' post-Tyson package yet because I don't know of its specific makeup. Since July 12, 2010, I've known about "The Kitchen Sink'' -- Dallas' willingness to give up everything beyond Dirk to bring a second superstar to town -- and we know all of that is now in play. But so might be a large Trade Exception. And now you know why the Mavs worked on Tyson to be a sign-and-trade to NY; indeed, DB.com staffer Mike Bacsik decided to go obsessive on this subject tonight and huddled with Marc Stein ... and we think the sign-and-trade and TE might've been achieved.
Also, there are pieces being talked about in a three-way, and the way the Mavs have already budgeted down, there are expiring contracts on this roster that could open up eventual room for Orlando.
LA is talking about Paul. NJ is offering Nene. Dallas is closing in on Vince Carter. It's not known how those concepts are tied to the Dwight concept.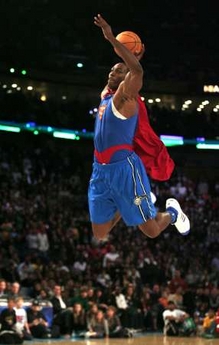 Dominoes needing to fall just right … or, if you are the very skeptical sort, a house of cards. But there are three teams in the Dwight game, and your
Dallas Mavericks
are one of them.
The Mavs are trying to play by these new rules. Or even nudge them.
To quote Dirk, "Donnie has the knowledge and Cuban always has got some stuff (up his sleeve). (Cuban) finds ways to get around the rules. ... We'll have to wait and see.''
We'll have to wait for the winner of the game. But the
Dwight Howard
game is on. And the Mavs have been dealt in.