DB.com's 75-Member Staff was in attendance at Mavs HQ at the AAC and we captured, well. ...
everything
. To organize all the thoughts, videos, photos, quotes and observations, we'll allow for each player, personality and theme to have their own individual sections.
WE BEGIN WITH DIRK:
*Dirk, yelling at Donnie, "Don't amnesty me, bro!''
The goof is the result of Dirk having started slowly in CHAMP CAMP.
"Kidd was joking yesterday that they were looking at amnestying me the way I played the first three days,'' Nowitzki said. "So I got to get myself going.''
*The UberMan as observer of The Triangle of Trust: "The last 48 hours were interesting. We brought some nice pieces in. So we're excited to get this going. We got less than two weeks. That's not a whole lot of time. So hopefully we'll get some good sessions here in the next week and really get everybody accustomed to playing with each other and get myself in a little better shape.''
*Dirk loves Larry O.
*Dirk will tolerate the Kardashian Experience.
"That's OK,'' Nowitzki said. "The NBA has always been a circus in the locker room. As long as (the paparazzi) don't stand outside my house, I'm OK.''
*And then Derek Holland threw WhiffleBall to Dirk and the day was complete.
MATRIX AT THE MOVIES:
Golden hair, DeShawn bonding and Scarlett Jo talk. Only from The Matrix and only at DallasBasketball.com:
Trix' Toy Drive. Wednesday night, 7-11 at The Fan Sports Grill, just across the street from the AAC.
KIDD'S OFF-COURSE:
Off the golf course, that is.
That tan you see, it cannot last. That comes from a summer of playing golf in his new "hometown'' of The Hamptons (is that a town?), where golf is everywhere.
Time to get back to being a pale-skilled gym rat, Kidd.
DOJO MO' TAT'S?:
It seems so. We will quiz him further.
Maybe more tats but definitely more muscle. DoJo tells us he still weighs about 220, 10 pounds over where he's like to get to - and that that'll only be a matter of days. But he is clearly thicker in the chest and shoulders.
OUR SCOOP ON RUDY FERNANDEZ:
No need for 'secrets' or 'sources' here. Mavs GM Donnie Nelson goes on the record with DB.com to explain why Rudy Fernandez - and his month of complaining that 'El perro ate my homework' or whatever - is earning himself a Denver Boot.
Donnie was saying all the right, polite things about newcomer guard Rudy Fernandez as the Mavs GM spoke to a horde of reporters at about 11 a.m. Tuesday at Media Day.
"Right now, we're trying to get him to Dallas ASAP, get him with the guys and then we'll see what the future holds," a smiling Nelson said.
But soon after, DallasBasketball.com met with Nelson in a one-on-one session and Donnie revealed to us the truth about the issues that have TuBasket.com and HoopsHype being the first to report that Moody Rudy is being dumped to Denver.
"There really are some paperwork issues there,'' Donnie said. "But to be honest, on our side, a lot of things have changed in the last few days -- obviously! -- and that changed the way, I guess, he was looking at things here.''
Among the things that have changed in the recent days (well after Dallas acquired the talented but erratic Spaniard from Portland on Draft night for a late-first-round pick): The Mavericks' smooth and rapid pickups of competition for the playing time Rudy once assumed would be his.
"Yeah,'' Donnie told us, "he'd be in a situation now where we've got a crowd of guys who are really going to compete for time at the 2-guard and on the wings. It's going to be a good camp with everybody here because Vince and Lamar and guys like that, in addition to the established guys like Jet and the kids like Roddy ... lots of competition, and that is a change.''
A change, we asked from something Rudy previously figured on? What had Rudy figured on?
"Being the starting 2-guard,'' Donnie said frankly.
And let us tell you, it's not just the front office that rolled its eyes there. You want a "defined role'' on a Rick Carlisle-coached Mavs team? You'd better be Dirk Nowitzki's twin brother. Because short of that, there is no such guarantee here for anyone.
We're disappointed to see Brewer go (though Cap Space is King, you know.) But they did not have time to dawdle about with Fernandez, 26, who has a long-standing reputation as a very bright man with a drama-queeny streak. He pulled assorted homesick stunts in Portland. He recently signed a multi-year contract with Real Madrid. He almost certainly was prepared to negotiate a buyout of his $2.18M deal here, and now more than ever, it seems that after this 2011-2012 season he will return to play for Real Madrid.
CBA rules changes being what they are and championship visions being what they are, Dallas has taken this sort of approach even with the greatest center in Mavs history, Tyson Chandler:
We will do everything we can to accommodate you within our franchise framework, and if that doesn't work, heck, we'll even help you make a smooth exit.
Rudy doesn't want to be here within the franchise framework? Fine. How helpful need Dallas be to blow his dark cloud elsewhere? His issues will be shipped along, as will his invisible-ink visa and his playing time demands and his unwillingness to do the singular thing that all champions have in common: Compete.
So Moody Rudy is getting the boot. The Denver boot, or wherever. Doesn't matter as long as he doesn't want to compete to be here.
WHO IS ... NIETZEL?:
As he headed for an interview, Brendon Haywood put his hand on a DB.com shoulder as we snapped a photo of new Mav camp-fodder guard Drew Neitzel.
"Man,'' Big Wood fake-groused at us, "are you for real?!''
What? We can't have an affinity for small, skinny white, young point guard who look like they'd fit right in as one of Fish's DB.com lieutenants?
VINSANITY, DB.COM VIDEO VISIT STYLE:
Yeah, he did gang-bang interviews. But you know how we like to roll: One-on-one. And only the good stuff:
Donnie on VC: "He wants to sip from the cup,'' and can you not sense the same?
VC, later in the press conference, on his high-flying ways now that he's approaching 35: "I'm really not into trying to jump over people any more. That's an overrated experience. You don't realize the risk. And it takes a toll on your body. I save that for special moments, whenever that is. I think now that 'two points is two points. It doesn't really matter how you get them.''
Dig our DB.com photo of VC. We like it. It's shiny and stuff.
CARLISLE'S STATE OF THE UNION ADDRESS:
We hear so much from Rick -- he's obliged to speak after every game, practice and shootaround -- that we'd thought we'd keep this one crisp.
"It's pretty much assumed that when you play or coach in Dallas,'' Rick said when asked about the prospects of the world champs repeating, "the expectations are high."about 9 hours ago
Take that as a "yeah, we can.''
OH, OK, SOME MORE DIRK:
He modeled the new Mavs road uniforms. How to describe them? Well ... well, you know, after so many variations in the last few years on the same themes, we would describe them as being blue.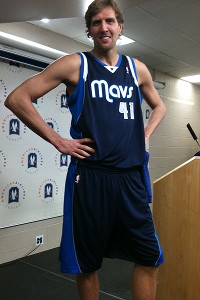 LARRY O'BRIEN, LAYIN' AROUND:
The fellas kind of treated it like it was last year's Big Thing ... it spend a lot of time serving as little more than a doorstop, basically.
Who is in charge of this!!??
BRANDAN WRIGHT, THE CENTER?:
This man does not look like a center to us. DB.com understands that Dallas is continuing to search for an additional center.
Not counting the Dwight Howard one, of course.
We think of Brandan as a 4. So did Dallas, as of a few days ago. And here's the reveal of the truth: "Brandan Wright is a 'Brandon Bass Starter Kit," according to Donnie.
And Brandon Bass, the scrap-heap talent who made something of himself here, was not a center. We're with DB.com columnist Mark Followill who called us Tuesday night putting forth the ideas of Fesenko, Mbenga, Przybilla and any big bodies Denver has lying about.
We're checking.
THE CUSTODIAN PUSHES A BROOM:
We knew Dirk wouldn't let Brian Cardinal down! Hey, the Custodian might look old enough to semi-retire as a Purdue volunteer assistant, but there are still NBA bones to be rattled. So he's back, knocking down foes and picking up Dirk's luggage.
WHERE'S DELONTE?:
As Rick said earlier in the week, "Logistics are logistics,'' referring to the travel issues involved in assembling his new crew. "If you trade for a guy, you can't just Star Trek beam him here for practice. We will engage these guys as quickly and as effectively as we can. Before you know it, we'll be another week into this and they'll be right in the middle of it."
There was a tad of uncertainty among some of the players, most notably Marion, who thought he was whispering a scoop to us when he told us he thinks West is en route.
But it's done now, a one-year deal along with a proclamation from Rick that Delonte "is going to be our backup point guard.''
West has some combo skills like Barea did and some "edginess'' (Rick's word) like the departed Stevenson.
And we hope he's more goofy than dangerous, that he overcomes a reputation as someone not completely committed to taking his meds, someone who has dealt with weapons charges, rumors of inappropriate inter-team relationships and a well-publicized battle with a bipolar illness.
Again, though, at this point ... why not trust The Triangle of Trust?
DONNIE NELSON, MASTER OF ASSET MANAGEMENT:
We'll allow you to play reporter. Jump into the media throng. Lean in. And let Mavs GM Donnie Nelson tell YOU -- in his own words, without any scissor-handed editors or smart-ass writers having input -- what the Mavs are doing, thinking, planning:
No scissor-handed editors. No smart-ass writers having input. Just Donnie, talking through DB.com, to you.
Bullet-pointing Donnie:
*Donnie on The Plan: "Long Term flexibility is going to be key to the health of our franchise"
*On the past week: "The craziest four or five days I've ever seen"
*Donnie on if he's done making moves: "In the NBA you're never done."
ODOM'S CULTURE SHOCK:
Lamar Odom's initial appearance as a member of the Dallas Mavericks featured a classic fashion set-up: Business in the front, party in the back. The rear of Odom's shaved head featured a crown of stars shaved onto his skull. Meanwhile, as the ex-Laker and pop-culture icon was introduced to Dallas via the defending champion's Tuesday Media Day, the front of L.O. was all business.
"It's hard, it's hard, it's hard,'' Odom said of repeating as NBA titlists, something the 2010-11 NBA Sixth Man of the Year accomplished with the Lakers in 2010. "If (Dallas) thought winning the championship was hard, defending it is going to be tougher. Everybody's coming for you rather than you doing the hunting which changes the mindsets of teams and your team.''
Then Odom, meeting the press at the American Airlines Center, seemed to take a breath for re-evaluation.
"But,' he finally added, "if a team can do it, this one can.''
Odom and Vince Carter were the featured newcomers in a Media Day that was juiced up by an assortment of news items, including the trade of "Moody Rudy'' Fernandez and Corey Brewer to Denver that netted Dallas nothing but future cap space (significant in the Dwight and Deron chase, of course). There have been other days to talk about Dirk Nowitzki and his returning cast of champions. But this was a day to give some elbow room to Odom, who seemed a bit distraught by the last few days' events.
"It's surreal,'' he said. "It's definitely surreal.''
On the floor, the arrangement might only seem "surreal'' to opponents that figure to struggle in combating what Dallas coach Rick Carlisle characterizes as the NBA's best trio of forwards, with Odom joining incumbents Nowitzki and Shawn Marion. But it's the front-office machinations that have Odom's shaved head spinning as he feels "disrespected'' by the Lakers for having shipped him to New Orleans in the controversial eventually-vetoed Chris Paul mess.
"I think when you think about it, that kind of says it all,'' Odom said when asked about his ensuing trade request out of LA. "I guess it was just time from their standpoint I guess they just felt like, 'To hell with it.'''
Odom's request specifically leads him to Dallas, a city big enough to support he and wife Khloe Kardashian's reality-show moonlighting and a team gifted enough to help him to another title.
"This is the place I wanted to be,'' Odom said. "After I realized that I most likely wasn't going to (stay in LA), Dallas was the one place where I thought I would be a great fit.''
Odom and his wife are, I'm told, considering headquarters in DFW that will accommodate their lifestyle and their TV show. Among the options are the W Hotel in downtown Dallas, across the street from the AAC, and a McMansion in a gated golf-course community in Las Colinas adjacent to the Four Seasons.
But it seems anything will do, as long as it's not New Orleans.
"I can't cuss,'' Odom told reporters, "but that's not where I wanted to be. No disrespect to anybody (in New Orleans) but it's not a place that I wanted to be after playing for the Lakers, a team that contends for a championship, that's what you expect to be around.''
He's around it again, as he's usually been in a stellar career that has earned him a reputation as an all-around player and an All-Star-caliber one.
Odom said he is "weirded out'' by being a footnote in the failed Paul deal, one of the oddest non-transactions in sports history. But he's ready to bring his championship pedigree to Dallas – as long as, teammate Nowitzki says, the tabloid silliness has its boundaries.
Back to that pure-gold Dirk quote.
"That's OK,'' Nowitzki said. "The NBA has always been a circus in the locker room. As long as (the paparazzi) don't stand outside my house, I'm OK.''
And once Lamar Odom gets his bearings, he'll be OK, too. Front and back.
THE DB.COM PODCAST - FOR YOUR EYES!:
This is pretty slick, if we say so ourselves, as we film the The DB.com Podcast For Your Eyes on the Mavs floor at the AAC while sitting on the Dallas bench:
Two of the members of The 75-Member Staff obviously need a wardrobe allowance. But otherwise ... slick.
FREE RODDY B:
We asked around. With all the shuffling in, including Delonte, we're told Roddy B is "still very much in the plans.'' Good.
We like Roddy B and still have t-shirts to be sold.
CAP SPACE IS KING:
We like to let D-Lord handle the heavy-lifting of the big calculator here, but for the moment let's go with this: The Rudy/Corey move erases about $5 million from the ledger for this year. We think the Mavs are still over the lux-tax, but it's close, at about $70M. Another signing or two (another center, we tell ya) will push 'em over, but ... it's close.
And next summer? Dallas can easily make two moves and create $25M of cap room. And you know what that can mean.
SOUND THE ALARM!:
It was 2:41 p.m. on the eve of the Dec. 9 opening of NBA free agency. Dallas Mavericks officials were hard at work at Mavs HQ at the American Airlines Center when an alarm sounded.
"Vacate the building!'' a recorded voice ordered as the siren wailed. "Vacate the building!''
It was more than symbolism. At that moment, Chandler, Butler and Barea – three members of the world championship team of 2010-11 – were in the process of accepting large contracts to play elsewhere. Chandler is now with the Knicks at four years and $58 million. Caron is with the Clippers at three years and $24 million. JJB is in Minnesota at four years and $19 million.
But while some have followed the siren song to "Vacate the building!,'' others have entered through the AAC turnstile. And at Mavs Media Day the defending champs had some introducing to do.
So they did. There is no moody funk here. The spirit is as always. At Mavs Media Day, and starting again with CHAMP CAMP on Wednesday, it is a time to arrive, to start anew, to begin the attempt to repeat the old.
Sound the alarm. Again.