PREDONUT:
So you're a little bummed that the 2010-2011 NBA Champion Dallas Mavericks roster isn't coming back 100-percent intact, especially Tyson Chandler. I get it, I was too. It's tough seeing guys who played such prominent roles leave for what feels like nothing.
You, like me, probably spent a fair portion of last week wondering what the heck was going on in both the Mavs' front office as well as the NBA headquarters.
Fear not, Mavs' fans, there is a plan. There always is; this team does not suffer from a lack of intellectual capital in the front office.
Just because the whole gang won't be coming back isn't, by itself, a cause for dismay. On the contrary, grab some coffee, because your Morning Donuts today are 12 reasons for Mavs fans to be genuinely excited about this team in the coming NBA season - excitement that we bet will be generated in part by what we witness tonight starting with the 6:30 tip at the AAC:
DONUT 1:The Victory Lap:
This is perhaps the best thing about the league and players' union putting aside their differences and striking a deal. Winning a championship is certainly special and none of us will soon forget all the magical run the Mavericks went on in last year's playoffs, but now the real fun begins for fans. Every night that the Mavericks take the floor they will be introduced as the reigning champions. The Larry O'Brien lives in Dallas until someone comes and takes it. You are free of MavVirus, and
your Championship T shirt hasn't seen enough wear yet.
Let it out, and enjoy the ride. You deserve it -- not just starting on Christmas Day, but now! -- and so do the Mavs.
DONUT 2: New Faces:
Maybe you're not sold on the idea that Vince Carter, Lamar Odom, and Delonte West are an upgrade from JJ, Caron and Tyson. As pleased as we were with their word in the Friday Blue-White scrimmage, I wouldn't necessarily disagree, but the arrival of Carter, Odom and West certainly mitigates the sting of losing guys we were attached to. As Cuban mentioned, many championship teams form an emotional bond with their players and hang on too long with guys they probably otherwise shouldn't. Furthermore, it keeps the team contenders this year with big moves right around the corner.
In the case of Odom, his arrival brings much-needed size and now affords the Mavs with an almost silly degree of versatility from their SF/PF positions with Marion, Dirk and Odom.
That's three starting-quality players who can each (to varying degrees) score, rebound, pass and defend aptly. Not only does that make your Mavericks more dangerous, but it also weakens one of their main competitors, the Lakers, in the process. Think about this: the Mavericks are collecting guys who used to be responsible for guarding Dirk. Marion and Odom have both been charged with that task in the past.
(Now some of those guys can chase around Kevin Durant.)
Furthermore, they managed to acquire Odom on the cheap (a Trade Exception and a first-round pick). His contract even allows the Mavs' flexibility in the future with a team option for the 2012-13 season.
Also, don't be surprised if these aren't the last new faces to blow through the door this year.
DONUT 3: Seeing what the Kids have: Roddy B and DoJo:
Between the demands of a compact 66-game schedule and the departures the Mavs have absorbed over the past two weeks, Roddy B and DoJo should be expected this year to take on bigger roles. How they perform in these expanded duties will go a long way in determining how the Mavericks fare as a team. Injuries and ineffectiveness destroyed last season for Roddy and it will be interesting to watch how he recovers from a subpar campaign. Similarly, a foot injury also claimed the better part of DoJo's season last year and it will be fun to keep tabs on how the Mavericks' version of Dwayne Wade fares this season.
There's so much we know about the Mavs personnel. Roddy B and DoJo are two elements we need to know more about.
DONUT 4: The singular greatness that is Dirk Nowitzki
Just because it's obvious doesn't make it any less true. Dirk Nowitzki is a once-in-a-generation talent and even more rare of an individual. Savor it, Mavericks fans. Dirk turned 33 this year and though his game will age gracefully, he wont be around forever. Savor it.
One day you'll tell your children or grandchildren that you saw Dirk play (and win).
We don't need to see him tonight, though knowing his relationship with the fans, he'll surely make an appearance ... and maybe even throw more goodies into the crowd.
DONUT 5:
Seeing what Donnie and Mark cook up: With the ratification of the new CBA, the rules of the game changed. At Media Day, Donnie reiterated that "Long Term Flexibility" is the front office's guiding principle. The dump of Rudy Fernandez and Corey Brewer for a second-round pick illustrates that. From a pure talent standpoint, the Mavs' would certainly be judged as 'losers' of that trade. But remember, as Fish was the first to illustrate, this is "The SuperTeam Era.''
Of course, just when you wonder if last season's Finals looks more and more like the last gasp of "team basketball'' in the old sense. But then you watch these Mavs practice and scrimmage and ... well, watch tonight. This is a ball-movement group, an unselfish group. The fellas will fit.
Regardless of what you think of their moves on paper, you must give Donnie and Cuban credit for being proactive and nimble enough to change course to try and remain competitive -- and to continually add pieces that fit. By and large, over the past decade, the Mavericks have very creatively thrown money at their problems and it's been quite successful. You don't blunder your way into 11 straight 50-win seasons.
However, they now feel, correctly, that this model is unsustainable within the parameters of the new CBA. The winds have changed directions and Cuban and Nelson are trying to retain a competitive advantage in the new climate.
Further, no matter how you read the tea leaves, it's clear that Cuban and Nelson are planning on taking a very, very big swing next summer, at the latest. And in the meantime, what we will see tonoght has the makings of an elite team, just as it is.
DONUT 6: The Schedule of 66 games
Regardless of what you feel about numerical symbolism, this is an interesting number. In the original schedule the NBA released, the Mavericks faced Miami and 55 other post-Christmas opponents. Now, since nobody gets paid if nobody plays games, the NBA has crammed 10 extra games into that period. It's not quite the 41-game sprint of 1999, the last season to be shortened by a lockout, but each game means just a little bit more. In fact, each game in a 66-game season equates to approximately 1.25 games in an 82-game season. Therefore, a dropped game against a lowly team in carries a bit more weight than usual, and a streak carries even more consequences.
Each game counts, but this year they count a little bit more, while at the same time coming at teams more frequently. This might not benefit a team with the collective age of the Mavericks. Thankfully, the Mavericks have assembled enough talented depth on this roster to combat this grind.
Brendan Wright and Brian Cardinal are both under the weather this weekend, which is too bad, because their participation would be of assistance to a Dallas team that needs to get through tonight and Tuesday at OKC (a 7 p.m. tip that ends the two-game exhibition campaign) and get to season-opening business.
By the way, about that grind: It could be considerably worse. The Boston Celtics, for instance, face one stretch of seven games in nine nights and they don't have the depth the Mavs possess, especially with their backup PG now occupying the same role in Dallas.
DONUT 7: March 6th – The Return of Chandler
This will be a little awkward.
Chandler made a strong connection with his teammates and an emotional one with fans during his short stint in Dallas. Such are the fruits of a championship run. Chandler was universally thought to be priority No. 1 for this offseason in order for the Mavs to remain contenders. However, the braintrust was driven in a different direction by the rules changes, and that's OK. Until the Mavs make a move that blows up in their face, have faith.
That doesn't mean there haven't been mistakes made, but no failure is fatal. Failure to change can be. (Thanks, Coach Wooden). The Mavericks have changed, and Chandler was a casualty of that change. He wasn't the first casualty, and don't expect him to be the last.
Therefore, when he arrives at the AAC on March 6th, flanked by Melo and Amare, don't boo. Instead, when Chandler's name is called, stand and cheer. Loudly. Not only is it the classy thing to do, but Chandler also deserves his contributions last season to be rewarded, and not just with the Knicks' money.
While you are at it, though, make sure to reserve some of your cheers for Big Wood and The Ianimal. Starting tonight. Based on some of their sketchy work in the scrimmage, they could use your support.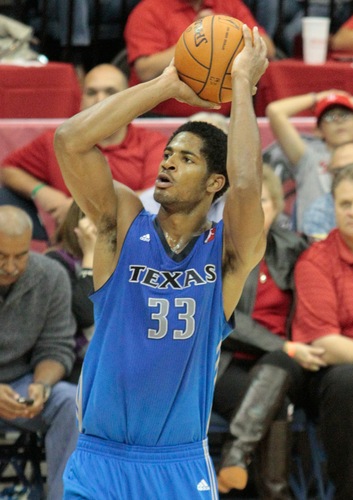 DONUT 8: Whats going to Happen with End-of-Bench Roster Spots?
And now we're talkin' about what is really going down tonight. With the trade of Fernandez and Brewer for some extra light bulbs (excuse me, a maybe-some-day second-round pick), the Mavericks have room for more. That is, if they so choose to immediately. The Mavericks have a need for an interior defensive presence and (I say) a wish for a defensive-minded wing, and I don't think Drew Neitzel is the answer for either.
But you know, Neitzel is here for a reason. And another little guard, Randle, is here for a reason, too. (And so far, a better one than Neitzel's.) Before the exhibition season can be for guys who aren't here, it ought to be used to serve the Neitzels and the Randles.
If you are a Mavs Premium Subscriber (for just pennies a day and a free 7-day trial!) you already knew this ... but there might be another body coming to DFW ... a big body to serve as a third center. You'll read about it everywhere else late tonight or on Monday.
Again, if you follow DB.com Mavs Premium, you knew about this on Friday.
DONUT 9: The Rise of the Super Teams
We are witnessing a struggle for power in the NBA. An "Arms Race,'' as Donnie likes to call it, but with more warriors involved. The lockout was supposed to decide who was in control, players or owners, and despite the massive win the owners rung up in negotiation, it seems the fundamental issue of control is not completely solved. Superstars want to play with each other. Small-market owners are afraid of losing their most valuable assets. This tussle doesn't seem to be settled yet. Had the league not owned the New Orleans Hornets, Chris Paul would be practicing with Kobe today. Instead, he'll be throwing lob passes to Blake Griffin.
Paul is not the last superstar to change teams, and with the rise of the Heat, the presumed ascension of the Knicks, we are seeing the beginnings of the Super Team Era. Thankfully, the Mavericks are positioned to compete in this environment as they proved last season. Further, with the moves made and flexibility attained, the Mavericks will be a player in this era both now and in the future.
It remains to be seen, however, whether the SuperTeam Era will ultimately be good or bad for the League.
And then, again specific to tonight: Is OKC a SuperTeam? Aren't they among the faves in the West? Didn't they just qualify for the West Finals? Let's give them some respect, OK?
DONUT 10: What will happen with the Mavs' biggest rivals?
Among the Spurs, Lakers and Grizzles, none can be said to have gotten objectively better. In fact, the Lakers have actively gotten worse by trading one of their premium assets, Odom, to Dallas. (And that's not even counting The Vanessa Issue.) It could be argued that Oklahoma City and Memphis will benefit from an extra year of seasoning, and the Grizz will have Rudy Gay back this year. Even if the Mavericks only broke even with all their roster moves, no one outside of the Clippers made significant upgrades to their roster, and it will be fun to watch how the dust settles in the Western Conference.
Oh by the way, it's rumored to be Tim Duncan's last season in the NBA and do you perhaps hope the Mavs might meet the Spurs in the playoffs this year? Wouldn't that be delicious?
Tonight might me another match on another fuse that creates a Dallas-OKC rivalry. We're rooting for that.
DONUT 11: What will Carlisle do with his lineup?
As mentioned, there is an unprecedented amount of versatility on this roster. By my count, nearly every player on this roster can play or defend more than one position.
How will Carlisle use this these toys?
With three starting-quality forwards, who starts? Who finishes? Who guards whom? There won't be defined roles, at least not initially. Players will have to "Be Ready'' and I'd advise you to do the same.
DONUT 12:
Come follow Fish and the Mavs on Twitter! The whole 75-Member Staff will blanket-cover this and every Mavs event!
Follow @fishsports
Follow @kevinbrolan
Follow @coopmavs
Follow @mdug
Follow @thechuckperry
Follow @mfollowill
DONUT 13:
The Chase for 12x50 (or A Winning Percentage of 61). Yeah, winning 50 games this year might be a bit tough, particularly with the new faces in the room. Assimilating those pieces will take some time before the right harmony is struck. On the other hand, with The Rise of The SuperTeams, there are plenty of have-nots in the league the Mavs should be expected to beat.
The 66-game season equivalent of 50 wins (61 percent wins), is 40.2 wins. Outside of basketball, no one will tell you that "40 is the new 50,'' but this season it is true.
Even after tonight, Dallas will be 0-0. But a real one is coming. And there are these 12 reasons to be fired up about what is on the horizon. ... DallasBasketball.com will be all over it tonight and beyond. We hope you'll join us!