*At the top of the wish list is
Chris Kaman
, the former All-Star just shipped to New Orleans in the Clippers' trade for
Chris Paul
. The Mavs are admirers of his game -- especially because he would provide an offensive threat in ways Haywood cannot (including making free throws).
Dallas has touched base with the Hornets about Kaman, but we're told N.O. has no plans to move him. ... at least not at this time.
Our understanding is that Dallas would not be troubled by paying Kaman his $12.7 million. But the Hornets are in no hurry there, either (as David Stern recently taught the world) and with Kaman an expiring contract, he's got double value to New Orleans.
Dallas would be happy with Kaman teaming with German buddy Dirk, would be happy with him as an offensive threat, and would like that double value.
But such a deal isn't happening soon, if at all. And there's one more issue here: When our David Lord plays with the possible trade combos that would make a Dallas-New Orleans swap happen, not much aligns properly.
*Spending big money is not the case for some of the lesser lights, though, including
Theo Ratliff
, who is the source of some interest from the Mavs.
Ratliff is 38, but remains a talented shot-blocker (he's led the league three times in blocks per game). There is some buzz about him retiring to his home in Atlanta, but maybe the fact that only once has his team advanced beyond the second round of the playoffs might make one more go in Dallas a consideration.
*Next on the exploratory list is
Joel Przybilla
. He's big and experienced and offers defense and toughness. But he's coming off knee surgery and doesn't seem in a hurry to make a decision. Maybe the Bulls, Bucks and Blazers will eventually give him more than the minimum but my impression is that is the number Dallas would like to discuss with him. Meanwhile, Joel -- a Minnesota native and avid outdoorsman -- is apparently telling people that he'd like to remain in the Midwest.
* A handful of ex-Mavs centers are available.
Alexis Ajinca
is close with Roddy B and Mahinmi and is just 23 and is available after having been shipped away to Toronto last year.
Erick Dampier
is 35 and hasn't been asked back to Miami. I do not believe Dallas is interested in
Etan Thomas
or the entertainingly knuckleheadness of Ryan Hollins.
D.J. Mbenga
, 30, could be useful and bears more investigation by DB.com.
*It seems Sam Dalembert is going to get bigger money somewhere other than Dallas. (The Rockets seem especially desperate, do they not?) ... though that JJB sign-and-trade idea with the Kings was a juicy one.
* Mentions of
Kyrylo Fesenko
,
Dan Gadzuric
and other difficult-to-spell names do not seem to especially excite.
I'll give you two more names:
*
Solomon Jones
, who at 27 has moved from "prospect'' to "suspect'' and was last seen buried on the Pacers bench.
*
Sean Williams
, and there is a great deal of sense to this one if the Mavs are in the mode of trying to add an experimental body now before shooting for a super upgrade in the spring.
The Mavs know him from his successful stint with the D-League Texas Legends. He is a terrific shot-blocker, has NBA experience with the Nets (after having been the 17th overall pick in 2007), is a native of Texas and a product of Mansfield High School and is in contact with Mavs officials while he plays with Maccabi Haifa B.C. in Israel. He's got an contract out to return to the NBA if he gets an offer.
Oh, that stint last year with the Texas Legends? He played in 49 games during the 2010-11 regular season (46 games as a starter), averaging 14.4 pts, 2.9 blocks, 9.4 rebounds and 0.8 steals per game.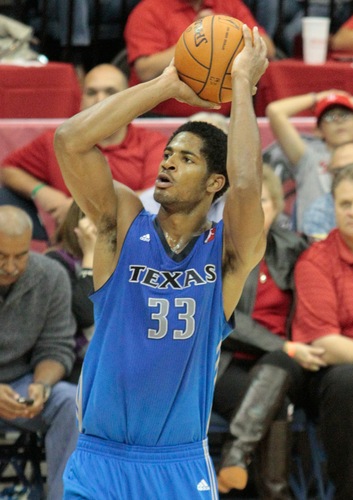 He's no Kaman. He may or may not be able to accomplish some of what Ratliff could. But some of the pieces do fit -- including the $1.4 million veteran's minimum piece.
At least until the biggest swing of all: Dallas dealing with Orlando, where Dwight Howard says his trade request "still stands ... "There is no back-and-forth."
Orlando reportedly turned down NJ's offer of a three-team deal that would've netted the Magic a package featuring Brook Lopez from the Nets and Blazers. The Mavs eventually need to beat that offer. But in the meantime, they need a functional third center.