DONUT 1:
Who gets the big bank account, the charming German TV commercial and the free cheese?
The champs get the cheese.
DONUT 2:
Mobility seems to be a requirement of membership in the Southwest Division these days, the changes in the rules and the competitiveness of the teams pushing the defending champion Mavs toward frenetic transactions and causing the Spurs, Hornets, Grizzlies and Rockets to dash about in order to catch up.
Last year this was the NBA's deepest division. This year it is its most transient. Dallas is trying to survive in one circumstance as it did in the other.
DONUT 3:
The
Dallas Mavericks
were 57-25 last season, good for second in the division, and, of course, NBA champs. Mavs bosses Mark Cuban and Donnie Nelson were quick to absorb the ramifications of the new CBA, which meant scrapping a plan to bring back center Tyson Chandler and the handful of other free-agent heroes from last year's title squad.
"That was the four or five craziest days I've ever been involved in,'' GM Nelson says of this year's end of the lockout, opening of deal-making and start of training camp. "I've been guzzling a lot of coffee.''
DONUT 4:
As a result of the craziness, Chandler, Caron Butler, JJ Barea and DeShawn Stevenson are out. Their newcomer replacements include Carter, Delonte West and Lamar Odom, who does arrive in Big D with considerable baggage of a sort.
The Kardashian family is coming to town. That means the "Khloe & Lamar'' TV show on E! is moving from Hollywood to North Texas. It means the couple (and their huge entourage) plans to rent an 11,000-square-foot residence at the W Hotel across the street from American Airlines Center. It means the sisters will open up a boutique in town called "D-A-S-H,'' part of an empire that earned the Kardashian family $65 million last year.
Is any of this a problem for the Mavs?
"Khloe's my favorite Kardashian,'' says a playful coach Rick Carlisle. "She's the coolest.''
DONUT 5:
Actually, the coolest personality in town is Dirk Nowitzki, the NBA Finals MVP and the centerpiece of everything the franchise accomplishes. On the first day of media availability at the AAC, "The UberMan'' marched around the boundaries of the practice court to shake hands and greet every member of the attending media. In his conversations that day and since, he's talked very openly about how "they can never take away'' the Larry O'Brien Trophy captured by the Mavs.
What he talks about in more private moments is how much he wants another one.
DONUT 6:
Lest we forget, the San Antonio Spurs actually were the division winners a year ago at 61-21 -- but were then first-round upset losers to Memphis.
Now, Gregg Popovich has something that's worked for the better part of a decade-and-a-half. So maybe it's foolish to questioning whether gaining nothing but Kawhi Leonard and T.J. Ford (and age on Tim Duncan and Manu Ginobili) will leave the Spurs in the dust of teams like Dallas or Memphis.
But this much is true: The Mavs no longer shudder at the thought at San Antonio is their wicked big brother, and the young Grizzlies must feel like they can run circles around those old fellas.
DONUT 7:
And Tony Parker himself seems to have admitted to the same thoughts.
"At the start of (last) season, I said this was our last chance,'' Parker told "L'Equipe" last May. "Tim and Gino are getting old. It's going to be tough to regenerate ourselves. We will always have a good team, but we can no longer say that we're playing for a championship."
Yes, maybe that's foolish of us to say that about a Popovich team. But we didn't say it; Tony Parker did.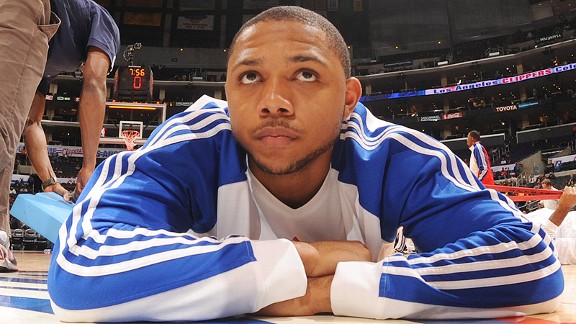 DONUT 8:
The New Orleans Hornets were in third place at season's end a year ago, having finihed 46-36, before they gave it a go and then lost in the first round of the playoffs to the Lakers.
These Hornets, of course, are not those Hornets.
N.O. will not finish third in the division this year. In fact, the struggling franchise – overseen by commissioner David Stern and the other 29 league owners – is without a buyer and without a superstar now that Chris Paul has been moved to the Clippers.
Front-line stalwarts David West and Carl Landry are also gone, leaving the Hornets looking every bit like a franchise that will most benefit from being a lottery team.
Ex-Clippers Eric Gordon and Chris Kaman are enough to keep New Orleans looking like its completely tanking. But the Paul trade sets up this team to have two real goals: Make cap-space-minded moves (who knows how long Kaman and his $12.7 million expiring contract will last there?) and enter next summer's draft with the hopefully high pick acquired from the Clippers (which is Minnesota's unprotected) and the hopefully high pick they earn themselves by being lousy.
DONUT 9:
The Memphis Grizzlies finished the year in fourth place at 46-36. They topped SA in the playoffs before losing in the second round to OKC.
Over the course of Dallas' 11X50, we've seen so many "hot young up-and-comers'' become "came-and-went'ers.'' Was the Grizz' thrilling work in ousting the heavily-favored Spurs the start of something big? Or are the Grizzlies about to realize that it's much easier to make the bad-to-good leap than it is to go from good to great?
The leadership of Miami-bound Shane Battier will be missed, but maybe the maturation of Zach Randolph – now a legit star in some quarters – can make up for that. Surely the healthy return of Rudy Gay will help, too; Memphis accomplished impressive things late last year when Gay, yet another budding star, was unavailable due to a shoulder injury.
Memphis doesn't need new people. The Grizzlies just need their present personnel to keep improving. That goes for Randolph and Gay, and for center Marc Gasol, too, who re-upped after flirting with restricted free agency.
Those three guys allow the Grizzlies a variety of ways to win. … maybe enough to contend for the top spot in the division.
We feel like we have a team to make a run for the championship," point guard Mike Conley says. "The sky is the limit.''
DONUT 10:
Don't you almost feel sorry for the Houston Rockets?
I said "almost.''
They were good last year, 43-39 good. But those Rockets are all-time finalists for that "Best-Worst Team'' competition. The Rockets' 43 wins a year ago would've been good enough to allow them to finish sixth in the East. But misfortune seems to plague Houston, which has attempted to transition from the injury retirement of Yao Ming but cannot quite get over the big-man-acquisition hump.
Last summer GM Daryl Morey chased 'em all, from Chris Bosh on down, with no success. This year he was the third team in the quashed Paul-to-the-Lakers swap and was going to be giving up good pros Luis Scola and Kevin Martin but getting Pau Gasol (and as the plan was to go, Nene from Denver, too).
Instead the Rockets will mostly hope a coaching change, from Rick Adelman to Kevin McHale, will be the difference-maker.
"Who gives a (bleep) how hard it is?'' Morey tells the Houston Chronicle. "No one cares, nor should they. We don't have any excuses. We don't care; we're going to keep fighting and winning. We're going to keep trying to make this team a team the city can be proud of and get it back to being a championship-caliber team."
DONUT 11:
DallasBasketball.com will chronicle all of it, as we have for 12 years, the 75-Member Staff covering every practice, every game, every move ... and bringing it to you on so many levels. We're here every day with free content. inside for
For the serious Mavs fan, there is Premium Membership for just pennies a day. (It starts with a free 7-day trial!)
I'm proud to once again be part of the FOX Sports Southwest team that is scheduled to bring you all of the locally-telecast games during the 66-game season. It is our business and our pleasure, our occupation and our passion, to be here to serve you.
And to be on the front row as the Mavs try to do it again.
DONUT 12:
To be a championship-caliber team, all the clubs in the Southwest must chase and catch the Mavs. And take it from the veteran Vince Carter, this is the time of year – when everybody is 0-0 – when there's reason to be optimistic about that chase.
"(The Mavs) just made it happen," said Carter, who observed Dallas' first world title in its 31 years of existence while a member of the Suns. "It takes a lot of luck and opportunity, and they seized the moment. Could people honestly say they were going to win it at the beginning of the year? No, not really.
"(But),'' he adds, "when you put a team like this together that's committed and when you get a bunch of veteran guys, anything can happen."