What If?
In my role as DB.com's Doctor of Contrarianism, I'm obligated to highlight the potential pitfalls the defending champions face in the form of these anxiety-driven 'what if'' Donuts. In the past I would have called these MavVirusy, but that scourge was laid to rest last year. Now, I don't think all of these will occur, and it's possible none of them will. However don't be surprised if at least one of these does, and each, by themselves, could derail the Mavericks in this unique, compact, season.
DONUT 1: What if The Defense fails?
It's not exactly a secret that the success of last year's team was built, primarily, on the defensive end. A fair portion of that was due to having an elite rim protector in Tyson Chandler. However, as evidenced in the Finals, the Mavericks did not suffer from a lack of perimeter defense either. With tenacious defenders like Stevenson, Kidd, and Marion, the Mavericks were more than capable on the perimeter, especially with someone like Chandler behind them, marshalling the defense and covering a multitude of mistakes.
This year, Chandler will attempt to atone for the defensive sins of his Knicks teammates, who are far from stoppers. Therefore, the Mavs' interior D will almost certainly suffer. Though hopefully some other Maverick(s) will step up in an attempt to fill the leadership void created by Chandler's departure, no current member of this roster can approximate his talent.
Furthermore, I have my doubts about the defensive abilities of a Kidd/Carter backcourt. Last year, Kidd would often guard opponents' 2's while Terry or JJ guarded the 1. This year, that won't often be possible with Vince Carter. Therefore, I believe you'll see quite a bit Delonte West in the backcourt with Kidd, which creates downstream problems of its own.
Maybe the Mavs will eventually get the zone cranked up. "I don't know,'' Nowitzki said. "Usually, a zone can be a game-changer when the other team runs a play you can't stop, when the pick-and-roll is hot or a post-up guy is hot, then you throw in the zone. But, if our man-to-man is fine, which it was last year, then some games we didn't even use it.''
So far this year, we suspect the team hasn't had time to perfect it.
Maybe Jet will again surprise as a defender. Maybe the Mavs will overcome all this by once again being capable perimeter defenders. But this team will still struggle (as most do) with speed on the perimeter, and there is no Defensive Player of the Year candidate behind them protecting the rim.
That duty now falls to his successor, which brings me to my next point…
DONUT 2: What if Big Wood can't cut it as the starter?
While Haywood certainly has the talent and past results to prove that he is a starting-quality NBA center, reservations remain.
One, he's not Tyson Chandler, and he won't coordinate the defense or defend his own position as aptly. However, what he lacks in comparison to Chandler on defense, he makes up for with a higher offensive ceiling. The caveat, however, is Haywood's atrocious Free Throw percentage. Among players who played over 60 games last season, Haywood's FT percentage was worst in the league at 36.2 percent. That can't happen again if Haywood is to remain on the floor at the end of close games. Otherwise, the Mavericks risk inviting other teams to employ the Whack-a-Wood strategy. Furthermore, if he can't stay on the floor, the Mavs interior D would be that much weaker.
DONUT 3: What if the front office moves don't work?
The Mavericks now have a mountain of powder that is being kept dry for next offseason.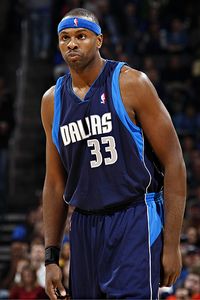 To illustrate, currently, the Mavericks have only Haywood, Marion, Dirk, Odom, Dojo, Roddy, and Brandan Wright under contract for the 2012-2013 season, totaling only $41.4 million. Further, Odom's contract as well as Wright's has a team option that can be dumped if needed. Also, the Mavericks still have yet to invoke the amnesty clause and can do so next offseason on Marion or Haywood.
Conceivably, the Mavs could have only about $24 million on the cap for next season, plenty of room to sign BOTH Dwight Howard and Deron Williams + cheap veterans, as David Lord has demonstrated.
However, the pleasant vision of Dirk flanked by D12 and DWill is contingent on those two actually choosing to sign here. The Mavericks don't have quite the attractive assets to offer much more than cap-relief and picks in a trade. What if Dwight gets traded before then? What if Orlando trades him to the Nets and he and DWill decide they like the idea of playing together in Brooklyn? What if Deron takes the pile of money NJ is bound to throw at him? What if Otis Smith gives Dwight more input in personnel decisions and he decides to stay? There's lots of variables in play and therefore lots of ways the Triple D's, Dirk/Dwight/Deron, don't work out. (Credit to DLord for the nickname).
In that case, all that dry powder wont be worth a thing, and Chandler, JJ, Tuff Juice, Stevenson, Brewer and Rudy will have been dumped for nothing. ... Or, for something short of Dwight and/or Deron, anyway.
DONUT 4: What if the ball movement isn't there?
Remember all those wide-open three's the Mavs buried the Lakers with in Game 4 of the Semi-Finals last year? Remember the Mavs having the most success of any team against the Heat's freakishly athletic defense? Do you recall that aside from the Rockets, the Mavs were second in the League in baskets-assisted? None of that happens without expert ball movement.
Now there's no reason to think that a team with Jason Kidd and loaded with veterans wouldn't know how to make the extra pass, but part of ball movement is chemistry. Knowing your teammates' favorite spots on the floor and their tendencies takes time. With a shortened preseason and compacted 66-game schedule, there won't be much available practice time to feel out the tendencies of all the new guys in the locker room. Part of last season's success was due to the great degree of continuity between the 2010 to the 2011 seasons.
That's not the case this year, and there will be some lag between the start of the season and this team realizing its full potential. Furthermore, there's no guarantee that this team will ever maximize its considerable potential. Kidd, Terry, Odom, Marion/Haywood and Wright could all be playing their last season in a Maverick uniform, for one reason or another. That kind of volatility threatens to undercut any potential chemistry this locker room could attain. (On the other hand, it could inspire the kind of hunger that drove last year's squad. But remember, these Donuts are about pitfalls.)
Rick said this week that his team was the best in the business last year in terms of ball movement. More of the same is hoped for.
DONUT 5: What if the Clippers catch fire?
I don't know if you noticed, but some dude named Chris Paul recently changed addresses to no lack of hoopla. He's a near-perfect fit for his new Clippers team. Last season, the Clippers were 25th in assists-to-turnover ratio. Chris Paul, on the other hand, was best in the league in the same category. That number only figures to get better as he tosses lobs to Griffin and Jordan and Caron.
The Clippers' strengths are now complimentary to the Mavs weaknesses: speed on the perimeter, and strength down low and I want no part of this team in the playoffs. Speaking of which….
DONUT 6: What if the Thunder and/or Grizz are all grown up?
I group these two teams together because they are both looked at as rising contenders. In the case of the Thunder, someday Russell Westbrook will likely figure out how to play alongside Kevin Durant without getting in his way. That may not be this season, but it might be. When he does, the Thunder will be scary.
Similarly, the Grizzlies came within one game of being the Mavs' Western Conference Finals opponents. They have perhaps the best offensive PF/C combo in Marc Gasol and Zach Randolph. This front line will present problems for every team in the league, and could be especially troublesome for the Chandler-less Mavs. Furthermore, they will welcome back a healthy Rudy Gay this season to compliment their interior offense.
If one, or both, of these teams puts it all together this season, they will pose significant barriers to the Mavs' efforts to repeat.
DONUT 7: What if Dirk goes down?
While we are on the subject of worst-case scenarios, this one ranks at the very top. The Mavericks have well-chronicled depth on this roster, but not elite-level depth. To be fair, few teams outside of South Beach do, but as a one-superstar team, the Mavericks are not built to compensate for the loss of The ÜberMan. He's been remarkably durable over his career, never playing fewer than 73 games (that nadir was last year). As seen last year, the Mavericks without Dirk are a remarkably pedestrian team.
If he misses significant time, the Mavericks could struggle to even make the playoffs.
DONUT 8:
Come follow Fish and the Mavs on Twitter!
Follow @fishsports
Follow @thechuckperry
DONUT 9: What if age finally catches up with Jason Kidd and the rest of the vets?
This roster isn't exactly young. There are eons of basketball mileage on the legs of most of the rotation's heavy lifters. Though most have learned how to compensate for their loss of athleticism, you can't fight Father Time forever. History tells us that basketball players rarely have a nice, gentle decline. Often times, the end comes abruptly. There's nothing to indicate that such an end is in sight for Kidd and the rest, but that doesn't mean it can't happen.
DONUT 10: What if Roddy B and DoJo don't reach their potential?
As highlighted in our player-by-player breakdown from WinterFest, Roddy B is capable not only breathtaking heights, but also head-scratching lapses. Jason Terry called him 'still a rookie' before the scrimmage, and with limited practice time, there is no guarantee that Roddy B steps into the role expected of him this season.
Similarly, DoJo is also blessed with supreme athletic gifts, but also hasn't proven he's ready to accept a larger role. If neither of these two players can assume an increased workload during this grind of a season, it will put extra wear and tear on older guys who will be counted on in the playoffs. If those vets have nothing left in the tank, it could be an early summer for the defending champions.
DONUT 11: If you want all the goods on the World Champions, get our Premium Mavs coverage.
It's pennies a day to get All-Access to what the Mavs are doing upstairs, down in the basement, in the locker room and on the court – and it's free to come inside for
a 7-day tryout. Now more than ever, there's no reason not to give it a go! Go Mavs and Go Premium!
DONUT 12: What if Luck isn't on the Mavericks side this year?
To win any championship, it is necessary to have certain things break your way. Last season, the Mavericks caught a fair number of those breaks. The Heat and Thunder hadn't yet figured out a way to synergistically play together. The Lakers were imploding from within, and the Mavericks avoided Derrick Rose, just to name a few.
There's no guarantee Lady Luck will bestow her favors upon the Boys in Blue, and a few breaks going against the Mavs this year could be all that's needed to prevent a repeat of last-season's magic.
Those are the pitfalls. Now go ahead and enjoy your Christmas Eve ... and keep your fingers crossed.