Bradley. Raef. Damp. Oh, and Diop, Ajinca and Silent Cal Booth. And many, many more. It's been an endless seach ... There was even a time when MFFLs everywhere had their days ruined when they saw Ryan Hollins walk away as a free agent to the Minnesota Timberwolves. (Spolier Alert: The Mavs were just fine without Ryan Hollins.)
But that time is no more. After Tyson Chandler's arrival last offseason, bringing his constant display of passion and athleticism, and consequent assistance in the delivering of an NBA championship, the demand at center is no longer to have an average option, but to have a difference-making one. In Chandler, the Mavs finally had their active center opposite of Dirk to cover up many of the defensive shortcomings, viciously finish lobs at the rim, and prove to be the piece that had always been missing from the championship puzzle.
Ah, but fate is cruel sometimes. Right when it seemed the answer at center had arrived, the answer left ... and more questions than ever surround the position.
The combination of Chandler's free agency, a new, restrictive CBA, and Tyson's large contract requirement made his return to the team he had just helped hoist the trophy impossible.
TY kicked off a new chapter of his career last Saturday by putting on a Knicks uniform and playing in his first preseason game with them, it became officially official that he was gone from the Mavericks and helping someone else try to win a championship.
Give the Mavericks credit as they have successfully reloaded to a sufficient degree while remaining flexible for upcoming off seasons. Believe if you will that TY at $58 mil is a Rashard Lewis waiting to happen. And take some comfort in the Dwight Dream. But let there be no doubt that the hole created in the middle with Chandler's departure will be difficult, if not impossible, to fill.
But why is that? First, there is the Rick Carlisle response:
"We're a world champion because we became a defense-first team and our system is what carried us," Carlisle said. "And the guys that play in this system are going to have to be just as persistent and tough-minded as the guys that did it last year. That's really the beginning and end of it."
Yes, yes, but ... By averaging 10.1 points and 9.4 rebounds per game last year, Chandler proved to be a good starting center statistically, too. System is part of it, but Rick needs to be right when he insists he has a "damn good starting center'' in Brendan Haywood.
What exactly is going to be missing with Chandler's absence?
To start, Tyson's presence in the paint was the definition of how a player can bring something to a team without the proof that tangible stats provide. His passion and fearlessness to get in a players' face for their lack of effort was tough love that this team never had before. He had the respect of his teammates to do that because in the end of the day, they knew he had their backs and his actions were in the best interest of the team. During the playoffs and in the Finals, everyone was checked in, but when the Mavericks are in Minnesota in February, who will be there to pull the Mavs back when their minds are wandering?
On defense, Chandler was always in the correct position in his own right, but his most valuable asset for the team's defense came vocally. He never stopped talking on defense, even if that meant heavy repetition of the same thought over and over again. It may have even been annoying at times, but he didn't care because he had such belief in its purpose. In the same way that Jason Kidd's passing rubbed off on his teammates, so did Chandler's vocal activity on defense. Everyone began talking in response to his defensive challenge to the team.
Sure, that habit is probably still with the remaining Mavs from the championship roster, but constantly talking was a natural thing for Tyson. None of the rest of the team is so readily talking on defense, but rather just followed Chandler's lead so much that they eventually just did it.
On the offensive end, Chandler was a non-factor if counted on to create his own shot as his post moves were limited to follow back dunks. What he did provide though, was he placed just enough fear in the opponent that he would catch a lob and slam home a demoralizing alley oop if they strayed too far off of him to help on Dirk, Jet, or whomever. He was also an effect passer when in the high post, which was often what Dallas used immediately after a fast break chance was slowed. TY up high was a go-to offensive set.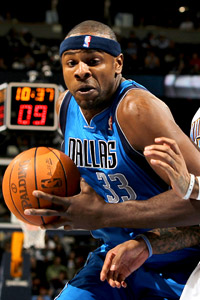 Brendan Haywood will be starting there now and while he's a decent enough athlete in his own right, he's not going to be touching the sky to catch the same lobs that Chandler would have. That definitely has an effect on an offense. That extra room that Tyson's presence provided others to operate through their offensive sets will require an adjustment.
Additionally, whatever fair or not, the dreaded soft label followed the Dirk-era Mavs like a Stage-5 Clinger. There were always tough guys on the team -- whether it was players like Jerry Stackhouse, Caron Butler or DeShawn Stevenson -- but Chandler became the most visible enforcer the Mavs had ever seen the moment he walked through the door.
Never one to shy away from technical fouls or to take it easy on another player just because he was a former teammate (see Chris Paul), Tyson was a bodyguard for his brothers from the start.
Those technicals could be frustrating as a viewer, but it eventually provided the right mix of intimidation to help protect the paint and keep other guys off his teammates. It is absolutely fair to wonder where that kind of intimidation will come from on this team as currently constructed, especially in the paint.
This isn't to say the Mavericks can't repeat the success they had last season; it just won't be as easy as ordering from the
Canadian pharmacy
, it will take time and it will just have to come in different way. And with the Carlisle/Dirk/Kidd intellectual teaming on the court, it would be downright irresponsible to assume this group can't adjust to their current situation and tap into their championship confidence to make another deep run this spring/summer.
Where can specific answers come from?
*This team may focus more on timely offense than it will a timely stop. Rather than Tyson Chandler taking a charge from LeBron James during the Finals, maybe it will be Lamar Odom using his versatility to beat his counterpart who has no business trying to guard a 6-10 inch forward with handles.
Odom, in fact, can also serve as a vocal defensive leader and Tuesday in OKC demonstrated that he, too, will stand up for teammates.
*Haywood must avoid lethargy and being an offensive weakness. That starts with focusing on making FTs, something Big Wood can do ... but last year did not.
His preseason numbers don't exactly jump off the page: in the two OKC games, he totaled four points, seven rebounds and one block.
*Ian Mahinmi must avoid the foul trouble that comes with his overaggressiveness and even sloppiness. When he was the No. 3 guy, he could be more free-wheeling in this department. Now he's the No. 2 guy; his minutes will not be of the throw-away variety.
*Sean Williams can block shots. If there are moments when Dallas needs a TY-like rim protector, the former Nets first-rounder might be that.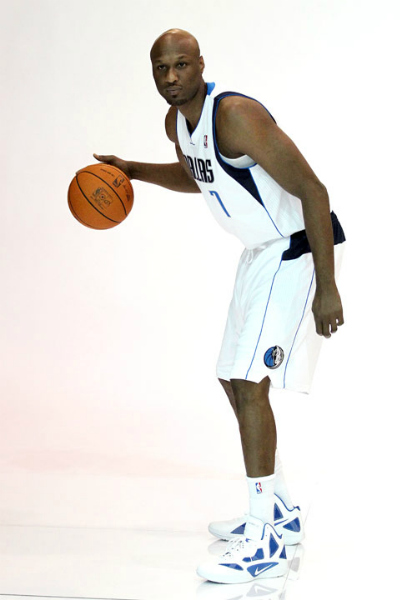 *The 3-Forward Lineup. Dirk, Odom and Matrix together might allow Dallas to changes gears altogether from wishing for big things from its centers.
And that's what this franchise does: it adjusts. The Mavs front office did so when the new CBA created new boundaries, and the Mavs coaching staff has done the same, with great success, during Carlisle's tenure.
"That's what coaching is all about," Mavs GM Donnie Nelson says. "If anybody can do it, Rick Carlisle can."
It's time for another change, another adjustment, and an acceptance that Dallas' center situation could be worse ... and has the potential to be sufficient enough.