LAMAR, GOD AND REPEATING
Lamar Odom stopped by to talk with reporters on the difficulties of moving to a new city, feeling out new teammates, his legacy and God.
"Maybe (the trade) is a test from God,'' LO said, adding that his new surroundings make him feel like an unsure rookie. "Maybe I was too comfortable.''
Odom agrees that it would be a significant boost to his legacy, and the legacy of the Mavs, if he could help bring another title to Dallas this season.
"You don't really remember the teams that only win one," Odom said of championship trophies, "and some teams expect to win three.''
That's a clear nod to the Lakers franchise that Odom recently left. ... and an attempt to prod his Mavs mates into understanding the path ahead.
(Apologies for the iffy sound and the zany camera angles. New kid named "Nate Fisher'' working the gear. He's learning! It's Christmas! Be gentle!)
THEMES OF THE DAY
The themes of the day were "Role Acceptance'' and "Defense,'' the subjects coming up so often with different Mavs personalities that it almost seemed orchestrated.
Or maybe Carlisle's just got everybody on the same page.
Talking about defending the Miami Heat in Sunday's season opener, Carlisle said, "Our emphasis will be on three things: Transition D, staying in front of the ball and getting rebounds."
He was only referring to one game, but realistically, his comments carry weight for the whole season. ... as they did for last season. And heck, ever post-Nellie season.
Transition defense will be a key for the Mavericks this year with teams like the Thunder, the Clippers and the Heat expected to be noisemakers. All of these squads like to run and score a significant percentage of their points in transition. Not that the Mavs can't run, but without significant emphasis on transition defense, the Mavs are playing with fire against the young teams mentioned above.
Jason Terry echoed the defensive sentiments of his coach moments later, "Defense is what we hang out hat on… and we feel we can win a game with our defense."
There was other classic Jet bravado in his meeting with us -- he tossed out a "The Jet is on the runway" along with declaring that the virus that caused him to leave practice earlier this week was "the scare of my life.'' (More below.)
But whatever else about the Mavs is hyperbole, the emphasis on those three things -- transition D, staying in front of the ball and getting rebounds -- is real ... especially because of this fast-moving schedule.
"We only have two more days, and every minute helps,'' Rick said. "We're going with simplicity and adding things piecemeal.''
ODOM FOR 3!
I noticed that Lamar Odom was limping just a bit to end the session. Uh-oh ...
"Nah,'' he told me when I asked whether he was hurt. "I'm fine. But my feet hurt.''
"Lam Lam'' (as Khloe calls him) felt good enough to take the Dirk 3-Point Shootout Challenge, however. Have a look:
I lost count in there somewhere, but staffers whispered to DB.com that Odom made 17 of his 25 shots.
Good ... but Dirk earlier made 23 of his 25.
ONCE YOU GO BLONDE ...
... You go back to black.
Or at least that's what you do if you're Shawn Marion, who has washed that blond right out of his hair.
"I thought about dying it blue, but nah,'' said 'Trix, who got rid of his three-month "Larry O Gold'' color by dying his hair its natural black. "It was time for it to go. I had to get it off of there.''
JET'S SCARE
Jet's flair for the dramatic is well-known by those who follow the Mavs. But there were no theatrics on Thursday as he returned to practice with the world champions and responded to a health-related question from DB.com with a stunning answer. 'It was,' Jet said, 'the scare of my life.'
The buoyant
Jason Terry
was in fine form as he related to the gathered media the story of being struck by a virus that had "passed through my side o the locker room'' in recent days. Especially frightening was the fact that he was behind the wheel of his car traveling toward practice on Monday when he felt violently ill.
"I was scared,'' said Terry. "I feared for my life. I was driving down the (North Dallas) Tollway and I felt something I never felt before. It's hard to explain what it was, but it was life-fearing … not being in control for a split-second. My body just seemed like it wanted to shut down. You can't mess with that.''
And Terry and the Mavs medical staff took every precaution, as the veteran guard was sent to the hospital and then sent home, missing the Mavs' Tuesday preseason game in Oklahoma City.
Terry returned to the AAC gym on Wednesday even though it was a players' day off, and is back to normal now, thankful for the work of
Dallas Mavericks
trainer Casey Smith and the medical team that took care of him.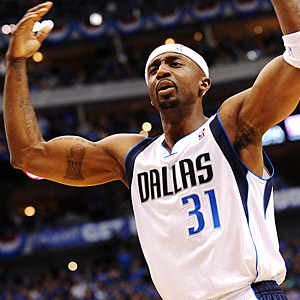 "Thank God I made it here,'' Terry said of his safe arrival downtown on Monday. "The EMS was here ready to go, got me in the ambulance and got me to the hospital. …It was a scary thing.''
The Mavs have been plagued this week by a virus that has at different times sidelined
Brian Cardinal
,
Delonte West
and
Brandan Wright
. The team expects to be at full strength for the Christmas Day season opener against the visiting Heat.
"I feel great,'' Terry said. "The Jet is on the runway and I'll be fired up out there on Sunday.''
Some Video Visit with Jet:
THE INTROSPECTION OF SEAN WILLIAMS
First, Rick Carlisle huddled with new backup center Sean Williams in what seemed like a teaching moment. Then, Williams joined the other Mavs bigs (Haywood, Mahinmi and Wright) in some loose shooting work. And finally, the former NJ first-rounder and newest Mav met the media and offered some introspective answers regarding his wobbly path back to the NBA.
"We all have our path in life,'' said Williams, who wore a huge afro Wednesday but today had his hair in twists atop his 6-10 frame. "I've gone by mine.''
But that doesn't mean the Mansfield native comes to the Mavs with no regrets about a path dotted with conflicts and alleged misbehavior in college and with the Nets.
"We live and learn every day,'' he said.
It's been a whirlwind three days for the shot-blocking specialist, who a few days ago was enjoying playing professionally in Israel before getting an offer from Dallas (about $900,000 for one guaranteed season, I'm told) and then appearing in Wednesday's Texas Legends game on the eve of this first Mvs practice.
"I'm just thankful to be here and be able to take another step," Williams said. "I'm still trying to learn the plays, feel everybody out and see where I can get in and fit in."
I asked Williams about the relationships he might have with Mavs players that can make this a quick transition. He clearly has some friendships here – and he later noted that being home is important to his DFW-based family.
And he seems to have come to grips with the ups and downs that find him back in the NBA now.
"I wouldn't be the person I am today if it wasn't for some of the things I've gone through before,'' Williams said. "I appreciate all my experiences and from here on out just try to stay positive and look forward to positive things manifest in my life."
Seems like a thoughtful kid. Here, look and listen for yourself:
Rick on Sean: "Young guys that have potential who we feel we can develop are going to be attractive.''
In other words, he's what we call an "LIBB.''
MAVSELLANEOUS
Rick hinted that
Jerome Randle
and
Drew Neitzel
are likely Legends-bound and that it's "only a 25-minute car ride'' back downtown to join the Mavs. I anticipate Randle eventually taking that ride ... "Defense is what we hang our hat on,'' Jason Terry said, "and we feel we can win a game with our defense.'' ... Yes, the Mavs' pick-and-roll game featuring Dirk and Odom is being worked on. "Mismatch problems,'' Odom said, "is what coach Carlisle does best." ... Wearing the white practice jerseys (meaning they teammed up in practice): Dirk, Kidd, Vince, Marion and ... Wright. ... Most of the fellas call him "DJ'' but I am proud to note that Rick joins DallasBasketball.com in refering to Dominique Jones as "DoJo.'' The coach did so enthusiastically after a positive Jones effort. DoJo did, however, struggle overall in his perimeter shooting on Thursday.
THE FINAL WORD
From the moment we were allowed into practice until the players left the court, Brendon Haywood worked on free throws. First, some one-on-one work with free-throw coach Gary Boren, and then more effort as he and the rest of the big men not named Dirk or Odom stayed to work on free throws.
It's good to see Haywood working on that part of his game this season, as his effectiveness at the line will likely determine how he can or cannot be used in late-game situations.
On this day, giddiness was in play.
Brendan Haywood
was so successful at the free-throw line to end the workout that he busted out a very smooth "Pee-Wee Herman Dance'' to celebrate.