The buoyant
Jason Terry
was in fine form as he related to the gathered media the story of being struck by a virus that had "passed through my side o the locker room'' in recent days. Especially frightening was the fact that he was behind the wheel of his car traveling toward practice on Monday when he felt violently ill.
"I was scared,'' said Terry. "I feared for my life. I was driving down the (North Dallas) Tollway and I felt something I never felt before. It's hard to explain what it was, but it was life-fearing … not being in control for a split-second. My body just seemed like it wanted to shut down. You can't mess with that.''
And Terry and the Mavs medical staff took every precaution, as the veteran guard was sent to the hospital and then sent home, missing the Mavs' Tuesday preseason game in Oklahoma City.
Terry returned to the AAC gym on Wednesday even though it was a players' day off, and is back to normal now, thankful for the work of
Dallas Mavericks
trainer Casey Smith and the medical team that took care of him.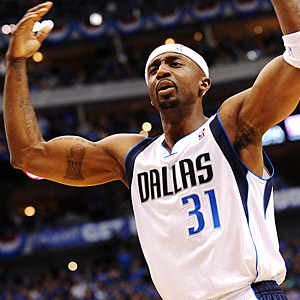 "Thank God I made it here,'' Terry said of his safe arrival downtown on Monday. "The EMS was here ready to go, got me in the ambulance and got me to the hospital. …It was a scary thing.''
The Mavs have been plagued this week by a virus that has at different times sidelined
Brian Cardinal
,
Delonte West
and
Brandan Wright
. The team expects to be at full strength for the Christmas Day season opener against the visiting Heat.
How's Jet feeling now?
"I feel great,'' Terry said. "The Jet is on the runway and I'll be fired up out there on Sunday.''