"Honestly, I'd kind of seen it coming,'' said Chandler of this year's slow Mavs start. "Because when you put a team in a situation and you say, 'You're the defending champions and we're not necessarily trying to repeat.''
Chandler, a key player in last year's
Dallas Mavericks
championship but now with the Knicks, issued the remarks to ESPNNewYork.com. He continued:
"When I say that, I'm not saying that they don't have the pieces there. I obviously think very highly of those guys. But I say that because they offered everybody one-year deals so they knew nobody was going to necessarily accept that. So you're basically telling all the players in the locker room we're playing for free agency next year after a championship.''
Chandler's words deserve some level of respect from me and from every corner of MavsLand. His opinions are usually thoughtful and insightful. Meanwhile, these words are easy to accept at face value; when he uttered them, the Mavs were 0-2, with a pair of lackluster losses to Miami and Denver.
But I don't have to be the one to scoff at Tyson's "not trying'' claim.
Jason Kidd, Rick Carlisle, Donnie Nelson, Jason Terry and Mark Cuban will do the scoffing for me.
I spoke with Kidd in a one-on-one setting for an extended period of time. He professed to know nothing about Tyson's inflammatory remarks, so I relayed those words to the Mavs' locker-room leader and the NBA's basketball IQ leader.
"Is Tyson saying that the veterans here don't understand what Mark is doing?'' Kidd asked. "Well, no, that's not really true. We know what Cuban is doing, we understand it, we get it.''
And then Kidd demonstrated exactly how specifically he understood.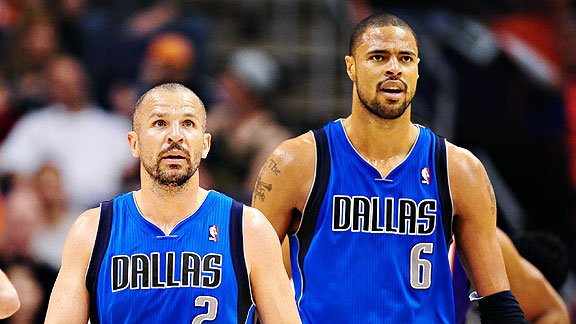 "Listen, you can't have every guy on a $10-mil or $12-mil-a-year contract and then be making a total payment of $20 million for him because of the luxury tax,'' Kidd told me, flashing his business IQ to bookend his BBIQ. "That doesn't make sense. Cuban's the owner. He knows what he's doing.''
What Dallas is doing, of course, it attempting to follow up last year's title by being in contention again this year … and then in the Summer of 2012 have the financial flexibility to be dealt into to a free-agent card game that could include Dwight Howard and Deron Williams as the prizes.
That's why Chandler was allowed to walk for $15 mil a year with the Knicks, why Barea was allowed to leave for a four-year, $19 million deal with Minnesota, why Caron Butler is with the Clippers at $7 mil a year, why Stevenson left for a one-year, $2.5 contract with the Nets and why Corey Brewer was dumped in trade to Denver.
"From a basketball standpoint, it's tough,'' Carlisle said on Monday. "(But) from a business standpoint, it's easy. Because of the tax money, it's a $$6 million contract instead of a $3 million contract, so I understood it.''
Turns out that was just the tip of the Rick iceberg on the subject.
After the 104-102 loss in OKC on Thursday, Carlisle transformed his press conference into a deep monologue on the subject of the changes.
"There's every built-in excuse in the world for our team -- if you want to look for them and buy into them -- but we're not going to have any of that,'' Carlisle said. "We have a different team this year.'' Carlisle continued: "Our owner did the right thing breaking up the team – (the right thing) for the franchise.''
(go to the 1:36 mark of the DB.com Video)
At least one local news outlet is responding to Rick's summation by saying that Mavs players disagree with what "the right thing'' was. … but I challenge anyone to conduct an interview with a present Mavs personality who, as emotional as the change might be for them, truly fails to understand.
Logic dictates that these moves were not made without the cooperation of Dirk Nowitzki. (Yeah, he's next on my list to corner on the subject.) And now, as a result of some digging, I know that Kidd, Donnie, Jet and Cuban are all on the same page as well.
"No offense to Tyson, because he's family,'' GM Donnie Nelson tells me, "but it's not too often that anyone accuses Mark of not being in communication with his players or of not knowing how to handle money. In both departments, (Cuban) is pretty much the best.''
Added Terry, not exactly in the Tyson-is-family mood after hearing about the comments: "I don't care what Tyson's saying or what he's doing right now. He's not a Maverick.''
A sidebar to the revolving-door decisions: The Mavs' financial commitment to Lamar Odom, in a sense Tyson's replacement, is tiny compared to TY's $58 million. (Odom, in fairness, hasn't yet paid off on the court.) Delonte West in a minimum-wage guy making 1/19th what Barea is making and is comparably effective to JJB as his best. Carter is making half what Caron is making and is considered a comparable player.
In other words, as Kidd said to me, "It's a business and you make business moves based on talent and money. Maybe some younger guys don't understand that it's a sport but it's also a business. And if I was a younger guy, I might not like it. But at where we (Kidd, Dirk and Jet) are in our careers? What we're doing? It makes sense to me.''
I also visited at length in a one-on-one setting with Cuban, along with Nelson the co-architect of a team that's won 50 games for 11 straight years capped by last year's title, and the co-architects of this management plan. Cuban is rather outraged at the Chandler insinuation that there is a lack of communication between ownership and locker-room leadership.
"Ridiculous,'' Cuban told me. "Well, that's Tyson (being emotional), right? Ridiculous. Tyson knows that I talk to our veteran players. Somebody who doesn't think Dirk or J-Kidd don't understand ... that's really insulting to them.''
Cuban doesn't deny that there was an initial shock to everyone in the organization when the new rules of the CBA were released and when the club decided to operate a Plan A (win now) and a Plan B (retain financial flexibility to win later) simultaneously. Truth is, as it regards a connection to Tyson Chandler, no one inside the Mavs was more emotional about it than Cuban.
"There is a strategy to this and at first, I suppose, sure, there is emotion in accepting change, even if it's change that will end up being for the best,'' Cuban said. "But given the short camp, no practice time, a veteran team like ours, one that's not based on raw athleticism but is about true team play, and with older guys, we were probably going to struggle a little bit early no matter what. Even if Tyson was still here.''
It is Cuban's position that the slow start isn't a result of an emotional funk caused by free-agent losses. Rather, it's the result of a team that relies on precision starting a season with virtually no training camp.
"We play as a team and it's the only way we can play,'' he said. "Miami, they can do it differently. They can roll the ball out there and play. Us, it's going to take a little time.''
Interestingly – and significant because of how it might illustrate just how on-the-same-page management is with the locker room – when I asked Kidd about his team's lack of a camp, his answer mirrored Cuban's.
"You look at Miami, and for that 1:30 game (on Christmas Day), they could have showed up at the hotel at 1:10, got taped at 1:20, walked across the street to the gym, tipped off at 1:30, and been fine,'' Kidd said, laughing. "They have that kind of youth and athletic ability. This team (the Thunder), same thing. Maybe Denver's can be (considered to be) like that, too.
"Us, we're not like that. We'll get better as we work ourselves into what we do. That's the only reason for a funk.''
Kidd agrees with Cuban that the same condition would've applied had the Mavs retained people like Stevenson, Caron and Chandler. (You think it might not take some time for knee-rehabbed Caron to reintegrate himself into basketball speed and shape?) And I would add this: Any night when the Mavs lose in Dallas (and there will be some of those) while Chandler is on the New York stage recording highlight-reel blocks, the fan's mind will create a connection … a connection that makes it seem as though all Cuban needed to do to guarantee back-to-back titles is to go ahead and pay Chandler $15 million a year for the next four years.
That's how the mind works. It's not how the NBA works.
This is a provocative story because the Mavs are the defending champs, because they are off to a poor start, because TY is a thoughtful ex-member of the team, because it was uttered in New York, because it's gotten ESPN play and, most legitimately, because it theoretically can lead to Dallas' pursuit of Dwight and Deron.
But analysis that claims people like Cuban, Jet, Carlisle, Donnie and Kidd don't have a mutual understanding is misguided, because people like Cuban, Jet, Carlisle, Donnie and Kidd just told you it's not so.
In the end, it may turn out that the only Mavs-related name who doesn't understand and accept the big-picture reasoning of why Tyson Chandler wasn't re-signed by Dallas is … Tyson Chandler.