DONUT 1:
The
Dallas Mavericks
almost never lose to Minnesota.
Our First Impressions piece ponders the question, "Does Sunday signify some changing of the guard in the West?''
And maybe we're overreacting a tad. Right J-Kidd?
"This is a game,'' Kidd said. "It's not life or death, so there is no concern. We're all professionals, we're all trying to do our jobs, and all we can ask is for everybody to give 110 percent."
Granted. So, is every giving 110 percent?
Dallas dropped to 1-4 with the "old and slow and out-of-shape'' effort made interesting only by a 10-0 run in the fourth. But Minny answered that by scoring the final 15 -- and the Mavs didn't score for almost six minutes to close.
Dallas' loss to Minnesota is just the second one in 20 games. Minnesota's win it its first in 19 tries spanning two seasons.
"It's a new year," said Love. "We're the best team in 2012 right now. We feel good. We've got the monkey off our back."
DONUT 2:
Dirk did not play well, did not play with aggression, did not play as someone close to overcoming being "old and slow and out-of-shape.''
He also offers a big-picture framing of the situation.
"You're always concerned when you lose,'' he said. "When you lose by 30 twice at home, we were concerned then. Definitely the one win against Toronto doesn't really make the world great. So we've got a lot of work to do ... We knew that coming in, even if we would have won today or even if we would have won in OKC by one point, we would have had a lot of work to do."
The demands and standards here are high, and The UberMan did score seven straight points to lead a late comeback. And he scored 21! But Dirk's only FT attempt came from a technical foul.
He wasn't alone in his offensive lethargy: Dallas committed a multitude of turnovers at times when Kidd was on the floor but not allowed to touch the ball; the Mavs were whistled for three or four moving screens, a sure sign of sloppiness; the scramble for answers led to The Custodian playing 12 minutes, something short of the ideal turn-around solution here.
Embarrassment all around, including the moment when Rubio put one through Dirk's five-hole:
DONUT 3:
No one will advocate patience with
Lamar Odom
more than DB.com; we'll homer you to death around here, you know.
But his poor performances so far this year are slowly creeping into irritating status. Odom himself keeps mentioning how life can be tough and how change will always ultimately be for the better. It's time for Lamar to heed his own advice and step up to the current challenge presented to him. Throughout his life, Odom has never been one to stand down to difficult circumstances. This is a different kind of difficult situation, but he needs to begin taking the bull by the horns because his team needs him to. Shooting 13 percent and averaging 4.3 points per game just won't get the Mavericks where they want to go.
Odom just comes off as kind of a confusing character. We've always admired his overall play while he was in Miami and Los Angeles. He has all of the tools and almost no weaknesses. He has championship pedigree and has played well in the biggest of games. He even came into Mavs camp speaking of what it takes to defend a championship after doing so successfully with the Lakers.
Still, he came into camp admittedly out of shape and not ready for the season. How can a guy talk about everything it takes to defend a crown, but then show up not ready to do it?
When Lamar made his 3-pointer to end the third quarter on Sunday, he confidently moved back to the Dallas bench with more speed and enthusiasm than he's shown in any game this year.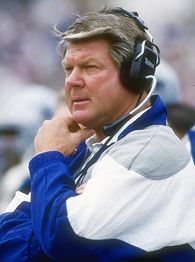 Just like the Mavs have had a grace period to get on track this year, so has Odom to get used to his new team and surroundings. Both grace periods are rapidly coming to a close. We remember the sports-psychology words of Jimmy Johnson, who used to remind his Cowboys, "Mind controllin' the body, not the body controllin' the mind.''
Right now, L.O. is in control of neither. And we're thinking of asking Jimmy to zip down to the W Hotel this week for a little counseling session.
DONUT 4:
As interesting as it was to see JJ Barea on the opposing team's bench in a different uniform Sunday, the guy the Mavericks hired to pick up much of Barea's slack is proving to be quite a useful piece.
The Delonte West signing by the Mavericks was an under-the-radar move when compared to the arrivals of Lamar Odom and Vince Carter, but West has been the most valuable player of the three so far in this young season. Not only has he shown the ability to get into the lane and finish like Barea used to for the Mavs, but he also brings an intensity and fearlessness on defense of which JJ just wasn't capable.
So far, GM Donnie Nelson was spot-on when he described West to us as a perfect mix between Barea and the also departed DeShawn Stevenson. With 13 points in 21 minutes Sunday on 6-for-9 shooting, West was arguably the brightest spot in an otherwise forgettable night in basketball Siberia.
Additionally, Delonte's signing is more about what it represents rather than the actual production he gives. Just in case you didn't know already after the championship last year, the Mavs' Triangle of Trust remains bulletproof to any current questioning. (OK,
almost
bulletproof.) Barea was being offered a four-year deal for around $16 million from Minny. That just wasn't happening in Dallas, no matter what kind of fan backlash was coming and no matter what you think about The Triple D Dream (Dirk/Dwight/Deron). West's contract is a one-year deal for $1.2 million.
We tend to remember only that JJB beat the Heat in the Finals, forgetting how dismal he was last autumn. (He was good Sunday as the star of the first half, leading all scorers with eight points. But he would finish the game with the same total after failing to score in the second half. That's JJB.)
Now, we are bugged watching the little sonofagun draw charges for something else (no wonder other teams hated him!). And we appreciate what Carlisle said before the game:
"People assume because he's a small guy that you can take advantage of him," Carlisle said. "He scrambles, he draws charges. ... He's a pain in the ass. He's probably the most effective 5-10 shooting guard in the league. He's proven it the past three years and he's going to do it here for this organization."
(Get all of the rest of the hot quotes from the locker room in
Mavs Quoteboard!)
.
But the important guard in Minny isn't JJB, but Rubio, who scored 14 points with seven rebounds and at times looks like he's gonna be Pistol Cousy Kidd.
Anyway, back home -- where the Mavs need to get ready for a Monday night visit from OKC, by the way -- it is time to stop wondering how JJ Barea will be suitably replaced on this team.
It's already happened.
DONUT 5:
The center position was once again on display offensively in this one, especially early. Perhaps the Mavericks are making more of a concerted effort to get their big men the ball, perhaps it's just the flow of the game as the defense preferences Dallas' other weapons. Whatever the reason, the early results are a positive for the Mavericks in the midst of an otherwise slow start.
It stinks that Dallas' center position is surprisingly successful (yes, the Post-TY Era ain't bad at his old position) and yet the success is being wasted ...
DONUT 6:
The starter Haywood would finish with six points (all in the first half), four rebounds and three big blocks in 15 minutes of work. Though he was limited in the first half by foul trouble, he would adjust to not commit after intermission. ... and he reached his 1000th career block. Hey, that's something.
DONUT 7:
The Ianimal would follow his best performance of the season with six points and four boards in 20 minutes of work. However, he would again struggle with fouls, leading the game with four. And you know what Ian's only real crime was? He found himself in a night-long wrasslin' match with Kevin Love. And Kevin Love is on the verge of being able to beat almost anybody on the planet in a basketball wrasslin' match.
In this one, the Mavericks could not match the athleticism and activity of the Timberwolves' front line. Love turned a now-typical type of double-double monster game with 25 points, including five of six on three-pointers to go along with 17 rebounds, seven of which were offensive. His play was emblematic of this entire game, as the Timberwolves seemed younger, quicker, and in better shape than the Mavericks all night.
DONUT 8:
And then, finally among the centers, there's Chocolate Covered Almonds.
Sean Williams would only see garbage time in this one, registering zero points with one rebound in only two minutes of action. He was at the scorer's table once in the second quarter, but would be called back to the bench after the time out. It's surprising that Williams, easily the most athletic of the Mavs' big men, couldn't get more burn in this one, especially with the Mavericks at a clear athleticism deficit on the front line. Those associated with the Mavericks often mention to us Williams' penchant for being too active, trying to do too much and thus getting himself into trouble.
This was on display in Oklahoma City. It's unclear whether that was a factor here, but still disappointing to see a potential impact player chained to the bench.
Additionally, when it comes to Chocolate Covered Almonds, as excited as WE are, the Mavs themselves
are signing Yi
and
are chasing Fesenko
and heck, maybe we're missing something here.
If we are missing something, we fit right in with the Mavs themselves, as you will see in the NBA highlight package:
DONUT 9:
Come follow Fish and the Mavs on Twitter!
Follow @fishsports
DONUT 10:
Want this level of coverage every hour of every day on the World Champions? Get our Premium Mavs coverage. It's pennies a day to get All-Access to what the Mavs are doing upstairs, down in the basement, in the locker room and on the court – and it's free to come inside for
a 7-day tryout. Now more than ever, there's no reason not to give it a go! Go Mavs and Go Premium!
DONUT 11:
Mavsellaneous:
As well as being outmatched on the frontline, the Mavericks did a poor job of defending the three-point arc, as Minnesota shot 46 percent from downtown. Much of those were set up by dribble penetration, on display during the 14-0 run the Timberwolves would use to bury the Mavericks late in the fourth quarter after Dallas had cut the T-Wolves lead to two. … Encouragingly, the Mavericks would finish with nine blocks, their highest total of the season. The defense was anchored by Haywood and Marion, both of whom would finish with three blocks apiece. ... Maybe this would have been the perfect game for the Three-Forward Lineup to break out. With Minnesota employing a front line of Beasley, Love and Milicic, essentially all power forwards, Marion, Dirk and Odom should have matched up nicely. However, something is clearly wrong with Odom, and it looks both physical and mental. His conditioning is clearly off, but his body language is noticeably dejected. As a result, the Mavs' cohesiveness has suffered and so has the defense, especially on the interior. ... Or, maybe, Dallas was too small as it was in terms of trying to handle Love.
DONUT 12:
DB.com cannot do our thing without the help of sponsors and partners like
MavCowTickets
,
Esparza's Restaurant
,
Classic of Carrollton
,
Game Havens
and
McKinneyDentist.com
. Give our guys a click, if you please!
DONUT 13:
While the Mavs labored to the plane for a Sunday night ride home for tonight's rematch with the visiting Thunder, the OKC gang was hanging at home, coming off a Saturday night blowout of Nashie and the Suns (and then, we're told, a rockin' team party at "Mickey Mantle's'' bar.
"We have to get better (Monday) and keep moving," Carlisle said. "Try to get ourselves back moving in the right direction."
What is that direction? An attempt to gain conditioning and rhythym and confidence over the course of time together ... but because of the schedule -- Dallas is the middle of a seven-games-in-10-nights chunk -- conditioning and rhythym and confidence over the course of time cannot really come down in the basement on the practice court. That stuff, plus the institution of Dallas' zone, the so-slow integration of Odom into the offense, the decisions on the rotation at center and most everywhere else, all must come during the actual games for this 1-4 team. ...
And if there is a stumble in conditioning and rhythym and confidence -- the sort of stumble that practices are designed to absorb -- it can mean more losses in games that count.