(This article was first published on Jan. 6, 2012)
Huge contracts expiring at the end of this season. A player-acquisition approach with no willingness to sign any new player requiring hard money after this season. The
Dallas Mavericks
are obviously clearing cap space to be players in free agency in the summer of 2012.
"Cap flexibility,'' Mavs GM Donnie Nelson tells DB.com, "is key to the long-term health of the franchise. If you want to have a chance at the big boys, you've got to have that.''
But what exactly are Donnie and Cuban planning? And how far can they go? They won't (and can't) offer specifics, but we can (and will) as we reveal the nitty-gritty of the Mavs' Plan A – Dirk/Dwight/Deron – with players named, new rules revealed, and details of the Mavs 2012 3D Blueprint.
NBA Free Agency in the summer of 2012. That's when the NBA's best center, perennial first-team all-NBAer
Dwight Howard
, as well as stud All-Star point guard
Deron Williams
, are both slated to be free agents. Every team would love to land one. Or the other. Or, in what seems like a SuperTeam dream, both.
THE MAVS' GENERAL APPROACH TO THE FUTURE
Here's what we know. The Mavs have shunned salary for 2012 while admitting they are working with three general principles at the forefront: 1) keep a flexible approach – and a player roster that reflects it - for this season and next summer, 2) be in position to compete in free agency in the summer of 2012, and 3) consistent with those first two guidelines, build a roster around
Dirk Nowitzki
with the best chance to win a title this season and try to repeat.
To that end, they have done the following, all consistent with those principles:
• Attempted to keep Tyson Chandler by offering a ridiculously large one-year deal ($20M-ish) instead of negotiating a 4-year deal starting at about $13M like he eventually got from NY
• Watched JJ Barea take a 4 year $20M deal elsewhere
• Traded for Lamar Odom who has a 2-year deal in which the second year can be erased for $2.4M
• Signed Vince Carter to a 3-year deal in which the first year will be paid in full, but the others will offer next-to-nothing if he is waived
• Gave away two talented young reserves (Rudy Fernandez and Corey Brewer) to Denver for nothing in return, thereby erasing Brewer's guaranteed salary and Rudy's qualifying offer from the cap figures for next season
• Signed free agents Brandon Wright, Sean Williams, Delonte West, Yi Jianlian, and Brian Cardinal to only one-year deals (or deals with the second year being erasable if they wish)
As they've made all those moves, they've lost some talent, added other talent, and reduced their hard commitments for 2012-13 down to only about $43.5M.
OK, THE MAVS MIGHT HAVE SOME CAP ROOM NEXT SUMMER. SO WHAT?
With only $43.5M in committed payroll, where does that put them? And why are they here, rather than simply re-signing the same players that brought a title? We'll talk about the "why" first, because the why explains the rest.
The front office freely acknowledges that the age of their team has created a pressing issue. The career clock is running down on key core players such as Marion (33), Terry (34), Odom (32), Carter (34), and Haywood (32), with one superstar (Kidd) still playing at a masterful level but nearing 40 and the end of a stellar career, and the other (Dirk) as dominant as ever but 33. The Mavs know that if they are to take advantage of Dirk's remaining years as a superstar and make them title-contending ones, big-time help must be added before the clock strikes midnight.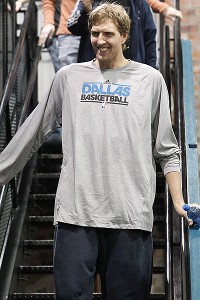 Adding to their urgency is the fact that the Mavs' prior method of creating and maintaining an elite team has been made virtually impossible by the new CBA. Under the old rules, their advantage was a willingness to creatively trade for out-of-favor talents by offering less expensive players with less talent. The other team would save payroll, and the Mavs would gain talent. As long as the Mavs didn't mind paying the tax of a larger-than-most player payroll, they had the ability to retain their core talent for as long as they wanted, and then trade them for similarly priced players later.
Despite a lack of cap room and high draft picks, by this method the Mavs were able to stay near the top year after year, and few teams matched the success of the Mavs over the last decade or so. They amassed extra talent, and that extra talent eventually led to a title.
But they say that "All good things must come to an end" and the Mavs' edge is no exception. The Mavs' clever old blueprint was essentially destroyed by the recently-signed CBA, which makes it prohibitively expensive to remain well over the tax line every year as the Mavs have been doing.
A new approach has become necessary.
From now on, every team will have about the same sized payroll. To gain a talent advantage, it will be necessary to have players who out-play their contracts, and there are three sources for such bargains that tend to be the most reliable: talented draftees (typically high picks) who are better than their rookie scale contract, low-priced veterans (priced at or near the minimum) who fail to attract much attention in free agency but can contribute far more than a minimum salary level, and true superstars (who are bargains because their production exceeds maximum salary limits).
For Dallas, as long as the Mavs remain a playoff team, the draft will be too iffy. Lower-priced veterans will be more helpful, but can only take them so far.
That leaves getting a superstar as their need for the years ahead. The Mavs can't come out and name names, but they've hinted that their purpose in all of this is to go do just that – which means Howard and Williams are targets.
So at $43.5M next summer, do they have enough room to sign one? Yep, they do.
The new CBA doesn't offer the league's estimate for the 2012-13 cap, but it does give numbers for the increases in max salaries from 2011-12 to 2012-13, and those max salaries are pegged to the cap. By extrapolating that difference, we find their working assumption for the 2012-13 cap to be $61.397M.
With the Mavs starting at $43.5M, if they wanted room to simply sign a max player, all they would have to do would be to waive either Shawn Marion or Brendan Haywood under the new CBA's amnesty rule. (There would be other choices as well, but this is the most obvious assumption and one fully within their control.)
Such a move would put them at $35.2M or less, and after adding in cap holds for empty roster spaces, their team salary (for spending purposes) would at about $39.4M. That would leave them about $22M below the cap, and a max deal to Howard ($18.996M) or Williams ($17.178M) would be possible with room to spare.
Instead of waiving a player, could they get to the same place by reworking the remaining years of Dirk's sizable contract under the new CBA? Nope, that's not allowed,
as first reported by DallasBasketball.com.
But perhaps they might find that Orlando (if Dallas is signing Howard) or NJ (if Dallas is signing Williams) would prefer to take either Haywood or Marion via sign-and-trade instead of losing their star for nothing. Or maybe another team would want them in exchange for a pick (in the same way Odom ended up coming to Dallas from LA), since it will be a summer with lots of teams having spending room and somewhat limited talent available.
In any event, whether by amnesty or by another means, the Mavs are already positioned with enough cap room next summer to pay max money to one of those superstars, if they can persuade them to sign here.
Mission accomplished, right?
Well, not quite. We think they are in pursuit of something much bigger.
THE BIG GOAL - THE GRAND SLAM, THE TOUCHDOWN, THE WHOLE ENCHILADA
We're talking about a bigger goal than landing a superstar in free agency. Yet isn't that goal itself the longest of longshots?
Yes, this type of acquisition is never a slam dunk. But for Dallas, the possibilities to land one of those players may be significantly better than usual.
There are the Dwight and Deron factors that everyone knows about.
Howard has expressed a desire to be traded to a team where he can have a real chance to win titles -
with Dallas as one of the three teams he has requested permission to talk to.
He has expressed both an admiration for the way Dallas treats its players and a desire to play in such a place.
Williams is a Dallas native who was hanging around in the Mavs locker room regularly throughout their title run – and he has recently expressed his thought that playing in a tax-friendly state with a less-costly standard of living (like Texas) might be quite suitable for him.
Both players have been frustrated with a lack of team success in the past and have been vocal in their desire for better in a new deal. And it's possibly overlooked (and not insignificant) that the player agents for both have a long track record of their players landing in Dallas. The relationships there are excellent.
So what's bigger than the dreamy goal of landing ONE of those two superstars? Signing BOTH.
We believe the Mavs are working off a game-changing, league-changing 3D Blueprint: Add both Dwight and Deron to Dirk to form a new SuperTeam to compete with the Heat (and Bulls, Lakers, Knicks, Celtics, Clippers, Thunder, and other teams of multiple All-Stars).
Unite the NBA's best center, its most complete point guard, and the unselfish superstar whose flexibility and supreme marksmanship have made him the ultimate nightmare to defend.
We've labeled it "3D in Big D."
Is it a 3D Dynasty in Big D in the making? Is it Destiny? Playing with the alliterative possibilities is cheesy fun … but there's a bigger topic to address.
Is it even possible for the Mavs to offer that much money? Or is such a Mavs 3d Blueprint simply a Big D fantasy?
The NBA world is scratching its head and trying to downplay the possibility of both Howard and Williams being able to end up in Dallas. Now Atlanta's Tracy McGrady seems to get it, saying, "D-Will is from Dallas. You've got Dirk Nowitzki there. They're going to have (cap space) there. That looks sweet. Dirk. D-Will. And then you get Dwight Howard. That's it, right there."
McGrady seems to understand the possibilities. But some generally reliable experts do not.
In the last week, both Steve Kerr (the ex-GM of the Suns) and Adrian Wojnarowski of Yahoo (who seems to have Nets contacts) have looked at the Mavs' situation and told the world that 3D simply cannot be done.
From our examination of the Mavs' situation and the new CBA, we think they are wrong. And more importantly, we believe the Mavs' – who know the intricacies of the cap and player acquisition rules better than anyone – are actually working on just such a 3D Blueprint.
It all revolves around a key approach to building a team, a key that the Mavs have used for quite some time in building their roster.
THE KEY TO THE MAVS' 3D BLUEPRINT
That key to the Mavs' plan – including the limits of what they can do - is best understood by relating a conversation that occurred a couple weeks ago between Mark Cuban and Jeff Schwartz. Who is Jeff Schwartz? He is one of the top player agents in the NBA – and he is Deron Williams' agent.
Training camps had opened and players were moving right and left. The Mavs, like other teams, were working on filling out their roster with more talent. Cuban's phone rang. It was Schwartz. That conversation included some variation of this:
Schwartz: "Mark, my guy is fed up with where he is. He wants out. We like what you guys do in Dallas and want to be a part of it. Are you interested?"
Cuban: "Absolutely. We'd love to have him."
That particular call wasn't about Williams, but about another of Schwartz's high profile clients, Lamar Odom. And in a matter of hours after that conversation, Odom was on his way to Dallas, at a price of next to nothing. It didn't take "the best offer'' to land him – it was about being the team where players want to play, and where the key agents want to send their players.
That, more than the precise number of nickels and dimes, is most likely to be the key to landing a Howard or a Williams. And we've already seen a sample of how it works – in spectacular fashion. It's exactly the approach Miami used in landing the Lebron, Bosh, and Wade trio in the summer of 2010.
Wooing these star players successfully away from their existing team won't be about the exact totals in the contract – because these players can only get a true 'max' deal from one team, their old one. If they sign with someone else it will be about a desire for something more.
When Miami signed its threesome, the Heat didn't actually have enough room to do so. But they were close. And then they further reduced their available money in favor of a bigger cap hold here and another one there, out of the available funds for the threesome, because the three stars wanted a bit better surrounding cast.
Ultimately each of the three could have gotten more money in lots of other places – but in their estimation, the Miami offer presented them what they saw as the place that gave them what they wanted the most.
What will Dallas "offer" look like? In all likelihood, it will start with relationships and trust. Both Howard and Williams know how the Dallas front office works, as we have already noted. But it goes beyond that, because their agents have deep ties to the Mavs, too.
Williams' agent, Schwartz, has placed multiple players with the Mavs, with Odom the latest and also with Kidd – who himself is very much involved in all these machinations - being a cornerstone in recent years. Howard's agent is Dan Fegan, who has more or less created a pipeline of players to Dallas, including current Mavs Terry, Marion, and West.
The opportunity presented to Dwight and Deron (and their reps) will be the chance to compete with the big boys on the same level. Do you want to be the only star trying to beat the threesome in Miami, the group in OKC, the Celtics stars, the Lakers, the Clippers, the Knicks and so on?
Do you want to go one-on-three? Or even two-on-three? How about evening up the odds and creating your own star threesome and have greatly increased chances to win multiple titles?
And who do you want to entrust with the task of surrounding you with the right kind of complementary players, the right coaching staff, and all the other pieces it takes to win? How about the management team that did it for Dirk, in a place where they have found ways to stay at the top of the league every year, winning 50 or more like clockwork for over a decade?
Cuban and Donnie could always stage a presentation using money, personality, the charms of North Texas, and maybe even luxurious bathrobes. But now they have a trophy. Deron saw it all up close with wishful eyes. From a distance, Dwight saw it too.
Ultimately, it won't be the precise nickels and dimes that matter the most. It will come down to which place is better able to offer what the superstar wants. And with that approach, it may be even easier to land two stars than one, with the promise of an even better team … That is, unless the cap numbers make it an impossibility.
Let's look at those cap numbers a bit more closely, and discuss how they'd fit.
MAKING THE MONEY WORK – THE NUMBERS AND THE RULES
Going straight to the raw salary numbers for the summer of 2012, here's what we see right now:
• Nowitzki 20,907,128
• Odom 8,200,000
• Marion 8,396,364
• Haywood 8,349,000
• Carter 3,135,000
• Beaubois 2,227,332
• Jones 1,276,560
• Williams 915,852
• Wright 915,852
However, two of those players (Williams, Wright) have contracts for 2012-13 that have no guarantees and can be fully erased by waiving the player. Carter's may be the same, or it may have some small guarantee amounts (that may or may not be incentive based). But under the new CBA's stretch rule, if he is waived, the cap hit for any guarantees that exist would be spread over five years. As a result, we can treat Vince as a player who could be waived with virtually no cap effect at all.
In addition, Odom's 2012-13 salary can be reduced to a $2.4M buyout with a waiver.
That leaves the following hard money to consider:
• Nowitzki 20,907,128
• Odom 2,4200,000
• Marion 8,396,364
• Haywood 8,349,000
• Beaubois 2,227,332
• Jones 1,276,560
The total of those is about $43.5M.
With an anticipated cap of about $61.4M (see above), and the ability to waive-with-cap-amnesty either Haywood or Marion, it's easy to see how adding a max salary for both Howard (at about $19M) and Williams (at about $17.2M) has been termed impossible.
How can it all fit? How can it all work?
It can work as it worked in Miami, elegant in its simplicity.
Again, the essence of a conversation: "Hey Dwight and Deron, here's the deal. You can play together, as is obviously your wish. We'll add both of you, alongside Dirk. Between the two of you, you two can split half-and-half every dollar we have that remains after Dirk's salary. Or we can keep cap holds on some of these others if you want. Let's sit down and decide together what you're comfortable with.''
If Dwight and Deron decide it's going to be just the three of them (including Dirk) and an otherwise cleaned-out roster? After Dirk's salary and cap set-asides for empty roster slots, there would be $35.754M left, or $17.877M each.
But that's more money than the max for Deron (and, for fun comparative purposes, also more than any of the Miami trio will get in 2012-13). Does Dwight (who has a higher max) then get paid more? Do they get the same and use the rest to retain rights on existing players?
If this is a trio working as a team, creating their dream, then they'll huddle to make it work and the details won't get in the way.
Keep in mind that this whole idea never goes anywhere with players whose priority is getting every penny possible from a max deal – because the only way they can get that last penny deal is to stay where they are. This 3D Blueprint requires players who have decided that for them, it's time to chase a legacy along with their financial fortune.
Our educated guess is that Howard and Williams have come to that decision, and that the Mavs are positioning themselves to make those priorities into a reality.
"But wait," we hear some readers objecting. "When they get to the summer, the Mavs will still have Marion and Haywood's big contracts, the cap hit for waiving Odom, and the smaller contracts of Beaubois and Jones blocking the way. What about those? Where did they go?"
Let's talk about getting from here to there.
THE SPECIFIC DETAILS TO MAKE IT HAPPEN, STEP BY STEP
You want us to tell you exactly what they'll do regarding Marion, Haywood, Odom, Beaubois and Jones? We can't. But it's not because it's impossible. Instead, it's because there are multiple possibilities, and the Mavs themselves don't yet know which might be most advantageous.
Or even if they'll be necessary, of course, since the Mavs don't control the end result of whether 3D will become a reality.
That leads us to a crucial point: The deadline for moving those off the 2012 cap is not in January. It comes when (and only when) the Mavs obtain the go ahead from both Howard and Williams. And for each existing contract needing to be removed, they'll have multiple choices, any or all of which may be delayed until 3D is about to be reality.
In fact, in the meantime, the most likely thing we will see is … absolutely nothing. They're absorbed in the task of winning another title, and they need that talent this season.
This lack of completion is what bamboozles the critics' thinking on the issue. They have taken the approach that if the Mavs haven't finished all the details already, then they won't be able to do them later – and therefore it's all impossible.
Which, of course, is pure nonsense.
Remember Miami? When 2010 free agency started, they still had multiple players clogging their cap and making it supposedly "impossible" to sign that trio. Of course, after they got the commitments, bodies began to fly out the South Beach door. They knew the possibilities were there, but they didn't execute them (and didn't have to) until everything was in place.
It would work the same with Dallas and 3D. Determine the plan now, line up the solutions, but the final steps can wait as long as you know they are easy to do.
Our Chuck Perry has written about
one method that could move one or more of those players, a trade with either Orlando or NJ before the trade deadline.
And we've already mentioned another possibility, which is Orlando and/or NJ deciding that half a loaf is better than none, and taking back one or more of the aforementioned players via sign-and-trade for their superstar.
But this is the NBA. Getting Orlando or NJ to participate in a trade isn't a necessity to make it all work, it's merely one possibility that would exist to move players. There are plenty of others.
PLAYER-BY-PLAYER, DOING THE "IMPOSSIBILE" - AKA THE MULTIPLE WAYS TO SKIN A CAT
So let's fiddle with the possibilities that are available to make the "impossible" happen. There are a ton of them; we can't even list them all.
We'll start with a full complement of "If they can't do anything better, this is a way to move every player at the last minute" ideas:
Send Odom plus $2.5M (to more than pay his buyout cost) somewhere for nothing, send Beaubois and Jones in a package for a pick (or for nothing, if need be), send Marion or Haywood somewhere for nothing (and add a pick or two if that's what it takes), and use the amnesty provision on the one that remains.
Who would take such players? Our guess is that the Mavs would be able to have any number of takers lined up, well before the time came. In the last few weeks we saw Odom to Dallas, Okur to NJ, and Fernandez-Brewer to Denver, with no salary going the other way, and given the abundance of cap space next summer and the less-than-exciting set of unrestricted free agents that look to be available (other than Dwight and Deron), giving away veteran players like Odom, Marion, and Haywood and young developing talent like Beaubois and Jones should be easy.
Beyond that very basic set of fallback choices above, here are some other variations on the same theme. Some of these overlap, but all of these are the types of moves that are commonly seen in the NBA. (Feel free to make up your own that are better, but these will get you started):
• Trade Marion, Odom, or Haywood to any team with cap space (ala Odom to Dallas, Okur to NJ, and Fernandez-Brewer to Denver) in July when lots of teams will have cap room
• Trade Marion, Odom, or Haywood midseason for an expiring contract
• Find a contender who wants the veteran talent (Marion, Odom, or Haywood) for a playoff run in 2012 or to enhance their roster in 2012-13, and has a way to absorb the salary
• Trade Odom plus $2.5M to a team with cap space in June, who will then waive him and make some money
• Package one veterans with one kid (Beaubois or Jones) in a giveaway deal
• Add a first round draft pick if needed to move a player
• If needed, use the waive-with-cap-amnesty on Marion or Haywood.
• Trade X, Y, or Z, or some sort of package, and get a future draft pick in return
• As previously noted, trade any or all of the players in question to Orlando and/or NJ
What will they actually do, and when might they do them? Who knows? In totality, it's hard to say which of those options might be used, because there are so many ways to mix-and-match the choices. But as you see, they can make it all happen if they need to.
Unless you are someone who doesn't want to open your eyes to 3D as a possibility, of course.
AN EXPLANATORY DETOUR TO ADDRESS TWO CBA ISSUES
Before going further, it's necessary we detour to address a couple of CBA questions that might otherwise be raised.
The first is about the Mavs' ability to include picks in a trade.
The usual sharp Woj offers analysis declaring 3D to be "impossible" and includes an assertion from a "league executive" that the Mavs couldn't possibly add a pre-2014 pick if needed to move Marion.
However, that's a demonstration of a writer or myopic exec badly wanting to create an obstacle that is easily sidestepped in real life, and maybe doesn't even exist.
Our understanding is that the Mavs have a full complement of draft picks to deal if needed, since they reportedly didn't yet send a pick to the Lakers for Odom (and don't have to until 2016 if they wish). Slick GM'ing once again, in retaining full flexibility for whatever may arise.
But if that was somehow misreported, there still isn't a problem. Any NBA exec worth his salt and looking for solutions rather than barriers would readily recognize that if the Mavs do have any restrictions on picks, they could be completely erased – and likely will be – by using the 2012 draft as the time to send that promised pick to LA and trading Marion anytime thereafter.
The second side note pertains to the ability to buy out Odom's 2012-13 contract for $2.4M. The issue there is that the existing deadline to exercise that buyout is June 29, 2012, which would be well before the Mavs could know if 3D will come together or not.
There are plenty of ways to resolve that, however. What we're most likely to see will be an agreement between team and player to adjust that date to mid-July, which would allow Odom to be kept by Dallas (rather than prematurely traded or waived) if 3D doesn't come to fruition. A date like that would also make it more likely that, if traded, he goes to a contender who wants to keep him rather than a team who will waive him. A solution that's less desirable for all would be for the Mavs to be forced to resolve that issue prior to June 29, but if they had to they could certainly do so rather than waiting until July.
HOW WILL IT ALL PLAY OUT?
What we've done here is illustrate how doable the 3D Blueprint is. Impossible? Not in the least.
But before we end, we feel obliged to include the cautionary note that "possible" and "certain" are two different things. We clearly think that the opportunity to play alongside Dirk and to star for a team where the track record is stellar could be compelling for Dwight and Deron (and the fact the Mavs are working on such a plan means they see it too). At the same time, it must be noted that other teams are also dreaming of landing one or the other (or both) and some of them have positives of their own to offer. Plan A for the Mavs – a 3D Blueprint – is a plan but not a promise.
However if it all doesn't go according to that plan, we know for certain there are contingencies in place in Dallas. Continued flexibility. Retention of key cast members. Other stars. Endless Plan B's.
But supplementing Dirk with Dwight and Deron - there's your ultimate goal. The Mavs might get neither. They might get one. Or, as we've shown here, they might get both … in a way that fits all the rules, seems to fit all the needs, and follows a 3D Blueprint.
If you like this level of coverage of the World Champion Dallas Mavericks, try our Premium Mavs coverage! This is what we do, every day, with 28 years of experience on the beat! It's pennies a day to get All-Access to what the Mavs are doing upstairs, down in the basement, in the locker room and on the court – and it's free to come inside for a 7-day tryout. Now more than ever, there's no reason not to give it a go! Thanks for your support of the site at less than a dime-a-day! Go Mavs and Go Premium!