DONUT 1: We've got all the goods
-- the notes, the quotes, the analysis, the video, the laughs, the insight -- right here on DB.com.
Let's begin with BJ Stahl's chasing down the Mavs Quoteboard, sponsored by
McKinneyDentist.com:
Stephen Jackson went on-record at Bucks Media Day: "Dallas sucks to me." What a maroon. The Mavs shrugged at Captain Jack's jawing and methodically cut his team to pieces, 102-76.
The baby-stepping piece-of-work old-slow-and-outta-shape Mavs ouscored Milwaukee every quarter, played every active player, only one of the guys who saw the floor didn't score, and nobody played more than 26 minutes. Don't look now but the good guys are riding a win streak. For the moment, life is fun.
Oh, and mark your calendars. The championship rings will be presented on January 25, when Minny (and JJB) is in town.
What, no montage? Dirk Nowitzki breezes by 23,000 career points scored ...
"23,000 is great, but like I say over and over, that's not really what I'm playing for right now. All the milestones are going to be great when I look back on my career in 10 or 15 years. But as of right now, I'm trying to help this team, and franchise, win as many games as I can. We've been playing better. That's all I'm worried about right now." -Dirk Nowitzki
Vince Carter -- pleasant surpise? Try pleasant total shock ...
"I was just trying to give our team a little life at the start. You have to hit first because we've seen teams hit us first and it's effective." -Vince Carter
"We let him get to his right hand and we'd stand locked in cement on the weak side and could not react." -Coach Scott Skiles
Regarding defense, which has allowed only 87 points per in the last 8 games ..
"On defense we're doing a good job of holding each other accountable and we feel like we can always do better of not letting the other team get in a flow. We know every time we step out on the court everybody wants to play the world champs and beat the world champs so we really have to motivate each other, stay on top of each other and it's really helping out there." -Vince Carter
On the bench play -- Mavs Off the Bench 55, stray Bucks 33 ...
"I've said this and I'll continue to say it, this season is going to be about depth, energy and spirit, and just keeping everybody into it. The teams that can do that are going to have a chance to be successful." -Coach Rick Carlisle
"Well we know that when we go out on the court we have to play hard, we have to bring a lot of energy because the first unit is doing a very good job so we just need to keep pushing, keep being aggressive and we have to keep playing like this all season because our bench is going to be big for us." -Rodrigue Beaubois
Another pleasant total shock -- about Delonte West ...
"He is a competitor; we knew that before we got him. That's what everybody said, 'You know, the guy really competes.' I think when you look at the fact that we've improved defensively in the last six or seven games, his setting the tone has been a big factor in that. So, he's really important to us right now, as is everybody." -Coach Rick Carlisle
"I'm learning from some of the best. When I started my career, I was learning from Gary Payton and Doc Rivers, now I'm just scratching my prime and I'm learning from JKidd. He's constantly in my ear before and after games." -Delonte West
"He's exactly what the doctor ordered for us." -Donnie Nelson
Put it in your rearview; the 1-4 start ...
"We knew the first couple of games weren't who we really are. We knew we were going to get better. Those games count on our record and it wasn't pretty at all, but we knew that's not who the Dallas Mavericks were going to be for the course of the season." -Brendan Haywood
Roddy B freed, to the tune of 15 points, 6 rebounds, and 2 assists ...
"Yeah for sure and I just need to keep pushing myself and keep working ... I just need to play basketball and use everything I know, my mind and obviously I need to use my speed and my athletic abilities. I just need to keep pushing myself." -Rodrigue Beaubois
Center? Forward? Whatever. Welcome to Dallas, Yi Jianlian ...
"With big guys like that, sometimes it takes them a while to kind of catch their groove and get in the right situation. Our hope is that this can be a good situation for him. We're looking as a franchise to get some young assets on this team. He's only 24 years old, which is hard to believe because we've been hearing about him for such a long time. That's like nursery school in the NBA, in terms of the youth aspect of it." -Coach Rick Carlisle
"At 6-11, he's got a real solid frame, long arms. He can play both positions. Obviously we've got a German that's got the 4 pretty well locked up, and then we've got Odom who's also going to eat a lot of those minutes. Probably [Yi'll play] mostly 5." -Donnie Nelson
"It feels great. It's very exciting to be on a championship team, a great team, the Mavs, playing on the court with all the best players in the league." -Yi Jianlian
Getting Jason Kidd back (slated for tonight against Sacremento) ...
"Obviously looking forward to getting him back. His floor leadership, his passing -- I think sometimes we take that for granted -- and his defense, obviously, on ones and two-guards. So we're looking forward to getting him healthy." -Dirk Nowitzki
"Like I said, we're just praying for a speedy recovery so he can get back in the flow of things leading this team." -Delonte West
The Work In Progress Report ...
"Just take it one day at a time. Just keep helping each other, keep communicating. You know we're still taking baby steps right now." -Shawn Marion
Grasp how total a domination this was ...
"When you're down 15 at the half, and Dirk only has four points, it's probably not a good sign." -Coach Scott Skiles
DONUT 2: Catching up ...
*
First Impressions: Dallas Whacks Back at Capt. Jack
*
All-Access Pass: Complete and in-depth analysis of the win over the Bucks, featuring Video Visits inside the locker room with Donnie, Yi, Delonte and Dirk
*
What's Really Bothering Lamar Odom - A DB.com Exclusive
*
The Mavs at The 1/6 Mark
DONUT 3: Wasting no time, let's get to tonight:
Kings at
Dallas Mavericks
8 p.m. ...
The starting lineups, and NBA scouting info from Kyle Leath ...
| | |
| --- | --- |
| F- John Salmons | F- Shawn Marion |
| | |
| --- | --- |
| F- J.J Hickson | F- Dirk Nowitzki |
| | |
| --- | --- |
| C- DeMarcus Cousins | C- Brendan Haywood |
| | |
| --- | --- |
| G- Jimmer Fredette | G- Delonte West |
| | |
| --- | --- |
| G- Tyreke Evans | G- Jason Kidd |
DONUT 4:
DB.com cannot do our thing without the help of sponsors and partners like
MavCowTickets
,
Esparza's Restaurant
,
Classic of Carrollton
,
Game Havens
and
McKinneyDentist.com
. Give my guys a click, if you please!
DONUT 5: A look at the Kings Offense:
• Likes to run and take quick shots. Poor shot selection at times.
• Evans spearheads the break. Run a lot of mid pick/roll with him and Cousins. Their posts like to pop and can shoot the 15-18 footer.
• Sideline secondary break with Cousins to the block and trail post for jumper
• Sets they like are a double cross screen for Cousins at the block and 4-out with Cousins working in the post.
• Iso plays for Cousins and Salmons (at the elbow).
• Will get the ball reversed and pin down for Cousins stepping out for wing jumper.
• Cousins will attack defender and get them in early foul trouble when he catches the ball deep.
DONUT 6: A look at the Kings Defense:
• Team still searching for identity under new coach Keith Smart.
• Do not guard the ball hard and can be beat with quick ball reversal.
• Will play behind post and double from help side elbow when ball is entered to post.
• Will show with post on ball screens, slow to recover.
• Will run at 3-point shooters. Can be beat with ball fake and drive.
DONUT 7:
A Sacto Stat Check:
• Kings are 1st in Off. Reb. At 15.0/gm.
• Kings are 29th in Scoring Defense allowing 102.2 ppg.
• Kings are 29th in FG % at .402.
• Kings are 29th in Opp. FG% at .484.
• Interesting stat here, they are 30th in both Assist Per Game at 14.3 and Opp. Assist Per game at 24.7. Lots of dribbling for the Kings.
DONUT 8: In addition to watching the game on FSSW, follow the game on Twitter with the Mavs Twitterverse!
Come follow Fish and the Mavs on Twitter!
Follow @fishsports
Follow @thechuckperry
Follow @coopmavs
Follow @kevinbrolan
Follow @mfollowill
Follow @mdug
DONUT 9:
J-Kidd was in street clothes last night and his team has gone 4-0 without him as he's nursed his bad back. I might argue that against the lowly Kings, Dallas could afford to sit him one more time.
But Kidd plans to give it a go ... and I assume Delonte will move back to the 2. He's giving Dallas quite a burst in so many ways. ...
"I think defensively we're really stepping up,'' said Dirk. "The last couple games, Delonte is always setting a nice tone for us with aggressiveness on the ball, and everybody else is kind of feeing off of that."
Tonight, the Mavs will try to feed off both Delonte and the guy he grew up emulating, J-Kidd.
DONUT 10: If you like this level of coverage of the World Champion Dallas Mavericks, try our Premium Mavs coverage!
This is what we do, every day, with 28 years of experience on the beat! It's pennies a day to get All-Access to what the Mavs are doing upstairs, down in the basement, in the locker room and on the court – and it's free to come inside for
a 7-day tryout. Now more than ever, there's no reason not to give it a go! Thanks for your support of the site at less than a dime-a-day! Go Mavs and Go Premium!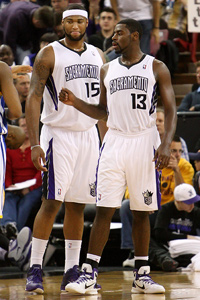 DONUT 11: Scout Kyle Leath on How to Beat the Kings:
• Protect the paint. Make them take perimeter shots then make sure they do not get offensive rebounds.
• Defensive transition. Get back and get ball out of Evans' hands. Know that post will trail and shoot.
• Look for weak side cuts on offense, especially when the ball is entered to the post.
DONUT 12: One more Quoteboard item, from Carlisle:
"The first two games were poor to say the least. After that, we were all embarrassed. We had to bounce back and kind of snap out of it. We were in a two-game, whatever you call it, hangover, Christmas funk. Reality hit us really quickly ... It helped us get our mindset in the right direction. We came out fighting after that."
Kyle Leath, a long-time Mavs staffer, former college head coach and now scout for the Denver Nuggets, provides you with an NBA-style scouting report before Mavs games.